Halfway through the 20th century, America's social climate was oddly conservative and rebellious at the same time. The effect could be observed in all areas of society, including trends and pop culture. Thankfully, it's also what made 1950s mens hairstyles accessible to all.
Men's hairstyles from the 50s were quite different from one another. You could get a military-inspired butch cut, a suburban-family regular cut, or a slick rockabilly pompadour.
Regardless of your personal style, take your pick from the abundance of timeless hairstyles from the style-defining decade below!
1. Greaser 1950s Mens Hairstyles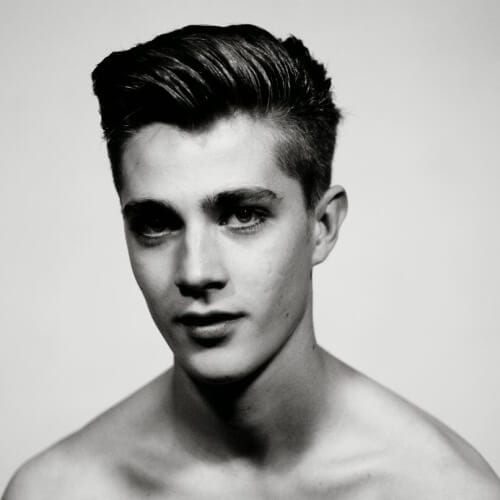 Out of all the youth subcultures that were shaped in the 50s, the greaser group remains one of the most iconic.
Driven by lower and working-class teens in America, the greaser subculture has succeeded in depicting the "bad boy" image that we all know and adore today. The associated hairstyle is just as impressive.
2. Classic Pompadours 1950s Hairstyle
A considerable chunk of the 1950s was devoted to classic pompadour hairstyles. Although they work for all hair lengths and textures, pomps are usually styled in the same manner. All you have to do is brush your hair away from your face and style it above your forehead.
3. Sleek Hollywood Hairstyles
As the 50s were marked by the Hollywood Golden Age, you can only imagine how much of an impact actors had on the trends of the time.
Much like today, celebrities would always set the tone for the latest must-haves in terms of fashion, beauty, and grooming. Here, Cary Grant perfectly displays the Hollywood standard for 1950s mens hairstyles.
4. Easy 1950s Mens Hairstyles for Curly Hair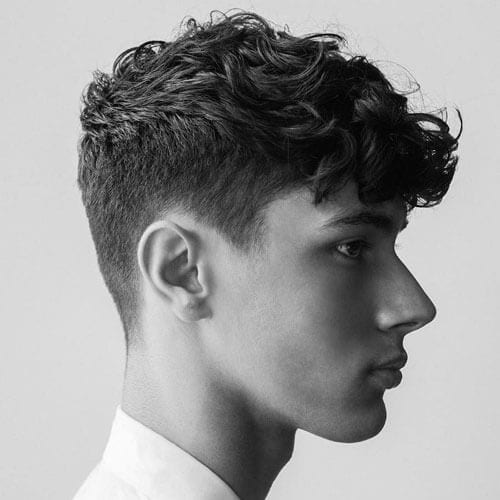 One of the best parts about mens hairstyles from the 50s is that they worked for any texture. For instance, guys with curly hair could easily rock a tapered haircut and leave their curls on top. From there, they could continue to try out additional gelled hairstyles.
5. Side Part Hairstyles
Hairstyles with a side part were ubiquitous in the 50s. No matter if you were a conservative family man or a rock'n'roll misfit, you could part your locks to the side all the same. To master the look, concentrate on building up your dexterity with combing.
6. Ivy League Mens Hairstyles from the 50s
Another one of the most popular 1950s men's hairstyles was the Ivy League haircut. Even though it often appeared in different forms, the Ivy League cut was always a sure sign of prestige and social status. If you're all about the preppy look, go for it.
7. Ducktail Hairstyles for Men
Any man who is passionate about vintage style will already know all about the ducktail. Also known as the duck's ass or abbreviated as the D.A., the ducktail haircut shows up exactly as its name suggests.
The sides and back of the hair are combed towards the center to create what strongly resembles a duck's tail.
8. The 1950s Quiff Hairstyle
There's no doubting the unbeatable spot that the quiff haircut has secured among hairstyle trends for men. Ever since the 50s and until the present day, it has continuously been one of the most fashionable haircuts guys could sport.
Comb your hair to the side, brush your bangs to the side and upwards and you're good to go.
9. Classic Regular Haircuts
If you were a man living the American Dream with a trophy wife and two beautiful kids in the suburbs in the 50s, this is what your hair probably would've looked like.
All stereotypes aside, the regular haircut was a style staple during the time. The clean-cut allure makes it as popular as ever in modern times.
10. Jelly Roll Popular Mens Hairstyles 1950s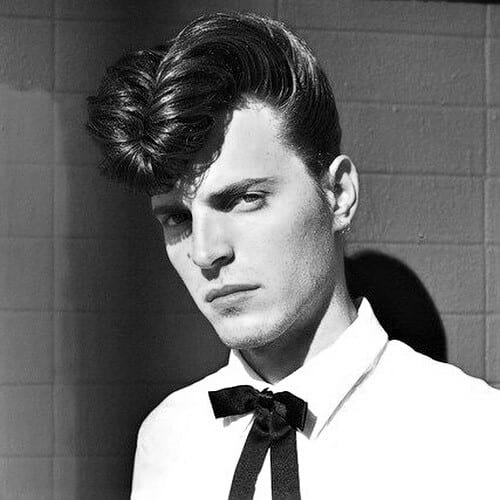 The 1950s were all about experimenting with the legendary pompadour to take it to the next level. One of the daring variations was the jelly roll, a highly styled pomp that would take the shape of a roll on the upper part of their heads.
The "jelly" part of the name came from the product used to obtain the final hairstyle.
11. Messy 1950s Mens Hairstyles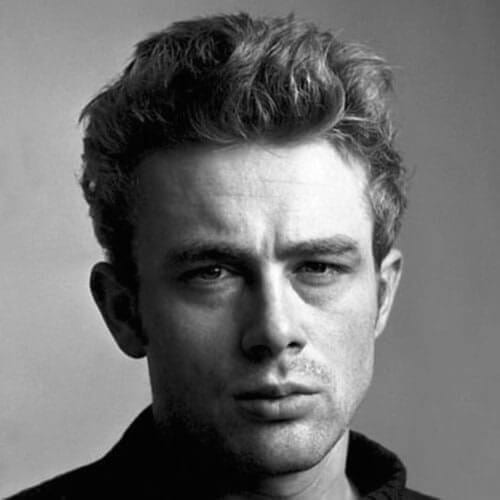 As you've noticed, the 50s were full of sleek hairstyles. However, non-conforming stars such as James Dean created a whole new layer for the bad boy aesthetic. Instead of pouring on the product, the late and great teen heartthrob frequently opted for a messy, layered, and careless hairstyle.
12. Classic Presidential 50s Hairstyles for Short Hair
If you want to look and feel like a millionaire, there's no better way to do it than to recreate a presidential hairstyle. Even though Ronald Reagan was still in the acting phase of his career at the time, the future 40th president had one of the most coveted hairstyles around.
13. Flop 1950s Hairstyles for Long Hair
Known simply as "the flop", the nonchalant hairstyle was the top trending variation of the other greased looks of the 1950s.
While the main silhouette could appear as a ducktail or pompadour, the top was all about keeping those long bangs over the forehead. If they fell a bit over the eyebrows and eyes, the hairstyle was even more effective.
14. Classy Breaker Haircuts
In California in the 50s, the "breaker" hairstyle was as popping as could be. It generally resembled a pompadour, just that the top portion was differently styled. Waves were the main inspiration, probably tying the haircut into the roots of the Pacific state even more.
15. Black 1950s Mens Hairstyles for Curly Hair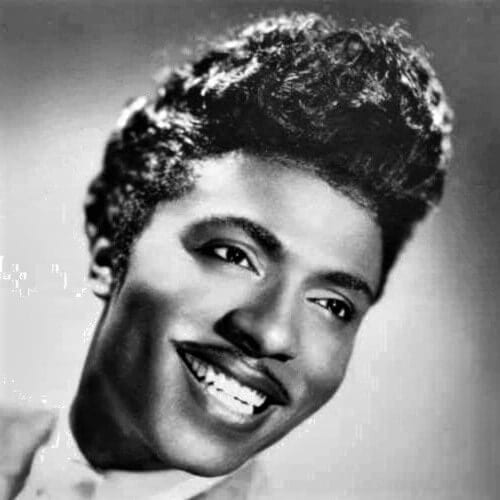 Regretfully, the 50s and 60s were an extremely difficult time for African Americans as they struggled through the civil rights movement.
Setting the horrors of history to the side, black musicians such as Little Richard brilliantly show how popular 1950s men's hairstyles can be adapted for afro-textured hair.
16. Teddy Boy Hairstyles
On the other side of the Atlantic Ocean, British youth were forming their very own subculture throughout the 50s – Teddy Boy.
Inspired by Edwardian dandies, teens in Britain revolted against rock n' roll music from America by creating a uniquely British phenomenon that defined the working-class neighborhoods in London.
17. Back Taper Haircuts
Both in the 1950s and today, the taper fade haircut was and remains an essential cut in barbershops across the nation.
A medium neck and sides taper, in particular, was ideal for accentuating those elaborate pompadour and quiff hairstyles. You can add a back taper to whichever 50s hairstyle you choose.
18. Hard Part 1950s Mens Hair
Indeed, side part hairstyles were the norm in the 50s. Nevertheless, a hard part haircut would truly step up your game back in the day. As opposed to a regular, "soft" side part, a hard part is obtained by creating more depth in the crease area.
It's a must for rockabilly enthusiasts who want their hair parted in some way.
19. Slick Back Fifties Hairstyles
We all know by now that a heavily "greased" look was everything in the 1950s. In this regard, slick back hair was a must for guys with attitude and confidence. To get the look, wait for your hair to grow long enough so you can slick it back using your favorite hair wax, gel, or cream.
20. 1950s Mens Hairstyles for Thick Hair – The Pomp
In the second half of the 50s, Johnny Cash was kick-starting what would become one of the most prolific careers in American music. He was no stranger to the constantly trending pomp hairstyles for men, effortlessly rocking them on a regular basis.
If the thickness of your hair resembles him, you can also look into our selection of hairstyles for men with thick hair.
21. Wavy Vintage Hairstyles
Whether your hair is naturally straight or wavy, you can achieve the cool hairstyle pictured above with ease. Sure, you'll need a decent amount of hair spray or wax to keep it in place, but the resulting greaser allure will be completely worth it.
22. Pure Rockabilly 1950s Mens Hairstyles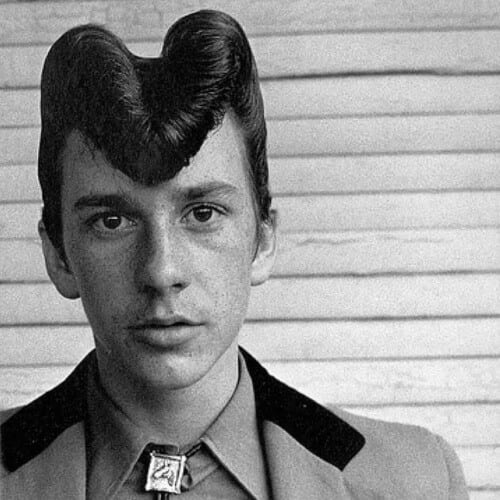 At the midpoint of the 20th century, most modern guys were down with rockabilly music. The style that came along with the music is now unmistakable, even more so in terms of hair. With enough patience and precision, you can attain the same pure rockabilly hairstyle shown above.
23. Flat Top Boogie Popular Mens Hairstyles 1950s
The 1950s also witnessed the flat top haircut enjoy a considerable boost in popularity. It was a practical and easygoing alternative to the complicated greased hairstyles of the time. The flat-top boogie, specifically, was one of the hottest versions.
It would combine elements from a traditional flat top and the back of a ducktail hairstyle to get a simple yet alluring haircut for men with short hair.
24. Elephant's Trunk Hairstyles
Another signature hairstyle within the greaser's community was the elephant's trunk (or elephant trunk). While the sides and back were slicked down, the bangs were twisted into a single strand that curved over the forehead.
The outcome resembled an elephant's tail, hence the origin of the hairstyle's name.
25. 1950s Mens Hairstyles for Older Men
Even if you were an older man during the decade, you could still adapt your hairstyle to reflect the latest trends. Therefore, a finely cut pompadour would most likely meet your aesthetic needs no matter what age you've reached. It's also a fine choice for men dealing with a receding hairline.
26. Low Maintenance Retro Haircuts
Sometimes, all you need is a high-quality haircut to get the job done for you. If you're not up for investing half an hour on styling your hair each morning, focus on finding a practical haircut. If the sides and top are trimmed appropriately, you won't have to struggle with styling at all.
27. Classic Elvis Presley Hairstyles
There are few superstars who have influenced the 1950s as much as the King of Rock and Roll himself. Naturally, we're talking about the one and only Elvis Presley.
With his signature long sideburns, messy pompadours, and notably slicked backsides, he became arguably the most desired man of the century.
28. Side-Swept 1950s Mens Hairstyles for Curly Hair
We're back with another cool idea for guys with naturally curly hair. If your curls are a few inches long, simply style them with your fingers to the side. On this note, you should know that most 1950s men's hairstyles can have pretty much any type of top if the sides are slicked back.
29. Super Gelled and Combed Hairstyles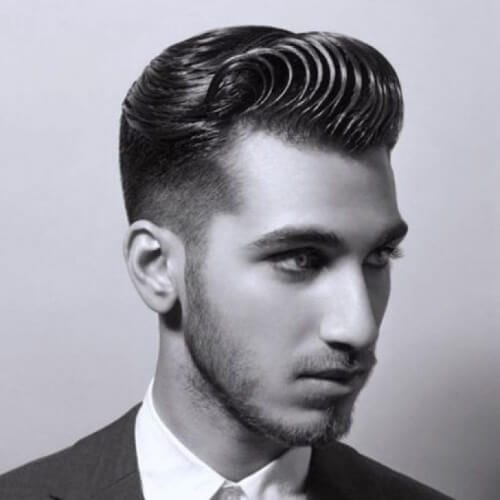 For men in the 50s, there was no such thing as too much hair product. In this day and age, the rules tend to be a bit different. However, if you're going for a trademark vintage style, don't hesitate to add as much gel or wax as you need to comb your hair to greased perfection.
30. Comb Over Fifties Hairstyles
Young or old, comb over hairstyles for men are bound to work for you. The timeless hairstyle can be recreated by any guy, regardless if you have grooming experience or not. Firstly, start by parting your hair in a straight line to the side. After that, carefully comb your hair to each side. That's it!
31. Side Slicked 1950s Mens Hair
The second king to grace our list is at the forefront of cinema royalty – Clark Gable. Appreciated as the King of Hollywood, Gable would sweep women off their feet with his irresistible side-slicked hairstyles.
Essentially, it's a normal slicked back hairstyle, just that he chose to add a detail that would make the entire difference – a side part.
32. Quiff-Pomp Blends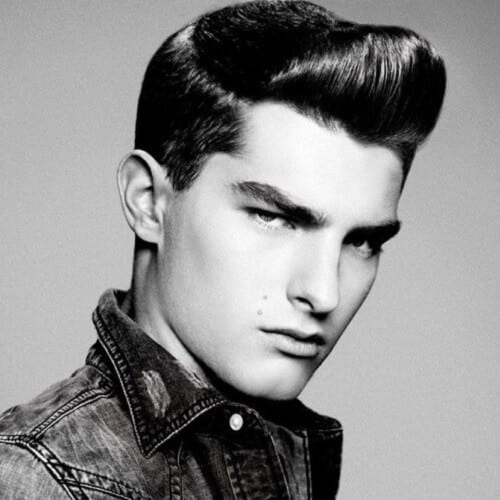 Not sure whether to choose a pompadour or a quiff for your 50s-inspired hairstyle? Mix the two styles to get an extremely handsome outcome.
You can take the puffy top of a pompadour and use it only for the bangs portion of your hairstyle. The results will take your breath away (and everyone else's too).
33. Shoulder-Length 1950s Hairstyles
Honestly, not many men were spotted with long hair back in the 1950s. Long locks were definitely a definitive feature a bit later on in history.
Notwithstanding, you can take your modern longer hair length and adapt it to a 50s pomp for the top. For the lower portion, just comb your hair down and to the sides.
34. Professional Vintage Hairstyles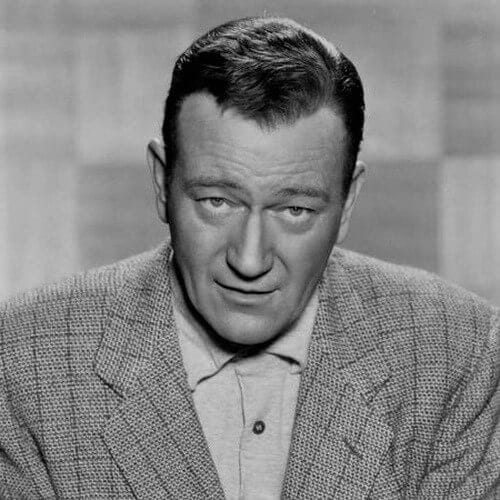 To continue our list of Hollywood heroes from the peak of American cinema, we have John Wayne. The celebrated actor gives us a clean and basic hairstyle that could be worn in any professional environment.
If you're drawn to simplicity and want to maintain a polished image, it's likely the hairstyle for you.
35. Geek Chic 1950s Mens Hairstyles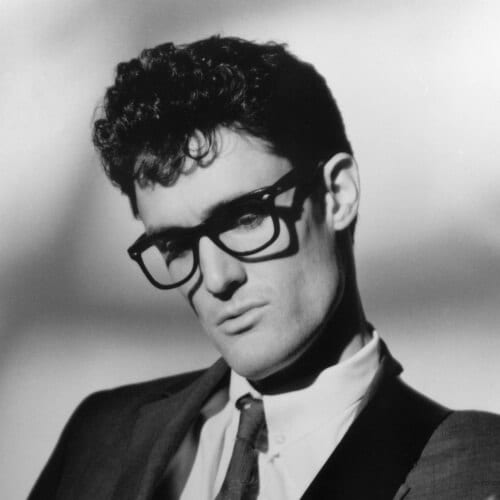 In addition, the 1950s also bore witness to the geek chic trend. Musicians such as Buddy Holly made it an acceptable and even encouraged alternative to rock dorky glasses typically associated with nerds.
His cool curly bangs hairstyle continues to inspire us to this very day as a symbol of geek chic excellence.
36. Grease Hollywood Hairstyles
The iconic 1978 musical Grease is a full-fledged homage paid to the greaser subculture of the 50s. A young John Travolta, starring as Danny Zuko, embodied its essence, with one of the coolest hairstyles shown in American movies to date.
37. Front Curl Mens Hairstyles from the 50s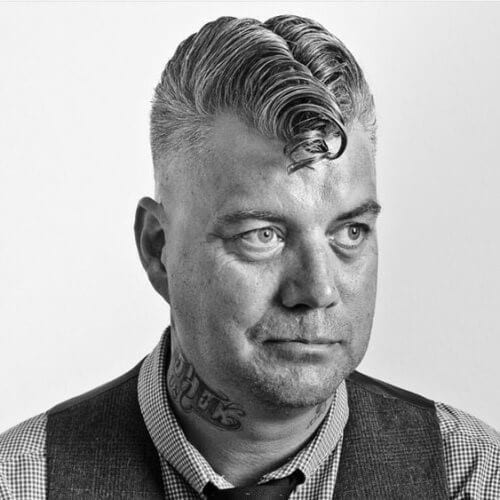 All in all, the front curl hairstyle is somewhat a mix between the elephant trunk and a jelly roll. Most of the time, the top part will be significantly longer in order to form the curl over the forehead. To bring attention to the smooth curl, the sides and back should be tapered.
38. Crew Cut 50s Hairstyles for Short Hair
The crew-cut haircut is one of the military-specific hairstyles that's probably going to be around forever. It's yet another short alternative to the pompous styles so present in the 50s. If you choose to chop your hair, even more, you'll get what was known as a butch cut.
39. XXL Pompadour Fifties Hairstyles
Go big or go home, they say. We agree. To bring a completely new dimension to your pompadour haircut, don't shy away from making it larger than life.
To do so, you'll need to have a remarkably long top. Additionally, get ready to refill your hair product stash, because you're going to need all the styling support you can get to keep it in place.
40. Executive Contour 1950s Mens Hair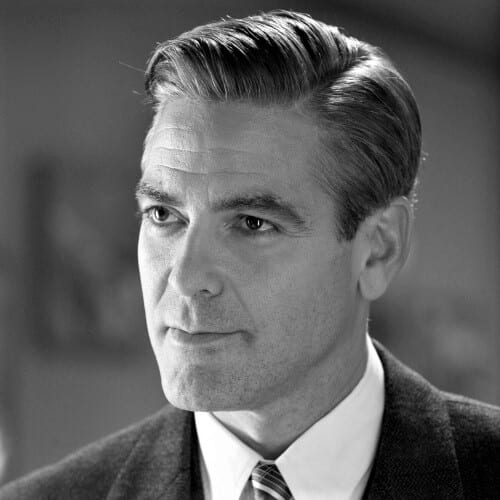 If you would have been a businessman in the 1950s, the executive contour would definitely have been the foundation for your appearance.
It flawlessly completes any suit and tie, bringing a sense of prominence to the bearer. The effect will be the same if you rock it by day, just like George Clooney.
41. Ducktail Mohawks
Moving towards the current day, we want to inspire you with ways you can extract the spirit of 1950s men's hairstyles and adapt them for modern trends.
For instance, you can use the ducktail as the basis for your hairstyle. From there, fully shave the sides to get a mohawk that is classy and edgy all at the same time.
42. Disheveled 1950s Mens Hairstyles for Curly Hair
When approaching the end of the decade, 1950s men's hairstyles started becoming a lot more casual and low maintenance. As an example, Tony Curtis' character in Spartacus shows how you can still be a sex symbol even if every strand is perfectly styled.
Although the movie appeared in 1960, it accurately reflects the transition of styles throughout the years.
43. Flat Tops with Fenders
Another version of the trademark cropped haircut of the late 20th century is the flat top with fenders. Quite obviously, the fenders refer to the portions of hair sticking up to the sides, which come together towards the front over the forehead.
Even though the hairstyle seems to have been dropped once the decade was over, you should still sport it with pride.
44. Undercut Pompadours
Working-class men, teens, and kids have been rocking the undercut hairstyle as early as the 1900s. In spite of its association with poverty in the previous century, the undercut is back and booming more than ever before among men from all walks of life.
When paired with a pompadour, you get a jaw-dropping hairstyle.
45. Pointy Quiffs
Want to bring more edge to your vintage quiff hairstyle? Add a modern touch by slightly spiking the top part of your bangs. The idea works amazingly well for guys with short hair, sort of like a cropped alternative to what we now know as the angular fringe.
46. College Contour 1950s Mens Hairstyles
Contour haircuts were fundamental in the 50s. In addition to the executive contour we presented, there were also age-specific variations such as the college or junior contour. The college contour, as expected, was a staple for students who knew a thing or two about style.
47. Classic Angled Bangs 1950s
Instead of making your quiff pointy, you can play around even more and mold it to your very liking. If you find yourself struggling with getting your ideal shape along the way, reach out to a vintage barber to give you a hand.
Once you find your signature style, you'll be able to achieve angled bangs on your own at home.
48. Widow's Peak in 1950s Mens Hairstyles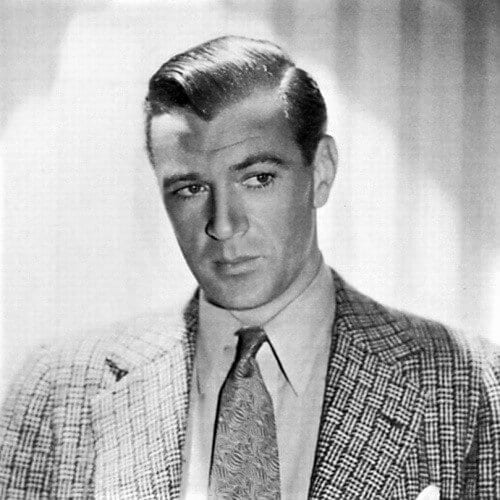 As a man with a widow's peak, you might be having a hard time finding the most flattering haircut for you.
That's where Gary Cooper steps in and wows you with that irreplaceable old Hollywood glamor. Praised as one of the best-dressed actors of his time, Cooper's slick combover remains an exceptional idea for men in need of widow's peak hairstyles.
49. Façon 1950s Mens Hair
Long before the fade haircut came to be, we had what was regarded as the façon hairstyle. It can be worn with a variety of hair lengths, starting with the classic take on the look shown in one of Brad Pitt's roles above.
50. Fifties Hairstyles with Modern Touch
Lastly, we have a vintage hairstyle fit for any veritable hipster. When you take short pompadours and match them with handlebar mustache styles, the results will be astounding. If you're willing to put in the time to sharpen your grooming skills, you won't be disappointed.
Conclusion
In conclusion, 1950s mens hairstyles definitely get the world's stamp of approval for withstanding the test of time.
Although more than half a century has gone by, vintage hairstyles are still as beloved as ever.
If your goal is to get a manly yet elegant haircut, you can count on any of the stylish ideas we talked about above.
Recommended: For even more classic haircut inspiration, make sure you take a minute to drop by our 1930s mens hairstyles guide as well.
Darla is a hairstylist and makeup artist. She loves creating bold and edgy looks for her clients and is very passionate about what she does. She has always loved writing, but never thought that she would ever get to publish her content. She decided to give it a try when she discovered us, and has been writing for our readers ever since!