The wealth of options for men's hair and beard products is incredibly ample and, for some, perplexing. But the wealth of our expertise is equally generous – so here's our attempt at suggesting the products that should matter – to yours or a loved one's hair, beard, or mustache.
Men Hairstyles World is made up of a small team, and since we're so few, we need to find ways to get by in this world interconnected. One of the ways we've been doing this is through qualifying income from the ad spaces on our website.

But that's so last decade! While we'll continue to run ads, we're also looking into ways of monetizing content that's more interesting to the men (or women!) interested in what we got to say. As such, through the following page, we're now part of the Amazon Services LLC Associates Program by which we get a percentage of every purchase made through the following Amazon.com links.

Your hair is your buffer between the mind and the world. Or it's just your hair – we're not ones for pretentious wordings, but we are for amazing hairstyles. And they're only possible when you treat yourself to the best shampoos, conditioners, treatments, styling items, brushes, and combs available.
Ø  Best Hair Shampoos & Conditioners | MHW Choice 2019
Responsible men & women read disclaimers first:
Shampoos and conditioners need to suit your style, your desired outcome, and especially your type of hair. So, if something we recommend here doesn't fit, we strongly encourage you to find something that feels becoming of you!
Best Daily Shampoos & Conditioners for Men
Woody's Daily Shampoo

Fragrant cedar wood notes envelop your hair and leave it cleansed, rejuvenated, and set for a new day – cool. The tea tree oil helps wash all traces of hairstyling products. Use this shampoo for dreams of sunny Mediterranean seashores, a manly but aromatic escape.
Recommended for: oily hair, getting rid of leftover product from your hair
Redken Daily Conditioner

Softly masculine, bold but not brash, Redken engineered this scent for you. Yes – you! The only condition so you can use this conditioner for better, healthier hair, with proper volume? You need to like being awesome.
Recommended for: long, soft hair, getting it to stay soft
MenScience Androceuticals Daily Shampoo

Real men don't have to smell of sandalwood; they're more interested in being clean. Or not – real men don't let a listicle define them, their personalities are varied and subjective. And this MenScience Shampoo makes sure it's objective – with 0 scent, and 100 cleaning power. This one's also great as a treatment for scalp acne.
Recommended for: acne-prone scalp, irritations, getting rid of impurities from other products
Brickell Men's Daily Revitalizing Hair Care Routine

With Brickell, you purchase a "routine" – which is in itself amazing – how does one purchase an action? Moving on though, the mint and tea tree combo is one I always recommend for any product. And yet the smell is gentle like the delicate purr of a kitten, and the cleansing power especially strong.
Don't trust the label – it DOES NOT work for "men of any age with any hair type"!
Recommended for: flaky, thin or thinning hair, regaining that luscious feel
Best Shampoo & Body Wash for Men
RUGGED & DAPPER – Shampoo & Body Wash for Men

Body wash and shampoo in the same bottle? I've seen this before. However, this combo from Rugged and Dapper quite frankly does its job a lot better than any other shampoo and body wash combo. The scent is traditionally manly – so it might be a bit too much for some. The company also assures users you don't have to be rugged or dapper to use their products.
Recommended for: no-nonsense users that want a simple yet effective solution to their needs
Best Moisturizing Shampoo for Men
Truman's Gentlemen's Groomers Long Lasting Moisturizing Shampoo

Moisturizing shampoos like this one help with scalps that tend to itch. The vast majority of shampoos for men dry out the scalp to prevent dandruff in the long run. Because sure, our only problem is dandruff. Why would we ever want actually nice-looking hair, right? Truman's get it with this peppermint infused shampoo that protects the skin and doesn't overdry it.
Recommended for: dry scalp, flaky hair, and dry hair
Best Densifying Shampoo for Men
Kerastase Homme Capital Force Densifying

There's no shampoo that will regrow lost hair – so if you're looking for that, stop it. Your hair might, however, get denser if you use this Kerastase densifying shampoo. There are a lot of shampoos that promise the moon, only to give you a disappointing rock. Kerastase may not be for everyone, but it sure shows the best results across the board.
If you've started noticing that receding hairline, you need to pay attention to your scalp and your diet to prevent further hair loss and make your existing hair thicker.
Recommended for: thinning hair, receding hairlines, balding scalps
Best Shampoo for Men Overall
Aveda Men Pure-Formance Shampoo

Aveda doesn't make the most well-known shampoo. And yet, they do make probably the best shampoo out there for men, in our humble opinion. It brings forth a level of care for your hair that I've personally only seen in women's shampoos.
I have to say – it's refreshing to see more and more shampoos looking beyond dandruff when it comes to men's needs, and this one's the champion at that. Just as refreshing is the scent of this men's shampoo – minty but not aggressive, exceptionally ordinary. It works for both frizzy, curly hair and longer, thicker hair. The result is a flowy poofy feeling that just leaves you giddy.
Recommended for: all types of hair but particularly thick hair, tangled or curly, frizzy or dense, wiry hair. Amazing for sheep-like hair, reviving it and leaving it easy to retouch.
Ø  Best Hair Loss Treatment | MHW Choice 2019
Androgenetic alopecia and MPHL (male pattern hair loss) affect 29-40% of men between the ages of 18 and 59. Plus it's not just the physical effects, once you start to lose hair it might seem like it will never get better. That's not true! According to the AAD, your hair loss may be treatable and/or temporary. And there are a lot of ways you can strengthen your hair naturally!
Zenagen Revolve Treatment for Men

Zenagen's Revolve Treatment for men is more than just a bottle of shampoo. It's a complete solution for thinning, balding hair, or receding hairlines. It's not a miracle-worker, as we said, nothing is. But if you're looking for something that'll make you feel proud of your hair again – this is your solution.
The smell is pleasant enough for a product that actively fights the balding genes in all of us men. So you don't have to sacrifice smelling great for actually having hair.
Recommended for: balding men, thin hair, receding hairlines
Recommended article:
Ø  Best Hair Styling Solutions | MHW Choice 2019
Before you go on. We're recommending pomade, clay, and molding paste/wax here because that's what people that are serious about their hair styling use. However, gels work well for a lot of men out there as well. As with everything on this list – it boils down to personal preference.
Best Pomade for Men 2019
Imperial Barber Grade Products Fiber Pomade

When you've moved on to pomade, you're already looking into high-grade hair styling items. But within that category even, the Imperial Barber Grade FIBER Pomade stands out not just by being expensive, but also the best damn thing I've ever seen.
It could hold Captain America's hair while he's full-on wrestling Thanos in a frickin' thunderstorm it's so strong. It's advertised as being biker-proof, i.e., with just a few combs your hair is back in shape after taking the helmet off. It certainly feels that way and the sheen is truly impeccable!
Recommended for: messy hair, loose hairstyles, light but strong hold, bikers and anyone else concerned with their hairstyle lasting all day
Think it's overpriced? The classic version still holds out well:

Best Clay for Men 2019
18.21 Man Made Clay

If you're into sculpting, you'll love this clay. If you're not into sculpting, you'll soon be sculpting your hair into a masterpiece! The consistency is just like pottery clay, and it will last quite a long way throughout the day. It's particularly great for thinning hair, but that doesn't make it exclusive. It works wonders on longer hair as well (but not too long).
The matte finish combines well with the scent of sweet tobacco; it's probably the most impressive product I've ever used. And while it's not cheap, it's definitely not the most expensive either.
Recommended for: short, medium, and thinning hair, getting that pampered feeling
Best Molding Paste for Men 2019
Redken Brews Work Hard Maximum Control Molding Paste

Redken knows that one of the principal issues with molding pastes is that they're way to rigid. I can definitely empathize. Having molding paste in your hair can frequently feel like you're balancing a statue, wary of touching anything for fear it might break.
With the Work Hard Maximum Control Paste you get just that – control. You'll be able to look amazing and still let your hair move naturally and breathe! No more getting called out for looking like you time-traveled forward from the 90s. Instead, you'll be called out for how much of a badass you are!
Recommended for: lighter hold with flexibility, but incredibly stylish
Recommended articles:
Ø  Best Hairbrushes and Combs | MHW Choice 2019
Best Comb for Men 2019
Striking Viking Folding Wooden Comb

You don't need to spend too much or buy a big brand for a good comb. Striking Viking proves that with this anti-static, pocket-sized, sandalwood comb. When you're out buying a comb, there are three things to it: it needs a handle, it should be portable enough, and never buy plastic. This one has all three and a lot more!
The only downside? The distance between the bristles is a bit too large, those with denser hair will find it tricky to comb the entirety of their hair properly.
Recommended for: everyone, people with dense hair might want to avoid it
Best Hairbrush for Men 2019
Mason Pearson Popular Mixture Hair Brush

Yes, this brush's price is nausea-inducing. But for the price, you will get the absolute best brush, with its spreading of sebum perfectly evenly across your hair. You'll feel pampered, luxurious, and smooth.
Just keep it away from your cat, it might love it too much! In fact, for a brush so extravagantly priced, you'd do best to keep it under lock and hidden away from burglars. Only brush your hair in the dark so people won't see it. This is your precious, don't lets sneaky thieves takes it.
Recommended for: that diva feel

Mustachioed men, bearded men, goateed men, sideburn men – beard proponents are varied. Every beard has its own style that eventually molds on top of the existing person to create a new, stronger you!
Don't have a beard? Don't be discouraged – as the old saying goes: it's not the beard on the outside that counts, it's the beard on the inside!
Ø  Best Beard Shampoos, Conditioners, Balms, & Oils | MHW Choice 2019
Best Beard Shampoo for Men 2019
Polished Gentleman Beard Growth and Thickening Shampoo and Conditioner Set

The best beard shampoo for men comes in the form of a set – oddly enough. Simply because of the shampoo which is amazing, but the conditioner isn't too bad as well. Your face mane will look powerful, rejuvenated, and it will grow faster and stronger. It will grow up so quickly you'll be dropping it off at college in no time!
Recommended for: shaggy, lifeless beards that seem to be falling rather than growing
Best Beard Conditioner and Balm for Men 2019
Honest Amish Beard Balm Leave-in Conditioner

A harmony of spicy, woody, and black licorice scents sings your beard into a fuller, newer version. Rouge hairs? Done. Itch? No more. Beard dandruff? Oh wow, that's the worst, but THIS conditioner solves it.
Honest Amish are known for their quality products, but this one takes the gold medal out of all their best hair and beard products.
Recommended for: those serious about their beards
Best Beard Oil for Men 2019
Viking Revolution Beard Balm with Argan Oil and Mango Butter

You might be thinking – wait, you put a balm in the oil section? Don't worry! It's got plenty of argan oil and mango butter to give you that nourishment you so desperately crave from traditional beard oils. Yet it does that, and so much more!
Viking Revolution is a relatively new brand centered on affordable beard and hair care products for men. But that doesn't mean they sacrifice quality! Quite a few of their products were considered for this list, and this one ultimately made the cut.
It smells citrusy, probably from all the mango, and it nourishes and maintains your beard far better than any oils we've seen. You can still go for oil if you want a shinier face mane, but you don't have to!
Recommended for: medium to longer beards, short beards don't really need balm instead of oil
Ø  Best Beard Sets | MHW Choice 2019
Proraso Wood and Spice Beard Care Tin

Okay okay, I know we said the previous balm is the only thing you'll need, but if you insist on going for oil – the Proraso Wood and Spice beard oil is incredible. Yet not only do you feel like you just got out of the woods (the scent is wild, mature, and captivating), it also comes in a set.
The Proraso Beard Care Tin is probably everything – and we're only half joking! It contains the beard oil, a beard soap, and a beard balm. No, it's not redundant using the two together, they're made to be complementary. Also, the tin is fantastic, created in collaboration with artist Nazario Graziano.
Recommended for: anyone interested in having an awesome beard
Zeus Everyday Beard Grooming Kit

By Zeus! This set comes in as a tie with the other two entries in this subsection. What makes this set by Zeus stand out, besides the fact that they make remarkable products, is that it also comes with a shampoo and conditioner.
The set contains: beard shampoo, beard conditioner, beard oil, and beard balm. Like with the previous set, the oil and balm are made to be used at the same time! And it comes in three scents: sandalwood, verbena, and vanilla rum.
Recommended for: all-around beard care
Cain Cavalli Beard Care Grooming Kit for Men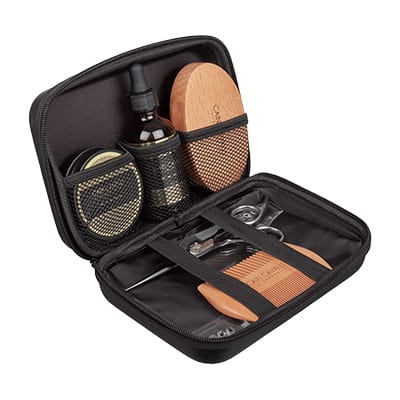 Okay so first we have to list what this set contains because it's just crazy: travel case, trimming scissors, shaping tool, bib, beard brush, mustache comb, hair comb, and, of course, the leave-in conditioner, beard oil, and beard butter wax.
Now if it only had a shampoo and conditioner, this set would've been a lot better than the other two! However, I think it's fair to say you get the best bang for your buck with this one.
Recommended for: budget beard care
Ø  Best Beard Brushes, Combs, and Mustache Combs | MHW Choice 2019
Best Portable Beard Brush for Men 2019
BFWood Beard Brush for Men

Men don't always have the luxury of having the right tool to brush their beard when they're out and about. And they should. That's why here at Men Hairstyles World we're choosing to promote portable beard brushes! And the BFWood beard brush is the best one for when you're on the go – simple, small, and elegant!
Recommended for: busy men, travelers
Best Moustache Comb for Men 2019
Kent 87T 2 1/2″ 70mm

Some think mustache combs are a luxury. And they're right! But they're a dapper luxury piece! Kent is renowned for making incredibly stylish combs. On the downside, it's made of plastic – which, we've said, not ideal. However, there is no better mustache comb with equally small bristles that's made of wood AND foldable. So Kent takes the gold here.
Recommended for: mustachioed muchachos
Best Beard Brush for Men 2019
ZilberHaar Major – Hair & Beard Brush

So, a problem with almost all of the most famous beard brushes is that they don't have a handle. That just won't do! Have you tried no handle brushes? I have, and I seriously do not understand why there's no handle on so many of them. It gives you so much more control, and you can drill a hole in the handle it to hang it on your wall by a string – for quick access!
That's why for the best overall beard brush I'm going with the ZiblerHaar Major. It's made of pear wood, which makes it pear-fect! Well, almost. Sadly, it has natural boar bristles – I just hope they're ethically sourced. Even sadder still, no artificial boar bristle beard brush also comes with a handle. But that's not to take from how awesome this brush is – it looks and especially feels terrific!
Recommended for: men serious about their beards
Recommended article:
The Winners and the Losers
We've got a lot of amazing products on this list. And we plan to add more! We're looking into reviewing groomers and electrical hair and beard care equipment.

The selection process was rougher than an ungroomed beard, and the final candidates were thoroughly researched, and we stand by our winners. We have to remind everyone that every head of hair, or every face of beard, is unique in its own right. So what works for you might not work for your neighbor or friends. And for us – you're all our friends, so please go extra when selecting what will make you extra!