Health and hygiene products have evolved greatly over the past decade. To help your hair and for easier styling, you can choose the best pomade hair styling products for your hair from our list.
This continuous upsurge is evident in the tremendous expansion of hair care and beauty products geared toward the male population.
Men are no longer insecure about expressing their opinions and concerns. They will freely ask questions and conduct their own personal research to find everything from the best pomade to the most affordable electric shaver.
Those who are still uncertain about how to use pomade will find that answer plus other helpful information and recommendations by reading this ultimate guide to hair products for men.
What is Pomade?
Since it is best to start with the basics, now would be a good time to share a brief introduction to pomade. This hair styling product is a thick substance that can be petroleum or water-based, depending on the style and manufacturer. It is designed to hold a specific style in place and comes in various strengths that produce different degrees of styling and holding power.
Because of its unique texture and makeup, pomade provides not only all day hold, but also a lasting illustrious shine as well. Men are able to apply the product, achieve their best style, and know that the base allows them to continue their daily without fear of losing their style, hold, or shine.
As with any other styling product, there are different types and bases of pomade that work well with specific hair textures, challenges, and preferred styles. Here, a few of the best pomades for men will be discussed in accordance with these criteria in mind.
Best Pomades For Thin Hair
Styling thin or thinning hair can be tricky, but pomade is a helpful styling tool for creating an illusion of full, thick hair. There are numerous products on the market today that are geared toward men with thinning hair.
Styling products directed specifically at thinning hair is a different matter altogether. Pomades are a useful styling tool for men with thinning hair, if the right products are chosen and they are properly used. The best pomade for men with thinning hair is one that does not clump hair together or create a stiff appearance. Here is the most up to date list of contenders for the overall best pomade for thin hair.
1. Imperial Matte Pomade Paste
This water based, barber grade quality pomade is the best option for thinning hair because it is light in appearance when dry.
The shine-free finish helps avoid the reflective qualities of light which tends to make thinning hair more noticeable.
The 2 out of a possible 4 hold strength is sufficient to hold most styles without looking overly stiff. Soft spiky styles and feathered back or wispy bangs are perfect for use with Imperial Matte Pomade.
2. Lock Stock & Barrel Pucka Grooming Creme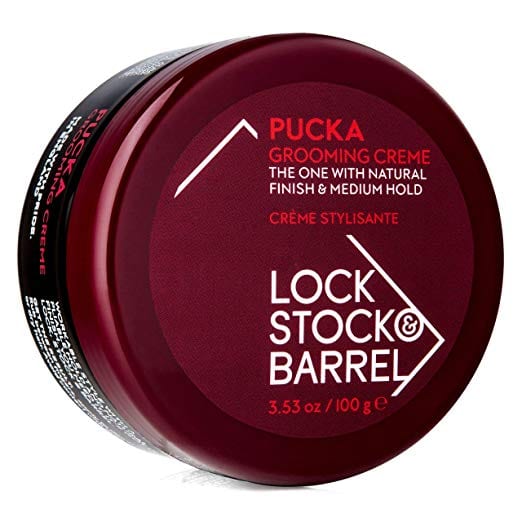 This creme is water-based and easy to apply. It is the best pomade for men with thinning hair when they want great style but no finished look.
The Pucka Grooming Creme is pliable and adds volume but not weight, as some of the heavier pomades will. This is perfect for mussed looks, naturally curly hairstyles, and high-volume side flips.
The medium hold promises volume and style without the unwanted shine. This product is also great for men who wash their hair daily, as it rinses easily without a sticky residue.
3. Baxter of California Clay Pomade
This petroleum based product is infused with natural ingredients such as clay and beeswax to produce the firmest hold for severe hairstyles. Clay pomade is made for men who know how to use pomade and are not afraid of setting new trends.
This product is great for serious spikes and shaved sides with volume on top hairstyles. Baxter of California Clay is the option that is the best pomade for thin hair because it creates stand-up volume and natural pliability.
The matte finish reduces the amount of shine that is normally associated with hair waxes, but the overall effect will certainly not be dull.
Best Pomades for Thick Hair
Some of the best pomades for men cater to thicker hair textures and trendy styles. Even though many men with thinning hair are somewhat self-conscious with their appearance, there are equivalent challenges for men with thick hair.
Thick hair can be notoriously difficult and unmanageable, not to mention a nightmare to cut properly. Men with thick hair typically find a great stylist and remain loyal no matter what the cost.
Before styling products were specifically geared toward thicker hair, men were forced to use heavy waxes and other products that created a stiff appearance rather than a desired natural look. Here is the most up to date list of contenders for the overall best product for thick hair. 
4. Smooth Viking Hair Care Product
This water-based hair care product offers medium hold and high shine. This is the best pomade for thick hair because it offers full access to the hottest and sleekest hairstyles of the day.
Slicked back looks are easily held in place with Smooth Viking pomade for men with thicker hair. Whether men are looking to create serious style with thick and curly hair or thick and straight hair, they will be pleased with the results achieved by Smooth Viking pomade.
5. Suavecito Strong Hold
This strong hold product is surprisingly water based and completely water soluble.
This is the best pomade for thick hair and works well with styles such as pompadours, fierce side parts, and simple slicked back hairstyles. Men with thick hair will appreciate the easy application and washout process of Suavecito pomade.
The strong hold is perfect for thick hair because it will hold virtually any style in place throughout the day. The high shine exudes the confidence of healthy hair and great style.
6. Jovinno Natural Pomade
This is the best pomade for men with thick hair and an environmentally conscious outlook on life. The Jovinno Natural pomade is a petroleum-based hair wax product that combines natural ingredients with modern technology to create a water-soluble alternative to heavy styling creams.
The medium to strong hold version was designed specifically for male customers with thick hair and offers manageable hair that is actually touchable. This can be used to create tussled hairstyles as well as simple side parts or slick backed looks.
Best Pomades for Curly Hair
Maintaining and styling naturally curly hair has always been somewhat of a challenge for men and women. Recent development in hair care products has made the longstanding difficulty much easier.
Some general tips for styling curly hair include applying product when hair is still very wet, air drying as opposed to applying heat and using products specifically designed for curly styles.
There will always be the proverbial bad hair day, especially for those with thick natural curls, but are solutions are available. Pomade for men with curly hair is now available in many options and brands. Here is the most up to date list of contenders for the overall best option pomades for curly hair.
7. Imperial Classic Product
This barber grade pomade offers the highest level of hold for maximum control and styling options. Although the firm hold is effective, the product is actually water based and easy to rinse and remove.
This is the best pomade for curly hair for those who want a lower shine finish. Imperial Classic pomade works well to create a healthy shine that is not greasy or sticky.
Can be used for virtually any natural and curly hairstyle, whether it is worn long or short. Loose curly, natural locks and other styles benefit from the manageable hold.
8. American Crew Pomade
Men with curly hair who want a high shine will quickly find that American Crew pomade is their go to choice. This is the best pomade for men who want high shine styles for their naturally curly locks.
This product is water based but infused with lanolin and other essential oils to create the high shine effect with a sticky or heavy feeling that weighs curls down and creates a frumpy appearance.
The American Crew option in pomade for curly hair offers medium hold that is more than sufficient for modern day styles such as naturally bouncy and short and coiffed looks.
9. Upper Cut Deluxe Pomade
The Upper Cut is a tried and true brand so there is no surprise that it tops the list of the best pomades for use with curly hair. This water-based version provides maximum control and definition for the trendiest hairstyles like the curly hair with a fade and even curly pompadours.
Easy to use, style and hold are critical for providing definition to curls that tend to clump up or become frizzy when exposed to humid conditions. Men who want the high shine and medium control for their curly hair need to look no further than the Upper Cut Deluxe Pomade.
What is the Best Brand of Pomade?
Choosing a pomade formula based on a particular hair texture and preferred styling options can seem overwhelming because there are so many different brands available on the market today.
Suavecito and American Crew are among the top rated brands for pomade styling products. Here is a brief review of their top selling pomades.
I. Suavecito Pomade Original Hold
Sometimes the classics are simply the best options. This original pomade formula is water soluble and provides medium hold without a stiff or crunchy finish. For men who want a style that is also touchable and easy to comb through, this brand provides the best of both worlds.
II. Suavecito Pomade Firm Hold
What is pomade without a dependable and firm hold? This stellar product is available in larger sizes, such as this 32 ounce option, for men who opt for daily use. The strong hold allows even the most extreme styles to stay in place since the pomade virtually grips the hair follicles to hold them in place for a day of work or play.
III. American Crew Classic Pomade
This great four pack classic pomade features throw back celebrities, include Elvis Presley, who obviously made historic use of pomade. Medium hold and heavy shine is the key combination for the slicked back style of these iconic look.
IV. American Crew Heavy Pomade
The heavy hold pomade is great for thicker hair and hard to manage styles. It provides a strong hold while not sacrificing manageability in the process. This is a classic, no nonsense styling product for men who know what they want from a pomade.
Pomade vs Wax
Choosing a styling product for notorious hold generally leads a man to look at pomade and wax. Both are capable of providing the hold and style definition required for most styles, but there are some obvious differences. Pomade is creamier by nature and can be petroleum or water based.
Most waxes are literally a pure wax base with some sort of waxy substance and other oils blended to produce a workable product.
The wax feels heavier than most pomades, but can be effectively worked into the hair to create the desired styles.
Either pomade or wax products may include other natural ingredients and may even be considered organic. Reading the labels carefully will help consumers choose a product that is right for their intended use. It may also be helpful to have both products available for comparison.

Waxes are typically stiffer and slightly more difficult for amateur users to work with, at least until they get used to the texture and create a system that works for them.
Wax can become flaky as it dries and produce a dandruff like appearance when too much product is used and dries without absorbing into the hair. Pomades are more flexible for styling and creating definition.
Wax helps hold unmanageable hair in place for the tightest and shiniest slicked back looks. Washing out either product when petroleum based can be a bit of a process. Waxes are generally a little greasier when exposed to water, and effective shampooing skills are needed to get out the residue.
Pomade vs Gel
Most pomades have been around for several decades before gel products were introduced to the world. Pomade, in some form, has been used by men and women for centuries.
It was one of the easiest hair products available for early cultures who wanted to tame hair. Today, pomade is used for styling rather than practical survival, but suffice it to say that it has been tested for generations. Both gel and pomade have great features when it comes to styling specific hair types.

Special formulas of both pomade and gel cater to men with curly hair, straight hair, and many other textures or conditions. Choosing one product over the other in this category is highly subjective based on hair quality and preferred styles.
Gel is slightly heavier than original pomade formulas but can definitely be lighter than petroleum based or high hold pomade. High quality gel products dry evenly and will not flake but could become problematic when styled hair becomes wet.
Pomades and gels typically have the same hold levels ranging from touchable to firm. Gel tends to be stickier during use and may require more product to achieve the same result as a pomade. Both products are viable options for men so the end decision will be based on factors such as cost, styling time, personal preference, and overall look.
Frequently Asked Questions About Pomade
1. Do you use pomade on wet or dry hair?
Either, depending on personal preference. Curly hair responds best when products are applied to wet hair. Fine or thin hair benefits from touch ups on dry hair.
2. Should I Wash Out Pomade Before Bed?
Most styles will hold overnight, so daily washing is not necessary. Heavier products or petroleum will require pillow case protection, though.
3. Is Pomade Healthy For Hair?
Cream-based pomades are made with healthy oils and some are infused with vitamin E for additional benefits. While chemicals, heat, and styling products may not be healthy for hair, they are unlikely to cause damage when used in moderation.
4. Does Pomade Causes Hair Loss?
Absolutely not. Pomade is a hair care product that helps with styling and definition, but there is no link between hair loss and use of specific pomade products.
5. Is Pomade Good For Long Hair?
Yes. Pomade can be used on short or long hairstyles. Low to medium hold pomades work best for longer hair, which can be easily weighed down by heavier products. If hair is very thick or has a fly away quality, heavier pomades will help tame those tresses.
Conclusion
There are many styling options available for men. As this guide has shown, pomade alone covers the gamut of hairstyles and textures. Ultimately, finding the best hair care products for men or women requires some trial and error. Hair also changes over time and even between seasons or based on diet and stress factors. Hopefully, this guide has at least taken some of the guesswork out of choosing the right pomades to create the most popular styles.