Medium length hairstyles for men are quite a blessing in disguise as they are easier to maintain than long hair yet simpler to style than short ones. So part of the beauty of mid-length hair lies in its versatility as it can be worn up or down, straight or curly, or in so many ways!
Not only do women need a change of look from time to time, but also the men who sit next to them. If you are part of the latter category and you want to make a fashionable haircut, the stylists have prepared a whole palette from which you can choose the one that suits you. Also, if you want to propose a new style to your life partner, we have compiled a list of the coolest haircuts, which not only men will appreciate, but also women.
Medium hair is versatile. The type of men's haircut, medium hair, is becoming more and more popular nowadays. Even those men accustomed to short haircuts are finally beginning to realize that short to medium lengths hair offer even more freedom in choosing different hairstyles.
For a men's haircut that is classic but now fashionable, try longer hair at the top and shorter hair at the bottom. A medium-length hairstyle can be defined as 5 to 7 cm long at the top. However, they often showed a combination of cuts, which can be very short on the back and sides. For example, Fade or Undercut haircuts combined with the generous volume on top are very popular among many men.
Men who prefer medium haircuts often do so for the freedom they offer in expressing their identities. Some styles also remain relatively safe choices for professional environments. However, men working in the conservative profession should consider whether they are fully appropriate.
Men with medium length hair have plenty of options to choose from, and this article aims to show the coolest styling ideas & styling tips so that you'll feel confident enough to sport medium length locks!
1. Medium Naturally Curly Hair
For men with naturally curly hair, it can be tempting to go for short hair for easy maintenance. Still, they can also go for a style like the one below to add volume and let those curls fantastically dominate their style.
2. The Kit Harrington Medium Shaggy Wave or Curl
Your natural hair already holds so much body and texture, so why not use this to your advantage? For example, this medium-length hairstyle for men with tight curls extends outward in all directions. Try a unique part or pull it into a bun to mix things up a bit.
3. Shaggy Straight Medium Hairstyles for Men
The shag hairstyle first became popular in the 70s but is a style that never really went out of fashion. Our example also includes a fringe, but you can also style it with a side part and admire how the hair rises and falls thanks to this shaggy layered cut. It will also accentuate natural waves and curls.
4. Curly Medium Length Hairstyles with Bangs
Curly hair boasts volume and dimension, something most men (and women) would be really glad to have. So show it off with a simple and natural style where the curls are free to fall around the face. Consider adding bangs to frame your features naturally, depending on the face shape.
5. Medium Length Beach Hair
There is something to be said about how the hair looks once you step back out of the water – and now you don't need to live on the coast to get it. Let the hair dry into its natural waves, and then add a bit of mousse to the strands to help it form those beachy, tousled waves that make for one of the best medium length hairstyles for men.
6. Curly Bangs with Short Mullet
Play up the shape of your face with brow-length bangs. The sides of this style descend backward, and the locks become longer for a full and thick effect that is similar to a short mullet. This will also help make waves or curls seem more prominent but might make for a flatter straight style.
7. Straight & Slick Medium Haircuts for Men
If you have straight hair or like to straighten your curls, you can add volume and body by parting it down the middle. Center-parted straight hair will get a bit of a lift so that it won't look or feel flat or underwhelming. Layering the hair helps with this, too.
8. Orlando Bloom's Medium Length Hair
Sometimes you have so many curls that it can be hard to figure out what to do with them. Get them out of your face but keep them in the foreground by rubbing a little hair gel into the curls as you lift them and brush them back to create a cascading effect.
9. Men's Haircuts with Curls & Highlights
Accent your naturally curly hair by bringing in some highlights here and there. Highlights give your hair unmistakable dimension, and by highlighting a few of your curls, you are bringing them to the forefront, allowing them to be part of your ensemble and less of "just your hair."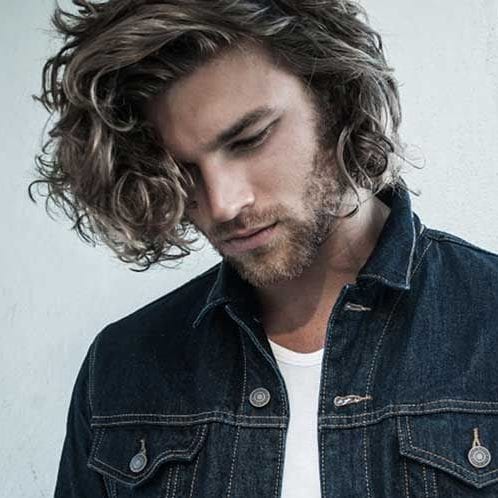 10. Short-Medium Ringlets
When stretched out, the ringlets in curly hair can be quite long, but when they are allowed to dry and form naturally, they extend outward instead of downward. This is a great choice of medium length hairstyles for men who want to let their hair do the talking.
11. Short Unkempt Ringlets
Don't try to tame the beast – let the tight ringlets of your natural hair shine by letting your unkempt curls go wild! Not only does this deliver volume and, most certainly, texture, but it's also one of the best men's hairstyles to show off that great hair texture.
12. Loose Curls, Center Part Shoulder Length Haircut
A great way to accentuate natural features when you have thick hair is by parting it in the center. This brings the hair down around the face and, if you have curls, brings them into the limelight. Put a little product in your hair to help the curls retain their shape!
13. Medium Length Tight Curls
Your curly hair isn't quite shoulder length, but it isn't exactly short, either. So what do you do with it? Let the curls handle themselves. Flattened curls will make the hair look thick and voluminous despite the length of the curls – add some product to give them a little more definition.
14. Tight Curls with Side Bangs
Let medium-length ringlets fall naturally – but add a little layering to give them that extra oomph. Most types of bangs are also a great way to add further volume to the hair. In most cases, letting the back grow a bit longer than the front is a stylish movie that you can't go wrong with.
15. Loose Pomp with Untamed Beard
You don't always have to let your medium-length hair fall to the sides. Lift it with a little product and let it fall into a messy pompadour or big faux hawk. If the hair is thick enough to weigh itself down, part it to the side for some modern rockabilly flair.
16. Intentionally Unkempt Medium Hairstyle
If your hair is naturally straight, but you wish it had a little more weight to it, give it a messy hairstyle. All you have to do to achieve this is add a little mousse, rough up the hair a bit, and then brush it.
17. Tamed Curls with Fringe
Another great way to style curly hair is by taming the curls a bit, as some days, it just isn't appropriate to have the wild and everywhere. Taming them down with gel will make for a more professional look and will also add depth and a certain thickness that only curls can afford.
18. Voluminous Curls
Some days might not be appropriate for loud curls, but on those days, throw a little mousse into them and let them bounce freely. Wear them around-ear or at eye length so that they will also frame the face. This is almost an afro look and will look best for men with afro-textured hair.
19. Wavy Side Parted Mid-Length Hair
To properly show off wavy hair, consider styling the hair with a deep side part. Flip one part of the hair to the side to expose the wave on top and underneath and rock those natural waves.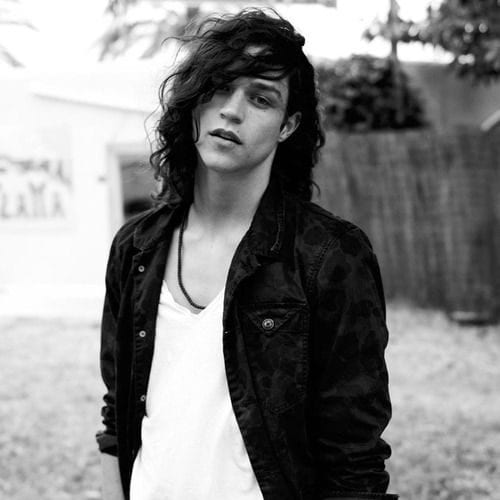 20. Brushed Back Waves Medium Length Hairstyles for Men
You can easily give straight hair all the volume that comes naturally with thick waves just by incorporating layers into the look. Go for a center part and brush these layers back to create a waterfall effect.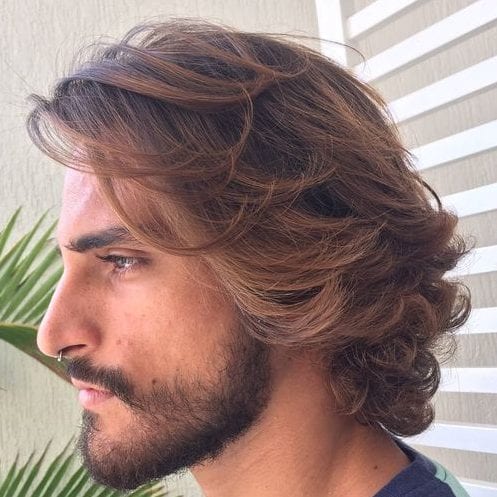 21. Side Parted Straight Medium Length Hairstyles for Men
Straight hair can have lots of volume too! All you have to do to give your locks a bit of lift is try and part them to the side instead of the center. This look is perfect for any occasion, whether a suit and tie or a drink out in town.
22. Dramatic Angular Style for Medium or Long Hair
Cutting thick hair at an angle toward the bottom helps add an avant-garde touch to the hairstyle and adds body. Give thick or even thin hair a new lease on life with this vivid styling that is bold and dramatic and certainly makes a statement.
23. Casual Straight Hair with Center Part Medium Length Hairstyles for Men
Rock straight hair the way it was meant to be worn with a simple part down the middle! This shows off those naturally straight locks and frames the face. Add some layers for more dimension, a handsome shape, and a whole lot of style.
24. Moussed Curls Medium Length Hairstyles for Men
It can be tricky to style curls that barely brush over the ear. However, there's a solution, which lies in using hair products. Throw a bit of mousse into the hair to help define the curls, and then let them frame the face and bring out the eyes.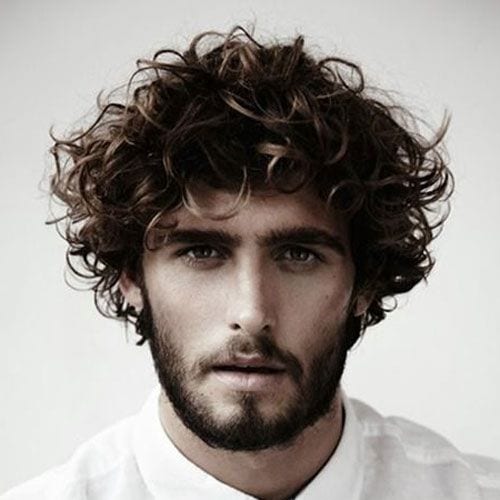 25. Comb Over Medium Length Hairstyles For Men
Combing over your hair can create the illusion of its having more volume than it does. Use your hands or a good brush to lift and brush back your medium-length locks so that they cascade down the back of your neck and fall around and frame your face.
26. Messy Bed Head Look Medium Length Hairstyles for Men
Go for that casual, carefree, just-woke-up look with a bed-head style – it works for straight, wavy, or curly hair alike. Run your hands through the hair a few times to give it a tousled look, and then watch as your hair does all the work for you.
27. Brushed Back Hair with Highlights
Straight hair that is cut at the same level all around can be accentuated by adding in some highlights. This will give the hair dimension and make it look fuller. With this in mind, also brush back the hair to rest behind your head and give the illusion of layers as well as waves.
28. Medium Hair Styled with Slicked Back Sides
Want to add a little height to the hair but aren't ready to commit to the shaved sides of pomp or quiff? All you have to do is slick back the sides of the hair into a more uniform shape and then fluff up the hair in the front using hair products.
29. Blonde Medium Length Hairstyles for Men
A great way to deal with straight medium-length hair that feels dull is to change its color. Blonde is an underrated color that can make facial features pop. Try a platinum blonde and perhaps even incorporate some layering to bring the hair back to life and show its full potential.
30. The Keith Urban Medium Length Style
A classic cut that never falls out of trends is this shag cut with bangs as worn by Keith Urban. It works great – no matter the hair type – and features side-swept, brow-length bangs with layered sides that come down over the years. Make its pieces with a little gel or keep the waves natural.
A hair mousse is enough to define this haircut for men. Whether you opt for medium-length bangs arranged on one side or a back one, your partner will look like he's off the catwalk.
31. Shoulder Length Hairstyles For Men
Shoulder-length hair can look very flattering to men with a square jaw and face. It is also a very versatile style that can be worn in several ways: parted down the middle, to the side, or brushed back.
32. The "Titanic" Medium Length Hairstyles for Men
The 90s heartthrob Leonardo DiCaprio was famous for his hair in the 90s, and that style never quite fell out of trend. This look features longer hair in the front that is parted in the middle and has pieces straying from the main style. The back is short and gelled down neatly.
33. Layered Medium Length Hairstyle
Layers, layers, layers, they can do wonders for any kind of hair and type of face by adding dimension and making for a classic style. The example below shows how well they can look when adding a fringe as well.
34. The Johnny Depp Medium Length Hairstyles for Men
Depp popularized this simple medium-length hairstyle that's since become almost his staple, real-life look. The hairdo is parted down the middle and in the front, while the rest of the hair falls naturally on either side. Also, the first few strands are given volume and detail with a little gel and combing.
35. Wavy Short to Mid Cut with Layers
As pointed out earlier in this article, layering will help add volume to all types of hair, including wavy textures. So wear your layered medium-length hair parted down the center or flipped over with a side part. The layers will also add a little texture at the bottom of the hair, making it, so everything doesn't look like one length.
36. Choppy & Textured Medium-Short Hair
Texturing can also help add volume to short to medium length hairstyles for men that were starting to look a little bit lackluster. Take this photo of Zac Efron hairstyle in his younger years as an example of how to cut and style yours.
37. The Jewfro Medium Length Hairstyles for Men
Let the flyaways fly, the waves do their thing, and the curls exist as they should – with this wild curls look, nothing needs to be done to the medium-length hair except shake it to make it appear messy before leaving the house.
38. Boyish Medium Length Straight Style for Thick Hair
Much like highlighting curls works for medium-length hair, the same can be said about highlighting layers. Add highlights to certain sections of the hair to give it more depth. Then, no matter how you part it, you can be sure that the hair will have a shine and definite dimension as opposed to having just a single, flat color. A way to look charming!
39. Wild & Messy & Highlighted Style
Here, the trick with lending straight hair some depth and alleviating the flatness is just adding some hair gel. Rub a little between your fingers and run them through your locks, brushing them back and to the side to make them chunky, textured, and piecey.
40. The Lazy Quiff Medium Length Hairstyles for Men
The lazy quiff gives something to do with all that length on the top of the head. The use of hair gel is optional but not required. Simply push back the length of the hair, and instead of gelling it down into place like for the typical quiff haircut for medium length hair, let it hang freely. Classy! Have it your way with this hairstyle.
41. Naturally Straight with Highlights Medium Length Hairstyles for Men
Even if you have straight hair and choose to keep it all at one length, it can be given character and depth by adding in a few very thin highlights. These will accentuate any slight, natural waves you may have to help enrich the cut and will also flatter the eyes and face.
42. Medium Length with Side Part
A standard side part can look fantastic on men with medium-length hair as it builds up the volume that otherwise wouldn't be there – even with naturally straight hair. As you flip it to the side, the pieces underneath are exposed to show off any texture you have hiding underneath the top layer of hair.
43. The Jared Leto Medium Length Hairstyles for Men
Take control of your straight hair or slight waves by using lots of product to sweep it back over the crown and then down the back of the head. You can cut layers into it to add some texture both on the sides of your head and around the neck.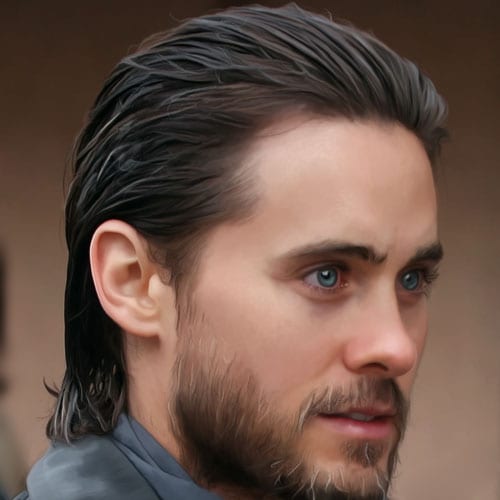 44. Windblown Medium Length Haircut
The windblown style is another messy quiff, except the sides will be longer, of course. Brush back the sides of your medium-length hair flat against your head and push back the top length of the hair with just a bit of gel to keep everything in place.
45. Classic Messy Medium Length Hairstyle
There is much to be said about a man who can rock a dapper, classic look with medium-length hair. This style uses bangs that have been pushed back onto the head to form a bit of a poof, while the rest of the hair works in a swirling shape to create a beautiful hairdo that effortlessly flows into itself. A modern gentleman look that will be perfect for you!
46. The Surfer Look Medium Length Hairstyles for Men
The surfer style delivers the look of fresh-off-the-beach locks without ever setting foot in the water. It showcases hair that has been parted down the middle or to the side and which was allowed to relax into its natural waves or curls to deliver an effortless and carefree hairstyle.
47. Gelled Curls Medium Length Hairstyles for Men
It isn't hard for curly hair to have volume, but if you want to step it up a notch, throw in some gel. This look features medium-length hair that has been parted on the side with the rest of the locks hanging free. Where the part begins, the hair is gelled to retain its curvaceousness.
48. The Chris Hemsworth Medium Length Hairstyles for Men
One of the classic medium length hairstyles for men, the center part is an ideal choice for straight-haired guys. A central part hugs the face and flatters its shape with layers or without them. A little product can give it some volume at the scalp to help break up the monotony.
49. Deep Part Medium Hairstyle
So you've got a lot of hair up top but aren't sure how to manage it? Then start from the side, just above the ear, and part it there, letting your locks hang free over one side. They can serve either as bangs or simply as a way to make a bold statement with your hair. Have that sauve vibe through this look.
50. Early 2000s Straightened Bowl
This is one of the medium length hairstyles for men that were popularized in the early 2000s but has become a staple ever since. Cover part of your forehead with your hair after you have parted it on your chosen side. Add some gel to give the front bangs some texture, and let the rest be messy and free or perfectly slick. Some would even call this a long bowl cut. Go classic with this cut.
51. Chestnut Medium Length Hairstyle with Scruff
This is what natural chestnut hair with blonde highlights looks like. While it can be a gift from nature, you can also obtain this color combo out of a bottle nowadays – just as the waviness can be induced with some help from hair products.
52. Medium Length Hair for Teens – Short Side and Part with Loose Top
This is a super simple medium hairstyle for teenage guys with straight hair. The best thing about it is that they won't have to spend a lot of time in front of the mirror getting ready in the morning or every time they leave the house as this is a simple skin fade with short sides with a long top style.
53. Short Sides, Long Bleached Top, Messy Styling
Extreme blondes have been the absolute top style of the season. Everywhere you look, both men and women have bleached their hair to get this type of lock. But here's a tip: don't try to do it at home. Also, while blonde was the color of 2019, you can experiment with others as well.
54. Asymmetrical Medium Length Hairstyles for Men
This asymmetrical haircut features a gorgeous set of long bangs that makes it look very edgy and fresh. It will make for a very modern and cool look that has been trending for a while now. A fresh and cool way to look awesome. Try it now!
55. The Harry Styles
This was Harry Styles haircut when posing for the Gucci Cruise 2019 Tailoring Campaign and photographed by Glen Luchford. His then medium, curly, and messy hairstyle was tamed down into a straight, feathery haircut with long bangs. Become like your favorite star with this hairstyle.
56. Sharpened Clean Cut with Taper Messy Fringe Brown Hair
It doesn't get much cooler than this next medium-length hairstyle for men. Here he has a fresh fade around the back and above the ears that gradually gets longer until it reaches the top. Here he kept the top layer long and spiky, you will want to invest in a good hair paste to get the most out of this style.
57. Short Edgy Bob Cut with Light Chestnut Shade
Up next is a bob haircut for men, but not your normal bob haircut. Here he has kept the layers long and added a middle part with the slightest touch of curtain bangs. he went with a clean, shaved face it looks so cool.
58. Wavy Medium Length Bob Hairstyle
Next up is a perfect hairstyle for men with wavy hair who like keeping it at medium length. Here he went with a side part and left the hair long and messy; it looks so cool.
59. Medium Lengthy Light Blonde Hairstyle
This next medium-length hairstyle would work best if you had naturally thin and straight hair. Here he went with a light blonde natural look and grew his hair to about shoulder length. Throw in a middle part and you are going to love your new laid-back style.
60. Undercut with Edgy Greaser Hairstyle with Natural Black Hair
Undercuts are one of the best ways to keep your edges looking neat. In the photo above, he went with an undercut with a bit of length, gradually getting longer as it goes up. He is wearing the front section brushed back perfectly with some hair gel.
61. Layered Front Tapered Hair with Medium Cuts
Next up would be a great style for men who like wearing fringe in the front. Here he is wearing a layered front tapered hairstyle with medium-length hair. Keep it straight and brush it all forward to get the most out of this style.
62. Bob Trimmed Haircut with Undercut Fade Hair
Next up is a bob haircut for men with medium-length hair. Here he went with a shaved nape and left the rest of the hair cut with a blunt bowl cut. Be sure to style your new look with a middle part, it is going to look amazing.
63. Man Bun Clean Hairstyle with Undercut Slit Cut
Man buns are so easy to wear and are on trend in 2022. In the look above he has kept his hair shaved short with a thick disconnected line cut in. Throw your hair up in a messy or neat top knot and you are all set.
64. Edgy Regular Hair with Sided Fringe Cut
Regular haircuts can get so boring, that is why he has added a bit of an edge to this one. He went with a side part and added textured layers throughout here and it looks amazing.
65. Man Bun Undercut Brown Hairstyle
Here is another man bun hairstyle for you to see. If you have grown your hair for a while, this would be a perfect look for you to try. Here he went with a nice fade around the sides and added a cut in part to divide the shorter hair and the longer hair.
66. E Boy Haircut with Lowered Fade
The E-boy haircut is one of men's newest and trendiest haircuts in 2022. Here he went with a side part and brushed the hair neatly over to the side. He paired it with a clean-shaven face and it looks so good.
67. Side Parted Full Wavy Swept Taper Fade Hairstyle
Next up is a funky fresh hairstyle for men with medium-length hair. To get this style you are going to want to start with a super side part and brush the hair evenly to the side. Pair it with a thick or thin beard and you are going to love your new look.
68. Curving Hairstyle Medium Length Bob Haircut
Here is a perfect medium-length hairstyle for men who have naturally wavy hair. Here he kept it simple and messy with a slight side part and it looks carefree and cool.
69. Smudged Greaser Edgy Haircut with Front Curled Fringe
Smudged greaser styles will always be around because they leave you feeling confident and cool. Here he has styled his dark black hair with plenty of textured layers and brushed it over to the side, and it looks so cool.
70. Messy Front Bronze Permed Hairstyle
Next is a great look for men with naturally voluminous and curly hair. To get this look, you will want to add a high fade and leave the top layer thick and long enough for your curls to come to life.
71. Side Swept Natural Black Hairstyle
Businessmen, you can stop your search now for the perfect medium-length hairstyle. In the hairstyle above, he has grown his hair to the perfect long length and brushed it over with a simple comb.
72. Curtain Classic Hairstyle with Undercut Fade
Are you curious about wearing curtain bangs? Well, here is your sign to give it a try. Here he has grown his hair out a few inches long in the front, added in a middle part and a short fade, and it looks amazing.
73. Curled Hair Ends with Medium Bob Length Hairstyle
If you have naturally curly hair, you already know how hard it can be to find the right hairstyle, but you could always give this next one a shot. He has his hair cut right at the perfect bob length and lets the hair at the bottom naturally curl, and it looks amazing.
74. Undercut with Sleek Edgy Hairstyle
Sleek hairstyles come in different shapes and sizes, but he has masted the sleek look here. To get this style you are going to want to add in a temple fade and grow the rest of the hair out long and brush it over.
How to Style Medium Length Haircuts?
So, how do you style male medium-length hair?
Styling male medium-length hair is not as easy as it seems, but it can be made easier by following these two tips:
1. First things first: Take care of your hair!
The first thing you should do is take care of your hair and maintain it in top shape. Using hair products such as the Brickell Men's Daily Revitalizing Hair Care Routine can help improve your hair's health and overall look.
Also, combing it will help with most styling processes (except if you are going for a messy look). So, as a first step, remember to take good care of your hair, set up a hair care routine, and stick to it! Styling it will be so much easier if you stick to this.
2. The styling process itself: General information
Styling your medium-length hair might be the most entertaining part of your hair care routine. Depending on your hairstyle, it will also be very easy or a bit more complex. However, the two tips below have been proven to be generally useful.
– To get a messy look, either just rake your fingers through your hair and let it do its thing or use fiber pomade that helps add structure to the hair and helps hold it in place.
– To get a matte finish look, use a clay hair product that will give it the desired look, and then don't forget to comb it too!
– For a sleek look or to style your hair into pomp or a quiff or other such hairstyles, you will need to use a variety of hair products and should consult styling guides dedicated to each hairstyle in part.
Conclusion
Gentlemen have a lot of hair styling options to choose from. Suggest your life partner try one of these men's medium length haircuts if he wants to change his look.
Whether your hair is fine, thick, wavy, or straight, you can do several exciting things with it! Medium hair seems as if it was built to give you more style options than most other cuts, and with these coolest hairstyles for medium-length hair ideas, you can get started today!
But enough about us, what is your most common way of wearing your medium length hair?