Find the best curly hairstyles for men simply by scrolling and being amazed! You can easily try one of the haircuts below.
It's not an easy task to style curly hair and many men can become coiled up (ha!) and frustrated with their curls.
That almost always means they haven't found the right haircut yet.
When the right hairstyle will catch your eye, everything else is going to change for the better! So let's see some.
PRO TIP

Before skimming through the article, it might be useful to find out precisely what type of curly hair you have: wavy, coiled, or afro-textured.
1. Side Swept Wide Wavy Hair
We begin with the careless wavy curls that the dude above simply let loose and it just rocks! To achieve curls like these, you just need to take great care of your hair and style it with some water and loosely-applied pomade (or hair spray) before you go out for the day. And boom – you'll look stunning!
2. Flat Top Z Coils
Most sportsmen and athletes wear this haircut because it has its own benefits and it does not require a lot (or any!) maintenance. You can try various contrasts by letting your imagination run free.
3. Neat Curly Waves
If you have a receding hairline, curly hairstyles for men bring you the neat curls. Focus on arranging the hair on top, creating a long bob that shifts the attention from the forehead.
4. Slick Back Curly Comb Over
Curly hairstyles for men include getting an undercut or medium length hair with wavy to loose curls. Use your fingers, apply pomade evenly throughout your hair and fix the hair in place.
5. Curly Wild Parted Afro Hairstyle
Afro is back in style, giving you a reason to let your curly locks go haywire and sport the Afro look for a while. If you get bothered by them, you can always chop it all off.
6. Curly Quiff
The curly quiff consists of short hair on the back and sides with medium to long hair on top. For a smooth finish, keep defining the curls by scrunching them into place.
7. Soft and Loose Curls
As many young men would prefer to wear this hairstyle, it can be tricky at times and it does require your attention in styling it properly. Soft and loose curls are the thing!
8. Parted Curls with Disconnected Undercut
Giving you a sort of 80's vibe, this will also be keeping the hairstyle fresh. You can part it on one side and use hairspray for the finishing touch to keep it all in place. Disconnected undercuts are also extra cool so there's that too.
9. Tight Curly Shag
Great on guys of all ages with the request that they will take care of their hair. If you have tight curls, your shag will look marvelous only if you are ready to tame the spirals.
10. Curly Fringe
Curly hair can look it's best when worn messy. This cut leaves length at the top that can be slicked to one side or worn loose like above.
11. Shaved Side and Low Fade Haircut for Afro-Textured Hair
Fades always give you a clean stylish look. Go for longer hair on top and play with its textures in different hairstyles. Combs and styling products are out of the question.
12. Windswept Waves
For this style, cut and maintain it by using only scissors. If your hair is naturally thick, use layers to keep texture while reducing weight. Use a texture-enhancing product to finish up.
13. Medium Curly Hair
Let your hair grow a bit over your ears and forehead. The look will be similar to an Afro, meaning that maintenance is not going to be an issue.
14. Thick Curls
This textured and layered hairstyle makes the most of thick curly hair by reducing weight and bulk, leaving just enough length for curls at the hairline.
15. Wavy Classy with Short Trimmed Beard
Yes, sir, I will have the trimestrial spreadsheets for you by the end of the day. Sorry, I mistook the dude above for my boss. To get that boss look, you'll need to go a bit heavier on the pomade and lighter on the water.
16. Unruly Mohawk for Curls
Mohawk always stands out of the crowd. If you have the courage to sport a Mohawk, you can forget about styling the top. A messy look is the icing on the cake.
17. Wavy Fringe
Go for low grade on the back and sides and keep most of the length at the top. Blend the hair on top using scissors with the longest length at the front, getting shorter towards the top.
18. Elegant Medium Length Curls
Elegant medium-length curls are perfect for formal occasions, as well as casual ones. Use hair foam if you wish to switch from loose curls and bangs to a sleek back look in a second.
19. High Top Wild Z Coils
You can always pair your hair with a beard to make it even cooler, giving you an exotic appearance.
20. Short Sides Buzz Cut for Afro-textured Hair
This haircut is simple and short and requires minimum effort. It looks at its best with mustache and beard trimmed accordingly because it brings out your features.
21. Shag with Bangs
If you are a morning person and enjoy taking care of your hair, this wonderful shag with bangs is a great choice. It allows you to bring up your curls and make up your own style.
22. Bleached Hair, Faded Sides, Line, and Short Groomed Beard
If you wish to stand out in the crowd, choose this impressive look. Try the very latest white fade haircut with small waves and you will not be disappointed.
23. Short Curly Hair
No need for a lot of hair product to keep your short hair looking classy. Make sure that your barber knows to keep it shorter on the sides to give it a balanced look.
24. Bearded and Tapered Short Afro
Grown beard with semi-short tapered Afro denotes passion, elegance, and trust. This combination can bring more than eyes on you, it will boost your confidence.
25. Tom Holland's Wavy Hair
Fun fact: Tom Holland was supposed to get a haircut for Avengers: Infinity War, but because of contractual obligations with a separate theater project he was doing at the time, he asked the Russos if it's okay to leave his hair long.
The result – his iconic Spiderman look that will probably survive for a few more movies. And we're glad for it!
26. Natural Curls for Loose Afro-Textured Hair
Moisturizing gel after washing your hair will help fight frizz and your other hair products won't be necessary. Any man looking for an easy way to arrange their hair must try this haircut.
27. Curly Comb Over
The curly comb over works perfect on wavy, thicker hair as it would with straight hair. Use your fingers to style the hair to one side. Add wax for hold and a natural shine.
28. Corners Fade Haircut
Twist your appearance to 360 degrees and try this awesome cut for black men. Only the corners fade while all hair is dyed turquoise, making this a great look to show off. This is probably the most creative hairstyle in here.
29. Thick Curly Hairstyle
If you have thick hair locks, you're in luck. You have plenty of hair to work with and you can arrange it however you want. With a bit of skill and hair product, you are ready.
30. Cropped Wavy Hair
Short cropped hair is in and can't really get out of style. Neat, curly, and finely chopped uniformly all around the sides of the head.
31. The Jim Morrison Hairstyle
The Jim Morrison hairstyle is achieved with wavy hair that is a medium to long length, although the hairstyle can also be achieved with coiled hair.
32. Loose Afro Haircut
The stylish and natural black Afro hairstyle for men has been throughout history a trend setter and it that does not seem to go out anytime soon.
33. Pointed Back Haircut with Line
This one's a great idea for most of the haircuts featured in this article. It looks cool and almost stunning, to be honest. Pro tip: always rub alcohol or aftershave on the back of your head after a cut like this, it will prevent blisters and pimples.
34. Low Fade and Long Twists Hairstyle
Haircuts for black men come in the most diverse styles. Try trims with longer hair, it will definitely take your hairstyle to a whole new level with the fade and long twists.
35. Curly Undercut
The back and sides are cut short and let the volume do the rest. Great for adding height and slimming down your face, this is one of the handiest in the catalog of curly hairstyles for men.
36. Smug Afro Hairstyle
The cut is named "pride nappy" for a particular reason. The reason is that it gives you a very sexy, natural look with a kick of attention capturing at the top.
37. Tapered Shape Up
A tapered shape up is one brave choice of a hairstyle. Many men choose to leave less hair on the sides in order to make this look suitable for formal occasions.
38. Jungle Boy Curls
As you can see in the picture above, this look pretty much resembles the Tarzan look, with natural blonde curls and a savage beard to complement the entire appearance.
39. Hanging Locks
The hanging locks hairstyle is perfect for long wavy hair. Just be aware that coiled curly hair takes considerate more length to hang down than wavy hair.
40. Voluminous Curly Hair
If the hairbrush does not scare you, grow your curls long and wear them as you wish. If you get too hot, you can always opt for a ponytail.
41. The Loose Curls
Perfect for laid-back men, the key to getting this look is by keeping those effortless, bed-head inspired curls in place, which means minimal styling in the mornings.
42. Long Wavy Rebel
Long curly hairstyles for men have the best options, especially if you like fuss-free hair. Let your hair grow out naturally and only trim it whenever it's getting too long.
43. Long Bangs with Curly Hair
Along with curly hair, long bangs can be a challenge. Constantly getting curled up the wrong way and in the wrong direction. But nothing some hair products can't solve.
44. Curly Taper Fade
A taper fade on curly hair requires talent. The transition of the layers is visible, making the styling effortless and easy to achieve.
45. Ivy League Curls
If you are into Ivy League hairstyles, you will love this one. The sides are neatly trimmed to get rid of any curls, while the top is left long and arranged to create a wild look.
46. Curly Bob
Let your natural curls stand out and ask your barber to shape your hair in a way that best fits the thickness. For styling, apply mousse throughout and finish with hairspray.
47. Shaped Up Undercut
This shaped up undercut looks very remarkable and keeps the locks neat. All you will need to consider is the top part but that can be easily maintained with hair products.
48. Tousled Curly Hair
This is a great choice for older men with wavy hair. Keep the sides short similar to an undercut and leave the top at least 10 inches long. Apply hair gel and create a tousled look up top.
49. Curly Fohawk
A Fohawk is one of the most wanted in the category of curly hairstyles for men because curly tresses look amazing as a contrast to shaved sides.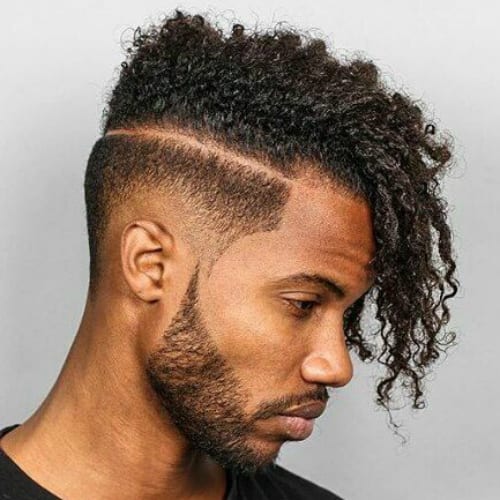 50. Wild Curls
If you are looking for easy styling, you will enjoy this wild and curly look. This hairstyle consists of enough length to create wild and messy bangs.
51. Messy Top Short Sides and Scruff
Killer look and those eyes and the way the guy stares at the camera almost make me afraid he's an actual killer. Notice the very short scruff on the sides.
52. Basic Medium Length Dreads with Beard
Dreads are already a classic look for the tight z coils or even looser afro-textured hair. Check out how cool this photo is!
53. Messy Side Brushed Hair with Messy Sideburns and Scruff
Such a mess, but such great style. The scruffy beard honestly turns this look from a high-school idgaf type to a charming pick-up guy type.
54. Wavy Mess with Faded Sideburns and Two-point Goatee
Very interesting goatee here and I really love the dude's color. Notice also that the curls go all the way back and low, like a mullet.
55. Front Fringe Afro-Textured Hair with Beard
This look is kinda classic but we've seen it less and less in recent times and I don't know why cause it rocks. Also, is the guy in the photo staring at a human skull?
56. Coiled Mohawk with Precise Fade and Pinstripe Sideburns + Trimmed Beard
Probably the coolest hairstyle we have on this list. Really, really nice but more event hair than actual day to day hair, it's way too high-maintenance for that.
57. Short Waves with High Cut Sideburns
Dreamy boy here has probably the most.. erm, dreamy hairstyle on this list. The short-ish waves combined with no beard and very high cut sideburns make the look kinda high-school like but in a good way.
58. Straight Top with Creased Peaks
This look is as natural as it can get, the creased peaks add volume and highlight your jawline. You can easily arrange it by putting it behind your ears.
59. Layered Shag
Keep a haircut for men with curly hair in place by making layers. Curls create a volume which at times can be difficult to handle. Layers tame the spirals and create a stylish look.
60. Creative Electric Blue Fringe
This creative approach to curly dyed hair can be a good idea for a strong personality. This can be made by guys who have straight hair as well. It requires time and patience.
61. Extra Messy Short Curly Haircut
The shorter the curl locks, the easier it will be to deal with. Leave at least 8 inches on top to play around with. If you don't want too much styling, go for a shorter version.
Conclusion
While looking through these curly hairstyles for men, you must have found something that you like or something that got you thinking to try.
With all of the options above, it will be very easy for you to relate and handle your curly hair with care.
So what did you go for?
To achieve many of these looks, you need the best types of products available. We've noted down what impressed us over the previous year and made a list of the most note-worthy product available now for your hair and beard. Check it out and bookmark it for future shopping sprees!
This article was updated in August 2019.