The disconnected undercut hairstyle has been a major trend in the past few years.
Men all over the world have started wearing it heavily after seeing it on Instagram, Pinterest, and the red carpet.
But there may be some degree of confusion as to what a disconnected undercut really consists of.
Taking that into account, we have created a list of ideas that may help shed some light and inspire you at the same time.
1. The Classic Disconnected Undercut
A classic disconnected undercut consists of two parts. As the name suggests, it must have a disconnect and an undercut to qualify. In order to make sure you are spot on with this trend and tell your barber exactly what you want, let's deconstruct the two parts and see their specifications.
2. Wavy Disconnected Undercut
The term 'disconnected' means that the bottom half and the top part of this hairstyle must be of completely different lengths.
It doesn't matter what lengths you choose, that's entirely up to you, as there is no preordained length of the hair. They simply must be different to be considered disconnected. For wavy hair types, here's a great idea:
3. Platinum Blonde Disconnected Undercut & Straight Hair Forward Sweep
Eye-catching and as extra as possible, this platinum blonde undercut is incredible. Because the hair is straight and sweeped forward, the contrast of the disconnect looks is even more enhanced.
4. Teenage Disconnected Undercut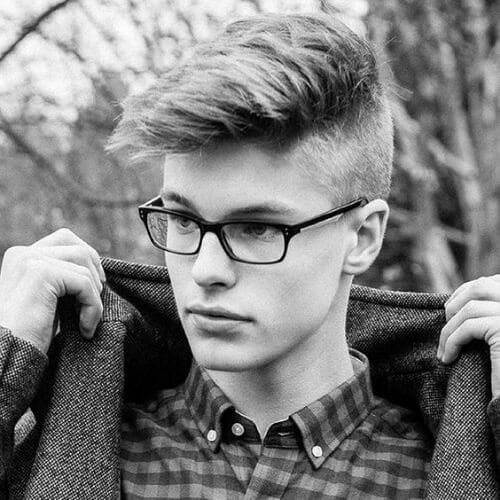 The top part must be considerably longer than the bottom one. Again, there is no telling how long. That's up to you. However, if, when the hair has no product in it, can reach out and cover the short bottom half. Thatțs it, now you have a teenage disconnect.
5. Spiky Disconnected Undercut
All the parts of the bottom half, left, right, and back must be of the same size. It has to start where your sideburns would end, next to your ear and stop where the long hair starts. All hair here must be of the same length and of course, spiky.
6. Platinum Sideswept Undercut
You can choose whatever color you want, length or haircut style you want, be it natural, non-traditional or even braided. The simple rule is that the long part overlaps the short half when devoid of product.
7. Mohawk Disconnected Undercut
As far as the ear goes, most men that wear Mohawks advise you to ask your barber to shave your hair around the ears so that it doesn't grow and cover them. It's not a rule, though. It simply doesn't look good when it grows out.
8. The Sergio Ramos
Internationally famous soccer player Sergio Ramos is just one of the many famous men around the world who has embraced the disconnected undercut. He looks dapper and elegant with a slick back and a suit.
9. Casual Disconnected Undercut
As far as the back goes, it depends on how your hair grows there and how you want it to look. Some men prefer a bit of a taper, so as to make the hairline look more natural. Others want a simple straight line.
10. Blue Undercut
Non-natural colors are a big hit, and they work amazingly well with a disconnect. It's no secret to anyone by now that funky colors are a major trend. So much so, in fact, that drugstore cosmetic brands have come up with new solutions for dying your hair at home.
11. High Asymmetrical Mohawk Disconnect Undercut
Asymmetrical haircuts are in and this mohawk disconnect for coiled hair is incredible. Simply incredible!
12. Layered Disconnected Undercut
The disconnect is undoubtedly the haircut to go for when you have thick, wavy hair such as this one. It will allow you to show it off in all its glory, all the while making it more edgy with an undershave.
13. Curly Undercut
The same logic applies if you have coiled curly hair but don't want the hassle of dealing with the long version of it on a daily basis. This type of haircut makes it possible for you to get the best of both worlds.
14. Viking Undercut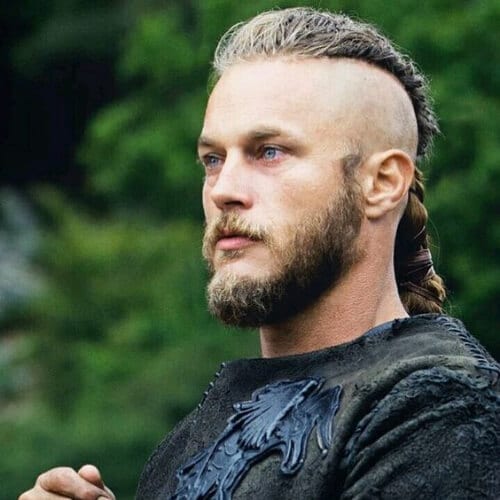 Warrior braids were a sign of courage and victory in a battle for the Vikings. The longer and more elaborate your braids, the more enemies you were supposed to have conquered. Alternately, when a Viking shaved his head, he had lost an important war.
Recommended read:  50 Viking Hairstyles
15. Green Disconnected Undercut
Don't be afraid to show your creative side with the use of your hair. It can tell a lot about you and your story, as well as send a message, just like your clothes and accessories do. Choose a hair color that represents you best.
16. Colorful Spring Undercut
Speaking of creative colors, this is a mix and match that celebrates spring. It's a combination of daffodil yellow and violet purple in vibrant shades that speaks of happiness and being positive.
17. Disconnected Undercut for Boys
If your little boy wants to sport this trend, then you're in luck because it's very easy to turn this haircut into one fit for children. Use his favorite colors as well as a set of chunky spikes to set the childish mood.
18. Undercut with Braids
One of the most notorious hair trends to emerge in the middle of the 2010s was the man braids. They came right after the man bun and the top knot, sending the entire world into another heated debate about their styling value.
19. Magenta Disconnected Undercut
Vibrant colors are not always very easy to obtain at home by yourself. More often than not, they are the result of mixing one or more shades. Therefore, it's best you leave this one in the hands of your stylist if your heart is set on it.
20. Icy Blue Haircut
Say hello to your summer hairstyle. This icy blue hair color reminds you of a Slurpee with extra ice on top that you have on a hot summer's day. Get in any shade or flavor that you want and don't forget to stay cool!
21. Comb Over Disconnect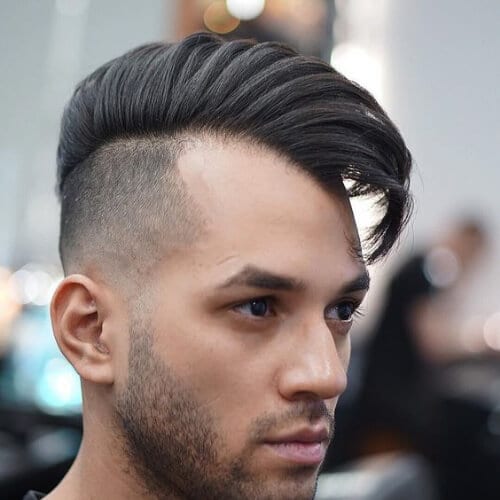 Just as the name suggests, this is a comb over with an undercut. You will need some product for your hair, such as hair wax and extra hairspray to make it last through the day. Don't forget about the comb.
22. White Blonde Forward Sweep
Extreme blondes have been the rage of the season. It has all been about shades such as arctic, milk, iceberg, and platinum white, as the world waves goodbye to the old shades we all used to wear.
23. Green and Graffiti Decal Undercut
You can have something designed in the bottom half of this haircut if you want to give it some edge. This, for example, is a blend of green hair color on top and some old-fashioned graffiti lines on the bottom.
24. Textured Disconnected Haircut
Adding some texture to your hair is not difficult to do at all, especially if you have thick locks. Just remember to ask your barber to leave some longer strands in the back for a smooth transition between the two parts.
25. Slick Back Haircut
If you're into low maintenance hairstyles, you can try a simple slick back. It takes almost no time at all to style, and it looks fabulous. Not to mention that the slick back is an absolute trend right now.
26. Slick Swept Back Disconnected Undercut
The casual swept back undercut works wonderfully if you've got that luster on your hair. Since Ash Stymest (pictured) has kind of a diamond face, it really helps bring out that cool disconnect.
27. High Top Slick Back
This version of the disconnect is at the other side of the spectrum maintenance-wise. It will take quite some time to create that high wall of hair in the morning, but it will all be worth it when you walk down the street, and everybody notices you.
28. Disconnected Undercut with Finger Waves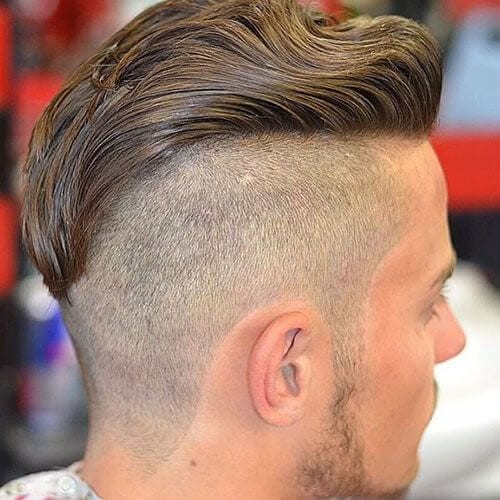 Finger waves were popular among men's hairstyles in the 1920s, and they have remained so to the present day. They are slick and classy, which means you can wear this version of the haircut with an elegant suit.
29. Disconnected Undercut and Beard
You don't hear that much about it anymore, but the lumberjack style is alive and well. Men all over are still sporting their massive beards along with an undercut and, of course, a plaid shirt to top it all off. And there's a lot of beard styles that can easily work with this one!
30. The Brad Pitt
One of the first and most famous men to sport the haircut we're here to dissect is none other than Brad Pitt himself. He wore it in the movie Fury and absolutely made headlines. Scores of men all over the world rushed to copy it.
31. Disconnected Undercut with Blonde Highlights
One of the most creative ways in which you can update your hairstyle is by adding some blonde highlights to it. However, once again we must urge you to leave this to the hands of a professional and not do it yourself at home.
32. 2000s Revival Disconnect
Do you remember in the 2000s when we all wore those crazy spikes? Fear not because they are back, and they are angrier than ever. This is what a modern-day disconnected undercut with 2000s blonde spikes looks like.
33. Copper Red Undercut with Short Beard
Copper is the color that managed to push rose gold off its high chair for the first time in quite a few seasons. We got to see it shine in everything, from clothes to shoes to hair colors and accessories.
34. Brush Top
Another revival, but this time from the 80s, comes in the shape of the brush top. If you dye your hair in a non-conventional color and add a disconnected haircut to it, you can really pass it off for a modern hairstyle.
35. Hard Part Disconnected Undercut
A hard part is a type of hairline which your stylist or barber can give to you using a razor. You can see it here on the right of that magnificent clump of spikes that are also a very interesting take on the disconnected undercut.
36. Dreamy Undercut
If you have a classically handsome face with a chiseled jaw and square features, than this is without a question the haircut for you. It will balance you features perfectly, making you look sweet and innocent.
37. Disconnected Haircut for Thin Hair
This hairstyle is also perfect if you happen to have thin hair because it masks this problem that most men of a certain age seem to face. Shave or trim as much hair as you can on the sides and in the back.
38. Long and Messy Top
On the other hand, if you have thick hair, don't be afraid to show it off and make as much use as you can of this fantastic haircut. Grow out your hair and dye it in a beautiful pastel color such as this pink.
39. Afro-Textured Side-Swept Undercut with Short beard
African-American hair is not easy to manage, but this haircut can be the answer to your problems. Don't forget to use a lot of moisture to keep those curls in place, especially on days with a lot of humidity.
40. Stormy Waves Undercut
Sometimes, the styling is all in the details. If you have chestnut hair with red spiked through it and blue eyes, make sure to wear as much blue as you possibly can. It will highlight both your hair and your eyes.
41. High Top Pompadour Disconnect
This is one ideal hairstyle you can try if you've got a square, rectangular, or diamond shaped face. This twist on the pompadour has a very wild looking fringe towards the back, forming a particularly acute and edgy-looking angle with the back of the hair.
42. Disconnected Haircut with a French Braid
Here's a trend that we love and are eager to try ourselves. It's an undercut with a French braid dyed in an awesome metallic platinum blonde with some teal insertions. This can easily be your summertime color.
43. Afro-Textured Undercut with Man Bun
We've referenced the man bun in this article before, so here it is. The classic man bun has seen much debate in its time, making it the most notorious hairstyle of the decade. That didn't stop men everywhere wearing it, however.
44. Pineapple Texture
This is what happens when men get truly creative with their hair. Here is how you can transform your disconnected undercut into a pineapple. Have your stylist drag lines and patterns all over your scalp and then shape the top like a fruit.
45. Elegant and Slick Undercut
Here's the proof that this haircut can be worn everywhere, including the office or for business meetings. Not to mention that it can be your choice when you're the groom or for a similar special event.
46. Hipster Messy Long Undercut
Leave it to the hipster subculture to take a hairstyle and notch it up on the creativity scale. It's all in the accessories with this one. Notice the fantastic earrings, the lip ring as well as the sunglasses that complete the look.
47. Contemporary Chic Disconnect
Speaking of accessories, you can also use them to make yourself look more modern and trendy. Study the catwalks as well as Instagram accounts and known trendsetters to see what they are wearing and how they are styling themselves.
48. Middle Row with Front Curl Disconnected Undercut
This one coming to you straight out of a new movie by the the Wackowski brothers. Bonus points if you have piercings!
49. The Zayn Malik
Let's end our list of ideas with two former members of the most beloved boyband of the decade. The first one is Zayn Malik who has always been a fan of the disconnected undercut because it matures a bit his incredibly finely carved features.
50. Quiff Disconnected Undercut
Cool as cool gets. I really love the way the top part goes over the sides so much. The Ray Ban sunglasses just complete the look that much more.
51. The Harry Styles
The second One Direction man is none other than Harry Styles himself, who sported this haircut when he starred in Dunkirk in 2017. Here he is posing for a photoshoot in Another Man magazine, flawlessly dressed and styled.
52. Disconnected Undercut with Dreads
A prerequisite of this haircut is that the bottom half must not have a fade. In other words, the lower part should simply be a short haircut, not tapered. You can choose a two, a three or even a bald shave if you want, as long as it's even on all sides. Here's one for afro-texture:
53. Top Knot Disconnect
Still, even if the disconnect is now the major star of the season, that doesn't mean you should forget about other big hits of the past, such as the top knot or the man bun. Especially since they look so good when put together.
54. Messy Disconnected Undercut
The same goes for messy tops. All you need is a little bit of hair wax. Take it in the palm of your hands, spread it by rubbing your hands together and casually run your fingers through your hair until you get the desired result.
55. Long Hair Disconnected Haircut
As previously stated, there is no predefined length of hair when it comes to this haircut. You can grow it out as much as you want to without worry that it won't be considered a disconnected haircut anymore.
56. Medium-Length Undercut
Sometimes, less is more, especially if what you plan on achieving is that sweet, boy-next-door look. All you need is a casual undercut with a messy top and you're good to go.
57. The Gyllenhaal Undercut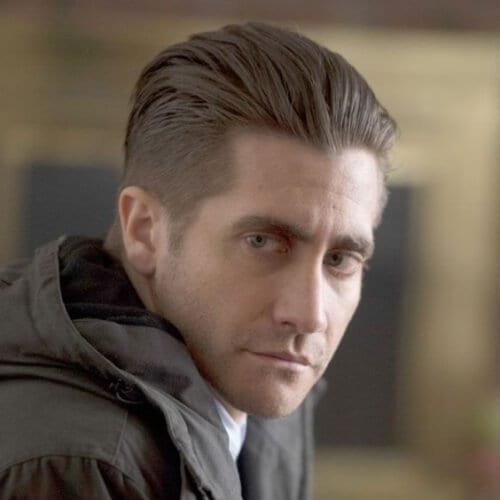 Jake Gyllenhaal managed to take the undercut hairstyle and make it his own with this cool, sleek, and slightly connected disconnect. While still technically an undercut, it works amazingly well because it fits the triangle head shape.
Conclusion
The disconnected undercut has come in and back out of fashion longer than we can remember.
However, its latest resurgence began at the beginning of the 2010s and, since then, more and more men have been wearing it successfully and creatively.
Let us know in the comment section below which one of the ideas on our list was your favorite and why!
This article was last updated in June 2019.