Today, almost all style experts and men's fashion magazines agree that the flow hairstyle is the (or at least one of) top trends of the year.
From hockey or baseball players to red carpet celebrities, it seems that all guys are ditching their neatly-cut flow hairstyles for the casual flowing look.
You can try the flow hairstyle for your next hair appointment, with some help and examples from our selection below. Let's begin!
1. Layered Flow Hairstyle
Pulling off a flowing hairstyle is a breeze if you have a layered haircut. As long as your hair is properly layered, your locks should flow into place without any issues. It also helps if your hair is at least slightly wavy.
2. Shoulder-Length Flow Cut
Harry Styles is easily one of the best examples of what flowing hair should look like. No matter what haircut he has, the former 1D star always seems to have flawless locks that flow around him. Here, you can see what his shoulder-length flow cut looks like.
3. Short Flow Haircut
Contrary to what some may believe, you don't need to have medium-length or long hair for a flowing hairstyle. You can start even when your hair is freshly cut short. It's all in the technique that your hairstylist uses to layer your hair.
4. Bro Flow for Men with Receding Hairlines
Keanu Reeves has been rocking the bro flow before it was ever a trend, to begin with. For as far back as we can remember, the exceptional actor has been wearing medium-length, flowing hair. It goes to show that you can beat a receding hairline with style. A sleek cut that people will certainly adore.
5. Hockey Hairstyle
The flow hairstyle is often associated with specific sports and the way athletes wear their hair. What most of us know as the "hockey haircut" is the perfect example. Just one player known for their signature hairstyle is Nicklas Bäckström of the Washington Capitals.
6. Flow Haircut Baseball Style
In addition to hockey stars, baseball players are also known for adorning flowing locks. Brandon Crawford is an example to follow. The San Francisco Giants player prefers medium-length messy hairstyles. Become a star in and out the field.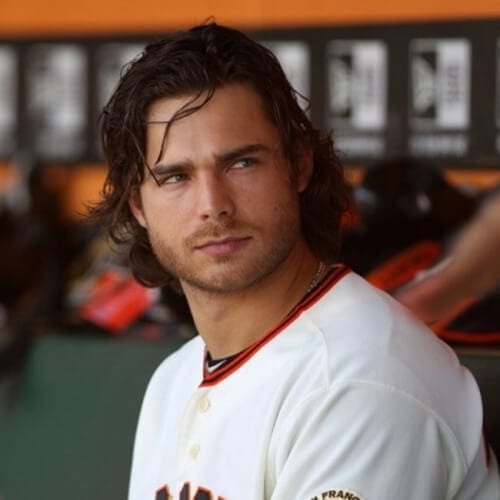 7. Long Bangs Hairstyle
Your hair doesn't have to be cut evenly for you to have a flowing hairstyle. You can choose to focus on a particular area of your hair to get the flow effect. For instance, you can have your hair normally cut all around and leave your bangs longer. An excellent combination together with your beard.
8. Nape-Length Hairstyle
If you're looking for balance in your flow haircut, we suggest that you try out the hairstyle in the photo above. The hair barely reaches the nape, with just enough layering at the tips to give it a pleasant overall silhouette. A sexy haircut that will fit a detailed jawline with trimmed facial hair.
9. Bollywood Flow Hairstyle
We can all agree that Bollywood actors have some of the most stylish haircuts in the industry. Known for their long and dark flowing hair, celebrities like John Abraham are one of the reasons why this hairstyle has become one of the hottest trends of the year.
10. Clean Cut Hairstyle
Even though most flow haircuts are based on messy styling, some have a clean-cut allure to them. We recommend that you go for this approach if you're usually paying attention to grooming habits. Pair the flowing hairstyle with a well-trimmed beard. A modern gentleman cut is what you need! Try this out.
11. Textured Flow Hairstyle
Milo Ventimiglia is yet another celebrity that has been rocking flow hairstyles forever. Even when he was young, like in this picture, he would carelessly style his hair as if it were a no-brainer. Use his previous or current haircuts as flow hairstyle inspiration. A carefree style for a free-spirited character. Try this out.
12. Flow Cut with Thick Hair
When it comes to having thick hair, you always have your fair share of ups and downs. If your thick locks have a bristle-like texture to them, you may have a difficult time pulling off a flow haircut. However, if your thick hair tends to grow in a flowing fashion, go for it.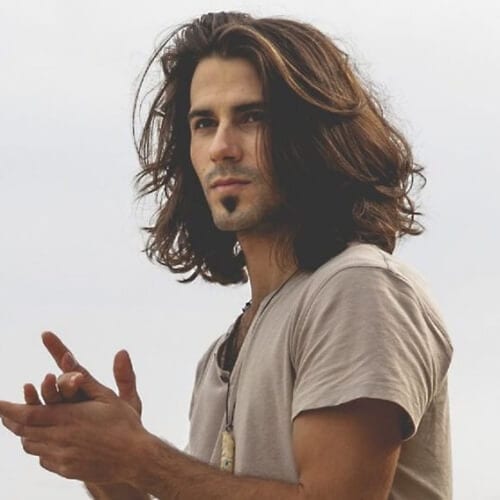 13. Swept Back Hairstyle
Once you have your flow haircut in place, it's all up to you to select your styling preferences. One of the easiest and most effective ways to style medium-length hair is by simply brushing it backward. Sure, a few strands will fall here and there, but it's all part of the hairstyle's charm.
14. Flow Hairstyle with Moustache and Beard
Actor Dev Patel went from nailing brilliant roles in movies like the award-winning Slumdog Millionaire to receiving props from industry-style specialists. Nowadays, he usually wears his hair about chin-length, with layers all around.
15. Starter Flow Cut
So, you've decided on going for a flowing hairstyle, but your hair is currently on the short side. What can you do to make it grow at all the right angles? It's as easy as getting the proper starter flow cut, with the help of a skilled stylist.
16. Hipster Hairstyle
Hate 'em or love 'em, hipsters have some of the finest-looking hairstyles we've seen. You can give your flow hairstyle a hipster vibe by cutting it shorter on the sides and in the back and leaving your hair longer on top.
17. Medium Blonde Flow Hairstyle
Another athlete that has a strong hair game going on is Noah Syndergaard. The Mets baseball player rocks his naturally light hair with a medium-length haircut. Thanks to his baseball cap, his locks won't get in the way while he's on the field.
18. Wavy Taper Fade Haircut
If you're into the idea of a flowing hairstyle, you should know that you can mix it with various types of haircuts. For example, you can leave the flowing part to the top and follow up with a taper fade for the bottom half of your hair. Check out this well-defined hairline! You need a lot of skills to achieve this sleek cut. Thus, make sure to find a trustworthy stylish if you want to achieve this hairstyle.
19. Afro Flow Hairstyle
Flowing hairstyles aren't only for fine hair textures. Afro-textured flow hairstyles sometimes look even better than their softer counterparts. If you have this natural texture, you can let your hair grow longer and trim the edges to get the shape you desire. Flex your natural curls!
20. Business Flow Cut
With flow hairstyles, you can effortlessly mix business and pleasure. Not all companies will allow their employees to have long hair at the office, but they can't ban a well-cut medium-length hairstyle that expresses a business attitude. This business hairstyle is perfect to have.
21. Combed Back Curls
One of the most rebellious actors in the movie industry also serves as one of the greatest examples of celebrity flow hairstyles. True to his personality, Shia Labeouf wears his loose curls combed back, complete with a beard and mustache.
22. Lax Bro Cut
Bradley Copper saw the flow hairstyle trend coming a long way back. Ever since his rise to fame, the A-list actor has been seen almost exclusively with a flowing hairstyle, with his wavy hair gently brushed backward. A gentle character is evident in this hairstyle. Make sure to have yours as well.
23. Flow Hairstyle with Colored Tips
What if you want your hairstyle to be even more flowing, or at least seem like it? You can use coloring as a tool to accentuate the flow of your hair. All you have to do is dye your tips a few tones lighter than your base color for an awesome effect.
24. K-Pop Hairstyle
In South Korea, K-pop dominates almost every industry, from entertainment to beauty and grooming. Almost all the male stars wear mid-length wavy hairstyles, usually with curtain bangs. Get inspired by their trends for your next haircut.
25. Ombre Hairstyle
Similar to the way colored tips work, Ombres for men emphasize the flowing aspect of the hairstyle. If you don't want yours to come across as too flashy, you can opt for an earth tone for your ombre. On the other hand, you can also flaunt an electric color, like Joe Jonas in this photo.
26. Bro Flow Haircut with Lowlights
To continue our list of celebrity flow hairstyles, we've reached the multifaceted Jared Leto. Throughout his extraordinary career in film and music, Leto has never been afraid to show his rebel character through his appearance. You can use his flow haircut with long hair and lowlights as inspiration.
27. Flow Hairstyle with Thick Beard
Some men are most flattered by adding contrast to their looks. In other words, you can try out a flow style and counter it with a thick beard. This way, you'll not only balance out your image, but you'll also have an even manlier touch to it.
28. Super Styled Flow Cut
You can always count on Italian celebs for showcasing their flawless style. Take renowned fashion blogger Mariano Di Vaio, for instance. In this pictorial, he rocks a highly styled flow haircut that would make any man envious.
29. Man Bun Flow Hair
If you chose to keep your hair long and flowing, there aren't any limits to the types of hairstyles you can play around with. A constantly trending choice would be the man bun, especially since you can pull it off without looking like a rooster.
30. Very Long Flow Style
On this note, men with significantly long hair don't even have to struggle with styling it if they're not in the mood. If your hair surpasses your shoulders, you can casually leave it down and look amazing when tossing it to one side or the other.
31. Flow Haircut with Shaved Side
Shaved sides have been among the top grooming trends for men for years now. They're a simple yet effective way of getting the bad boy look, especially if the top is longer. Enhance your flow hairstyle by considering this haircut.
32. Rock and Roll Flow Hairstyle Male
Alex Turner of the Arctic Monkeys often seems like he was born in the wrong decade. The musician visibly has rock'n'roll in his veins, an aspect that can instantly be noticed through his image. He nails the greaser hairstyle like few others these days.
33. Quiff Hairstyle
There aren't many popular hairstyles out there that can beat the versatility, aesthetics, and practical qualities of the quiff. The upwards and side-swept hairstyle works extremely well for men who want to get a short flow hairstyle.
34. Colorful Flow Hairstyle
Want to add more personality to your hairstyle? Explore vibrant colors to bring out the best in your flowing locks. You can pick any color your heart desires – from natural shades like copper or blonde to atypical tones like green or blue.
35. Flowing Pompadour
The good ol' pomp is one of the few hairstyles that has withstood the test of time throughout the decades. For more than half a century, the pompadour has been rocking the charts for men's and women's hairstyles alike.
36. Teen Rebel Hairstyle
We're pretty sure that everyone expected Johnny Depp to be a rebel even from his teenage years. Thankfully, older photos of the exceptional actor show that he had shoulder-length flowing hair to complement his teen rebel personality.
37. Casual Cool Flow Hairstyle
To get back to the present, here's an artist that has melted the hearts of fans all around the world through his talent and looks. Brendon Urie, the frontman of Panic! At The Disco, has been a staple of the flow hairstyle since the beginnings of the band.
38. Flow Hairstyle with Shaved Lines
You can always spice up a classic flow hairstyle with haircutting details. Asymmetry is a good choice, but you can take your looks to the next level with shaved line designs. Whether you get a hard part, surgical line, or both, you will look outstanding.
39. Surfer Hairstyle
Genuine surfers aren't as preoccupied with their looks as they are with the water sport. That's one of the aspects that make their signature hairstyle so irresistible, to begin with. They don't focus on getting a flowing hairstyle, they just own it.
40. Tousled Flow Hairstyle
If you have straight and silky hair, be prepared to run your hands through it, a lot, with a flow style. Due to the texture of your mid-length locks, they can't stay in place without any hair product. But, hey, loose strands across the forehead are highly attractive.
41. Grunge Hairstyle with Flow Hair
Whether you're a huge fan of the subgenre popularized by Nirvana or you're usually just careless with your looks, a grunge flow hairstyle is ideal for you. You can let your hair grow until it reaches your shoulders (or even longer) and just leave it the way it is.
42. Top Knot Flow Hairstyle
A styling alternative for the man bun is the top knot, especially if you have long, thick, and flowing hair. The hairstyle follows the method used by samurais to tie their hair up, which is also one of the reasons why it's referred to as the samurai bun.
43. Skater Haircut
We have talked all about pro skater Curren Caples in our skater hairstyles article, but his flow hairstyles deserve a spot on this list as well. He usually appears at events with medium-length hair, whether framing his face or down to the back of his neck.
44. Flow Hairstyle with Undercut
If you feel that something is missing to make your flow hairstyle memorable, you should dive into undercut ideas. No matter if it's disconnected or faded, an undercut can shape your overall hairstyle and give it an attitude boost.
45. Half Up Hairstyle
Provided your hair is at least nape-length, you can experiment with all kinds of flowing hairstyles aside from the traditional ones. Aside from wrapping your locks in a man bun, you can also choose to loosely style them half up, half down.
46. Bowl Cut Hairstyle
Whether you like it or not, the bowl cut has made an insane comeback this year. However, it's important to know that it has a slightly different silhouette, complete with an undercut that nicely shapes the hairstyle.
47. Shaggy Flow Hairstyle
Flow hairstyles and shaggy hairstyles are almost synonymous, but the main difference is in the choppy haircut that lies at the foundation of the look. If you want to get your shaggy vibes on, make sure your hair is cut in jagged layers.
48. Flow Hairstyle with Faux Hawk
Faux hawks are usually seen as short hairstyles that mimic a mohawk. Nevertheless, they can also do the same job with longer hair, especially if you want it to become a flowing hairstyle. You have to get an undercut in a U-shape to master the look.
49. Unruly Hair
You can probably tell by now that lack of caring is essential for a cool flow hairstyle. All we want to do is support the idea with yet another example of awesomely messy, nonchalantly styled, flowing hair, which doesn't rely on a specific texture.
50. Angled Flow Haircut
Justin Bieber went from being a sweet preteen with an emo-like haircutt to a fully tatted bad boy with teased hairstyles. What we like about his look in the photo above is that his flowing hair is cut at a slight angle, gradually getting shorter towards the back.
51. Textured Layered Haircut with Fringe Front Style
Here is a handsome flow hairstyle with long textured layers. He has kept his hair long and brushed it back with a middle part. It looks as if he has added in a bit of gel to keep his hair less frizzy and it also helps to keep it in place.
52. Long Hair with Messy Wavy Hairstyle
If you like keeping your hair long and wavy then this next hairstyle would be perfect for you. In the photo above he has styled his hair with a side part and left the hair loose and wavy and it looks so cool.
53. Smeared Bob Haircut with Light Brown Blonde Curls
Up next is a light brown flowy hairstyle for men that has been styled messy with a wet gel. To recreate this style it would be best if you already had curly hair or if you were interested in getting a fresh perm.
54. Side Parted Man Hairstyle with Wavy Ends
This next look has long wavy hair that is perfectly parted on the side. He has kept it all natural here and let the ends curl out perfectly. Pair your new haircut with a freshly shaved face as he has done here, or grow out your beard, because no matter what you are going to love the way you look.
55. Long Bob with Faded Shade Wavy Ends Style
Long bob looks are one of the most popular flow hairstyles for men. In the look above he has grown his hair out to about the shoulder and added a light brown shade. Be sure to part your hair in the middle and brush it back out of your face to get the whole vibe of this photo.
56. Full Side Parted Long Blonde Curly Hairstyle
If you are lucky enough to have long blonde curly hair then you already know how blessed you are. In the look above he is wearing his long spiral curls chin length and parted his hair on the side. You could always throw this style back in a messy man bun as well to keep it out of your face.
57. Edgy and Messy Hair with Curtain Bangs
Edgy and messy hairstyles are such a vibe. In the look above he went with long layers, a swept the hair forward. Pair your look with a thin beard as he has done here and you are going to love your new edgy haircut.
58. Lengthy Intense Blonde Shade with Wavy Ends
This next flow style is giving off serious Fabio vibes. Here he has grown out his long blonde hair to about should length and styled it a simple side part. If you have does not have this type of wave to it you could always learn how to use a curling iron.
59. Bouncy Curly Ends with Messy Hair and Long Fringe
Bouncy hairstyles always work best when you have naturally wavy hair just as he has here. In the look above he has kept most of the hair long and cut right above the shoulders, but he did add a shorter layer in the front to frame the face perfectly.
60. Smudged Curly Bob Blonde Hair with Curly Fringe
Smudged hairstyles are just another way of saying that you like wearing your hair messy. In the look above he has his blonde curly hair cut right at ear length and left it messy. You might want to ask your hairdresser to throw in a few layers to get the most out of this style.
61. Layered Haircut with Flow Front Surfer Hairstyle
Adding layers to your style is one of the best ways to thin out your thick hair. In the look above he has done just that with textured layers and they have also added a fringe in the front. They trimmed the sides short around the sideburns and the neckline and it looks amazing.
62. Undercut Haircut with Messy Blonde Gold Curly Hair
This next style has a short undercut added in and it helps to make his blonde curls stand out. This would be a perfect hairstyle for men who have naturally curly hair and want a new flow hairstyle.
63. Comb Over Brushed Hair with Full Brown Curls
Next up is a comb-over look for men who long curly hair. Here he kept his hair right around shoulder length and brushed the front section back. You are going to want to find the right product to make sure your curls stay looking as good as they do in the photo above.
64. Bob Haircut with Side Wavy Hair with Full Blonde Shade
Chin-length haircuts are often referred to as a bob cut. In the look above he has a perfect bob hairstyle with long layers and a side part. He paired it with a thick beard and it helps to bring the whole look together.
65. Two Way Straight Hairstyle with Bouncy Ends
This next hairstyle is giving off major retro vibes with his mustache and big sunglasses. As far as the hairstyle goes he kept it simple with a blunt cut around the sides and added a simple middle part. He left the ends natural and flowy and it looks amazing.
66. E Boy Haircut with Side Fringe Curtain Bangs Brown Shade
E-boy hairstyles are one of the most requested haircuts in 2022. In the look above he is wearing a perfect E-boy hairstyle with a middle part and flowy layers. If you want to get the whole vibe of this photo you will want to ask for blonde highlights.
67. Undercut with Full Curls with Blonde Highlights
Next up is a handsome flow hairstyle with a short undercut around the sides and the back. For the top layer, he kept it just long enough for his curls to come to life. Finish your new style off with pops of blonde on top and you are going to love the way you look.
68. Comb Over with Long Bob with Curly Highlights
Comb-overs are always going to be around because they help to cover those bald spots and also will keep your hair out of your face. Here he has his hair cut right at the chin line and went with a side part. Then style your hair brushed over to one side and you are all set.
69. Man Bun Slicked Hair with Curly Natural Hairstyle
After you have been growing your hair out for a while you start to learn how important mastering the man bun is. In the look above he has shoulder-length curly hair that he has pulled back into a half-up man bun style.
70. Front Blonde Fringe with Greaser Hairstyle
The greaser hairstyle for men is back and better than ever. In the look above he has styled his blonde hair with a thick fringe and brushed it all back in the perfect greaser form. Keep the sides a bit shorter than the rest of the hair just as he has done here.
71. Flowing Hairstyle with Edgy Cut Brown Shade
Flowing hairstyles can be done with all different types of hair. In the look above he has straight, thin hair that is a perfect mix of dark and light brown hair color. He has it styled with long layers and brushed it all back with a bit of gel and it looks perfect.
72. Long Curtain Bangs with Side Fringe Blonde Hair
Curtain hairstyles look great with all different types of hair, but it works best with long wavy hair. In the look above he has kept his style messy but did add in a middle part and brushed it back a bit and it looks so cool.
73. Medium Length Hair with Two Way Style Blonde Shade
Medium-length hair can be styled in so many different ways. here he went with a simple style that has a middle part and lets the hair fall naturally. You will want to add in a bit of blonde to get the whole vibe of this look.
74. Slicked Brushed Hair with Wavy Ends Hairstyle
Up next is a slicked-back hairstyle for men with long wavy hair. He has styled his handsome locks with a few long layers and has brushed it all back.
75. Side Long Flowing Hair with Full Gold Blonde Shade
This is a look for all the natural, or not-so-natural, blondes out there. To get this look you are going to want to grow your hair out to about shoulder length, add in a few face-framing layers, and keep it parted on the side.
76. Greaser Haircut with Bouncy Flow Curtain Bangs
When you pair a greaser hairstyle with a curtain bang look you are going to love the way you look. In the photo above he has done just that by keeping the top section parted down the middle and brushing it back. To get the whole style of this look you are going to want to invest in a good hair gel or paste.
Conclusion Flow Hairstyle
To sum up, a flowing hairstyle may just be the much-needed change in the image you've been thinking about this year.
It has all the qualities that you could want from a haircut – it is easy-going, careless, and alluring.
Considering that the flow hairstyle has recently been identified as a trend of its own, we recommend taking one of the photos above with you when you go to your hairstylist.
Which one of these is your favorite, in any case? Do let us know!
This article was updated in November 2022.