Despite originating in ancient times, goatees have succeeded in remaining a facial hair staple for men all around the world. Today, we enjoy a wide variety of different goatee styles that accommodate all tastes and personalities. Regardless of your beard growth pattern or face shape, there's definitely a glorious goatee out there waiting for you to discover it!
In our extensive guide below, we'll be presenting the myriad of goatee styles that you can start experimenting with right away. Whether your inspiration lies in specific face structures or celebrities you look up to, start scrolling to discover the goatee of your dreams!
1. Petite Goatee Styles
Our first idea is as simple as they get. If you don't want your face to be dominated by an imposing goatee, the photo above features one of your best options. With a petite goatee, you enjoy a dynamic look without going overboard. Peep that super clean temp fade haircut too.
2. Extended Goatee Beard Styles
On the other hand, you may want to go in the opposite direction. Rapper Common shows how your goatee can be accompanied by a subtle beard all around. The slight difference in facial hair length from one area of your face to the other will prove that you know the ropes in terms of grooming.
3. Handlebar Mustache Goatee Styles
For a classic take on the goatee, you can't miss out on the handlebar mustache. We ensure that it'll be the focal point of your entire appearance. If you want to give off an aristocratic vibe wherever you go, look no further. It's undoubtedly the goatee for you!
4. Chin Strap Goatee Styles
A goatee with a chin strap does an outstanding job of outlining your face. For numerous men, it provides balance to what would have been an isolated patch of facial hair. No matter what face shape you have, a chin strap goatee will do it justice.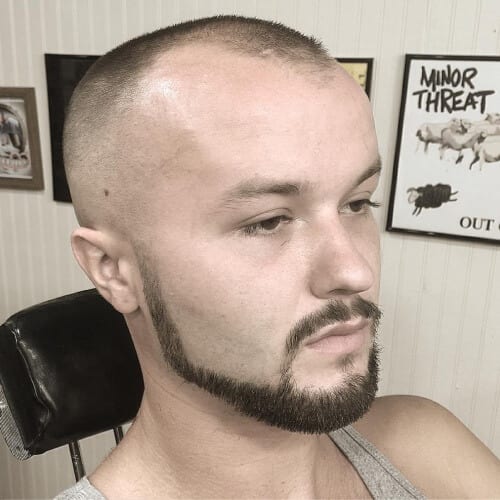 5. Johnny Depp Mustache Goatee Styles
When we think of celebrities who are known for rocking goatees, Johnny Depp is one of the top three stars to come to mind. The A-list actor has been sporting a goatee on and off for years now, and he clearly kills it every time.
6. Hipster Long Goatee Styles
If you've got your hipster haircut settled, it's time to focus on the centerpiece of your whole bohemian look. Naturally, we're talking about the well-known hipster goatee. Here, it's not as much about the length of your facial hair as it is about how you style it (with care and patience).
7. Full Goatee Beard Styles
Nowadays, one of the most common facial hair styles is the full goatee. In terms of maintenance, it's one of the easier picks on our list. All you have to do is make sure that your sides are cleanly shaved at all times. After that, ensure that the goatee itself is neatly trimmed.
8. Subtle Black Men Goatee Styles
Sometimes, your goatee doesn't have to be prominent at all. From what we've observed, many black men enjoy a bit of stubble without going over the top. By the way, for an even bigger dose of inspiration, check out our selection of hairstyles for black men as well.
9. Biker Goatee Styles
Once a biker, always a biker. If bar hoppers, one-offs, and dressers are always on your mind, you might as well show it through your choice of grooming. A typical biker goatee will look like a long beard that has been shaven off on both sides. In other words, as cool as you can get.
10. Tom Hardy Men's Goatee Styles
One of the manliest men in show biz is also among the hottest facial hair trendsetters of the moment. Tom Hardy beard styles are defined by… not caring that much at all. His goatee included. To get that irresistible rugged allure, give your goatee a nonchalant shape and skip shaving your cheeks.
11. Precise Goatee Styles for Black Guys
On the other side of the spectrum, we have men who look incredible with a super precise goatee. If you're a beard aficionado and you have strong attention to detail, here you go. Ultimately, your face should be an authentic reflection of your personality.
12. Complex Goatees
Why go with the crowd when you can have a goatee design that'll make you feel like a million bucks? Get in touch with your local barber and cook up a recipe for an intricate goatee that you'll feel proud wearing. Sure, you won't look like the average joe, but that makes it all the more unforgettable.
13. Scruffy Beard and Goatee Styles
Although goatees are usually associated with laborious grooming routines, that doesn't mean that you can't be laid back with yours. In fact, scruffy goatees can be extremely flattering for edgy guys. It's all in the way you want to portray yourself in your day-to-day life.
14. Cool Goatee Styles for Eccentrics
You have to admit that the steampunk-inspired goatee looks totally awesome. Nevertheless, we recommend investing in top-rated hair and beard products to get similar results.
15. The Rock Goatee Styles for Bald Men
Dwayne "The Rock" Johnson has been the embodiment of masculinity for as far back as we can remember. He doesn't show up with that much facial hair these days aside from some stubble, but he flaunted a mean full goatee back in the day.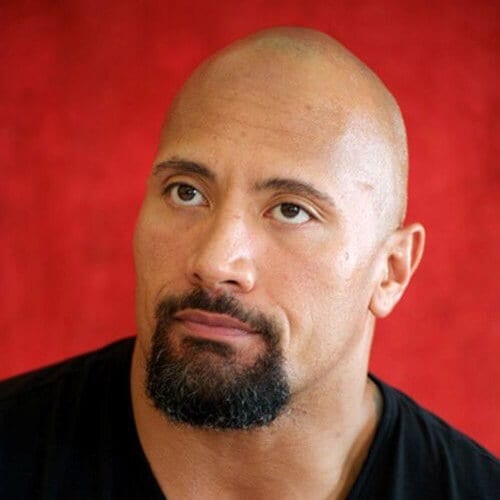 16. Discrete Goatee Facial Hair Styles
Subtlety can go far for men who prefer sweet and simple in terms of appearance. In some cases, a 5 o'clock shadow goatee can suffice for attaining a photo-ready face. We recommend the approach if you have other distinctive features you want to highlight, such as piercing eyes.
17. Separate Mustache and Goatee Styles
While many guys prefer connecting their goatee to a mustache, others pull them off separately even better. If you want to keep the angles in your face sharp, choose the method presented above. As opposed to connected goatees, it won't round off your features.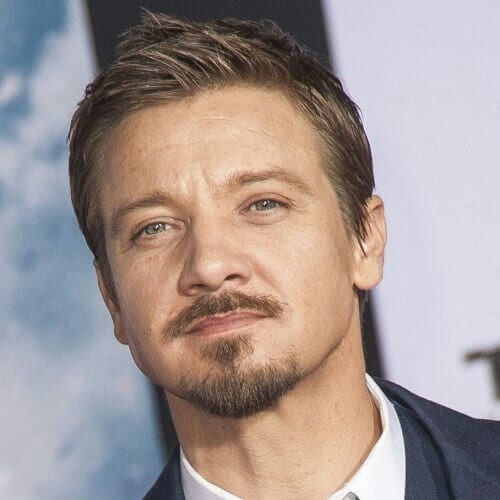 18. Thin Goatee Styles for Black Men
Thick or thin is a personal preference every man should consider prior to shaping his goatee. There's no right or wrong way to do it. The secret lies in how you want to depict certain personality traits in your visual presence. For example, a rebellious guy might be better off with an unkempt goatee, while a clean-cut man should go for narrower lines.
19. R&B Goatees
In the 90s and 2000s, you'd frequently see men in the music industry adorning the very same goatee style shown above. Typically, it would feature a full goatee with a chin strap, all with finely shaven and trimmed lines.
20. Robert De Niro Thick Goatee Styles
Speaking of the 90s, it was the decade in which numerous actors were spotted with goatees. Whether in-character or off-set, stars like Robert De Niro could be witnessed with a sleekly cut goatee. In his case, the classic full goatee was the most cosmetically pleasing choice.
21. Full Contour Goatees
Facial hair is the key to achieving the face shape of your dreams. It also does an exceptional job of adding angles in all the right places. If you want to emphasize the outline of your face, use a predominantly chin strap goatee as a border.
22. Long Goatee Styles for Older Men
As we explained in our hairstyles for older men guide, entering your senior years doesn't mean you have to resort to a boring appearance. Age is just a number, and that's all it ever will be. Go ahead and face the world with a full, rich goatee. You're cooler than you think!
23. Channing Tatum Barely There Goatees
Hollywood heartthrob Channing Tatum has never been the one to appear with excessive facial hair. However, he does have a knack for nailing just the right amount of stubble. He uses it to form a barely-there goatee that adds the ideal manly touch to his already imposing look.
24. Best Goatee Styles for Rockers
Few guys are more outgoing than rockers when it comes to bold facial hair. They never shy away from boasting notoriously long beards, just like System of a Down drummer Shavo. His iconic goatee is easily his main aesthetic feature, and he proudly sports it as long as he can.
25. Asian Men's Goatee Styles
Oftentimes, Asian men prefer to keep it pretty simple and classy when it comes to their facial hair. In many situations, they even skip it altogether. If you do want a goatee though, we encourage you to adopt a similar approach. You can also look into the rest of our Asian beard styles for additional inspo.
26. Van Dyke Goatee Styles
Want a goatee with a history behind it? The Van Dyke goatee should be right up your alley. The goatee style was inspired by Anthony van Dyck, a renowned Baroque painter from the 17th century. It's a sophisticated and artsy beard you'll be proud to sport.
27. Zac Efron Mustache and Goatee Styles
Jumping back to modern times, it's easy to see why Zac Efron is one of the biggest style icons of the 21st century. Although Zac Efron haircuts are usually on men's mood boards, his goatee is likely just as coveted. Efron tends to use the boxy silhouette of his goatee to complement his jawline.
28. Soul Patches
You don't see as many soul patches today as you would a decade or two ago. Nonetheless, they can be a highly suitable choice for certain men. Take AGT judge Howie Mandel for example. We have to admit that it fits his bubbly personality extremely well.
29. Two Tone Black Men Goatee Styles
We admire men who have the courage to go against the grain with color experimentation. If you have naturally gray hair, you can keep it only for a portion of your look, like your goatee. For the other part, dye it in a contrasting tone, such as black. The outcome will set you apart!
30. Robert Pattinson Goatee Styles without Mustache
Want to shift the spotlight towards a particular area of your face? Facial hair is wonderful for doing just that. For instance, you can bring attention to a pronounced chin like Robert Pattinson. He decided to pass up on a mustache and leave the goatee exclusively for his chin area.
31. 90s Boyband Goatees
Ah, boy bands, the sunshine of the 90s. Long before beard culture was really ever a thing, popstars generally opted for slim goatees. AJ from the Backstreet Boys is one of the best examples from this point of view. If you're feeling nostalgic, try it on for size.
32. Professional Goatee Facial Hair Styles
If you work in a business environment, first impressions everything. Therefore, you most likely have to take care of your appearance more than the average person. For that, we recommend the professional goatee style presented above. Super clean, super classy.
33. Chin Puff Goatee Styles without Mustache
Do you like Robert Pattinson's method but want something even smaller? A chin puff is exactly what you need. Whether you choose to rock yours with shorter or longer facial hair, it could be a fine solution for highlighting your chin without covering it entirely.
34. Robert Downey Jr. Goatee Styles for Round Face
More often than not, Robert Downey Jr. can be found with his signature goatee. Considering his relatively round face shape, the specific trimming style he chooses is as perfect as can be. The sharp corners and lines add definition, dynamism, and a ton of attitude.
35. Braided Goatees
Who said that braids for men couldn't be adapted for facial hair too? Braiding is arguably one of the most original ways you can style your goatee. Get inspired by Viking hairstyles and have fun playing around with various braids.
36. Full Goatee Styles for Round Face
Leonardo DiCaprio is a fantastic role model to have in terms of facial hair ideas for round face shapes. He knows precisely how to use a goatee to his advantage, strategically covering up some areas and revealing others. One of his main secrets is leaving a larger portion of hair under his chin.
37. High Contrast Beard and Goatee Styles
After showcasing what a light goatee with a dark hairstyle would look like, it's time to switch places. Although the former option comes across as far more natural, the one shown here is daring and exciting. You do you, though!
38. Ryan Gosling Goatees
Take a page from Ryan Gosling's book and you'll have all that "Hey girl!" magic for yourself. His extended goatee simply oozes with bad boy vibes, all while keeping things charming and presentable. Indeed, his take on the goatee leans more towards a short beard, but the results are what matter.
39. Pointy Goatees
If the Van Dyke beard would have a mid-2000s makeover, we imagine it would look almost identical to the pointy goatee above. The top section has a modern touch to it, while the bottom half is expertly angled to elongate the face. It's surely a trick to keep in mind when you want to play with silhouettes.
40. Best Goatee Styles for Accentuating Jawlines
While we're on this topic, we have to reinforce the idea of maximizing a chin strap's potential. The more angular you create yours, the more your jawline will come across as razor-sharp. We all know how attractive a well-defined jawline is regardless of gender, so make sure you take notes.
41. Kanye West Goatees
His ubiquitous goatee has been part of Kanye West's image in some way, shape, or form ever since his debut in the music industry. We can all understand why – it suits him incredibly well.
42. Half Beard Extended Goatees
Not sure if you should choose a beard or a goatee? Pick your favorite element from each style and combine them! You can grow a short beard and then shave down only a section on each cheek. The style is more appropriate for older men, but feel free to do as you please.
43. Black Goatee Styles for Round Face
Struggling to find the right goatee style for your round face shape? We got you covered! Even though the goatee above has a mainly rectangular shape, the corners are gently rounded off. As a result, it won't seem as if you're trying too hard to mask your actual facial structure.
44. Thick Mustache Goatee Styles
By now, we've seen the multitude of guys who decide to pass on a mustache when picking their goatee style. Conversely, there are just as many who not only incorporate a mustache into the design, and boldly so. Christian Bale is among them, and his thick mustache goatee looks amazing!
45. Aging Black Goatee Styles
No matter how much people try to run away from it, aging really does have a charm of its own. In addition, the distinctive color gradient that graying hair provides is super eye-catching. Embrace the process full-on and let those natural tones shine.
46. David Beckham Goatees
There's no doubting the impact of David Beckham's haircuts, facial hair choices, and general style on men all across the globe. Here, for instance, we admire how his Van Dyke goatee is shaped with ultimate precision. We also love that he decided to keep that much sought-after stubble on the sides.
47. Wide Goatee Styles
As far as characters are concerned, Wolverine is the undisputed king of sideburns. They're not technically part of the goatee family, but they follow similar principles. A wide goatee of this kind won't be the type of facial hair style you encounter every day. However, it makes it all the more special.
48. French Goatees
For the French goatee, we have to go way back in time, to the beginning of the 20th century. Throughout the early 1900s, the French goatee was a must for men with a sense of style. Nowadays, you can find a comparable approach within hipster goatees. Whichever decade you decide to choose for inspiration, rest assured that you'll be making a nice choice.
49. Senior Goatee Styles for Bald Men
We've seen both bald and older men with goatees, but separately so. What would they look like as a mixed idea? Extremely tasteful, of course. Just look at Patrick Stewart and the noble vibe he gives off with the combination. We're sure that his effortless elegance also plays a major role in his charisma, but so does his facial hair styling.
50. Stuffy Goatee Styles
Lastly, we want to end on a provocative note and challenge you to forget the rules altogether. If Chris Meloni can rock a stuffy, atypical, beard-like goatee and wonderfully get away with it, so can you. Grow a full beard and snip, trim, and shave away whatever and however, your heart desires!
Conclusion
All in all, there are so many different goatee styles out there that you'd probably need a good few years to go through all of them. Still, one pointer that'll help you get closer to the most suitable style for you is a short analysis in which you consider your:
Beard growth pattern
Face shape
Thickness of facial hair
Now, what about you? What's your favorite goatee style of all? Sound off in the comments and share your ideas with fellow MHW readers below!
Lilith Wetherall is a freelance writer, editor, and blogger. She graduated in 2014 with a B.A. in Theatre Arts and a minor in Journalism. She later found her passion for hairstyles and is now professing in a men's salon. Some of her favorite things to do include reading, writing, watching movies, and being outdoors. When she's not writing for our readers, she is either at the salon or at home trying out a new hair color.