A veritable icon of his times, singer-songwriter Harry Styles is as fashionable as a modern pop star can be.
The former One Direction heartthrob always displays irresistible hairstyles, making him one of the greatest trendsetters for guys his age.
To save you time on research for your hair appointment, we have collected some of the coolest Harry Styles haircut ideas from his current and past looks.
All you have to do is pick your favorite below!
1. Harry Styles Long Hair
In recent years, you could have easily spotted the 1D superstar with long, flowing locks. We believe the careless long look suits him very well, and that you should consider it if you have similar facial features. You won't have problems maintaining the hairstyle.
2. Big Piecey Hairstyle
However, in his younger years, Harry Styles was all about the popular piecey hairstyle. He would keep his hair medium-length, with long and jagged layers swept to the side. For this look, it helps if your hair is naturally thick and if you use hair product.
3. Harry Styles Haircut Dunkirk Movie Style
One of Harry's most recent sought-after looks is his hairstyle from the Dunkirk movie. As part of his role, Styles had to chop his locks into this cool and trendy hairstyle. We recommend it as a great Harry Styles haircut for short hair.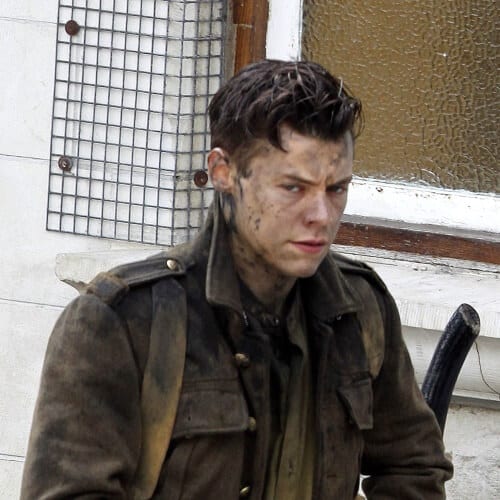 4. Voluminous Hairstyle
Throughout the years, volume has played a major role in Harry's iconic hairstyles. The singer isn't afraid to mess up his hair by adding tons of volume. You can recreate the look by teasing your locks and pretty much leaving them as they are.
5. Swept Back Harry Styles Haircut
Regardless if his hair is shorter or longer, Styles always tends to sweep it back. The outcome is a very casual, combed back look that looks just as good on stage as it does during press conferences. The longer top will help you get the results you're aiming for.
6. Harry Styles Short Haircut
Similarly, most of Harry's short haircuts follow a distinct pattern. Although he almost never sports extremely short hair, his smaller locks are always styled in the same nonchalant matter. This effortless style is one of the reasons why he is so adored by fans around the world.
7. Short Curls Hairstyle
If you have followed Harry's career since his beginnings in One Direction, you'll surely know that his hair texture is naturally curly. Even though it tends to flow into wavy locks when his hair is longer, the curls are definitely visible with shorter looks.
8. Longer Top, Shorter Sides Haircut
Almost any guy will look amazing with short sides long top hairstyles, Styles included. The nature of the haircut sharpens features, accentuates jawlines, and paves the way for a low-maintenance and good-looking hairstyle. Don't hesitate to try it out.
9. Skater Harry Styles Haircut
Although we doubt Harry was ever a hardcore skater, he certainly pulled off the associated haircut perfectly when he was younger. Like most teenage boys, Styles would let his hair grow longer and run his fingers through his locks for a comfortable and irresistible look.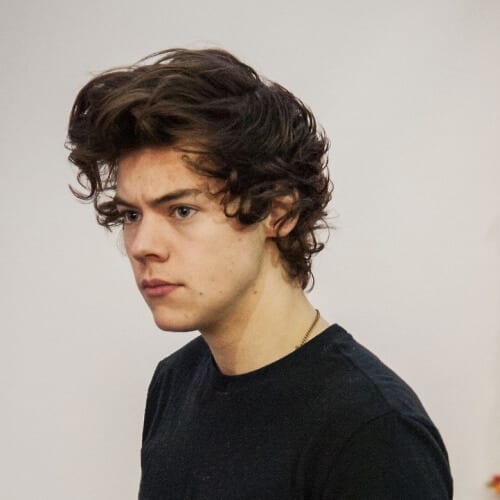 10. Classy Hairstyle
All the same, he masters a classy hairstyle brilliantly. To get his look here, all you have to do is wait for your hair to grow about 3-4 inches long. After that, it's all in the sweeping back technique, making sure that the sides are neatly combed in place.
11. Shoulder-Length Harry Styles Haircut
When he was in the process of growing his hair, Harry looked fantastic with a shoulder-length hairstyle. It's a look that highly complements men with wavy or curly hair, but also those with thick, straight locks. You'll have loads of styling options to play around with afterward.
12. Soft Spiky Hairstyle
Harry is never the one to go for a classic spiky hairstyle, with pieces of hair roughly spiked. On the other hand, he does look terrific with a soft version of the aforementioned hairstyle. To obtain it, make sure you don't exaggerate with the amount of hair gel you use.
13. Quiff Hairstyle
It's natural that Harry Styles would sport one of the most stylish haircuts of the decade – the quiff. The hairstyle flatters his natural features, also providing the opportunity for quick and effective styling. It's a must if you have thick hair like Harry's.
14. Messy Pompadour Harry Styles Haircut
The pompadour is just as trendy as the quiff, especially if you want to add a dapper touch to your appearance. While the traditional pompadour is definitely alluring, you may want to consider a modern approach like Styles' for your version.
15. Harry Styles Haircut with Braids
One of the benefits of having long hair is that you can style it in a multitude of ways. Just an example is the man bun with thick side braids that Harry rocked during a concert. It's not exactly a day-to-day hairstyle, but it's perfect for special occasions.
16. Bandana Hairstyle
Styles is no stranger to using accessories with his hairstyles. The bandana is easily one of his favorites, which he uses to pull back his bangs from his face. You can get inspired by the way he styles his bandana for your look.
17. Harry Styles Long Casual Hairstyle
There's nothing that says casual quite like a long, untamed hairstyle with sunglasses perched on top of your head. Even though this look clearly isn't carefully planned, it's all part of the I-don't-care badboy allure that Harry naturally has.
18. Shorter Top, Longer Sides Hairstyle
While Styles tends to go for the long top, short sides hairstyle when he keeps his hair shorter, he also experiments with the reverse hairstyle. In other words, he sometimes enjoys keeping his sides longer and his top slightly shorter.
19. Emo Harry Styles Haircut
We're fairly sure that Harry wasn't a diehard emo kid either, but he did succeed in nailing emo hairstyles for guys as a teen. The long, side-swept bangs looked wonderful on the 1D singer, especially considering his age at the time.
20. Swirling Hairstyle
Guys with wavy or curly hair shouldn't have any problems pulling off this Harry Styles haircut. With just a few inches of hair, you can get the swirling effect that your hair texture naturally provides. Always keep it cool and messy, guys.
21. Clean Cut Hairstyle
Want a Harry Styles haircut that you can rock in any circumstances? We recommend his clean-cut look. The sides are nicely trimmed, while the top is just slightly longer and swept back. It's a nice choice for a school or work hairstyle.
22. Medium-Length Harry Styles Haircut
Alternatively, you can go for a balanced option among Harry's hairstyles. We're talking about the medium-length haircut that he would often wear a couple of years ago. It has all the elements a teenager would want from a haircut – from the casual, flowing locks, to the stylish haircut.
23. Harry Styles Haircut with Headscarf
Like we previously mentioned, accessories can always be found in Harry's popular haircuts. Even more present than the classic bandana is the wide, thick headscarf. Instead of using it in a turban style, the scarf goes well for wrapping around the head like a halo.
24. Front Curl Hairstyle
Harry is no stranger to the timeless rocker look, a fact that can easily be noticed through his hairstyle patterns. No matter if he has a short, medium or long hairstyle, Styles knows how to give it a rock edge. His soft, front curl hairstyle is no exception.
25. Mullet-Inspired Hairstyle
We wouldn't go so far as to throw the mullet label on Harry's appearance, but we can see how he gets inspired by the retro hairstyle. He sometimes leaves his hair longer in the back and shorter in the front, creating a modern-day mullet that any guy can pull off.
26. Man Bun Harry Styles Haircut
Styles never shied away from the man bun. We can completely understand why, as the look fits his personality perfectly. If you have longer locks, don't be afraid to wrap them in a man bun for added comfort and style.
27. Dark and Choppy Harry Styles Haircut
Rarely do we get the chance to see Harry with dark hair. Nevertheless, this dark and choppy hairstyle specifically works like a charm for him. We love how the haircut has a careless allure to it, with asymmetrical locks all around.
28. Side-Tossed Hairstyle
What can be easier than tossing your hair to the side? It's the "recipe" that Harry always uses to get his signature, forever young look. You don't have to waste any time styling your hair – simply toss it to whatever side is more comfortable for you.
29. Slicked Back Hairstyle
You won't see Styles going heavy on the hair gel that often. Still, when he uses a bit more, he still is as handsome as ever. You can mirror his slicked back hairstyle if you have a formal event coming up, or if it suits your personal style.
30. Boyish Harry Styles Haircut
Whether you're a kid yourself or you just like the carefree look associated with boyhood, here's a sweet hairstyle. You shouldn't worry much about any aspect of it – from the length of the overall styling. It's all part of a boyish haircut's charm.
31. Messy Bangs
Another Harry Styles haircut that you can't miss out on features long, messy bangs. Here, we have a hairstyle that is sure to inspire guys with straight hair. Like with most of Harry's looks, keep your cool and don't stress about the outcome.
32. Harry Styles Haircut with Flow Hairstyle
Styles has been rocking the flow hairstyle long before it ever became a top trend. Regardless of his current hair length, you can always appreciate how his hair literally "flows" back or to the side. We say it's an awesome business casual look for anyone.
33. Medium Haircut with Beanie
We're back to accessories for this Harry Styles haircut. For the look above, he decided on completing his mid-length locks with a stylish beanie. If your hair is similar to Harry's, you can use the beanie as a tool to keep your hair away from your face.
34. Harry Styles Haircut with Headband
As an alternative, you can go for more of an athletic look with a thin headband. It's a hairstyle that you can find on plenty of soccer players with long hair. On a similar note, it works perfectly for singers like Harry during demanding concerts.
35. Disheveled Hairstyle
We've said it time and time again – messy locks should be your best friend. The most well-known Harry Styles haircut involves longer and notably disheveled hair. He pushes the hairstyle even more by messing it up with every chance he gets.
36. Angular Fringe Hairstyle
Want more of a high fashion approach to your hairstyle? Try out the angular fringe haircut, but with Harry's personal touch. As opposed to most angular fringes, Styles creates his with ultra-long bangs swept directly to the front.
37. Half Up Harry Styles Haircut
Before his hair was long enough to rock man buns, Harry would toy around with half up, half down hairstyles. The technique is easy – simply part your hair in half horizontally and wrap the top part up with a small hair tie.
38. Small Pomp Harry Styles Haircut
We've shown you Harry's version of the messy, modern pompadour. Nonetheless, that doesn't mean that he can't sport a sleek pompadour like a pro. To get the hairstyle, keep your hair on the short side and work on sculpting the small pomp on top.
39. Bedhead Hairstyle
To be honest, most of Harry's hairstyles make him look as if he just got out of bed and walked out the door. Instead of viewing it as a sign of laziness, we see it as a bad boy quality that deserves to be followed. Stress less, mess up more!
40. Harry Styles Haircut with Ponytail
If you get tired of styling your long locks into a man bun, you can switch to ponytails from time to time. Instead of using the circular wrapping method for a bun, simply pull your hair through the tie to get a nice ponytail.
41. Multi-Layered Hairstyle
Properly layered haircuts for men will always catch the eye. No matter if your hair is naturally curly/ wavy like Harry's or it's straight and slick, don't hesitate to get a layered haircut. It will help your locks fall into place with resorting to hair products.
42. Medium Harry Styles Haircut with Hat
Another great accessory that any hipster can count on is the hat. Once you have found just the right hat for your personality, just brush your bangs back and out of your face and place the hat on top. It's an awesome idea for a practical summer hairstyle.
43. Long Bangs Hairstyle
There are ups and downs to sporting long bangs. On the one hand, you'll look super cool with your chin-length bangs falling across your face. On the other hand, you may get annoyed by them. Still, the appealing results are worth it.
44. Tossed Back Harry Styles Haircut
If you're not into tossing your hair to the side, you can toss it backward. Notwithstanding, please note that your hair should be long enough for you to toss back without it falling back in your face. If your hair is shorter, go for the side-tossed approach.
45. Curtain Bangs
Your Harry Styles haircut can also focus solely on the bangs part of the look. For instance, you can get inspired by this particular shooting if you want curtain bangs. Your base haircut should be similar to a bowl cut. After that, part your bangs gently in the center or to one side.
46. Shaggy Haircut
You should easily know by now that almost all Harry Styles looks involve shaggy haircuts. You can apply the same technique no matter what hair type you have. The short and numerous layers will help the most with the outcome.
47. Textured Harry Styles Haircut with Side Bangs
Texture is essential for a successful Harry Styles haircut. You can get all the texture you want by playing around with the layers we were talking about earlier. You'll also be able to style your bangs to the side with ease.
48. Top Knot Harry Styles Haircut
Don't have long enough hair to get the man bun you have always wanted? You can start slow with a top knot hairstyle. We also recommend it for guys who have long hair that's not quite thick enough for a full man bun.
49. Curly Bangs Hairstyle
Want to make your hair texture stand out? Well, if you have curly hair, it will be a piece of cake. Let your hair grow to about chin or shoulder-length, then part your hair to the side. If your hair is cut at the right angle, you'll get awesome curly bangs.
50. Greaser Hairstyle
We'll conclude with a Harry Style haircut that has been a bad boy staple for more than half a century. The iconic greaser hairstyle from the 50s will always catch the eye of the ladies, especially if you leave one strand loose over your forehead.
Conclusion
All in all, there's definitely a Harry Styles haircut out there that's for you!
Whether you're drawn to his short and choppy haircuts or his long and rebellious locks, you can use the photos above as references for your hairstyle.
Don't forget that Harry has naturally thick hair, an aspect that helps him get his signature flowing looks.
If yours is on the fine side, you can make up for the natural volume with quality hair products.
Good luck and enjoy and don't hesitate to share the look of your new haircut with us!
Lilith Wetherall is a freelance writer, editor, and blogger. She graduated in 2014 with a B.A. in Theatre Arts and a minor in Journalism. She later found her passion for hairstyles and is now professing in a men's salon. Some of her favorite things to do include reading, writing, watching movies, and being outdoors. When she's not writing for our readers, she is either at the salon or at home trying out a new hair color.