A hipster haircut is in itself an eye-catching masterpiece ready to make a statement. Most of the haircuts here are adapted versions of classy vintage hairstyles given a stylish twist by using taper fades, full beards, and crazy trims.
Scroll down and enter into the hipster world, where daring haircuts will delight your eyes!
1. Tapered Pompadour
The front is styled in the voluminous pompadour way with height and a spiky texture, while a tapering razor fade adds style to this modern hipster haircut.
2. Spikes with Full Beard
A haircut that involves a full beard is most met in the hipster look. For a classy style, keep the sideburns to a mid-length, and grow your hair and your beard thicker and longer.
3. Slick Back with Fade
Slick and hippie, this classy look is amazing with temple fade at the sides all the way to the back. This haircut gives you a bit of rugged masculinity.
4. Tousled Hair with Side Parting
Use a small amount of styling wax in your hand. Begin from one side of your hair and just run your fingers all over and upwards to create a fancy tousled look.
5. Smooth and Rough
The top is slicked back and slightly to one side while the temples create a slight fade, helping them blend with the thick sideburns. A beard highlights this look.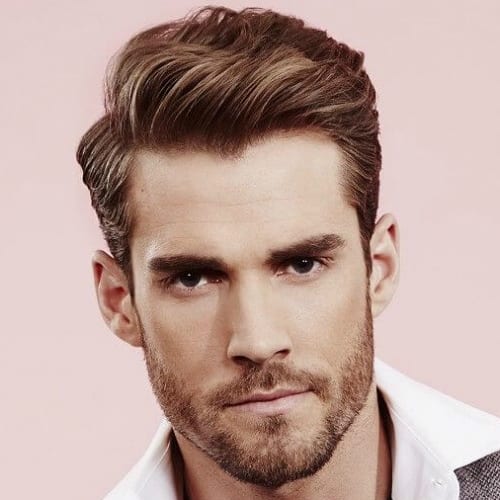 6. Forward Styled Fringe
Comb your hair forward, and have your fringe hang over your forehead. Use a little soft-set styling wax to hold the fringe up by leaving it looking touchable.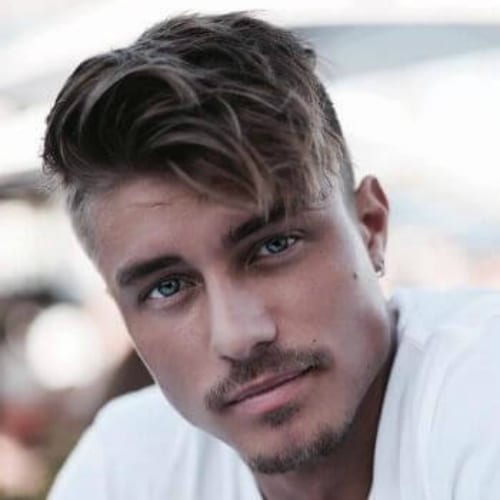 7. Man Bun, Undercut, and Full Beard
Keep your lengthy locks in style and for that, there is no better way to do it than with a man bun. A thick full beard helps make the look more masculine.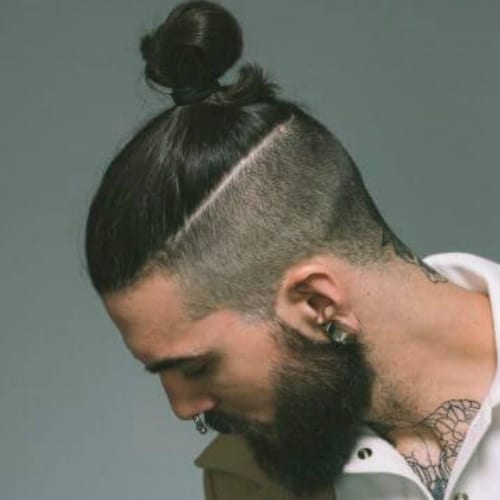 8. Tousled Waves
People will be desperate to run their fingers through your hair and all that you need to do is comb it upwards, adding just a little bit of gel to keep it in place, at least for a while.
9. Curly Taper Fade
The top part consists of thick curly locks with height while the sides are taper faded. The tiny beard compliments the curly texture of the hair.
10. Top Knot and Full Beard
The sleekly stylish top knot is tousled a bit towards the back and although the short sides don't join with the sideburns, the beard and mustache balance the top side perfectly!
11. Twisted Quiff
Hipster haircuts always need a twist. Comb the hair up into a regular quiff with a small amount of styling gel but twist the comb as you are running it through your hair.
12. Manicured Slick Back
This style combines the rebelliousness of a mohawk with the neat styling of a classy cut. Mixing styles together gives you a stunning outcome regarding your hippie appearance.
13. Suave Shaggy Hipster Haircut
This haircut is a classy way to keep things interesting. The medium-length hair features a neat trim that is not too flashy and goes well with its slightly wavy and messy texture.
14. Square Fringe
Use your natural side parting to frame your face by styling your hair into a square fringe. This style works perfectly if you have soft features because it gives you a mysterious look.
15. Medium Pompadour
The pompadour is suitable for men with square jawlines and high cheekbones. The sides are cut short and the look is finished by a magnificent beard and a thick mustache.
16. Turquoise Tousled Hair
Give your long hair a boost with crazy colors and a tousled look by combing it upwards from the roots. Use a small amount of styling gel for this appearance and dye the beard as well.
17. Laid Back Hipster Cut
This laid back features a pompadour hairdo that is neatly styled. A patchy beard runs thicker and darker under the jawline and chin, giving the look a bit of definition.
18. Braided Bun
A hippie use of long hair can be seen here, where instead of just a plain bun, the hair is braided to create a more sophisticated look. There is also facial hair to make things all manlier.
19. Sharp Hipster Haircut
A defined line and smooth faded sides create a look that is the perfect mix of classic and modern in this hipster haircut. The top is styled and slicked back.
20. Choppy Tousled Peaks
Trim different lengths into your hair and at the end, use styling wax to turn it into spikes. Use a large amount of wax to make sure that your peaks hold their shape.
21. Modern Amish Hipster Haircut
Keep your hair relatively natural and untouched. Grow a full beard and make some subtle grooming to keep it nicely shaped. The hair is worn medium-length.
22. Dyed Hipster Style
Another way of getting this look is to dye your hair with funky or bright colors. This will give you the right hipster appearance, but it is not for men above 30 (though we have a list of haircuts that do look good for older men).
23. Full Thickness
If your hair is naturally thick and luscious, you can keep it at a full-thickness across your whole head. This type of hair will just make people want to run their fingers through it.
24. Preppy Short Back and Sides
Close shave the sides and leave the hair in the center longer and more luxurious. Carefully comb it backward with styling gel to obtain a manicured and gorgeous preppy look.
25. Ultimate Afro-Texture Spikes
High spikes with short curly hair are a thing that only a hipster could do. The sides trimmed very short, while the top is styled in high spikes using a strong holding hair gel.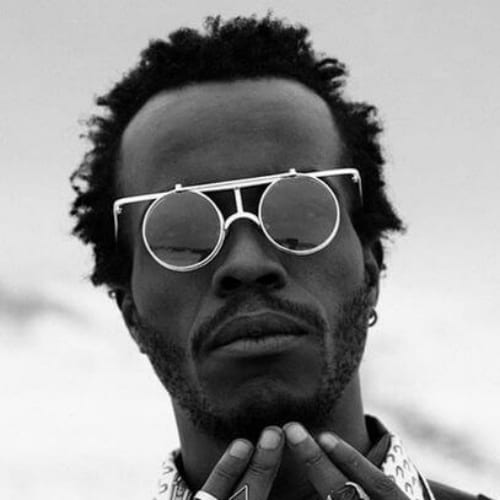 26. Wild Hipster Haircut
If you have a wild and free personality, skip the barber and let your natural growth take control. The long wavy locks and the thick beard resemble the real hipster life.
27. Forward Swept Quiff
If you do not want to arrange your hair into a clean vintage quiff, a fluffy one is the best option. With styling gel and a comb, get your hair to go upwards for a neat look.
28. Classic Man Bun
Brush the hair until it is soft and then pull it back into a man bun. Tie the bun in place with a hair elastic. This is the standard hipster hairstyle for a guy with longer hair.
29. Messy Curls
Long, thick and wavy, wear your curls messy. It gives them texture and also adds a bit of volume to the top. The sides are shaved to shape the look and contrast with the beard.
30. Undercut with Fringe
Style a small portion of hair, so as long as your sides are kept short and neat, it's easy to manage this cut. This undercut haircut works well with and also without any facial hair.
31. Top Knot for Hipsters
Best suited for tattooed guys who want to tone down the aggressive look. The top knot works perfectly well and is also smooth and useful for physically active guys as the hair will stay in place.
32. Shaved Head & Beard Style
Sometimes a hipster haircut is just the beard itself. The bald head is perfectly complemented by the voluminous beard and the handlebar mustache.
33. Big Wave Hipster Haircut
The style focuses on styling of the top hair, which was left relatively long and combed in a rolling manner to give the illusion of a really big wave. Side designs are added for extra creativity.
34. Textured Fringe
Sweep forward the majority of your hair using styling products and then pull a section out to create a textured fringe. Get the best styling by running your fingers through it.
35. Swoop and Fade
The medium length hair at the top has been given a choppy finish before being swooped over the head. Underneath, the razor faded sides blend perfectly with the facial hair.
36. Hair Raising
Add a bit of styling gel and run your fingers through your hair so that is easy to arrange. Comb upwards from the roots and adjust it as you please.
37. Parted Pompadour with Full Beard
Slick the hair slightly towards one side and give it a unique side part. A full beard makes the look stand out as it emphasizes the square jawline and your sailor style.
38. Mid Curls
Longer hair might turn into natural curls as it grows. Add a little styling product through your curls as it dries. This can help define your curls and stop them from becoming frizzy.
39. Brushed Back Blue Hair
Give volume to your hair by gently pulling up from the roots with your fingers. Use a little bit of styling gel to brush back your hair as you run your fingers through it simultaneous.
40. Rugged Man Bun
This untamed version of the man bun requires long, messy hair. The top is full of wild texture and stray strands of hair, while the sides are gradually faded.
41. Curly Top Hawk Haircut
The undercut reduces the sides and back while being gradually faded. The curls at the top are left wild for you to arrange however you feel like or just let them be.
42. Short Sides with Perfect Spikes
Trim your back and sides close to a shave and leave the crown section long. Use styling gel with a fine-tooth comb to create perfectly shaped spikes.
43. Pink Caesar Haircut
Another one from the classics, take with Caesar cut with a short back, a forward combed top, and accentuate it with a pink color and you will look like the biggest class hipster.
44. Preppy Side Fringe
Carefully comb your fringe to one side to create a hipster-style, side-swept preppy look. Complete the style by adding a few highlights to it in order to bring out your features.
45. Tousled Hair with Volume
Many hipster hairstyles rely on volume. To achieve volume in your hair, add styling wax and run your fingers through it beginning from the roots and pulling upwards.
46. Long and Medium Dreads
This hairstyle involves dread wax, a residue-free shampoo, a comb, and hair ties but there is also the hipster approach by leaving your hair to curl itself into dreaded knots.
47. Simple Side Sweep
Although not so obvious, this style is still one of the most appealing hipster haircuts among men. Pair this look with a goatee to give it a unique finish.
48. Stylishly Disheveled
If your hair is thin and straight, try out an asymmetrical haircut, using a light wax to give it a messy finish. Choose a style you can come up with and adapt it to your needs.
49. Textured Top with Beard
Keep your beard to medium length but trim the hair on the top of your head accordingly to your features. Give the hair a bit of texture by running your fingers backwards through it.
50. Hipster with Handlebar Mustache
A handlebar mustache is the ultimate hipster touch you can add to your style. Enhance any hipster haircut just by teasing your mustache into thin handlebar curls.
Conclusion
A hipster haircut represents a creative life where everything is about developing your own style. A great method for choosing your own hippie cut is searching through vintage hairstyles from the '50s and '60s.
After that, just modernize it with classy fades, highlights, or exquisite cuts. There are no boundaries to how much you can improvise when we're discussing hipster fashion.
Are you already sporting a hipster look? How are you styling your hair then?
This article was updated in August 2019.
Darla is a hairstylist and makeup artist. She loves creating bold and edgy looks for her clients and is very passionate about what she does. She has always loved writing, but never thought that she would ever get to publish her content. She decided to give it a try when she discovered us, and has been writing for our readers ever since!