We often look to celebrities for haircut inspiration. As far as men's hairstyles are concerned, there are few superstars who can surpass prolific singer and actor Justin Timberlake.
Although he's known for his signature quiff hairstyle, there are plenty of other Justin Timberlake hairstyles that you can use as references for your next hair appointment.
Take a look at some of his most memorable looks below.
1. Swept Back Justin Timberlake Hairstyles
If we could pick one word to describe JT's overall style, it would definitely be classy. It's no wonder why Suit and Tie became one of his biggest hits – it's highly representative for the A-list celeb. One of his most elegant hairstyles involves gently sweeping his hair back.
2. Quiff Hairstyles
Using the terms "Justin Timberlake" and "quiff" in the same sentence is almost redundant. The modern Justin Timberlake hairstyle that we know, love and often search for is the quiff, in which he styles his hair slightly upward and to the side.
3. Messy Justin Timberlake Hairstyles
Even though he's obviously a dapper gentleman, that doesn't mean that he can't get down and dirty, so to speak. In other words, you can sometimes see Justin with a sexy and messy hairstyle, featuring his neatly cropped locks randomly styled.
4. Buzz Cuts
You'll soon come to learn that Timberlake looks outstanding with basically any hairstyle. Even when he has barely a millimeter or two of hair, he rocks the haircut with confidence. That being said, don't be afraid to try out a buzz cut hairstyle.
5. Justin Timberlake Short Haircuts
If you're not up for going full military with your haircut, you can experiment with one that's short and practical. Make sure that the sides and back are accurately trimmed, and think about leaving the top just a little bit longer than the rest.
6. Combover Justin Timberlake Hairstyles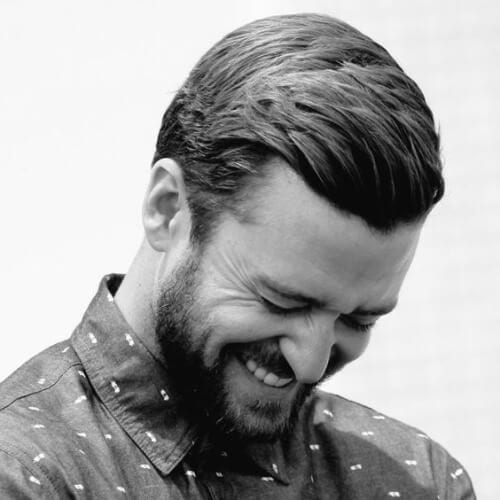 For quite a few years now, the combover has been one of Justin's go-to hairstyles (after the quiff, of course). To master the look, you need to allow your hair to grow about two to three inches long. Afterward, carefully comb it to the side using some product.
7. Cropped Curls Hairstyles
In his younger years, Justin could always be spotted adorning his natural curls. We'll get into his *NSYNC days a little later on, but we'll start with his cropped curls look for now. If you want a clean-cut hairstyle to flatter your curly texture, this is the look for you.
8. Slicked Back Hairstyles
Whether he sweeps back his hair or he slicks it back, Timberlake looks amazing. You can get inspired by another one of the most popular Justin Timberlake hairstyles by fully combing your hair back and slicking it down.
9. Faux Hawk Justin Timberlake Hairstyles
Until now, we haven't seen Justin with a mohawk or a traditional faux hawk. However, we have seen some of his messy hairstyles that feature a faux hawk with a twist. Instead of focusing on bringing all of your hair to the middle, dare to mess it up a little.
10. Ivy League Hairstyles
JT is no stranger to the Ivy League haircut. This classic military hairstyle is ideal for men who value elegance and a well-kept hairstyle. Ensure that everything is cleanly cropped all around to get the results you are aiming for.
11. Justin Timberlake Hairstyles with Undercuts
Like most male celebs, Justin has toyed around with the idea of an undercut every now and then. We believe that his faded undercut suited him very well, especially with the slightly longer top. You should work with a professional stylist to get the perfect fade.
12. Crew Cut
If you're not one for complicated hairstyles, the crew cut is just what you need. It is one of the most common low-maintenance haircuts that doesn't involve shaving your hair to a burr or buzz cut. The only downside is that you'll have to retouch it often if your hair grows fast.
13. Short Pompadours
Pompadours and class go hand in hand. Naturally, Timberlake would have rocked one at least at one point during his career. Despite the fact that he never went for a full rock and roll pompadour, he embraced the short pomp with true style.
14. Justin Timberlake Hair 90s Styles
As promised, here's a shot of Justin from his days as part of the world-renowned boy band *NSYNC. During this period he would often experiment with color, adding blond to his naturally light brown strands. If you have curly hair, would you dare to try and bring back the trend?
15. Short Tousled Justin Timberlake Hairstyles
We're back to another easygoing hairstyle inspired by the Prince of Pop himself. For the occasion captured in the photo above, he opted for a careless short cut with tousled locks. It goes to show that you can still be classy with a messy hairstyle.
16. Low Fade Haircuts
In addition to his faded undercuts, Timberlake also tends to play around with high, mid and low fades. In this photo, you can see how he flawlessly rocks a low fade haircut with a combover hairstyle on his longer top.
17. Wavy Justin Timberlake Hairstyles
We're almost always used to admiring JT with straight hair these days, as opposed to the tight coils from his youth. Be that as it may, we can still get a glimpse of the texture from his teen years when he wears his hair slightly wavy.
18. Soft Frontal Highlights Hairstyles
If you're thinking about adding some color to your hair without fully dyeing it, you may get inspired by this look. Here, Justin threw in a few blonde highlights on his brown base, but mostly around the front area of his hair.
19. High and Tight Justin Timberlake Hairstyles
Yet another military hairstyle that Timberlake pulled off without fault is the high and tight haircut. By definition, the hairstyle involves getting a crew cut style top and shaving the rest of the head completely, starting with the upper sides.
20. Medium-length Hairstyles
We haven't yet had the privilege to witness Justin with shoulder-length locks, but we have seen him look astounding with medium-length hairstyles. For instance, he occasionally skips the taper and fade aspects of his haircut for swept back mid-length locks.
21. Regular Haircuts
Even though there's no denying JT's star factor, he's just like every one of us at the end of the day. In saying that, Justin sometimes avoids fancy hairstyles altogether and opts for a good ol' regular haircut that any guy can copy.
22. Hard Part Justin Timberlake Hairstyles
As a man who frequently chooses quiff or combover hairstyles, it's normal that Timberlake would consider getting a hard part. We believe he chooses this detail for the emphasis it provides for the rest of the side-combed hairstyle.
23. Shaved Line Justin Timberlake Hairstyles
On the other hand, you can get in touch with your adventurous side with another type of hard part. Instead of going for a gentleman-like approach with shaving a part on your side, you can bring out your inner bad boy with a shaved line on a buzz cut.
24. Taper Haircuts
When he's not sporting a fade haircut, Justin can be found most of the time with a tapered one. He likes keeping the top part of his hair longer and tapering down the sides and back up until he reaches the back of his neck.
25. Disconnected Undercuts
Another irresistible JT look that you can recreate is the disconnected undercut. During this show, you can see that he chose a skin fade (also known as a bald fade) for the undercut part of his hairstyle. Nevertheless, you can choose to leave a bit more hair for your version.
26. Side-slicked Justin Timberlake Hairstyles
If your hair has grown quite a bit and you get tired of slicking it back entirely, you can switch things around with a side-slicked hairstyle. In a nutshell, you should part your hair to the side and then slick each section backwards.
27. Choppy Justin Timberlake Hairstyles
Bring on the layers! There are few short haircuts for men that look cooler than choppy ones. They have an edgy touch to them that make your appearance all the more impressive. Short, jagged, and numerous layers are the way to go.
28. Super Short Curly Hairstyles
We're bouncing back in time for this entry, with Justin Timberlake hairstyles from his early twenties. In this pic, you can barely tell that his hair is curly, owing to how short it's cut. We recommend this option if you don't want your curls bouncing all around.
29. Medium Curls
An alternative for curly guys is a medium-length haircut. As you can notice from this shot with Timberlake, you can leave your curls a little longer and rake your fingers through them. Feel free to wear your curls longer or shorter.
30. Dark Justin Timberlake Hairstyles
If you're not a diehard JT fan, it may come as a surprise to see the pop sensation with dark hair. Well, at one point, he actually colored his slicked back strands dark brown. You could consider the idea if you want a full change of look.
31. College Hairstyles
Whether you're a college student or you just feel like one, you can get a hairstyle to express the idea. If you want to get this young and fresh look, go for a short and edgy haircut. You won't have to waste time during the mornings when you have to get ready.
32. Justin Timberlake Hairstyles with Subtle Highlights
We've shown Justin with frontal highlights, but what about subtle highlights sprinkled throughout his sandy hair? We believe that he looked great with subtle honey highlights and we encourage you to try the idea out if it's aligned with your personality.
33. French Crop Haircuts
Despite not having a classic French crop haircut, Timberlake looks sleek with a hairstyle that has a similar silhouette. We recommend the style if you want to get a box shape around your forehead or if you want to cover up an unflattering hairline.
34. Big Curly Justin Timberlake Hairstyles
You probably won't ever catch Justin with a curly fro-like hairstyle ever again, but we have to admit that he was delightful with this look as a kid. If you're under 20, you may want to consider getting this fun haircut to accentuate your curly texture.
35. Spiky Caesar Cuts
Around the same time that Justin rocked his short French crop, he also experimented with the Caesar cut. He decided to add his personal touch to the look by spiking his hair. We vouch for it as a cool spiky hairstyle that still works post-2000s.
36. Mid Fade Haircuts
We have showcased Justin Timberlake hairstyles with low fades, as well as high and tight haircuts. But what about a balanced alternative? Rest assured that we have an example for a mid fade too, perfect for showing your stylist.
37. Bleached Top Justin Timberlake Hairstyles
Still, if you're feeling nostalgic and want a 90s or 2000s vibe, you can try out bleaching. You can bleach only the top or all around, depending on your preferences. However, be aware of the damage that bleaching can cause to your hair.
38. Textured Justin Timberlake Hairstyles
You can never go wrong with a short textured hairstyle. No matter what type of hair you have, don't hold back on the layering to get a dynamic and aesthetically pleasing look. This is a hairstyle that works for guys of all ages.
39. Short Layered Haircuts
Speaking of layers, there's another way you can rock them. In the shot above, Justin didn't have a textured haircut, but rather one with short layers that help him get his staple quiff hairstyle. Make sure the layers aren't too short so you can still style your hair afterwards.
40. Justin Timberlake Hairstyles with Thick Beard
Throughout the years, Timberlake has had an on and off relationship with facial hair. While he opted for a cleanly shaven look throughout his younger years, he grew into sporting stubble afterwards. In his late twenties, he started growing thicker beards.
41. Voluminous Hairstyles
A little extra volume never hurt anybody. Especially if you prefer swept back hairstyles, teasing your hair a bit to boost it can have a wonderful impact on the overall look. You can use hairspray or a similar product to maintain the volume.
42. Vintage Justin Timberlake Hairstyles
A few years back, Justin displayed a cool vintage hairstyle in one of his editorials. Although he didn't actually keep the look for his day-to-day appearance, we say that the retro side-parted hairstyle is an awesome source of inspiration for men.
43. Brushed Up Hairstyles
Alternatively, you can style your hair in a brushed up fashion, like JT at this red carpet event. The results will get you close to a flattop haircut without restricting you only to this style. Two inches is the ideal length for the look.
44. Thick Justin Timberlake Hairstyles
We can all appreciate that Timberlake has rich, thick hair that looks phenomenal basically any way he chooses to style it. Be that as it may, other thick-haired men may not be flattered by all of his hairstyles. One haircut that looks good on most, though, is pictured above.
45. Faded Buzz Cuts
You have seen Justin with a high and tight haircut; you've also seen him with a buzz cut. But what happens when the star combines the two ideas? The results look brilliant, as a faded buzz cut that is sure to complement a great deal of men.
46. Layered Tops with Beards
When he grows a beard, Justin tends to pair it with a layered top. We believe that the two styles look fantastic together, creating a harmonious look. If you want more contrast, however, you can try a shorter top.
47. Deep Copper Justin Timberlake Hairstyles
Another one of the rare occasions that we saw Timberlake with an entirely different hair color was when he tried out deep copper. If you have green or blue eyes like Justin, we encourage you to test out the hairstyle for a nice color combo.
48. Justin Timberlake Hairstyles with Cornrows
Surprising as it may seem to some, Timberlake had a cornrows experience in his late teens. If you're young, rebellious and passionate about urban culture, you can try the famous braided hairstyle out for yourself. The bandana is optional.
49. Subtle Fade Haircuts
The taper haircut that Justin shows in this photo is so discretely faded that you can barely notice it. Still, the difference will always be in the details, so give it a go if you're one for subtle yet attractive hairstyles.
50. Short Gelled Hairstyles
The last of our Justin Timberlake hairstyles emphasizes the use of styling products for successful hairstyles. If you have short and curly hair, you can appropriately outline your textured strands with the help of some gel.
Conclusion
To sum up, we're sure that these Justin Timberlake hairstyles will inspire you for when you want to change your look.
Whether you're a fan of his boy band hairstyles or you adore his sharp combovers or quiffs, don't hesitate to try a few examples out to see which one looks best with your facial features and personality.
Which JT look is your #1?
This article was updated in June 2019.
Martin is a hairstylist and makeup artist, with a passion for art, interior design, and traveling. He has been in the industry for over 10 years and loves meeting new people. Martin enjoys assisting his clients with their various needs and is looking forward to running his own business. When he is not busy building on his career, Martin finds pleasure in spending time with family, going out for a run, and inviting friends over for dinner, boardgames, and a movie.