In the past few years, the advent of K-Pop has brought forward a very interesting and intriguing figure in the world of styling and fashion. We're talking about Korean men, of course!
Slowly, but surely, they have made a name for themselves, becoming the Backstreet Boys and One Direction of the East in terms of trendsetting! Curious to know more? Scroll down to see the full list and hit play at the bottom for a quick recap!
1. The Simple Korean Men Haircut
Let's start off with a very simple yet modern haircut that Korean men have adopted lately. It's a comb over with a side part that has a very slick finish to it, almost with no layers at all. You can add a glossing agent if you want.
2. The Classic Korean Men Haircut
This is a hairstyle you might have seen around Western college campuses a lot and which young Korean men have adopted as well, whether they are students or not. You can complete this Ivy League look with a sweater and some faux glasses.
3. The Medium Korean Men Haircut
This medium haircut allows you to flaunt your naturally straight hair. Therefore, the best thing to do is grow out a killer fringe that goes with it and that everyone will envy. There's no need for further embellishments with this one.
4. The Epochal Korean Men Haircut
This season, Korean men have been going crazy for epochal haircuts. What does this mean? Every hairstyle you can think of that comes from another age, from pompadours to bowl haircuts fits this description.
5. The 90s Heartthrob Haircut
Continuing on the above, there is no way Korean men, being as stylish and outgoing as they are, could have missed out on the chance to wear one of the greatest hairstyles of all time. This is the famous heartthrob haircut of the 90s.
6. The Disconnected Korean Men Haircut
Any disconnected haircut is one in which the lower portion, meaning the hair on your sides and back is significantly shorter than the hair on the top of your head. There must be no fade. Otherwise, it's not a disconnect anymore.
7. Dark Gray Korean Men Haircut
It's a known fact that Korean men like to experiment with their looks probably more than any others and hair color is just one way of doing that. This is a dark gray shade that can complement your eyes.
8. Blonde Korean Men Haircut
Since blonde, especially extreme blonde shades, has been the color of the year, you cannot possibly miss out on the chance to try it out for yourself. If you don't like it, you can always cover it up easily enough.
9. Pink Korean Hairstyle
Nothing says fun and creative like pink hair. And Korean men surely are both those things. This is the classic 90s 'Hugh Grant' haircut but in orchid pink. We're also in love with the Tinkerbell sweater!
10. Burnt Orange Korean Hairstyle
Another hair color you can try is this burnt orange shade. If you don't think you can manage this at home, leave it to your stylist because it's a difficult color to obtain. You will also need to bleach your hair first.
11. The Frizzy Korean Men Haircut
If you weren't convinced we're living in a full revival of the 90s, maybe this will set matters straight. It's a bottle blonde, medium, blowout haircut that has been deliberately frizzed out and curled a little.
12. The Layered Korean Men Haircut
However, if you prefer something a bit more demure, try this layered and boyish haircut that is sure to attract all attention. Its feathery bangs and long sides give it a teenage kick that is hard to beat.
13. Korean Men Haircut with Low Bun
The man bun hasn't escaped Korean circles either. It was just as powerful there as it was in the Western hemisphere. Here's an example of it. This is a messy man bun created low at the back of the neck.
14. Platinum Korean Men Haircut
Here is Korean style at its finest. The hair is colored platinum blonde which we all know is the color of the season but what really catches the eye is the accessories and jewelry. The 80s nerdy glasses are now pimped with gold.
15. The Rain Bi Haircut
Rain Bi is a Korean pop singer, and his real name is Jung Ji Hoon. He wears a 80s towards 90s inspired haircut, very feathery and layered that makes him appeal to both Eastern and Western markets.
16. The Won Jong Jin
Won Jong Jin is a very famous Korean model who also goes by the name 'The J.' He has scores of fans in Korea who simply adore him and his signature emo-inspired haircut which you can get too if you like The J.
17. Korean Style Turquoise Hair
Don't hold back when it comes to hair color because these past few seasons have been all about experimenting with non-traditional colors in our hair. Turquoise is just an example of how fantastic it can all turn out.
18. The Korean Mohawk
This platinum mohawk has got us all swooning. Of course, it's not a traditional mohawk with gelled spikes, but rather one fit more for the end of the 2010s. We're also in love with the accessorizing job here.
19. The G-Dragon Haircut
G-Dragon is a member of the hip-hop boy band Big Bang. A cool fact is that his real name, Ji-Yong, actually means Dragon in Korean – Yong meaning dragon. In 2016, Forbes named him the most influential person in sports and entertainment under 30 in Asia.
20. The Seungri Haircut
One of G-Dragon's bandmates in Big Bang is rapper Seungri. His real name is Lee Seung-Hyun, and he is also an actor and a businessman, opening a restaurant franchise and moving away from the entertainment world a little.
21. Unicorn Korean Men Haircut
The unicorn trend has reached Korea as well, and we're so glad it did because the beauty of Korean men seems made for this hairstyle. There is no one correct way of doing unicorn hair. Just choose the colors you like best!
22. The Gong Yoo Haircut
This is Korean actor Gong Yoo proudly displaying a buzz cut. We like his rough and tumble look with a little shadowy mustache, long sideburns, and such a good tan. This is proof that sometimes, less is more.
23. The Lee Byung-hun Haircut
Lee Byung-hun is a model, singer, and actor. You might recognize him for portraying T-1000 in Terminator Genisys or for his role as Storm Shadow in G.I. Joe: The Rise of Cobra and its sequel as well as from his Korean movies.
24. The Angular Fringe Korean Men Haircut
This is a short haircut with a fade on the sides and in the back. It also has a long top with an angular set of bangs that have been brushed to one side in a glamorous way. The top has a feathery finish to it.
25. The Messy Korean Men Haircut
A messy haircut is every guy's dream. The simple reason is that it requires very little maintenance and even less styling. All you need to do is take some hair wax between your fingers and apply it loosely.
26. The Forward Swept Teenage Korean Haircut
Another type of messy haircut is the one worn by Korean schoolboys. The extra-long top has been blowout using a brush or a comb until you can clearly see all the layers of the haircut proudly displayed.
27. Chestnut Korean
Sometimes, when it comes to hair, it's not so much about the haircut in itself as it is about the hair color. If you're not a fan of extravagant haircuts but still want to wow those around you with impeccable taste, you can do so with elegant hair color.
28. The Half Up Half Down
When you have medium, layered hair, it literally doesn't get any easier than this to style your hair. All you need is a small hair elastic, preferably the same color as your hair and a few bobby pins if you want the hairdo to be neater.
29. The Long Korean Haircut
Believe it or not, this is a modern version of a mullet. It's very feathery and has lots of layers to it, but the long tail hanging behind makes this hairstyle a grandson of the age-old mullet that we all know and love.
30. The Small Pompadour
Pompadours don't need to be a mile high to count as such. This gelled small version with a comb over, a middle part, and a disconnect is still proud enough to call itself a pompadour fit for the decade we live in.
31. The Spiked Korean Men Haircut
Speaking of hairstyles from the past, let's take a look now at the modern version of one from the 80s. This is a very high blowout with spikes that men wore back then, but that has been revived a little now.
32. The Kang Ha Neul
Kang Ha Neul is a Korean actor, and you can see him posing here for a photoshoot for InStyle magazine.
He displayed a brand new haircut on that occasion. It was medium, highly gelled, and reminiscent of the 90s, of course.
33. The Jaejoong Haircut
Jaejoong is a very famous singer, actor, director, and designer from South Korea. He's a member of the pop band JYJ, and has starred in movies and television series, as well as tried his luck in directing.
34. The T.O.P. Haircut
We're back to the Big Bang, pun intended because we've got one more band member whose impeccable style we need to discuss. This time it is rapper T.O.P. and his gorgeous slick back hair!
35. Trendy Korean Men Haircut
This amazing nutmeg blonde color would be perfect for autumn. As would be this whole outfit in tones of charcoal gray with layers that will warm you up. So, hurry up and copy this look before fall gets here!
36. Platinum and Ginger Haircut
It takes a lot of courage to color your eyebrows and even more courage to match them one on one to your hair color.
Especially when that hair color is not necessarily a natural one. However, we suggest you try it on for good measure.
37. Red and Black Korean Men Haircut
Opposing colors on the spectrum makes for a real spectacle when put together on your head. Make sure you blend them in really well and that you create the perfect transition from one to the other.
38. The Relaxed Korean Men Haircut
A relaxed haircut is one that you don't have to spend all day grooming or reapplying hair product to so that it stays in place. This medium hairstyle seems to do the trick easily enough with just a little hair gel.
39. The Curly Korean Men Haircut
Whether you have curly or straight hair, you can rock curls in this messy and gorgeous way whenever you want. Make sure to use plenty of hairspray to keep them all in place and to stop your hair from frizzing out.
40. The Kim Won Joong Haircut
Kim Won Joong is a very famous ice hockey player that right now is playing for the Anyang Halla team in the Asia League Ice Hockey.
This is him in a photoshoot for Harper's Bazaar in 2014 looking incredible with a very geometrical hairstyle.
41. The Feathery Korean Men Haircut
If you have opted for a feathery haircut, you can keep your layers in check or make sure they stand out by using copious amounts of hair gel or some hair oils.
Try Argan Oil or olive oil hair cream that will make your locks luxurious and shiny.
42. The Edgy Korean Men Haircut
Essentially, this is a classic buzz cut. However, in this version, the simple haircut becomes a canvas for the tattoos and accessories you can put on and which you won't want to cover up with your hair.
43. The Spiky Korean Men Haircut
This haircut is a combination between the classic mohawk of the 70s punks and the much softer blonde spikes of the 90s. The result is a haircut that you can even wear to your prom if you can find the right tux.
44. The Korean Haircut with a Long Top
Here's a sexy hairstyle that has been splashing and making waves on Instagram lately. It comprises an undershave on one side and a very long comb over on the other side. You can go for the wet look as well.
45. Blue Korean Hairstyle
Here's the 90s heartthrob hairstyle cropping up again, only this time in a timeless blue. It's a perfect way to revamp this haircut and bring it into the decade we are currently living. Match it with fabulous jewelry!
46. Korean Hairstyle with Long Bangs
A set of well-placed and very well-trimmed bangs can update any haircut. But, here's a tip – don't try to cut your bangs at home by yourself. It's a lot more difficult than it looks and you'll end up as a fail on YouTube.
47. The Shoulder Length Haircut
This amazing hairstyle is for men with flowing, thick hair. If you have thick hair, then one solution in dealing with it is to grow it out and simply let it run free. You can go for choppy ends for some added pizzazz.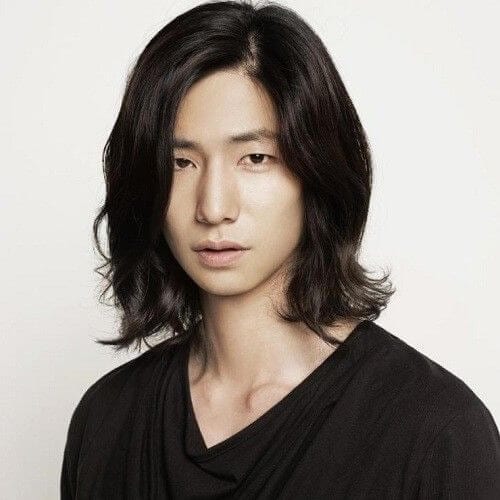 48. The Urban Korean Men Haircut
The urban haircut has to be both stylish and serviceable. That's because the modern urban man doesn't have time to waste styling his hair over and over again in front of the mirror. He's always on the go.
49. The Bowl Haircut
The bowl haircut is part of the epochal trend that we've seen sweeping South Korea and that we talked about a little earlier. Of course, it's an updated bowl haircut, not the regular kind you used to get when you were a child.
50. The Handsome Korean Haircut
Last but not least, here's a haircut that transitions in a wonderful way from daytime at the office to night time at the club. It all depends on how you style this pretty hairstyle and the accessories you use.
Conclusion
Korean men haircut ideas are always useful to have in your portfolio because Asian hair is so unique! It has a different texture than most and needs to be handled with care and high-class hair products.
Not to mention the coolness factor that you need to take into account now that K-Pop is on its way to rule to world. Also, as promised, for a quick recap, just click play on the video below!
Let us know in the comment section below which one of these haircuts is your favorite!
This article was updated in August 2019.