If at the beginning of the 20th century everybody wore clean and slick hairstyles, the turn of the century witnessed a major change regarding the hairstyle texture. Call it a bed head or messy hair, many celebrities made great appearances, even on the red carpet, wearing Messy Hairstyles for Men.
Being a versatile hairstyle, you can get creative combining a messy fringe with a clean high fade, or a messy quiff with shaved sides. Scroll to see them and many more!
1. Messy Hair Bed Head
We'll start slow by showing you what can only be called messy hair or bed head. At the same time, look how good it looks! Simple and effortless (and with minimum hair product).
2. Messy Hairstyle with Temple Fade
Just because you opt for a messy hair top doesn't mean you have to go for a generally disheveled hairstyle. So, if you want to combine, we recommend going for a bed head with a temple fade base.
3. Short Messy Hair with Bangs
Keep it short, keep it messy, keep it fringe-y! You can go for a short haircut, leave it layered and messy, and still invoke a bit of control by pairing it all with some bangs.
4. Messy Hair Undercut
This is a triple combo, if you may. The undercut is guaranteed to never go out of fashion, and let's be honest, so is a beard (no matter what style you choose). Take all this and pair it with a messy hair top too? Perfection!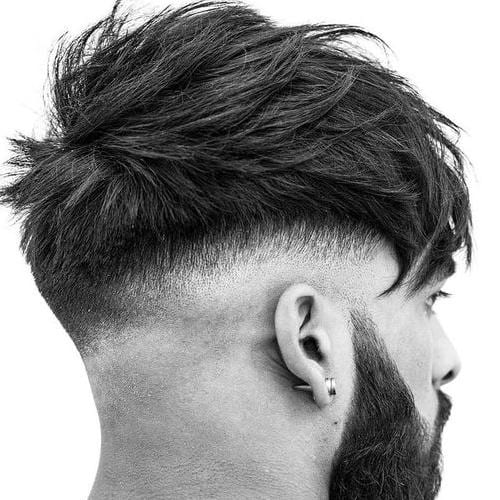 5. Bed Head Messy Quiff
If you want a disheveled, just rolled out of bed look, but still need to give it some semblance of its being put together, go for a messy quiff!
6. Johnny Depp Messy Hair
You rarely spot Johnny Depp without his shoulder-length, pirate-y look nowadays, but when you do, well, let the short hair with messy top speak for itself.
7. Medium Messy Hair with Bangs
Similar to Johnny Depp's hairstyle above, the picture below shows you what you could look like you opted for a longer, medium-length top. You can also play around with it a bit and create some bangs too (or the one).
8. Swept Back Messy Hairstyle
Messy hair doesn't mean you can style it, at least a bit. Take a que from the photo below and sweep back your hair with just a little bit of product while leaving it run wild, in general.
9. Textured Blonde Messy Hair for Men
While this particular pic might not make it very clean, the man below decided to not only go for an undercut with shaved designs, but also color his textured, messy hair a blonde shade.
10. Unkempt Messy Hair
We're used to seeing Robert Pattinson with messy, unkempt hair, so if you want some hair inspo, check out his many longer hair 'dos, particularly does around or after his Twilight period.
11. Messy Fringe Haircut
We've got yet another great example of how you can wear messy hair and pair it with a nice fringe too. To get the effect below, ruffle your hair and then separate and level as many strands as you like to create a faux fringe.
12. Messy Faux Hawk
Keeping up with the faux trend, we've found a faux hawk messy top look that you'll just love. It's also very simple to get! Instead of fixing it all in place, just let the top of your faux run wild.
13. Short Sides Long Top Messy Hair
There are countless great examples of short sides, long top hairstyles, and cuts, but we just love how effortlessly cool this messy top one is!
14. Messy Emo Hair
The heydays of emo hair are quite long past us, but that doesn't mean you can't still draw inspiration or bring them to a more contemporary look, like below.
15. Messy Hair with Bangs
Another messy hair look with actual bangs, this time, paired off with a nice set post 5 o'clock beard on its way to becoming a full-grown one.
16. Undercut Fade with Messy Spikes
Less of a bed head and more towards layers. Here, we've got a neat undercut fade that is paired with a layered top styled to resemble spikes. Talk about bringing spiky hairstyles up to speed again!
17. Messy Red Hair
What could make your bedhead, messy hair stand out even more? Some color, of course! Here, we have an example of messy, red copper-ish hair, but you can tint or even dye yours in whatever color you like most!
18. Modern Messy Aesthetics Curls
Almost all of the messy hairstyles we've shown you so far made use of the straight hair structure. Which doesn't mean you can't have messy hair if you've got wavy hair. The example below proves it!
19. Messy Shaggy Hairstyle for Men
You can up your messy head game and just go for a shag haircut directly. Simplicity and style at its most disorganized and finest!
20. Messy Quiff with Twisted Moustache
As you can tell, this is not exactly an "I've just rolled out of bed look" but more of an "I know my trends and my style approach". The messy top itself is great, but the real game stopper has to be that mustache. We know what took up all the styling time. 😉
21. Brad Pitt Messy Hair
Brad Pitt has never been one to shy away from trying out new hairstyles. We've seen him with everything from really long locks to his now common shoulder-length hair and even very short cuts. Here, he sports one of the latter, which he mixed with some hair product for a stylishly messy look.
22. Messy Long Fringe with Bleached Hair
We've got another great example of blonde locks mixed with an undercut, but this time, it is with a significantly longer top. If you've got long hair and no longer know how to style it, you can easily use this look for inspo.
23. Messy Textured Fringe with Bald Fade
Pair of two of the year's hottest trends for an extraordinary effect. Just see how good this messy, textured fringe and top look with a bald fade and a full beard.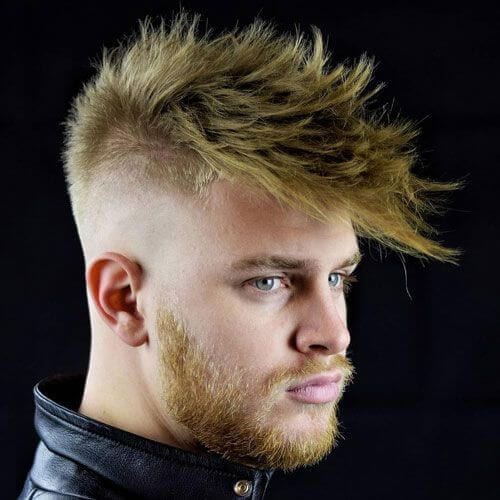 24. Voluminous Messy Hair for Men
Another one for our longer-haired readers. You can always opt for a messy hair look, especially if you combine it with an undercut and a really well-maintained beard.
25. Elijah Wood Messy Spiky Mohawk
A fit look for a funky hobbit, here, Elijah Wood styled his messy textured hair to resemble a mohawk.
26. Messy Pompadour Hairstyles for Men
Is there anyone who thinks anymore that messy hairstyles aren't adaptable or oh so easy to style? Yes? Then just look how cool you can adapt a messy head and transform it into a cool modern pompadour.
27. Dark Messy Hairstyles for Men with Stubble
This is more of a coming back to the basics look. The intentionally messy, wavy hair is paired up with stubble for an attractive careless but very much studied dark look.
28. Blonde Messy Hairstyles for Men
Another example of messy hair and undercut in blonde, this time, with more of a bleached aspect to it. The beard only helps add fullness to the look.
29. Simple Messy Hairstyles For Men
Simple to style, simple to wear, and fit for almost any occasion. What more could you want?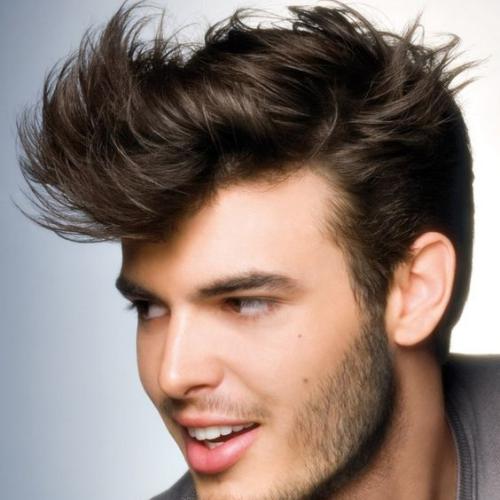 30. Daario Naharis Textured Messy Haircut
Everyone did a double-take when Game of Thrones totally changed Daario Naharis in-between seasons. Still, we got some major hair inspiration from his character, first thanks to those long spectacular long locks, and then thanks to his dark-colored, messy head and beard look.
31. Spiky Hipster Messy Hairstyles for Men
Hipster alert, we've got a mega cool look coming up! Everything about this picture points to some great hipster style elements, from the messy hair to the full beard to the rather spectacular mustache.
32. Messy Hairstyles for Wavy Hair
Wavy-haired gents, this one is especially for you! Don't be afraid to let those waves run loose, or if you'd rather style them just a little bit, then take some hair product and go for a messy look.
33. Short Curly Messy Hairstyles
The same goes for all you curly-haired men. Don't be afraid to keep your curls short and wild, the effect is more than spectacular and worth of envy.
34. Messy 360 Undercut Hair
Last but not least, this list will momentarily end with another take on the undercut, this time in a 360 version. Pair it with a full beard and a messy, layered top, and you're all good to go!
How To Style Messy Hair for Men
1. Pre-styling:
Every great hair look is born on the barber's chair. Your hair should be very textured and cut using a choppy technique.
The big pre-styling secret to rock a messy look is this: don't rinse the conditioner!
After washing your hair, use a daily conditioner and leave it in your hair! Dry your hair using only your fingers, starting from the back of your head.
2. Styling:
To master the messy look, it is obligatory to use some products. You can't achieve that great look without using some pomade or a molding paste.
Upgrade your styling techniques with Imperial Pomade for a loose messy hairstyle, or use Redken Maximum Control Molding Paste for achieving a naturally messy look with flexibility. Using a hairspray might help a lot too!
Conclusion
Having unkempt hair could prove difficult for many men. However, you can follow our two-step guide and you'll achieve the messy hairstyle in no time! This hairstyle works great with an undercut or fringe or pompadour or many more, as you've seen.
Which one of these are you more than ready to adopt and make your own? Leave a comment and let us know!
Lilith Wetherall is a freelance writer, editor, and blogger. She graduated in 2014 with a B.A. in Theatre Arts and a minor in Journalism. She later found her passion for hairstyles and is now professing in a men's salon. Some of her favorite things to do include reading, writing, watching movies, and being outdoors. When she's not writing for our readers, she is either at the salon or at home trying out a new hair color.