Whether you love it or hate it, you can't deny the iconic status of the mullet haircut throughout the last decades. The mullet was a style staple in the 80s glam rock era, then it got an athletic twist in the 90s, and is now making another comeback!
Nowadays, you can be cool and wear a modern mullet with layers, or even go old school with a rattail haircut. Regardless of your approach, you're sure to find inspiration in the examples below! (and check the VIDEO and FAQ at the end too!)
1. Modern Mullet Haircut
With the mullet, it's all about nuances. If you want your mullet hairstyle to have a visible modern touch to it, you should focus on adapting the classic haircut to a modern mullet silhouette. Almost all modern versions of the mullet haircut are messily styled.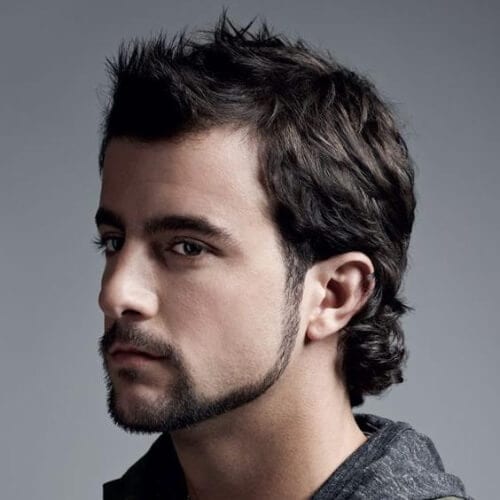 2. Mullet Haircut with Beard
Want to add an extra edge to your mullet haircut? You can always boost the manliness of a mullet haircut with the help of facial hair. However, do remember that beards require time, products, and grooming to keep them looking sharp.
3. Rattail Haircut for Male
We couldn't have talked about the mullet haircut without bringing up the rattail. This is a modern mullet haircut from the same family as the mullet, but which has short hair on the top-end in a long section of hair at the nape (hence the name). Consider getting a mullet haircut if you have a shorter top and longer back tickle your fancy.
4. Layered Mullet Haircut
We've said it once, we'll repeat it a thousand times: a layered haircut is perfect for any man. No matter what type of hair you have, how old you are, or what your style is, layers will always increase the coolness of any look by a mile.
5. Artsy Mullet Hairstyle
If your style is highly fashion-oriented, you'll love this mullet haircut adaptation. Not only does it have an artsy twist, but it's also easy to maintain owing to the overall shorter length. The choppy bangs are also a nice touch to this eye-catching "front party, back party, party everywhere!" look.
6. Faux Hawk Mullet Haircut
Count on a mohawk mullet haircut to toughen up the appearance of any haircut. Also, if you just want to experiment with similar shapes, try a faux hawk mullet. Just shave down the sides and leave the top and back longer and you're good to go! The sides are also slightly faded.
7. Goth Mullet Hairstyle
It's always great to be able to express your personality or musical tastes through your hairstyle. If you're goth for life, go for a mullet like the one in the photo below. The sides are also completely buzzed.
8. Subtle Mullet Haircut
Some men might not want their mullet haircut to be that upfront. If this is the case for you, we recommend leaving just a little bit of hair falling down your nape. Style the top part however you please – even a business in the front look works!
9. Asian Style Mullet Haircut
Whether you're an Asian man yourself or just love this continent's culture, go for a modern mullet haircut inspired by it. Japanese and Korean mullets have a specific, choppy style to them that is sure to complement any men looking to add a youthful vibe to their hairstyle.
10. Feathered Mullet Haircut
So, we've talked about layered haircuts and their impact, but what about the different styles of layering you can try out? In addition to the jagged layers we've shown in previous photos, also test out a feathered mullet to see if it's for you.
11. Quiff Mullet Haircut for Men
There are plenty of reasons to love the mullet haircut and one of them is that you can blend this haircut with all sorts of hairstyles. For example, pair it with the top-trending quiff. Show your hairstylist the photo below if you want to combine classic and modern in a single, cool hairstyle. Many men love this hairstyle!
12. Athletic Mullet Hairstyle for Curly Hair
Speaking of athletic mullets, soccer isn't the only sport associated with mullets' haircuts. Ice hockey, for example, has a lot of players sporting this timeless hairstyle. If you have curly hair and you're also an ice hockey fan, then try out this mullet haircut!
13. Bohemian Mullet Haircut
Not all mullet haircuts have to be sleek, quite the contrary! Some young, wild, and free adaptations look even better than their formal-oriented counterparts. So the styling below can and will look great on bohemian guys, especially on ones with naturally wavy hair.
14. Discrete Mullet Haircut with Full Beard
Still, you can always opt for a subtle mullet too, and look just as good. Complete a discrete mullet hairstyle with a full and thick beard for an extra touch of cool. Also, remember – caring for your beard is caring for your all-around appearance!
15. Choppy Mullet Haircut
We're always up for edgy hairstyles, especially if the guy wearing them has a similar personality. Add a rock star effect to your mullet haircut by working in choppy layers all around. To get the choppy outcome, your layers should be short and numerous.
16. Very Long Mullet Hairstyle
Some men just look terrific with long hair. If you recognize yourself in this, don't hesitate to opt for a mullet haircut with a long tail. Crop the top part as much as you want but let the lower part grow as much as possible.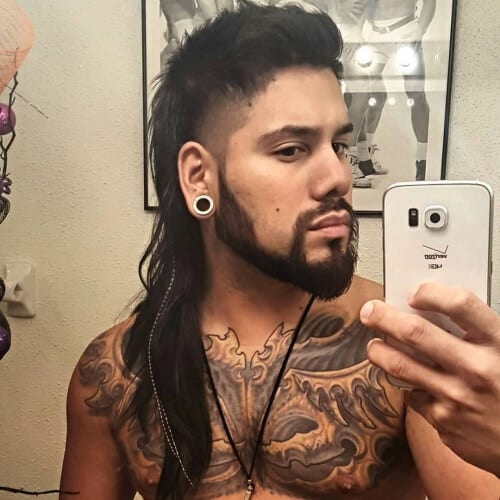 17. Easy Going Mullet Hairstyle
This is a very balanced modern version of a mullet haircut. It's not too fancy, nor is it too in-your-face. We call it the easygoing mullet – note that it leaves just an inch or two of longer hair at the back of the neck. Men who love mullet style choose this for a classy style.
18. 80s Mullet Haircut
While the 80s-style mullet and the classic mullet head have long gone out of fashion, this look can still be an original choice for men who resonate with the glam rock era. In the end, you don't have to follow trends if they're not aligned with your personality.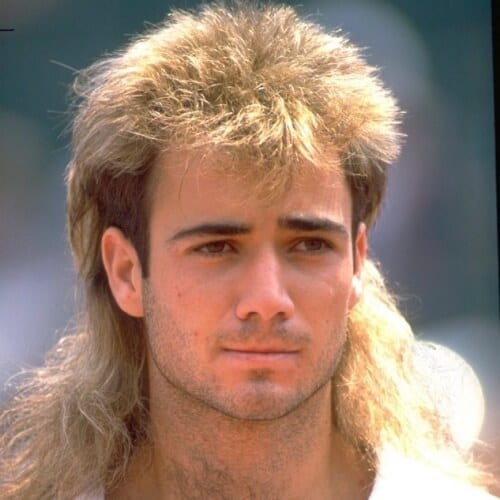 19. Mullet Haircut with Hard Part
A small element like a hard part can go a long way and have quite an impact on any look. Just look how well a hard part contributes to adding a modern take on the mullet haircut.
20. Spiky Fade Haircut
Spiky hairstyles for men have always been in and out of trends – they are making a comeback now, for the record. Nowadays, it's all about the specific way you style your spikes to get a successful hairstyle. Try this burst fade mullet mohawk to look fly! This is perfect for your funky and youthful look.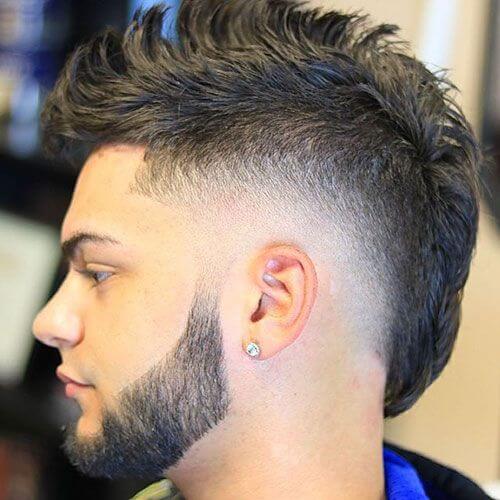 21. Edgy Mullet Haircut
We've been talking about edgy versions of the mullet, but this particular one stands out among the rest. It has very grunge feel to it with the long, jagged layers and shaved sides that continue up until the nape. This cut gives you that cool vibes, try this now!
22. Old School Mullet Haircut
After we spoke about the iconic 80s mullet, it's only fair that we touch on the 90s version as well. Back then, mullets were all the rage if rocked with headbands. Our advice remains the same regarding the specific styles of both these decades – wear them with pride if you truly like them!
23. Emo Mullet Hairstyle
While emo mullets are not an option for full-grown men that work in corporations, they are an interesting choice for teenage emo guys. The emo mullet features the style's signature full, side-swept bangs, with straightened locks that spread out across the back and sides of the neck.
24. Angular Fringe Mullet Haircut
The image below shows the perfect example of what a modern and trendy mullet haircut can and should look like. A classic mullet is mixed with an angular fringe haircut for the top section. After getting the base haircut, style the bangs over the forehead and jaggedly to one side.
25. Braided Mullet Haircut
So you decided on getting a rattail mullet haircut? Congratulation! Now, we have just the styling idea to help you further personalize this hairstyle! Instead of leaving the tail part simply down, twist your hairstyle (literally) by braiding it.
26. V-Shaped Rattail Haircut
On the other hand, you may want to get a rattail haircut that isn't that long on the tail part and also not as. full. As an alternative, pump up the edginess of this hairstyle by cutting a V-shape in the back and shaving and fading these sides.
27. Long Mullet Haircut with Faux Hawk
We have a fantastic idea for men who prefer mullets with longer tails. Once you get the haircut, style the section on top into a fine-looking faux hawk. We encourage you to follow the technique displayed in the photo below to get that fanned mohawk aspect.
28. Mullet with Shorter Sides
Some men opt for mullet haircuts that don't cut down the sides that much. Others opt for a completely shaved part. If neither style matches your tastes, stay somewhere in between by rocking a long top with shorter sides with your mullet.
29. Mullet Haircut for Thick Hair
While thick hair can be a curse for guys who aren't into excessive styling, it can be a sheer blessing for those who like longer, ruffled hair. Obtain the ruffled and messy look by cutting in some layers too. This hairstyle is trendy to young men and this has always been the top choice for think and long hair.
30. Modern Pompadour Mullet Haircut
Over time, the pompadour became acknowledged as a highly classy hairstyle for both men and women. Nevertheless, the modern pompadour almost always has an edgy side to it. Think about sporting your mullet with a messy pompadour top to make the most of both these classic looks.
31. Spiky Top with Flowing Back Hairstyle
One of the neatest parts of the mullet haircut is that you can play around with the lengths of the top and bottom individually. For instance, you can maintain a cleanly-cropped top with spiky hair and leave the part at the nape longer and flowing free – but likely only if you have straight hair.
32. French Crop Mullet Haircut
Yet another modern mullet that will certainly catch your eye if you follow trends is this French crop version. The French crop hairstyle has been topping the charts for over a year now and mixing it with a mullet will make for a super cool look.
33. Long Tail Mullet Haircut
Not sure whether to go for a mullet haircut or a rattail as separate haircuts? The good part is that you don't even have to decide! Keep elements from both hairstyles by replicating the approach taken in the photo below.
34. Messy Mullet Haircut
Eliminate any potential cheesiness that might come with an old-school mullet haircut by throwing in an abundance of layers and going for a messy top.
35. Business Mullet Hairstyle
All the same, not all men can afford to maintain a casual and careless mullet in all situations. Men looking for a casual business look are encouraged to sport neatly-trimmed hairstyles – they can look great even when meeting with clients.
36. Punk Mullet Hairstyle
There's no doubt that Sid Vicious permanently left a mark on punk history through his music, eccentric personality, and shocking looks. Even to this day, a lot of punk hairstyles are still based on his iconic style. Draw inspiration from his spiky hairstyle for your mullet.
37. Comb Back Mullet Haircut with Volume
Slicked-back hairstyles have their fair share of pros and cons. Even though the sleek effect is awesome, it may be a volume-killer for some guys. If you still want a visible shape to your hairstyle, use high-quality hair products and comb back the part under the first slicked back layer.
38. Mullet Hairstyle for Afro-Textured Hair
Hard as it may seem to believe nowadays, there was a time when Kanye West rocked a mullet haircut. It may not be the most flattering hairstyle for him specifically, but we do believe the silhouette is an interesting idea for men with afro-textured hair.
39. Side Bangs Mullet Haircut
Whether you want to conceal a larger forehead or an unflattering hairline, side bangs can be the perfect solution for both! Naturally, you can also wear your mullet with side bangs if you enjoy the visual benefits. The slightly spiky top also boosts the effect and makes the whole style that much cooler.
40. Mullet Haircut with Shaved Design
Shaved designs have always been a great way to transition your imagination into your looks. Take these jagged geometrical lines into buzz-cut sides as inspiration for your version.
41. Colorful Mullet Haircut
The same goes for vivid colors. Bright mullet hairstyles may not be appropriate for corporate environments, but they're so cool to wear out and about in town. What's more, this hairstyle uses not one but two hair dye colors. Dyed hair for men never looked this interesting!
42. Mullet Haircut with Highlights
This mullet haircut has a little bit of everything. The look features a short top but a visible mullet in the back and also short sides. In addition, the hairstyle is accentuated by light brown highlights introduced in its key areas.
Celebrities with Mullet Hair: Old-School and Modern Takes on It
43. Nikolaj Coster-Waldau Slick Mullet Haircut
If Nikolaj Coster-Waldau can pull off a mullet in this day and age, so can you! The beloved actor that portrayed Jaime Lannister in the Game of Thrones series knows how to rock a slick mullet with a few strands casually draped over the forehead.
44. Billy Ray Cyrus Long Mullet Haircut
While some guys want shorter locks in the back for their mullet hair, others prefer to keep it long. If you want to emphasize the "mullet" aspect of your overall look, consider leaving the hair in the back long, just as Billy Ray Cyrus did in his youth.
45. Jared Leto Short Mullet Hairstyle
Jared Leto is another modern-day celebrity helping bring back mullet cuts by adding a modern touch to the classic and making it look cool. Similar to Nikolaj, Jared glowed with awesomeness thanks to the way he decided to cut and style his short version.
46. David Beckham Soccer Mullet Haircut
David Beckham's hairstyles are undoubtedly some of the most beloved sources of inspiration among guys of all ages. Moreover, Becks is one of the sportsmen that boosted the soccer/ European football mullet haircut trend. Replicate the look or adapt it if you're a die-hard athlete or supporter. This style gives you a funky and sporty look
47. David Beckham Slicked Back Mullet Haircut
We're back with another Beckham example, but this time, with longer hair. If you have decided to keep your top just about as long as the bottom of your mullet, you can easily slick it all back.
48. Cristiano Ronaldo Gelled Mullet Hairstyle
Hair products can be a man's best friend – as long as he knows how to use them properly. For yet another athletic hairstyle, you can copy Cristiano Ronaldo's short gelled mullet. Make sure you don't go overboard on the hair gel though!
49. Orlando Bloom Textured Mullet Hairstyle
Orlando Bloom is another one of the celebrities on our list who wasn't afraid to try out a modern mullet haircut. What makes his version even more impressive is the way he obtains texture through lots of choppy layers.
50. Bradley Cooper Casual Mullet Hairstyle
With his slick flow hairstyle, actor Bradley Cooper has caught the attention of fans both on and off-screen. He succeeds in pulling off a mullet without much effort thanks to the casual and nonchalant approach he always takes when styling his hair.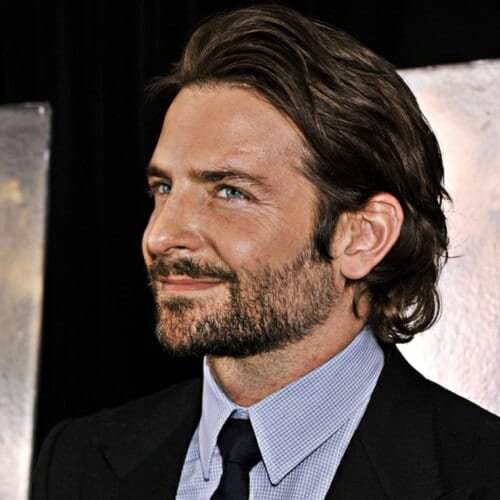 51. The David Bowie Mullet
The man, the legend. We'll be ending this list of mullet cuts by showing you not one but two music legends that used to sport it. The first one is the late and great David Bowie. Here he is as himself and not his eccentric persona Ziggy Stardust – both of which sported the mullet exceptionally well.
52. The Paul McCartney Mullet Look
Next up and the last entry on this list is Paul McCartney. The musician is famous for being part of The Beatles (who can deny the Beatles mania?), for his prolific solo career, for sporting the mop-top, and we'd also add for rocking a mullet to this list.
53. Edgy Side Swept Hair with Mullet Hairstyle
This handsome mullet style has shaved sides, side-swept hair, and a thick middle section. Keep it brushed down or try wearing it messy for a whole different vibe.
54. Modern Mullet Smeared Hair with Fade
One of the best things about wearing a mullet haircut is you can style it modern as they have done in the photo above.
55. Natural Black Hair Shade with Messy Front Bangs
This next hairstyle for men has a short undercut with a longer layer in the front and the back. He kept it styled brushed down and added a few textured layers on top. You can wear it brushed down in the typical mohawk fashion, or spike it up for a fashionable finish.
56. Lengthy Hair with Curly Ends and Faded Cut
Here is a haircut for men who have been growing their hair out for a while and need a change. In the photo above he has kept his long curly hair flowing thick, shaved the sides, and cut the top short. This is such a dope style that can always be enhanced by adding touches of blonde highlights.
57. Front Taper Curled Up Hair with Slicked Curly Ends
Here is another way to wear your short brown hair. Here he has a lovely front taper style that perfectly contains his curly hair. Be sure to style it slicked back and you are going to love your new mullet hairstyle.
58. Fade Cut with Clean Regular Type Mullet Style
Here is another way to ensure that your mullet hairstyle stays looking fresh. In the photo above he has kept the hair short around the sides with a fade cut and kept the top clean and in a true mullet fashion. This is a style that would look amazing on men of all ages.
59. Shaggy Mullet with Edgy Hairstyle
Shaggy mullets are right on trend in 2022. To get this look keep the sideburns shaved short but keep the rest of the hair long and shaggy. Be sure to grow the back of your hair out to create a mullet style.
60. Slicked Wave Long Mullet with Mid Fade
Men with long hair already know how hard it is to grow their hair out. If you have long locks you should give this style a shot on your next trip to see the barber. Here he has shaved sides, a few textures layered on the top, and kept the back section long and straight down the back.
61. Curtain Bangs Smeared Mullet Haircut
Curtain bangs are super trendy for men and women. In the look above he has paired a mullet with his curtain bangs and they look amazing. Be sure to add an edge to your style to get the most out of this look.
62. Side Parted Front Hair with Long Curly Ends
Up next is a hairstyle for men with curly hair. In the photo above he has kept his long hair about shoulder length in the back, with shaved sides, and a thick but side-swept layer on the top.
63. Messy Bob with Full Perms Hairstyle
Men love wearing their hair messy because it is easy and low maintenance. In the photo above he has kept it in a typical mullet hairstyle with a long back and a curly fringe.
64. Full Yellow Blonde Mullet Cheese Design Style
If you want to stand out among all the other men who are trying out the trendy mullet hairstyle you could always add a bit of bright yellow. Here he even added a few orange polka dots in too and it looks so cool. Keep the sides short and the top long and you are going to love your new bright style.
65. Skin Fade with Side Fringe Taper Hairstyle
Skin fades are one of the most popular ways to edge up your style. In the look above he is wearing his new mullet hairstyle with a skin fade and paired with a nice even beard.
66. Layered Smudged Haircut with Lower Fade
Here is a perfect back-to-school haircut for younger men. Here he has kept the sides shaved short with a nice textured top layer. Brush it down or spike it up because no matter what you are going to love the way you look.
67. High Pomp Slicked Back Hairstyle with Wavy Ends
If you like keeping your hair at mid-length but want to keep your edges looking fresh then this next mullet hairstyle for men would be perfect for you. He has a super short buzz all the way to the top layer. Keep the front section short and full but leave the back long and curly to get the most out of this look.
68. Swayed Fringe Edgy Cut with Mullet Full Blonde Shade
Did you know that silver is one of the hottest colors to add to your hair in 2022? He knew that here and has added it into his long layered haircut. Be sure to keep the fringe long in the front and grow the hair out in the back as well. He has also added a light red tone for a fresh finish.
69. Crimped Edgy Cut with Mid Faded Cut
Men with wavy hair are already so blessed because they can style their hair in so many different ways. Here he styled his crimped hair with an edgy mid fade and a thick layer in the middle.
70. Long Mullet Undercut with Front Lengthy Bangs
Up next is another way to wear a long mullet. Here he has kept the sides short with a short undercut right around the temple but kept the front and back long. Keep it straight or spike it up a bit because either way, you are going to look so cool.
71. Full Perms with Side Curled Fringe Hairstyle
This next hairstyle would be perfect for men with curly hair, or men who are looking to get a perm. In the photo above he has kept his curly hair long in a mullet cut and shaved the sides short right above the ears.
72. Pompadour Pomp Front with Wavy Ends
Pompadour hairstyles are back and better than ever. In the look above he has combined a pomp and mullet style and it looks modern and handsome. Be sure to keep the sides shaved and the hair long enough on the top so that you can poof it up in the pomp style.
73. Edge Cut Long Hair with Layered Light Brown Highlights
This next hairstyle for men has long layers and a side-swept look. He kept most of his natural and enhanced it by adding bold blonde highlights.
74. Copper Full Blonde with Perms Edgy Cut
If you love skin fades, here is a perfect mullet look for you. Here he has shaved the sides and area around the ears but kept all the traditional styles of a mullet that we love. He is lucky enough to have a pretty red hue and you could always ask your hairdresser to create a tone just like it.
75. Trimmed Front Bangs with Spiky Mullet
Modern mullet hairstyles come in all different cuts and styles, but this next one is so stylish. Here he has short sides but kept the fringe in the front cut with a blunt cut and spiked the hair up on the top. Keep the back section thick and long and you are all set.
76. Short Taper Front with Long Curly Ends
This next style would be perfect for men who have curly hair and like wearing their beards long and thick. He has added in a bald fade around the sides and went with a standard buzz cut on the top but kept the back long, curly, and ready to party.
77. Fringe Perms Front Style with Mullet Faded Cut
Here is a super stylish haircut for men who want to add a perm to their look. Here he kept the sides short and the top section full of life and curly.
78. Lower Fade Cut with Front Taper Edgy Style
If you like keeping your thick hair full of layers to thin it out a bit then this next haircut would work perfectly for you. Here he has the sides buzzed ever so slightly and kept the top section full and thick. You could wear it brushed down or spike it up if you are heading out for the night.
79. Regular Black Hairstyle with Modern Mullet
Here is a handsome hairstyle for modern men. He kept it simple with a temple fade and left back and top thick and brushed down. This would be a wonderful look for men who want to their style be simple but stylish.
80. Platinum Full Blonde with Trimmed Mullet Cut
If you have never gone full platinum blonde here is your sign. Here he has shaved the sides of his head to show off his tats but kept the middle section thick and a light blonde. Keep it full of layers and style it messy to get the whole vibe of this photo.
81. Spiky Layered Natural Black Shade Mullet Hairstyle
Up next is a hairstyle that would work best with men that have dark and thick hair. Here he added a simple buzz around the sides and grew the rest of the hair out thick and textured. This is a hairstyle that is a perfect mix between an edgy mohawk and a mullet. Many young adult men choose this haircut.
82. Shear Mullet Hairstyle with Almond Shade
This handsome hairstyle has a sheer mullet hairstyle in its natural almond shade. He kept the fringe straight in the front and left the back long and curly. Pair it with a nicely trimmed beard and you are all set.
83. Layered Edgy Mullet with Faded Cut
Edgy hairstyles are popular for men of all ages. In the look above he has kept the sides buzzed short with textured layers on the top. Style it brushed down or spike it up for an edgier feel.
84. Front Fringe Perms Mullet with Skin Fade
In this next mullet haircut, he has spiked the front up and kept the sides shaved short. This style would work best for men that have thick and curly hair. You may also need to add in a bit of hair paste or gel to keep it looking fresh all day long.
85. Two Parted Front Style with Curly Ends
Here is another modern mullet look with a thick side part. To get the most out of this look buzz one side short and comb the other side over. But the real magic of this style comes in the back and curly section.
86. Mullet Hairstyle with Edges Sleek Back Haircut
Sleek and stylish are the best words to describe this handsome hairstyle. Here he brushed the hair back perfectly and added a simple buzz around the sides. Keep the top section textured and pushed back and you are all set.
87. Curly Lengthy Hair with Side Swept and Faded Cut
To get this style you will need to grow your hair out for quite a while. Then you will add a short buzz around the temples and sweep the hair on the top over to the side.
88. Frizzy Perms with Mullet Shade of Blue Blonde
Midnight blue and black and two of the best colors to add to any hairstyle you are rocking. In the look above he has added a frizzy perm onto the main section of hair and buzzed the rest shortly. Finish your new look off with touches of midnight blue on the front and in the back.
89. Jagged Hairstyle with Mullet Straight Lines
The best way to describe this hairstyle would be to call it a jagged style with a mullet finish. He has kept the hair on the top long and spiked it up. But for the back section, he has kept it long and straight. Keep those edges looking tight and you are all set.
90. Two Parted Front Bangs with Perm Ends
Here is a handsome mullet haircut with side bangs and thick curly layers. Be sure to keep the bangs cut short and grow the back and the sideburns out long to get the most out of this look.
91. Begrimed Spiky Mullet with Red Blonde Shade
One of the best ways to stand out in a crowd is to try adding a rich and fiery tone into your mullet just like he has done here. He kept his thin hair long in the back and short with layers and touches of black on top.
92. Medium Bob Perms Haircut with Shaggy Bangs
Mullets and shaggy bangs are a match made in heaven. To get this style keep your hair dark and natural, add shaggy bangs in the front, and for the rest of the hair keep it cool with layers. Pair it with a short beard to get the whole vibe of this look.
93. Curled Ends Hairstyle with Mullet Style
Wow, this next mullet haircut for men is very alternative. Here he has kept his long black hair curly and messy with micro bangs and a thick layer in the back. He made this style complete with a handsome and trendy mustache.
94. Thick Volume of Curls with Curled Up Bangs
Men with thick and curly hair can have a hard time finding a good haircut. If this sounds like you then you should try out this next mullet haircut. Here they kept it simple with a straight across fringe and a thick layer in the back. Keep the sides short to complete this handsome hairstyle.
95. Modern Undercut Mullet with Trimmed Front Cut
Modern mullets can be whatever you want. If you think it is modern, just roll with it. Here he has his modern mullet haircut with a short undercut around the temples and the front is evenly trimmed up.
96. Long Mullet Hair with Full Perms Reddish Brown Shade
This next look is definitely giving off 90s vibes. Here has the perfect curly mullet with a long thick layer in the back and a fringe in the front. Keep the sides shaved short and you are all set with this retro mullet hairstyle.
97. Fine Long Hairstyle with Curly Ends Slit Fade Cut
Up next is a hairstyle for men who have thin hair. Here he has kept the back full with big curls and added a simple fringe in the front. You could always add in a cut in design as they have done here for a fresh-looking finish.
98. Man Lengthy Bob Curly Hairstyle
Men's bob hairstyles are becoming more and more popular. Here is a wearing a bob and mullet haircut mixed together. To get this style keep the sideburns shaved short and the longest layer right around chin length. Brush the hair on the top back and you are all set.
99. Undercut Skin Fade with Thick Natural Mullet Perms
Undercuts are so simple to incorporate into your style and they will enhance your mullet look so much. Here he went with a bald undercut and kept the rest of the hair in an almost mohawk mullet and it looks awesome.
100. Full Platinum Shade Mullet with Pomp Front Style
This next look has so much going on. He has added a bright platinum blonde color, a short undercut, and a pomp style on the top. Spike the top up or brush it back either way you will look amazing.
101. Rocker Mullet with Layered Front Taper Hairstyle
Looking for a hairstyle for men with a rocker vibe? Look no further because here we have found you in such a handsome but edgy style. Here he has kept the hair long and straight with a thick textured top. If you really want a rocker vibe you will need to add a dark tone as well.
102. Side Swept Long Hair Bob Cut with Mullet Style
Mullets are so cool because you can add extra features like he has done here with his side part. To get the most out of this style, keep one side shorter than the other and brush it over with a bit of hair paste and you are all set.
FAQ About the Mullet
1. What's the history of the mullet?

The mullet haircut has a complicated history that started sometime in the 80s. Like most long-lasting hairstyles, it's had its periods of glory and its moments of hate.

Still, it was, without a question, one of the defining men's haircuts of the 80s, a prevailing athletic cut in the 90s, and is making a new comeback with the modern mullet nowadays.
2. What are the defining traits of a mullet haircut?

It is easy to recognize the mullet cut thanks to its shape and most defining features: the short top and significantly longer hair on the back. All classic and modern takes are based and revolve around this formula.
3. What makes the mullet one of the hottest haircuts of the year?

As the saying goes "Everything old is new again" meaning that beauty and hairstyle trends are well-known for becoming fashionable again after falling out of public attention for a few years.

Nonetheless, in most cases, these comebacks are marked by the addition of new features and characteristics. The mullet haircut is no exception as its modern versions are edgier, messier, and more layered, and generally, play around a lot more.
Want to find out more about the mullet cut including it's full history, how to grow it out and cut it, some fun facts about it, and get even more famous mullet inspo? Then be sure to check out this article about "What a Mullet is" too!
Conclusion
In summary, the mullet haircut will surely continue going in and out of fashion for decades to come! But for a quick recap and inspo on how to wear it and be cool nowadays, check out the video below:
As with all hairstyles for men, we always encourage our readers to wear their favorite ideas with their heads held high. In the end, trends like mullets will always fluctuate, but your personality will shine strong throughout the process!
Are you going to choose a classic or modern mullet? Or do you have any more questions about the mullet? Let us know and share your opinions with us in the comments!