Shaggy hairstyles for men represent the idea of simplicity and style. Defined by a sense of stylish indifference, men's shag haircuts are ideal for guys who don't want to spend ages getting ready for work or school.
This hairstyle goes well with all types of hair lengths and textures. However, a medium-length shag haircut is just amazing and also trending this year. They're easy to maintain, and they look awesome, so go ahead and pick your favorite version below!
1. Shaggy Hairstyles for Men with Shaved Sides
We'll kick off our selection with a shaggy hairstyle that can be worn in any social situation. As you can see in the photo below, the sides are shaved, leaving the shaggy part only on top. It's an easy way to avoid a medium haircut.
2. Shag Layered Haircuts
It's almost impossible to find a shaggy hairstyle that doesn't have a layered haircut. The layers are what give your locks the shag aspect in the first place. No matter your hair texture, don't hold back on layers if you're into shaggy hairstyles for men.
3. Classy Shaggy Hairstyles
Not all shaggy hairstyles have to come across as messy and rebellious. Some of them can be quite classy, depending on how you style your hair. All you have to do is get a layered haircut and comb it neatly into place.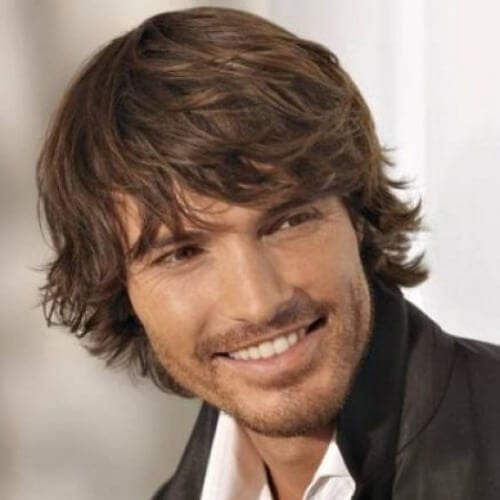 4. Messy Shaggy Hairstyles for Guys
Still, that doesn't mean that messy isn't cool. We'll be honest – it's the coolest way for most men to wear their hair. This brings us to the main benefit of having a shaggy haircut – you don't have to struggle with styling or maintenance.
5. Shaggy Hairstyles for Men with Straight Hair
You'll often see shaggy hairstyles for men with wavy or curly hair. However, they look just as handsome on guys with naturally straight locks. You'll have an easier time pulling off an elegant version this way.
6. Short Shaggy Men Hairstyles
The concept of shaggy hairstyles usually leads us to believe that you need at least medium-length hair to have one. Nevertheless, you can rock one of these styles even if your hair is just an inch or two long. Bangs can help you achieve the outcome you're looking for.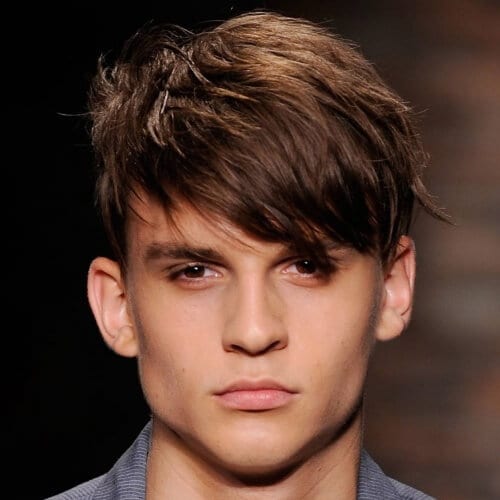 7. Surfer Shaggy Hairstyles
Surfers and skaters are usually the first types of guys that come to mind when thinking about shaggy hairstyles for men. We'll cover both, but let's start with the typical surfer hairstyle. Casual and carefree all the way, this hairstyle is definitely for laid-back dudes.
8. Side-Swept Bangs Hairstyles
As you'll soon come to know, bangs play a major role in nailing the shaggy style. You can style them any way you'd like, whether swept to the side or directly down your forehead. Just their mere existence will help you with this youthful look.
9. Shag Hairstyles for Men with Thin Hair
Any extremes are hard to deal with, regardless of whether you're talking about thick or thin hair. Be that as it may, a shaggy hairstyle can help bring dull, thin hair back to life. If you're one of the guys struggling with thin hair, go for a shag haircut with wispy bangs.
10. Beatles Shaggy Hairstyles
Who can forget the original trendsetters of the shag haircut? You may want to go back in time and gather inspiration from retro hairstyles for your hairstyle. And what better place to start than with The Beatles themselves?
11. Shaggy Skater Hairstyles
As promised, here is a regular example of a skater haircut with a shaggy hairstyle. It follows the same rules as the surfer one, just that it's usually combed down a little more. Get one like this if you resonate with the associated lifestyle.
12. Shaggy Shoulder-Length Hairstyles
If you're not afraid to sport longer locks, you may want to think about getting a shoulder-length hairstyle. Indeed, it might take a while for your hair to grow, but the results will be highly attractive. We recommend it for a manly and composed hairstyle.
13. Medium, Curly, and Shaggy Hairstyles
Curly hair provides one of the most helpful textures for shaggy hairstyles for men. Thanks to how your strands twist and coil, the "shaggy" part of the haircut will be accomplished without additional effort. Try medium as your length of choice.
14. Shaggy Hairstyles for Thick Hair
As we said, thick hair can be just as tricky as thin hair. It all depends on how thick your locks are. If they're thicker than you'd like them to may, you may want to stick to a shorter haircut. Add layers for the shaggy effect.
15. Shaggy Hairstyles for Men with Stubble
Even though men may lack some hairstyling options compared to women, facial hair is an advantage that's just theirs. That being said, you should keep your facial hair in mind when thinking about spicing up your shaggy haircut.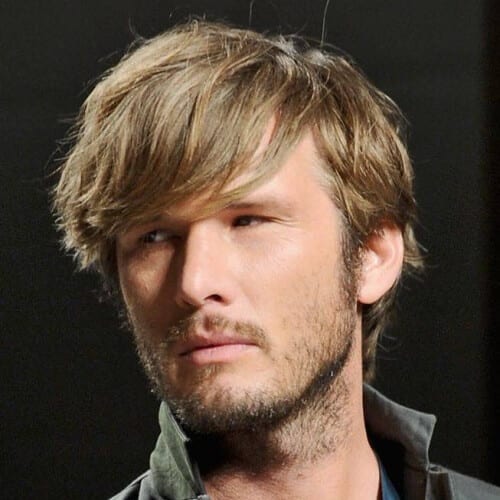 16. Curly Bangs Hairstyles
Curly hair also results in a set of chill and easygoing bangs instantly. Sure, they may get in your eyes if they're kind of long, but at least you'll look awesome. Make sure you get layers all around for the hairstyle to work how you want it to.
17. Shaggy Hairstyle for Men with Long Bangs
You can get a similar look if you have straight hair too. However, if you decide on rocking longer bangs, we recommend sweeping them to the side in this case for obvious reasons. Alternatively, you can get asymmetrical bangs that are shorter across your forehead and longer to the side.
18. Long Shaggy Hairstyles
Almost any messy hairstyle can be classified as shaggy if it's styled casually and carelessly. The same goes for the length of your hair. Your locks can be as long as you'd like (provided you put them together in the right way).
19. Shaggy Hairstyles for Men with Short Layers
As far as shaggy hairstyles for men are in discussion, there's a general guideline that applies to all: shorter layers will give you more texture. In saying that, you can have silky-soft fine hair and pump it up with the help of some short and choppy layers.
20. 80s Shaggy Hairstyles
We doubt that 80s hairstyles like Bon Jovi's frizzy 'do in this photo will come back anytime soon, but we think the idea is fun and unruly. If you can't deal with it daily, you may want to get this hairstyle for a themed party before cutting your hair short.
21. Voluminous Shaggy Hairstyles
Volume can have a massive impact on any man's hairstyle. Now, while some enjoy plenty of volume from their natural hair texture, others have a harder time obtaining it. To get closer to a voluminous hairstyle, you can chop your hair into long layers and backcomb it.
22. Teen Shaggy Hairstyles
If you're a teen, you can pull off shaggy hairstyles for men without a care in the world. The teenage haircut itself is very age-appropriate for a guy in their teens, so you don't have to worry about getting in trouble at school for it.
23. Shaggy Hairstyles for Men Over 40
On the other hand, you can use a shaggy hairstyle to bring out your youthful side at any age. Even if you're over 40 or 50, this haircut has a knack for cutting at least a couple of years off your real age. Just look at the seemingly never-aging Owen Wilson.
24. Wavy Shoulder-Length Hairstyles
Arguably the best way to sport a shaggy hairstyle is with shoulder-length hair. Top that all off with a naturally wavy hair texture, and you have 0 reasons to worry. Forget about styling: your hair will look perfect from the minute you wake up.
25. Shaggy Hairstyles with Highlights
Keith Urban is yet another celebrity who has been looking good with a shaggy hairstyle for over a decade. The New Zealand native tends to spice up his layered, shoulder-length haircut with a fresh set of honey blonde highlights.
26. Shaggy Hairstyles for Men with Beards
Any beard seems to go hand in hand with a shaggy hairstyle flawlessly. Notwithstanding, one of the best shaggy haircut and beard combos seems to be with a short, well-trimmed beard. You'll balance out the edge provided by the sloppy hairstyle.
27. Short Shaggy Hairstyles for Men with Curly Hair
Here's another nice idea for our curly guys. If you can't stand keeping your curls long, you can get a short, fun, shaggy haircut to flatter them. You'll still show off your interesting hair texture while rocking a relaxed hairstyle.
28. Shaggy 90s Hairstyles
How can we forget the shaggy hairstyles of the 90s? It was a decade in which almost any guy seemed to have a Leonardo Dicaprio-inspired hairstyle (in his Titanic days), including actors like Matt LeBlanc. We think they're still fashionable to this day.
29. Shaggy Flow Hairstyles
We wrote an article about the flow hairstyle and how it has pretty much taken over 2017. To continue our claim, look at how appealing a flowing hairstyle looks when combined with a shaggy one. You can always count on Bradley Cooper for inspiration on this one!
30. Afro Shaggy Hairstyles for Men
Afro-textured hair looks nothing less than outstanding when styled in a shaggy way. The texture itself helps you master the hairstyle more than anything, seeing that your curls will smoothly fall into place without you having to style them that way.
31. Shag Hipster Hairstyles
If you have a bohemian soul, there are high chances that a shaggy hairstyle will suit you nicely. For all that, we recommend a slightly different approach. Instead of leaving your hair long or medium-length, consider cutting it shorter in the back and leaving the shaggy part for your bangs.
32. Gelled Shaggy Hairstyles for Men
You won't have to stress about styling a shaggy haircut on your average day. Still, there may come one morning when it seems that your hair won't look right no matter how you tousle it. For these emergencies, break the glass and pull out the hair gel.
33. Slicked Back Shaggy Hairstyles
You can also use your product for a sleek twist on your shaggy hairstyle. If you get tired of it being all over the place, put some gel on the tips of your fingers and slick it back. It's also a great idea for any formal events you may have to attend.
34. Shaggy Hairstyles for Men with Brushed Up Bangs
Yet another way to switch around your shaggy hairstyle is to keep the bangs out of your face for a change. We guarantee that you'll get sick of them getting in your eyes at one point, so you may as well try this idea out for added comfort.
35. Scene Hairstyles
Both scene and emo hairstyles are founded on the idea of a shaggy haircut. The most significant aspect of both looks is the bangs. They should be long, generously layered, and fully swept to one side of your face.
36. Natural Redhead Hairstyles
If you're one of the 2% of the world's redhead population, you should be proud to show it. The good news for you is that a shaggy hairstyle is just what you need to add a rugged touch to your ginger locks. The beard isn't a bad idea, either.
37. Shaggy Hairstyles for Men with Short Bangs
Even though the majority of shaggy hairstyles for men come complete with long bangs, others can look just as fine with a short fringe. We particularly recommend this idea to guys who aren't excited about having hair in their eyes all day.
38. Combed Over Hairstyles for Men
If you don't want to slick back your shaggy locks, you can always just comb them over from time to time. It's yet another clever idea if you have to trade your usually rebellious appearance for a fancy occasion.
39. Faux Hawks
Faux hawks have taken the men's hairstyle scene by storm in the last couple of years. They're easy to style and will have you looking like a bad boy in no time. To maintain a nonchalant vibe for yours, like David Beckham, make sure you base it on a layered foundation.
40. Casual Shaggy Hairstyles for Men
What if you need a shaggy hairstyle that will work daily? Consider keeping your locks a tad shorter than you normally would. As you can see with Ashton Kutcher's hairstyle in the photo below, you'll get a versatile haircut to meet all of your day-to-day needs.
41. Mullet Hairstyles
Ah, how could we forget the mullet haircut? Just like Bon Jovi's hair metal look that we presented before, Billy Ray Cyrus' mullet will most likely not be among trends anytime soon. Still, you can get one if you're nostalgic and it fits your personality.
42. Spiky Hairstyles for Men
It's time for the ultimate rebel haircut: the spiky and shaggy hairstyle. The base haircut comes with a messy look, while the spikes make the hairstyle edgier. You can keep it in mind if you want to style your shaggy hair differently one day.
43. Shaggy Beard Styles
We've talked all about shaggy hairstyles for men, but what about shaggy beards? Let your beard grow naturally and untamed if you want to draw attention to your facial hair. Your hairstyle won't even matter with such an eye-catching beard.
44. Shaggy Hairstyles for Men with Bowl Cut
Yep, the bowl cut is back, partially due to Asian hair trends. Nonetheless, it has returned with the perfect twist to give it a modern touch: shaggy layers. You should consider one if you want a boyish aspect to your hairstyle.
45. K-Pop Hairstyles
On the same note, dare to be eccentric with a K-pop-inspired hairstyle. In essence, it takes the choppy bowl-cut hairstyle we were talking about earlier and brings it to a whole new level of color. Pink is just one idea, but feel free to explore all the tones of the rainbow.
46. Comb Over Shaggy Hairstyles
A classic comb-over hairstyle often involves neatly cut hair that's delicately brushed and slicked to one side. But when you have a longer, shaggy haircut, you can adapt the traditional style to your silhouette by combing your hair over.
47. 70s Shaggy Hairstyles for Men
Considering that shaggy hairstyles first gained popularity decades ago, it's natural that we would keep bringing up retro hairstyles. One to top them all is the feathered hairstyle that was popular back in the 70s among celebrities like John Travolta.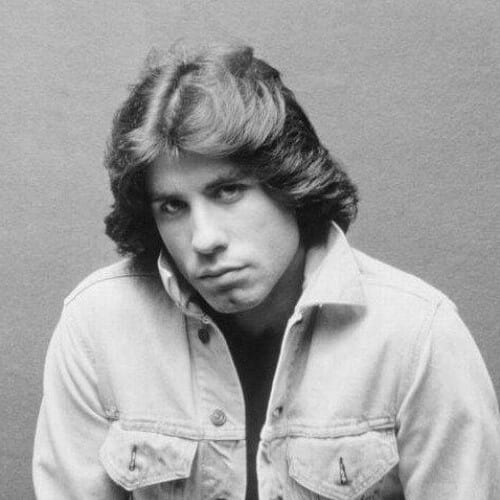 48. Shaggy Hairstyles for Men with Thick, Full Beards
Can't choose between making your hairstyle or your beard shaggy? Go for both of them! We support this full bohemian approach to your appearance, especially if you have an artistic personality. Keep the beard full and thick!
49. Cropped Hairstyles
Actor Connor Paolo is the perfect example of how you can tame a shaggy hairstyle and still look fly. It's all in how you get your hair cut, with all the right layers and angles. We guarantee that your family and co-workers will approve of this one.
50. Shaggy Quiff Hairstyles
Finally, you can mix your shaggy haircut with a popular hairstyle, such as the quiff. Combining the two hairstyles will make you a successful blend of edgy and classy. Ensure your hair isn't longer than 3-4 inches to accomplish it.
51. Begrimed Hair Long and Curly Shaggy Style
Here is one of the most punk rock and shaggy hairstyles for men. He has his hair long and curly with a messy middle part. When getting a trim, ask for a few face-framing layers to keep the hair out of your face.
52. Full Blonde Wolf Cut with Bouncy Ends Style
Here is one of the most popular hairstyles for men. In the photo above, he has his hair styled in a trendy wolf cut but left the ends bouncy and curled up a bit. Go blonde for a fresh summer style, or keep your hair natural. Either way, it is going to look amazing.
53. Bouncy Medium Length Bob Cut Slicked Hair
Sometimes you need a new brushed-back look, and here is one of the best shaggy hairstyles for men that have just that. He kept the length right around the traditional bob cut and brushed it back to create this beautiful look.
54. Shaggy Edgy Straight Haircut with Long Tail
Here is a long and shaggy style with a long back section and a straight fringe in the front. This is a style that would work best with men that have natural straight and thin hair, but it would work with whatever kind of hair you have; you may just have to use a straightener.
55. Grimy Rocker Shaggy Curls with Medium Length Bob
Retro rocker styles are always shaggy and cool. In this look, he has his curly hair up with layers to create volume. Be sure to grow it out long in the back and bang in the front; you will love your new rocker style.
56. Mullet Shag Long Hair with Messy Waves
Mullets are back in action and cooler than ever. Here he has his mullet styled with curly hair but keeps the bangs straight. This is a style that would look great on men of all ages who want a shaggy and stylish look.
57. Side Parted Long Hair with Pixie Cut Highlights
Up next is this pixie haircut for men. To get this style, you must grow your hair out long on the top, part it on the side, and trim the back around your natural hairline. Comb it over and keep it shaggy to get the most out of this look.
58. Fringe Curled Hairstyle with Short Bob Haircut
Short bob haircuts are one of the most popular shaggy hairstyles for men. To get the most out of this style, keep your hair cut with long layers and add a fringe in the front. Keep the back trimmed neatly and you are all set.
59. Skin Fade with Faux Shaggy Spiky Hair with Blonde Shade
Sometimes shaggy styles need a fresh undercut. Here he has a bald fade under neath his longer layer on the top. Add in plenty of textured layers and end it with a long fringe in the front; you will look so cool.
60. Smudged Short Hair Shaggy Look Hairstyle
Here is a short shaggy style with plenty of layers, and he paired it with a thick beard. He kept his hair natural and dark here, but you could always throw in a few highlights to enhance your style even more.
61. Edgy Short Hair with Front Fringe Hair Copper Shade
The rich copper color is always a good idea at any time of the year, but it shines during autumn. Here he has paired his shaggy style with a wonderful copper color, which looks so cool. Keep the roots dark and add in plenty of layers and you are all set.
62. Wispy Hairstyle with Full Curls Shaggy Hair
Men with curly hair already know how hard it can be to find the right style. But look no further because we have found you a shaggy style that is perfect for your curly hair. To get this style keep your hair long in the back but add in a straight fringe in the front.
63. Textured Lengthy Hair with Curly Reddish Brown Shade
Another way to wear your shaggy haircut for men is to keep the back long and add curtain bangs in the front. Be sure to add a middle part to keep your new curtain bangs looking fresh and stylish.
64. Long Curtain Bangs with Wavy Ends Ash Gray Highlights
This next hairstyle would be wonderful for men with wavy hair. In the photo above, he has his hair trimmed in a mid-length and added in part down the center. To get the most out of this look, ask for curtain bangs.
65. Waves Edgy Cut Hair with Shaggy Ends
Shaggy hairstyles come in all different types of cuts and styles. Here he has his wavy hair cut with edgy layers and has even added micro bangs. Pair this look with a clean-shaven face and a mustache, and you are going to love your new style.
66. Two Strand with Fringe Front Style Light Brown Blonde Shade
If you like keeping your hair short but with a long back, here is a wonderful shaggy hairstyle for you to try out. Here he has styled his curly hair with a middle part and left the layers long, looking so dope.
67. Shag Haircut with Long Curly Grimy Style
Classic shaggy hairstyles for men will always be around. Here he has kept his black curly hair long and added a thick fringe in the front that adds so much texture to his style. If you want curls like this but it does not come naturally to you, try getting a perm. You are going to love it.
68. Lengthy Front Edge Bangs with Shaggy Tail
Calling all men with straight and thin hair for this next look. Here he has dyed his hair dark and kept his layers long and shaggy. Add in a thick layer in the front and a shaggy tail in the back, and you are all set.
69. Medium Length Bob with Yellow Blonde Trimmed Bangs
If you are thinking about going blonde, here is your sign. Here he is wearing his shaggy hair in a long bob look with short bangs in the front, which looks so cool.
70. Layered Bouncy Hair with Two Color Way Style
Long layered hair is always a good idea. Here he went with a two-tone style with his long layers flipped out along the edges. This is a traditional shaggy hairstyle that skaters and surfers love wearing.
72. Smeared Long Hair with Highlights of Blonde
Up next is a shaggy men's hairstyle with extra long hair. To get this style, you are going to want to grow your hair out long, but add in face-framing layers and blonde highlights. You could wear this style all year long and always know you look good.
73. Messy Curly Bob Medium Length Hairstyle
Shaggy hairstyles for men come in all lengths and colors. Here he has a thick fringe in the front with long wavy layers all the way around. Add bits of blonde along the tips, or spend some time out in the sun for a natural sun-kissed style.
74. Swoopy Hairstyle with Short Shaggy Fringe
Here is a swoopy shaggy hairstyle that looks so cool. To get this style keep your layers textured and long, and be sure to ask for a thick fringe in the front. Invest in a wet gel and
Conclusion
All in all, shaggy hairstyles for men are one of the most likable trends in today's scene. You can find them everywhere, from celebrities to athletes, to the skater kid that lives next door. It doesn't matter how young or old you are; a shaggy hairstyle will bring out the best in your charming personality.
Which one will you get?