Grey is the new blonde! Let's face it: there's no better time for having a grey hair and sporting that silver fox look.
Hollywood actors and Instagram models are taking over our feeds with their incredible silver fox hairstyles and we love it so much.
How To Get That Silver Fox Look
When it comes to having grey hair and maintaining a silver fox look, the answer is simple: shampoo and conditioner.
Usually, grey hair needs a densifying shampoo to prevent hair loss or a moisturizing shampoo for scalps that tend to itch. Use a daily conditioner to soften your hair, so you can easily style it.
For a matte finish, use this impressive clay with the scent of sweet tobacco.
To get that shiny look, we recommend using Redken Brews Molding Paste while getting maximum control
There are many modern haircuts that go well with grey hair. If you want it short you can try an undercut or a temp fade.
For medium length grey hair, the best option is a wavy hairstyle and if you are bold enough you can go for a longer hairstyle.
Here are 42 examples of men with amazingly looking grey hairstyles. Enjoy!
01. Wavy Grey Hair with Beard
02. Silver Fox Hair + Quiff
03. Swept Back Grey Haircut
04. Short Silver Fox Hairstyle
05. Messy Bangs Grey Hairstyle
06. Long Hair
07. Messy Textured Hair + Full Beard
08. Fringe Haircut
09. Side Swept Short Grey Hairstyle
10. Hard Part Silver Hair
11. Brushed Back Silver Hair + Stubble
12. Regular Cut + Clean Shave
13. Spiky Grey Hair
14. George Clooney Silver Fox Hairstyle
15. Short Sides Long Top Grey Hair
16. Short Crop Grey Hair + Thick Beard
17. Undercut with White Hair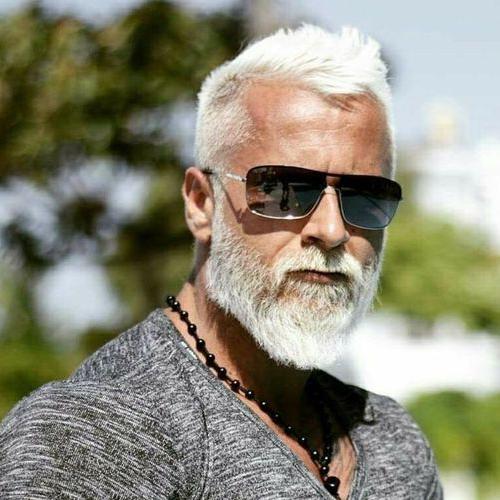 18. Mel Gibson Silver Fox Hairstyle
19. Shaved Head + Silver Beard
20. Long Textured White Hair + Styled Beard
21. Ivy League Haircut
22. Swept Back + Undercut + Thick Beard
23. Slick Back White Hair
24. Medium Length White Hair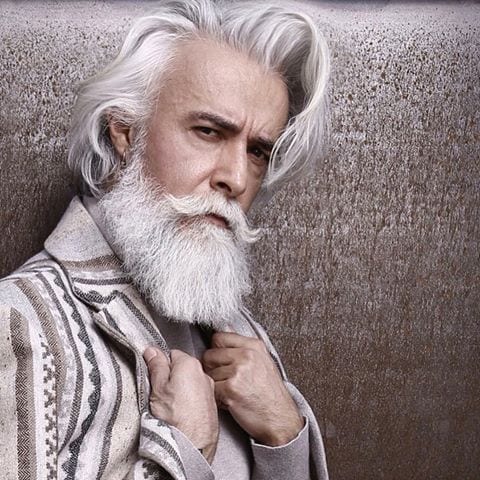 25. Pierce Brosnan Silver Fox Hairstyle
26. Textured Silver Hair
27. Short Silver Hair + Temple Fade
28. The Original Silver Fox Hairstyle
29. Short Hairstyles for Thin Hair
30. Quiff + Undercut
31. Hipster Hairstyle for Grey Hair
32. Hard Part + Quiff
33. Undercut + Temple Fade + Beard Fade
34. Brushed Up Hair + Undercut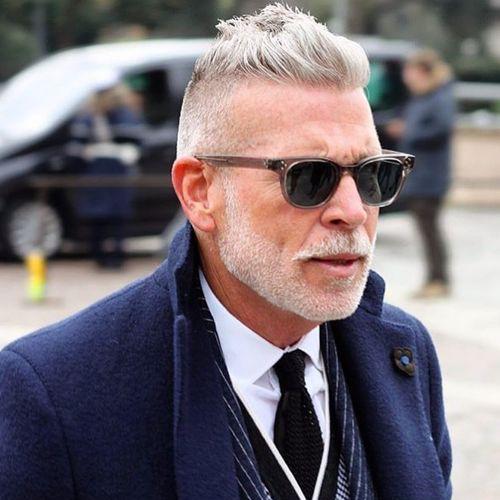 35. Short Messy Textured Hair
36. Military Haircut
37. Messy Long Top + Short Sides
38. Comb Over Undercut
39. Classic Haircut for Men
40. Short Silver Fox Hairstyle + White Beard
41. Messy Layered Hair
42. Undercut + Short Quiff
Conclusion
From silver foxes to grey wolves, these hairstyles suit all the types of provocative, sophisticated men out there.
If you've decided on a hairstyle for your grey locks, let us know what you picked!
This article was updated in June 2019.
Recommended Read: 34 Messy Hair Styles For Men + Styling Guide