Let's face it: it's the best time to have naturally silver or gray hair and to sport that silver fox look. Hollywood actors and Instagram models have taken over our social feeds, and many of them either played around with hairstyles for gray hair or dyed or highlighted their cuts with silver shades.
So don't be afraid to jump on that train and take advantage of your naturally graying hair or experiment with a silver hair dye. Here are some examples of the coolest and hottest hairstyles for gray hair and silver lights and a styling guide to get that silver fox look. Enjoy!
1. Wavy Grey Hair with Beard
The first example of how you can rock gray to white hair comes from the Instagram model Aiden Brady, who left his short to medium-length hair wavy and wild and completed his look with a full beard and connected mustache.
2. Silver Fox Hair with Quiff
Men hairstyles for gray hair don't have to be complicated. Instead, keep things simple and style your short hair in a quiff. Keep your beard neat and trimmed, and you are all done!
3. Swept Back Hairstyles for Gray Hair
Show off your gray locks and the salt and pepper shades it creates by sweeping back your hair and keeping your sides neat. You can sport this look with and without a beard.
4. Short Silver Fox Hairstyle
Some think that the "silver fox" look only works for long hair. However, the man below goes to show how you can rock this look even with a short and simple haircut.
5. Messy Bangs Hairstyles for Gray Hair
Keep it classy; keep it messy! Although in his senior years, this man decided to dress dapper and yet leave his bangs running wild and free while the rest of his haircut and the facial hair and neat and well kept in place.
6. Long Hair in White, Silver & Gray
This is what many would consider a very daring look. Not only does this man wear his hair long, it's what some would call very long and is also left wavy, free, and fabulous!
7. Messy Textured Hair with Full Beard
Coming back to short hairstyles, you can always opt for a short textured haircut that will hide that receding hairline and give new volume and life to your hair.
8. Fringe Hairstyles for Gray Hair
We've shown you messy bangs; now we present you with a short haircut that plays around with a fringe. This is lifted off the forehead to add height while some strands are left free for an added bit of je ne sais quoi.
9. Side Swept Short Hair
Just because you're rocking very short hairstyles for gray hair doesn't mean you can't style them to fall differently. Just look at the example below to see how you can sweep your hair to the side and create faux volume.
10. Hard Part Silver Hair
A top trending haircut of these past few years, take advantage of a hard part to bring to attention your silver hair. You can wear it with a clean-shaven face or with a bit of stubble for a more rebellious look.
11. Brushed Back Silver Hair with Stubble
Another cool example of how you can arrange your silver hair: just brush it back! Easy to achieve and perfect to showcase the various natural shades of silver, gray, and white in your hair.
12. Regular Cut and Clean-Shaven Face
It can't get much easier and yet still stylish than this! Go for a regular cut, and make sure to keep your face clean-shaven, and you will be instantly ready!
13. Spiky Hairstyles for Gray Hair
Tired of keeping things neat? Then go for a modern version of this 90s trend: spiky hair. With some help from quality hair wax, you can make your locks as spiky or relaxed as you (or the occasion) want them to be.
14. George Clooney Silver Fox Hairstyle
Many have compared George Clooney with wine: he also gets better with age! So take a page from his book and feel free to copy his look for the original silver fox appeal.
15. Short Sides Long Top Hairstyles for Gray Hair
Short sides, long top hairstyles as are versatile as they get, and you can really let your creativity run free with them. You can take the man below as an example and then change your look to fit your personality and hair.
16. Short Crop Gray Hair with Thick Beard
There's quite a lot going out below, so we'll start with the hair. This man is sporting a short french crop haircut complete with temp fade that transitions to meet a full beard that perfectly showcases the black to the white transition of his hair.
17. Undercut with White Hair
Keep things cool even (or especially) with white hair by pairing your haircut with an undercut! You'll never go out of fashion with one.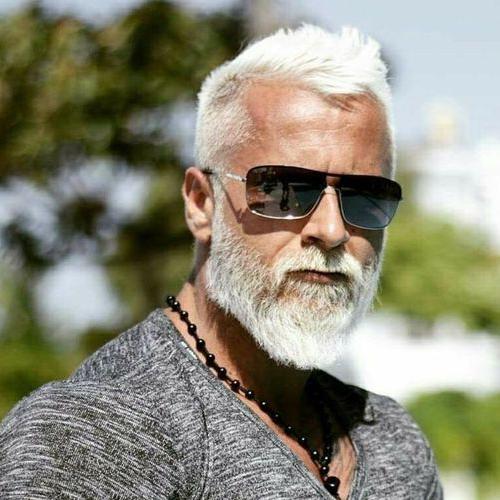 18. Mel Gibson Silver Fox Hairstyle
Another original silver fox and source of inspiration for any man with gray hair and a widow's peak. The renowned Mel Gibson wears them both in style and with so much class.
19. Shaved Head with Silver Beard
Not all men are happy that their hair is losing its color and turning gray/white. One way of dealing with it? Just shave it all off! The only thing that indicates this transition is the silver facial hair.
20. Long Textured White Hair and Styled Beard
Some might call this a very hipster-like look, but does it really matter when you look this cool? The graying hair is cut short with a longer top, but all the attention is drawn to that full white and long beard and the gray mustache.
21. Ivy League Haircut
Despite its name, you can easily wear an Ivy League haircut even when your days as a student are far behind you. And no, you don't have to be a professor, either. Ivy League haircuts are a timeless choice.
22. Swept Back with Undercut and Long Thick Beard
Finding it hard to decide on just one of the many hairstyles for gray hair? Then combine them! The photo below is an example of a swept-back short haircut with an undercut combined with a long and thick beard.
23. Slick Back White Hair
Another way to showcase that long and thick beard you might be sporting is by slicking back all your gray hair and drawing all the attention toward your facial hair.
24. Medium Length White Hair
We've mostly shown only short haircuts until now, with a few notable exceptions. This time around, we're showing you how you can wear your silver-gray hair in a medium-length hairstyle.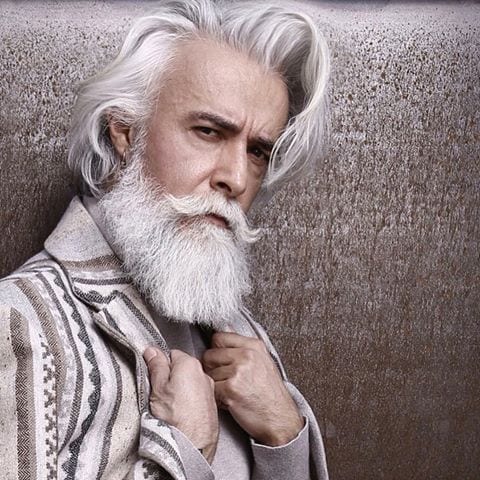 25. Pierce Brosnan Silver Fox Hairstyle
Pierce Brosnan just couldn't miss from a list of silver foxes. The renowned actor and former 007, Brosnan has been wearing almost the same haircut since he was still a brunette. Now, when he's well into his 60s, he added a full beard to it.
26. Textured Silver Gray Hair
Textured haircuts will help add volume to your locks no matter your type of hair or its length, so don't hesitate to go for one!
27. Short Gray Hair and Temple Fade
The image below shows a more defined (and easier to admire) temple fade. Like many others on this list, it was coupled with a full beard and a shorter top whose fringe is lifted for added height.
28. The Original Silver Fox Hairstyle
Is there anything more to say that the name hasn't already been pointed out? Wear the original silver fox look, and be proud of your gray to white hair!
29. Short Hairstyles for Thin Hair
Do you have thin hair and are worried that its turning silver will make this stand out even more? Then check out these practical hairstyles that will fool anyone into thinking you have fuller hair.
30. Quiff and Undercut Hairstyles for Gray Hair
Another great example of how you can combine two hairstyles to get a look that is truly you! Keep your hair short but style it in a quiff that will accentuate your undercut.
31. Hipster Hairstyles for Gray Hair
Yes, you can go for a hipster hairstyle even if you are advancing in years, and if the example a few images above did not convince you, we hope the one below will. The matching tattoos are optional, of course.
32. Hard Part and Quiff Silver Hair
You can also take a hard part and style the top into a quiff, but for this, you will need a bit more hair, so be sure to keep your short hair a bit on the longer side.
33. Undercut and Temple Fade with Beard Fade
Don't be afraid to go the fade way: there are so many types of fades that you'll surely find one that fits your tastes. You can also extend the fade to your facial hair as well. See below how a temple fade flows to meet a beard fade in a very well-done hairstyle.
34. Brushed Up Hair with Undercut
The undercut is such a versatile haircut that you can make it edgier or classier without any problems. Just take this photo as an example of its classier options and make the most of a longer top by brushing it up.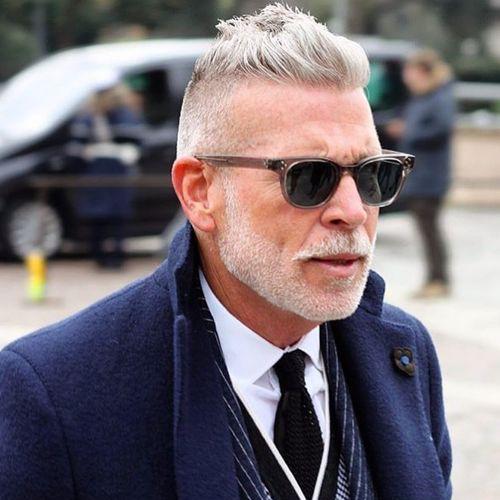 35. Short Messy Textured Hair
Keep things messy and short and textured with this great example of how hairstyles for gray hair can look youthful and fresh! The barely-there stubble that is also pretty white is also a cool touch.
36. Gray to Silver Military Haircut
Gone are the days when only military men wore such haircuts. Nowadays, there are many cool ways to sport a military hairstyle (but remember that the beard doesn't quite fit the regulations).
37. Messy Long Top and Short Sides
For long top and short sides haircuts, you can easily play around with different lengths. In this case, the top was left almost medium-length long and styled in a messy and carefree manner.
38. Comb Over Undercut Hairstyles for Gray Hair
Yet another increasingly more popular hairstyle, the comb-over can be a great alternative if you are looking for new ways to style your salt and pepper hair. As with most other haircuts on the list, facial hair is optional.
39. Classic Haircut for Men
Are the hairstyles above too much maintenance or styling for your tastes? Then just go with this classic haircut for men or get inspired and pick another low maintenance hairstyle from this list.
40. Short Silver Fox Hairstyle with White Beard
No two men go gray the same way, and while some get white locks and retain a black beard, others have darker head hair and white facial one. No matter the case, be sure to wear yours with pride!
41. Messy Layered Hairstyles for Gray Hair
Similar to textured haircuts, use layered hairstyles to add volume to your long top and style your hair in a cool yet relaxed manner.
42. Undercut with Short Quiff
You've already seen undercut and quiff examples, but what makes this particular one stand out is the very interesting way it accentuates the difference between the top's gray and the brunette areas.
43. Side Parted Short Pomp Haircut
This next stylish look has a long-sided part in the front styling with a pompadour poof and the sides are trimmed short. He went with an all-over coverage silver color and it looks great with his light skin complexion.
44. Higher Front Pomp with Faded Hairstyle
Up next is this fancy hairstyle with a high pomp look and bright white silver hair. He went with a short fade along the sides and spiked the top up perfectly. Be sure to add in the pretty
45. Front Taper Slicked Back Hairstyle with Full Beard
This handsome hairstyle has a front taper with slicked back sides and a neatly trimmed beard. Silver grey is one of the hottest hair colors for men in 2022 and here he is so lucky because it comes naturally to him.
46. Burst Faded Cut with Short Haircut
If you are looking for a short faded style for your new white hairstyle, this next haircut for men would be perfect for you. In the look above they kept the fade super short with the hair on top a few inches long and spiked up a bit.
47. Layered Long Hair Straight with Undercut
Here is a style that keeps the bottom half of your hair short with an undercut but the top layer is long and straight. Here he added a few layers into the style and it looks amazing.
48. Wavy Taper Sleek Man Hairstyle with Fade
Men with wavy hair are already so blessed because they can wear their hair in so many different styles. Here he has his wavy hair shaved short along the sides and left the top long enough for his waves to come to life.
49. Long Side Swept Full Blonde with Slit Cut
Here is a two-toned style with one side shaved short and the other light and grey. One of the best things about this silver hairstyle for men is that he has added a thick shaved side part to create even more contrast to his style.
50. Messy Mop Perms with Undercut Skin Fade
Perms are back in style and cooler than ever. Here he has his hair styled long, curly, and a bit messy. Add in an even undercut to keep your edges looking fresh and you are going to love the way you look.
51. Side Swept Long Bob Cut with Silver Highlights
Side swept styles are always a good idea if you are thinking about growing your hair out a bit. In the hairstyle above he has his white hair in a bob hairstyle cut with layers and trimmed to his natural hairline. You may have to add in a bit of product to ensure your hair stays looking fresh all day long.
52. Fringe Hairstyle with Full Ash Gray Blonde
Up next is this style look with a fringe in the front and colored in a fresh ash-gray blonde color. Here he kept the sides and back trimmed short with a nice long layer on the top.
53. Wavy Long Front with Lowered Fade
Here is a hairstyle that would be perfect for men with thick wavy hair. In the look above he has his silver gray hair long in the front and brushed back perfectly. Keep the sides cut with your favorite fade and you are all set.
54. Edgy Full Blonde Front Taper Hairstyle
This Edgy hairstyle is full of silver blonde hair color on the top with the bottom left short and natural. You could always try this style brushed down as he has done here or try for a spiked-up look if you are heading out for the night.
55. Skin Lower Fade with Front Wavy Highlights
Another way to ensure your hairstyle is right on trend in 2022 is to try this next look. Here he has the sides and back trimmed shot and a super long and thicker layer on the top. The next step would be to add in the silver gray hair color and you are all set.
56. Long Hair Upper Pomp with Blonde Shade
Are you looking for a long hairstyle for men? You have come to the right place because here he is wearing a stylish and handsome haircut with white blonde color added all over. Keep the sides short and plenty of hair on the top and you are going to love your new style.
57. Spiky Haircut with Clean Faded Cut
Spiky hair will always be in style. In the photo above he is wearing his hair colored the perfect grey silver color and kept the roots dark. Keeping the roots dark will keep you looking more natural and leave you feeling confident.
58. Silver Gray Spiky Front Taper Fade
Silver hair color for men is one of the hottest looks for 2022. Here he has a silver-gray spiky style with a front taper. Add in your favorite fade, but keep it short to get the most out of this look.
59. Smeared Silver Gray Haircut with Mid Fade
This is one of the coolest hairstyles for men in 2022. He has added a dope shade of silver gray hair color left the sides short and grew the hair out on top a few inches long. Wear is messy as he is here or spikes it up for an edgier style.
60. Full Blonde Side Fringe Straight Haircut with Fade
Full blonde coverage looks good all year long, but it shines in the summertime. Here he has his hair styled with short shaved sides and left the top long with a side fringe. You will need to add plenty of hairsprays so you can stay look as fresh as possible.
61. Short Side Parted Front Taper with Clean Fade Cut
You can rock our featured hair color with short hair too. Here he has his short silver gray hair styled with a side part and a clean fade. Be sure to spike it up to get the most out of this look.
62. Full Blonde with Messy Spiky Short Haircut
Up next is an almost platinum full-blonde look. Here he has styled it spiky, short, and messy. Be sure to keep those sides edged up nicely and pair it with a clean-shaven face and you are going to love the way you look.
63. Two Parted Front Taper Short Hair with Full Silver Blonde
Here is what we call a two-parted front taper look with a full silver blonde hair color added in evenly. This would be a handsome hairstyle for men of all ages to try on their next trip to the barber.
64. Mohawk Spike Hair with Lower Faded Cut
Mohawks will always be a popular look for men. In the look above he has a modern mohawk style with a fade along the bottom half of his hair. Keep a clean-shaven face and you are going to love the way you look.
65. Skin Faded Cut with Trimmed Buzz Hairstyle
Skin fades are a popular look during the summer because it keeps your hair short and usually up and off your neck. Here he has a super high skin fade with just one singular strip of silver hair on the top. Spike it up, brush it down either way it does not matter because you are going to look so cool.
66. Side Full Swept Hairstyle with Medium Fade Cut
Here is another side-swept hairstyle for men that has the dopest silver gray hair color added in evenly throughout. Keep one side shorter than the other, part the hair on the side, and then brush it over neatly and you are all set.
67. Trimmed Buzz Semi Bald Haircut with Ash Gray
Here is a super short trimmed buzz-cut hairstyle for men. He kept the hair on the top just long enough to spike up and added a lovely ash grey tone throughout. You could wear this hairstyle for men any time of the year and always look great.
68. Short Front Taper Haircut with Ash Gray Blonde
Up next is a front taper hairstyle with wispy layers and silver gray hair color. He kept the sides short here and styled the rest of the hair with a messy vibe and it looks so cool.
69. Front Messy Layered Edge Haircut with Full Blonde
Another way to grow your hair out is to keep the top layer long and brushed down and wear the sides short and shaved. That is what he has done here and it looks super cool with this silver hair color added in.
70. Lengthy Side Parted Hair with Highlights
Here he has his lengthy hair grow out, brushed over, and with chunky highlights added in. He went with the bold choice of blonde and black alternating sections with the sides shaved short. This is an extra edgy hairstyle that would look fantastic if you are looking to add a bit of spice to your style.
71. Straight Spiked Mohawk with Burst Fade Cut
If you are looking for a spiky hairstyle, this next look is one of the best silver hairstyles for men. Here he has kept the sides and back trimmed short, with a spiky section on top. Be sure to keep the middle section long enough and add in a bit of hair paste and you are all set.
72. Grimy Short Hair with Edgy Cut Sides
Short silver hair is always in style. Here he has a grimy short hairstyle with edgy cuts along the side. Keep your style messy on the top and you are all set. This is also great for men who are looking for a low-maintenance style.
73. Man Haircut with Comb Over Full Blonde Style
This isn't your grandpa's comb-over. In the photo above he is sporting a stylish comb-over with a full blonde look. Keep one side shorter than the other and brush your hair over neatly to get the most out of this look.
74. Waves Spiked Front Hairstyle with Silver Fade
This simple look has so much style. Here he kept his hair shaved short along the sides and in the back and left the top just long enough to spike up. This would be a great hairstyle for men with naturally wavy hair to try out.
75. Curled Side Parted Ash Gray Shade Hairstyle
Men with curly silver hair we have found you your next go-to style. To get this look keep your hair trimmed short around the temples and left the hair on top long and curled over to one side and it looks great.
76. Side Fringe with Long Hair Side Faded Cut
A side fringe will always be in style. Here he has his medium-length hair perfectly combed over to one side. You should give this style a shot if you have a balding crown, or just want to grow your hair out a bit.
77. Clean Full Silver Blonde with Wavy Front
Here is a clean full silver look. In the hairstyle above he kept his hair short along the sides and left the top section wavy, long, and brushed over to one side perfectly.
78. Wet Look Side Taper Fade with Highlights Silver Blonde
Taper fades look amazing on short and silver hairstyles for men. Here he has his hair buzzed neatly around the sides and left the top section long and brushed back. Be sure to add in a bit of wet gel to get the most out of this style.
79. Messy Undercut with Silver Ash Blonde Shade
Messy styles are taken to the next level when you add in an undercut. It will give your hair just enough structure to not look too crazy. Keep the top section long enough to brush over, or even spike it up a bit and you are going to love the way your silver hair looks.
80. Voluminous Front Taper with Full Blonde Shade
Men love wearing voluminous styles too. In this next hairstyle, he has a full silver color with a super long section on the top. Trim the edges and back of your hair around the natural hair line and you are going to look amazing.
81. Neat Man Hairstyle with Wavy Comb Over Style
If you like the neat and tidy style then this next look would be perfect for you. Here he has his long hair colored a silvery-gray color with a side part and both sides brushed back neatly. Add in some gel to make sure your style stays looking fresh all day long.
82. Skin Fade with Side Swept Short Haircut
Skin fades are one of the most popular looks for men. Here he has paired his skin fade with a longer section on the top and it is all brushed back neatly. You could wear this style all year long and know you look good.
83. Comb Over Man Hairstyle with Highlights
Next, up a natural silver hair color with a brushed-over vibe. He added in a side part and paired it with a trimmed beard and it looks sophisticated and neat.
84. Smudged Front Hairstyle Silver Blonde Shade
One of the best hair colors for men of all ages to try out is this silver-white hue. Here he has kept his hair long enough for his waves to come to life and brushed it back neatly.
85. Bob Haircut Long Wavy Perms Hairstyle
Bob hairstyles will always be around because they are simple and low maintenance but still leave you looking so handsome. Here he kept it an even length all the way around and paired it with a clean shaved look.
86. Wavy Front Short Taper Fade Haircut
Up next is a short style with the front section spiked up perfectly. To get this style to ask your barber to give you a nice trim around the sides and in the back but keep the top section just a few inched longer. Add in your favorite hair product and you are all set.
87. Undercut Hairstyle with Front Taper Fade
Up next is this look with a short undercut style with a front taper. He has also added a dope silver-gray hue throughout his hair and it looks so cool. This would be a perfect hairstyle for men to wear during the summer months, it will give you a sun-kissed style.
How To Get That Silver Fox Look
When it comes to having grey hair and maintaining a silver fox look, the answer is simple: just use shampoo and conditioner.
Usually, gray hair needs a densifying shampoo to prevent hair loss or a moisturizing shampoo for itchy scalps. Use a daily conditioner to soften your hair so you can more easily style it.
For a matte finish, use this impressive clay with the scent of sweet tobacco.
To get that shiny look, we recommend using Redken Brews Molding Paste – this will give you maximum control and a great finish.
There are many modern haircuts that go well with gray, silver, or white hair.
If you want to keep it short, you can try an undercut or a temp fade. For medium-length grey hair, the best option is a wavy hairstyle and if you are bold enough, you can go for a longer hairstyle too!
Conclusion
From silver foxes to gray wolves, these hairstyles suit all the types of provocative, sophisticated men out there and this list has hopefully helped you pick one!
If you've already decided which are the hairstyles for gray hair you're just itching to try, then leave a comment and share them with us!