The slick back hair had a crucial turning point for gentlemen who put aside the traditional cuts of the past and it still is a classic legacy that remains popular to this day. The modern approach of the slick back top remains the same, but one glance at the sides and you'll notice a huge difference from the past.
Today's trends include a large palette from sides with a fade to undercuts, but for more inspiration scroll and witness below!
1. Rocking Retro Fade
Your rocking retro fade haircut will require a unique level of styling. With a good quality wax, you will surely obtain the Mohawk crest. Make occasional trips to your barber to keep it trimmed and neat.
2. Hipster Slick Back
If you are young and looking for a change, the hipster slick back is a fantastic hairstyle for you. The upward swoop of the top hair draws attention to your features. With a little bit of styling, the result guarantees a look that you'll love.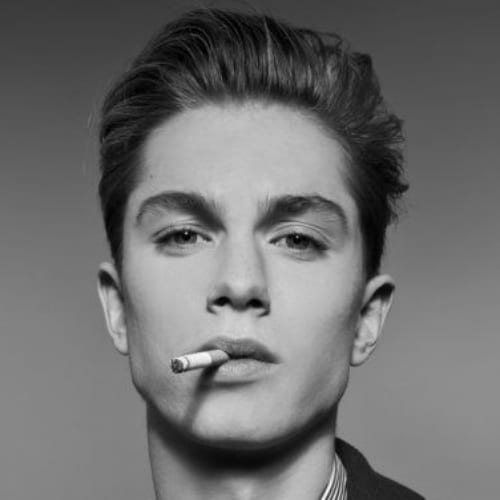 3. Styled Front Bangs
The styled front bangs is another perfect go-to hairstyle for you. If you have glasses, they can easily be overpowered by longer hair on top with a side parting. Remember that short hair will somewhat balance your appearance.
4. Smooth Slick Back
The beard blends well with the hair, while the sides and the top are slicked back with soft styling products for a natural look. The beard is also styled to give balance and elegance.
5. Wet and Wild Slick Back
As the name of the style might suggest, it's the perfect style for young men. Layers bring out the volume to complement your messy hair with minimal styling and maintenance.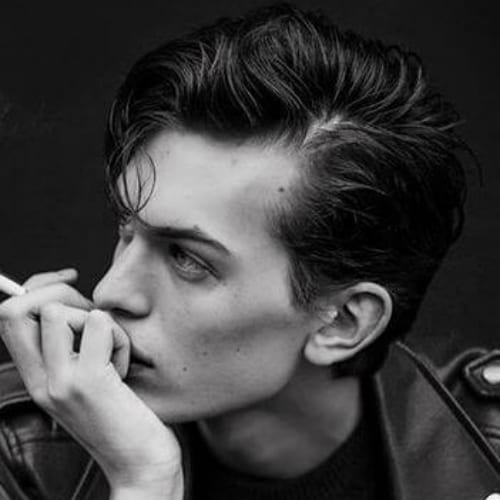 6. Wavy Tapper Slick Back Hair
The wavy taper slick back hair is slightly tougher to pull off because of the styling required. When all the hair is in his right place, you get a magnificent classy look.
7. Curved Slick Back
This hairstyle is perfect if you have a rounded head. Instead of choosing to comb your hair in a straight line, a curved one is made to create the illusion of a slightly less rounded face.
8. Long Goatee with Short Slick Back
This is the perfect blend for men who like short hair with a goatee beard. The components of this style are a side part, a very small quiff, and a wide messy beard. A neat undercut is created to blend with the beard.
9. Sophisticated Slick Back
Another vertically inspired hairstyle, the sophisticated slick back is one of men's favorite haircut. Add texture to your style and get some volume going, or just comb it back a little.
10. Bandhold Beard Classy Hair
This Bandhold classy hair is one that refuses to step out of the spotlight. It's also one of the best haircuts for actors. If you want contrast, keep the sides buzzed and add length on top for a lively variation.
11. The Classic Slick Back Hair
This slick back hair needs some top pomade or styling gel to hold the hair in shape. Slicking back the hair requires repeated combing and use of quality products that will make your hair smooth.
12. Dark and Dangerous Slick Back
This is one of those timeless hairstyles for men that you see in classic movies. A comb over slicked back style combined with a wet look makes a dangerous combo.
13. Blonde Fade Slick Back
If your hair is somehow soft and medium, then you should try this look. Shave your sides buzzed, increasing towards the top. A top part is swept back and bundled in a way where it forms a V shape at the back.
14. Slick Back and Quiff
The undefined line in this style separates a top part and the gradual sides. The hair and beard blend, forming a smooth transition. The voluminous beard gives the style balance and a nice masculine touch.
15. Medium Slick Back Wavy Haircut
The medium slick back wavy haircut is one of the best eye-catching hairstyles for men with beard. You can tone it down for a more serious look or just style it up high.
16. Vintage Taper Slick Back
Like the comb over and quiff, the vintage taper slick back takes your hair out of the face and places it in a prominent spot on the side top. This creates visual contrast and balance.
17. Mohawk Slick Back Hair
This would be a good style for you, with sides shaved leaving the crown for sweeping back and forming a tall mohawk quiff. However, using your fingers you can create movement.
18. Slick Back on Fine Hair
The slick back on fine hair adds volume to your top and gives contrast. It's another wild haircut, without a hard part. Make it more versatile by having the sides clipped with a medium clipper.
19. Modern Slick Back
This extreme take on the modern slick back elevates every inch of hair and will make you stand out in a crowd with minimum effort.
20. Slick Back with Temp Fade and Facial Hair
Facial hair adds elegance to a slick back men's hair in a modern way. A light beard can do the trick to add balance to this temp fade haircut, matching your features and your face shape.
21. Oriental Slick Back
The serious length on top gives this oriental slick back an exotic look. It's arranged on the ears, and the sides blend well with the medium-length beard.
22. High Fade Slick Back
If you're looking for a toned-down style that is suitable for work or other formal occasions, this high fade slick back may just be it. With effortless styling, be ready to get a fantastic look.
23. Slick Back with Side Part
Using a silky hair product, add glossiness to the hair and make the slick back haircut look magnificent. Part the hair naturally to add sleekness to your style.
24. Medium Length Slick Back
In this case, your hair must be averagely long so that you can achieve the look. Every part of the head is swept backward. A slick is formed above the forehead which is more smooth.
25. Slick Back for Young Men
Suited for young men with charm and good taste in clothing, this is gorgeous for thin and thick hair alike because it adds lusciousness to your hair.
26. Slick Back Hair with Hard Part
A hard part can make the slick back hairstyle different, adding softness to the haircut. Comb the front part of the hair by slicking it back, to get the shape.
27. Low Fade Slick Back
If you like adventurous haircuts then this hairstyle is for you. The top is asymmetrical cut that's well balanced with the sides. This is the most attention-grabbing hairstyle for men which requires a good cut and some serious styling.
28. Slicked Back Medium Length Hair
Men with medium length hair have various options when it comes to styling, and this slick back hairstyle is no exception. Comb the hair backward by using your fingers and then the comb.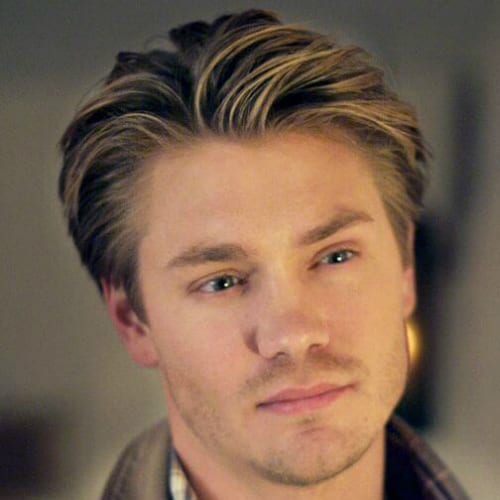 29. Undercut Slick Back
This style is very alike to a classic slick back only that a quiff in this cut is taller. The crown is left long so that you can style a peak. To finish up, the hair is swept backward like with all the other slicked back hairstyles.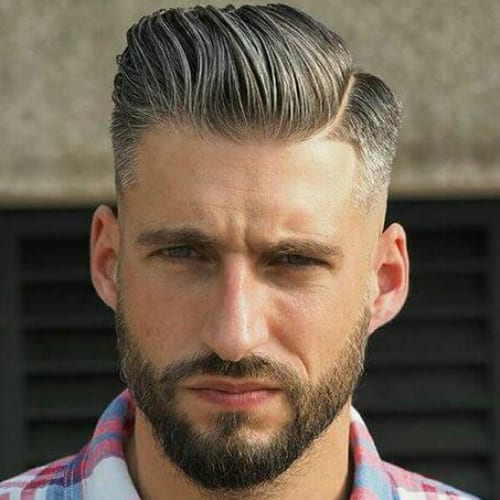 30. Up Front Slick Back
Combine a slight slicked back pompadour with a side part to get a traditional look. This hairstyle goes well with fine or thin hair because of the layering and combing which creates fullness.
31. Middle Part with Mustache
Whether it is a traditional style mustache or a contemporary one, it adds character to the slick back hair. The mustache requires regular trimming in order to complement the hair.
32. Slick Back for Older Men
This slick back involves shaving the sides buzzed. The rest of the hair is left long and then swept to one side. Use strong styling products so that it maintains the proper position.
Check out our collection of 53 Magnificent Hairstyles For Older Men!
33. Wet Look Slick Back
This look consists of a slicked side part and a well-trimmed beard. In this picture, the side part is a small quiff which is swept towards the back. The sides are cut very short, while the side part is loose and shiny.
34. Slick Back with Head Tattoo
Shave the sides almost uniformly, leaving a very small height on the crown to create volume. The face and neck tattoos complement the haircut by giving it uniqueness.
35. Slick Back Messy Hair
Just like the undercut, the slick back messy hair is one of the classic hairstyles for men. This is perfect if you're looking for a haircut that works in a variety of circumstances. Styles like the side swept undercut look best with a smooth face.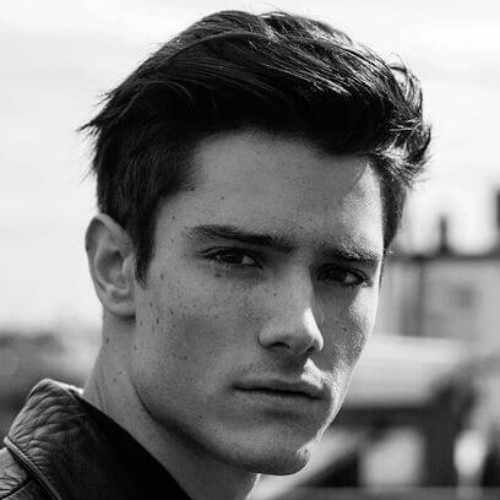 36. Disconnected Slick Back
This is another look for medium length hair. It's made out of a disconnected undercut and swept back hair that forms a nice shape and a sideline. Blow dry it and use styling products to make it soft.
37. Slick Back for Receding Hairline
To create this look, it is good to consider if your head is nicely shaped. This design looks good since the hair is cut short on the sides. One on top is left long and swept backward giving you a stylish look and distracting the eye from that receding hairline.
38. Voluminous Haircut
This haircut favors those men with dense hair. Blow dry the hair first and then enhance it with natural products so that it can stay in any position it is kept. By doing so, you create a voluminous slick.
39. Slick Back Undercut
This undercut haircut needs the ability of a professional barber. The long hair is slicked back and the sides styled with a deep undercut.
40. Slick Back Comb Over
This slick back haircut style looks like the perfect comb-over, with the hair slicked using the help of a comb, but not after you apply pomade first.
41. High Peak Slick Back
This requires classic styling since different parts of the head are at different sizes. The crown is left with very long hair which decreases in height backward. The top is swept back in a way it forms a high peak close to the forehead.
42. Short Slick Back Hair
This modern slick back hair is created by using hair product such as gel or a pomade. This hairstyle shows you how a short slick back looks like on the catwalk.
43. Swept to the Side
This is done by making a line on one side of the crown. The part on the other side is left long and swept in the opposite direction. Use hair gel to make your style neat.
44. The Pompadour Slick Back
This particular pompadour can take the modern slick back hair to the next level. It adds volume to the crown and by using a styling product, you can achieve the shape you want.
45. Slick Back with Volume
The blow dryer is used to slick back thick hair and add volume. Quality gel or pomade is applied at the roots of the hair to create depth and add shape to the style.
46. Hanging Bangs
One of the sides is shaved leaving the top with long length. The sides are shaved in a manner that the part close to the top is longer than that at the end. It is then swept towards the back, forming the hanging bangs.
47. Extra Slick Back
This extra slick back is yet another style that gives you a timeless look. The buzzed sides connected with the beard and high top contrast help your style stand out.
48. Slick Back Hair with Shaved Sides
This slick back fade hair is one of the latest hairstyles, where the long hair on the crown is combed towards the back and the sides styled with a skin fade.
49. Slick Back for Redheads
Making your head look shaven it will draw attention to your long and dense beard. An undercut is done and the top hair is enhanced with styling products so that when swept backward it will give you a classy look.
50. Top Twirl
Blow dry the top hair in a messy way, add hair product and then sweep it backward. It is the top part that gives this style a special look. It is twirled for a loose and wild appearance.
Conclusion
Is really is as easy as it looks to slick back your hair. Do it by following a few simple rules: get your hair wet first then towel dry until it's moist. Fix your hair with pomade, grab your comb, and pass your hand on backward with it.
The first slick back is to the sides if you're trying the modern approach. After that, insist several times on the top until you reach perfection.
There are so many possible options that you will surely find a style that's perfect for you!
This article was updated in August 2019.
Darla is a hairstylist and makeup artist. She loves creating bold and edgy looks for her clients and is very passionate about what she does. She has always loved writing, but never thought that she would ever get to publish her content. She decided to give it a try when she discovered us, and has been writing for our readers ever since!