The spiky haircut seems like it will always be in fashion. Although it's been a few years since I first saw it attracting attention, the stinging haircut for men is offered as a product in most barbershops.
From edgy to classy and everything in between, spiky hairstyles for men have it all! Depending on the way you decide to style your spikes, your hairstyle can take on a whole new personality.
Consequently, this is one of the reasons why spiky hairstyles have maintained a top spot among trends throughout these years. Find out which one you should get below!
1. Spiky Haircut for Medium Length Hair
Are you a guy with medium-length hair? You're among the lucky ones when it comes to styling possibilities. You can spike your hair in a variety of ways, starting with this bold and eye-catching style. The taper fade helps shape the rest of the hairstyle.
2. Hairstyles with Spiky Bangs
David Beckham is certainly a celebrity to keep your eye on for hairstyle inspiration. In this photo, you can see how he rocks a spiky bangs hairstyle, with the hair along his temple brushed up and slightly to one side.
3. Spiky Hairstyles for Men with Undercuts
An undercut can truly work miracles for any spiky hairstyles for men. Just like with any taper fade, an undercut allows you to accentuate the upper part of your hairstyle. In this case, we're talking about the spiky strands you want to draw attention to.
4. Super Spiky Hairstyles
The exact texture of your spiky hairstyle really depends on the amount of hair product. For example, if you want a sharper look, we recommend using a little more gel than you normally would. It looks great with short haircuts.
5. Spiky Hairstyles for Teenage Guys
Above all, spiky hairstyles for men are most popular among teenage guys. For some years now, young male pop celebrities like Justin Bieber have been setting hair trends. As a result, any teenager can rock a spiky hairstyle and look awesome.
6. Long Spiky Hairstyles for Guys
If you have significantly long hair, it may be a bit challenging to spike it. However, you can take the main technique and adapt it to your hair length. In this regard, you should slap on a fair amount of product and style your hair up and to the side.
7. Swirled Spikes Hairstyles
Similarly, you can create your spiky hairstyle with a "swirled" effect. In other words, you can twist individual strands into spikes at an angle. You will obtain a more dynamic hairstyle that goes well with a rebellious personality.
8. Hard Part Spiky Hairstyles
Some guys look a lot better when they have their hair parted to the side. Even when talking about spiky hairstyles for men, a hard part can help bring the entire look to life. After getting your hard part, spike your hair sideward.
9. Faux Hawk Spiky Hairstyles
There are numerous ways you can sport a faux hawk. For our first example, we'll be displaying a nice idea for guys with thick, mid-length hair. By styling this type of hair into a faux hawk, you will get lots of volume and definition.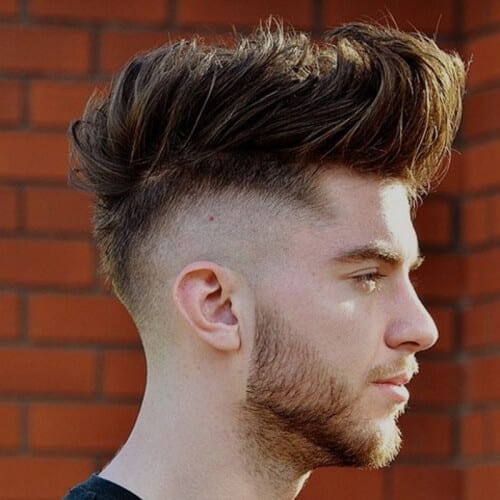 10. Coarse Spiky Hairstyle
While some guys want their hair to have a silky texture, others want to stick to a coarse touch. To get the results you're looking for, you should use a tiny amount of hair product and rub it between your fingertips before applying it only on your strands.
11. Wide Spiky Mohawk Hairstyles
Just like faux hawks, mohawks also come in all different shapes and sizes. If you're seeking a mohawk that will be suitable for day-to-day situations, you should try this wide and lightly side-shaved version. You won't get in trouble for it at school or work.
12. Rolled Up Spiky Hairstyles
Nowadays, the most fashionable spiky hairstyles for men aren't as jagged and pointy as they were ten or twenty years ago. Quite the contrary – they focus on messy styling more than anything. With this detail in mind, think about rolling up your locks as you spike them.
13. Curly Hair with Spiky Hairstyles
The same goes for men with curly hair. Owing to your hair texture, you'll have a hard time fully spiking your hair in the traditional sense of the style. Instead, you can twist your curls to get a harmonious style to complement your texture.
14. Spiky Comb Over Hairstyles
It's well known that comb over hairstyles are quite classy. Nonetheless, you may not want to look like you're getting ready for a banquet on a daily basis. Alternatively, you can comb your hair to the side and spike the edges for a casual hairstyle.
15. High Spiky Hairstyles
Still, if you're truly interested in the edgy part of spiky hairstyles for men, you can go all out with your version. There really aren't any rules with this hair category, as long as it's an accurate representation of your personality. In saying that, feel free to rock high spikes if it's your thing.
16. Spiky Quiff Hairstyles
Any man can agree that the quiff has an indisputable spot among the top trends of the year for men's hairstyles. Be that as it may, you might want to add a twist to yours. As opposed to the sweeping style that comes with the classic quiff, you can spike your bangs.
17. Spiky Hairstyles for Men with Thick Hair
Happily for some but unfortunately for others, spikes and thick locks go together only when the hair is cut short. We say that the combination is appealing and should be considered by all guys with naturally thick hair.
18. Layered Spiky Hairstyles
No matter what spiky hairstyles for men are in discussion, layers will always play an essential role in them. The spikes themselves actually form with the help of a well-layered haircut, so make sure you get one before trying to achieve this style.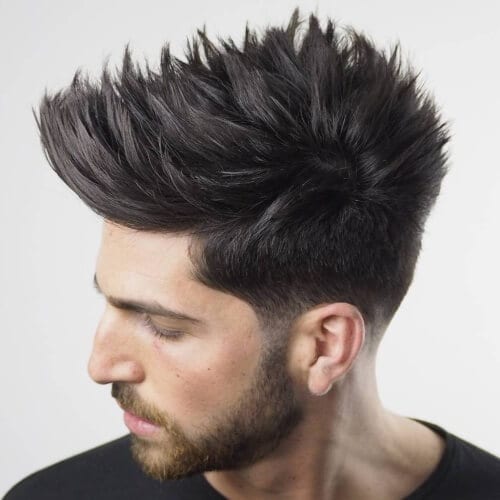 19. Spiky Hairstyles for Round Faces
Another cool part about spiky hairstyles for men is that they work with all face shapes. For example, Twilight's Taylor Lautner shows how a guy with a round face should wear his spikes – ruffled and neatly cropped.
20. All-Around Spiky Hairstyles
In addition to layered haircuts, messy styling methods are also indispensable for spiky hairstyles. If you don't have a taper fade or undercut, you can spike your hair all around. It's a sure-fire way of getting a funky and personality-filled hairstyle.
21. Barbershop Spiky Hairstyles
If you're keen on maintaining proper grooming habits, you'll most likely be passionate about visiting your favorite barber. Once you get there, you can ask him to spike your hair in the way that best flatters your features.
22. Pyramid Spiky Hairstyles for Men
Another idea for a spiky faux hawk is to follow a pyramid silhouette. To put it otherwise, you should bring the hair from both sides together to form a triangular faux hawk. It's basically like spiking your bangs and the section of hair directly behind them.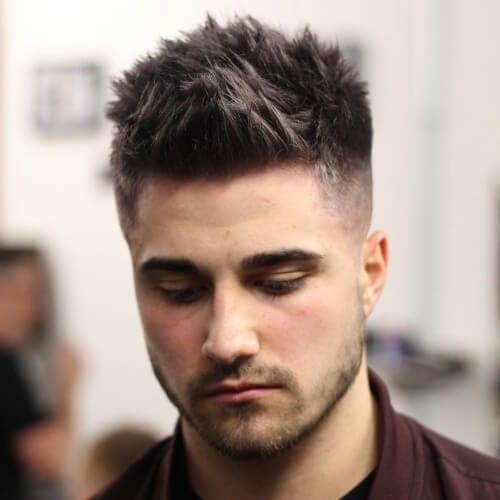 23. Spiky Hairstyles for Men with Square Faces
The spiky hairstyle that most effectively complements men with square faces is quite similar to that for round-faced men. In both situations, we recommend keeping a short spiky hairstyle with just enough product to secure the spikes in place.
24. Hairstyles with Highlights
Highlights are an exceptional way to spice up any spiky hairstyles for men. Choosing another color to add to your hair will accentuate the spiky texture you're looking for even more. We encourage you to explore opposing tones for your desired outcome.
25. Long and Messy Hairstyles
If you're one of our readers with longer hair, you'll already know that "normal" spikes aren't that much of an option. Still, they can pave the way for messy bad boy hairstyles inspired by spiky locks. Pull your fingers through your locks and tousle them without a care.
26. Temp Fade Spiky Hairstyles for Men
A temple fade haircut tends to add class and attitude to a man's appearance. When you add a spiky hairstyle to the mixture, you get a brilliant contrast to your overall hairstyle. While your hairline is shaped in sharp and clean angles, the top will be coolly disheveled.
27. Spiky Hairstyles for Men with High Fade
These days, many spiky hairstyles for men are accompanied by a fade, taper, or taper fade haircut. To correctly introduce you to all of the options you can try out, we'll start with a high fade hairstyle featuring a spiky top.
28. Angular Fringe Spiky Hairstyles
If you want a short hairstyle that's not quite a military haircut, the angular fringeshould definitely be on your shortlist. This year, this hipster-like hairstyle has taken the charts by storm for its alluring, gently spiked style.
29. Spiky Emo Hairstyles
Even though most emo or scene hairstyles are defined by super long side-swept bangs, some of them also involve spikes. Most of the time, the bangs part will be maintained, while the spiking is left for the back side of the hair.
30. Mid Fade Spiky Hairstyles for Men
Don't want to go quite overboard with your hairstyle? You can rely on a mid fade spiky hairstyle for effortless swag that won't attract awkward stares. Your version can include a skin fade, like in the example above, or a subtle transition starting halfway down.
31. Beards and Spiky Hairstyles
For a rugged and manly look, you may want to consider combining your spiky hairstyle with a beard. Though we don't quite recommend rocking a scruffy beard, one that is cleanly trimmed will complete your look in a fine way.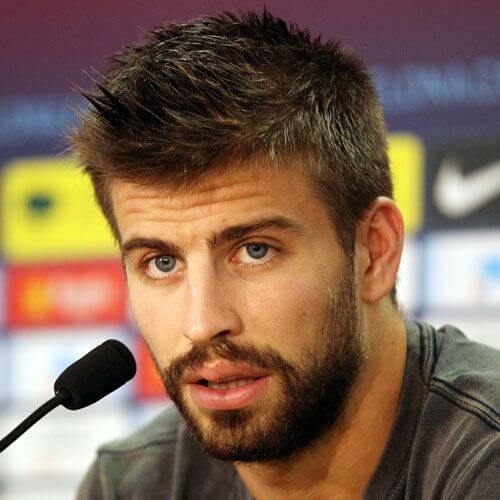 32. Mature Men Spiky Hairstyles
Spiky hairstyles aren't only for teens and young men. In fact, they can bring out the youthful side in any man that has reached his senior years. For instance, Sting always seems to remain forever young with a casually spiked hairstyle.
33. Pompadour with Spiky Hairstyles
Are you interested in finding the perfect balance between classic and modern? There are few ways to do it better than with a spiky pompadour hairstyle. The pomp silhouette will ensure the retro vibe of the hairstyle, while the spikes come in with the perfect contemporary touch.
34. Spiky Hairstyles for Men with Hair Tattoos
If that's not rebellious enough for you, test out some shaved designs to make your hairstyle the center of attention. Also known as hair tattoos, complex shaved designs have the power of making your appearance genuinely unique.
35. Fanned Mohawk Hairstyles
Punk hairstyles may not work for everyone, but they look awesome on guys who follow this subculture. With a fanned mohawk, for example, you can take your spiky hairstyle to a whole new level of creativity.
36. Rockabilly Hairstyles
Just like modern pompadours, rockabilly hairstyles are refined and edgy at the same time. A rockabilly hairstyle doesn't include classic spiking, but rather a styling technique inspired by that used for creating spiky strands.
37. High and Tight Spiky Hairstyles
Spiky hairstyles for men also go well with military hairstyles that involve an inch or two of hair. For example, you can take a high and tight hairstyle with anything longer than a buzz cuttop and style it in a spiky manner.
38. Spiky Hairstyles for Men with Low Fade
The subtlest of all fade hairstyles is the low fade. Like the name suggests, a low fade is defined by a gradual transition towards the lower part of the head. We say it's a wonderful opportunity for a discrete and appealing hairstyle.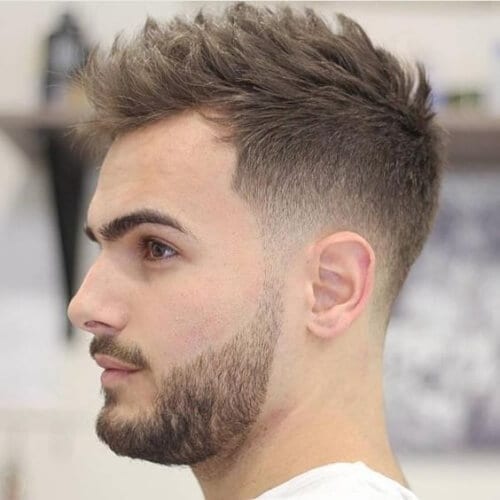 39. Bangs with Spiky Hairstyles
If your haircut is anything close to a bowl cut, you might not look quite alright spiking your hair all around. However, what you can do is make your hair appear unkempt on top. In this situation, we recommend styling your bangs normally.
40. Spiky Styles with Surgical Line
Essentially, a surgical line works like a hard part, in saying that they both appear as shaved lines in the head. All the same, a surgical line is usually shaven on one side of the head and is slightly arched as it fades at the end.
41. Vintage Spiky Hairstyles
Here's another retro hairstyle to inspire you. You can notice that plenty of hair gel was used to obtain the look, but for different purposes than regular spiky hairstyles. Instead of using gel to create multiple spikes, the look focuses on bringing all of the hair up and keeping it sleek.
42. Spiky Hairstyles for Men with Receding Hairlines
With the right haircut, you can almost say goodbye to visibly receding hairlines for good. A spiky hairstyle can help you accomplish this goal by steering the attention away from the receding hairline and towards the textured top.
43. French Crop with Spiky Hair
The French crop haircutis easily one of the coolest hairstyles of the year for men. Luckily for you, there are countless ways you can style yours. You can spike the top and get the French part done only for a layer of your hair underneath, like in the photo above.
44. Bleached Spiky Hairstyles for Men
We know it may not be the healthiest solution for customizing your look, but we have to admit that bleached spiky hairstyles for men look awesome. We especially encourage you to approach the idea if it's summertime or if you're generally an open-minded individual.
45. Shaggy Spiky Hairstyles
If you know anything about Jack Black, you know that he was never the one for conventional appearances. We love his outlook and want to recommend his take on a spiky hairstyle – with shaggy locks all over the place.
46. Colorful Hairstyles for Men
Do you want to fully take advantage of your appearance to express your personality? A little bit of color is all that you need. After dyeing your hair with your favorite tone, simply spike the top to make it all look even cooler.
47. African American Spiky Hairstyles
If you have afro-textured hair, that doesn't mean that you can't find spiky hairstyles that work for you. Actually, short dreads look amazing with a spiky, nappy hairstyle. Don't be afraid to embrace your natural texture whole-heartedly.
48. Spiky Style with Two Shaved Lines
Want to be extra original with your hairstyle? You can use not only one, but two shaved lines for your spiky hairstyle. It's just another way you can tweak your look to truly reflect your personality, especially if you're a creative person.
49. Liberty Spikes Hairstyles
Another authentic punk haircut that involves a spiky hairstyle is the dramatic liberty spikes look. It's obviously reserved for the true punks who aren't afraid to show their true colors, so go for it if you're one of them!
50. Spiky Hair with V-Shaped Bangs
Finally, you should never neglect your bangs when seeking unique hairstyles. For example, you can complement your spiky top with a set of V-shaped bangs. We say that they would complete the look harmoniously.
Conclusion
To conclude, boys, teens, adults and even seniors can all benefit from trying out these spiky hairstyles for men. The style category is far broader than you may have initially thought, with a multitude of handsome styles for all kinds of guys.
We'll leave you with some food for thought: if you had to choose just one spiky hairstyle, which one would you adapt to your style?
Martin is a hairstylist and makeup artist, with a passion for art, interior design, and traveling. He has been in the industry for over 10 years and loves meeting new people. Martin enjoys assisting his clients with their various needs and is looking forward to running his own business. When he is not busy building on his career, Martin finds pleasure in spending time with family, going out for a run, and inviting friends over for dinner, boardgames, and a movie.