Do you want a hairstyle that will make you tastefully stand out? Then a textured haircut is exactly what you need! Throughout the past several years, layered haircuts have become more and more popular among men.
Therefore, we've prepared an extensive collection of the freshest long, medium, and short textured haircuts for thin and thick hair alike! Our picks include both subtle and dramatic haircuts, with varying amounts of texture. No matter what your personal style is, you're sure to find the right fit for you below!
1. Short Textured Haircut for Men
First of all, we want to introduce you to the textured look with an easygoing short haircut for men. You don't need to have long hair, to begin with, as the layers will simply add shape to your short strands. Top it all off with a sleek fade and you'll have a nice, clean-cut hairstyle.
2. Piecey Textured Haircut for Men
On the other hand, don't hesitate to get bold with the details. Even if you have short hair, you can accentuate the texture with a piecey haircut. As long as the layers are cut correctly, they'll fall into place with ease. Therefore, you won't have a hard time with subsequent styling either.
3. Textured Quiff Haircut
It's no secret that the quiff haircut is a leading trend among hairstyles for men. It's an efficient and classy cut for guys who enjoy styling their hair. For a textured quiff, you need to ask your barber to incorporate layers throughout the lower part of your hair.
4. Waves Textured Haircut
One of the coolest looks for men with afro-textured hair is the waves haircut. Also known as deep waves or 360 waves, the hairstyle creates the illusion of ripples throughout the hair. As a result, you get plenty of definition and an all-around remarkable hairstyle.
5. Textured Taper Haircut
Whether you want a basic taper or a taper fade, the haircut will complement a textured top amazingly. Owing to the shorter sides and back, all the attention will go to the upper texture. By getting a textured taper haircut, you'll have a neat and attractive silhouette.
6. Caesar Textured Crop Haircut
For years now, the Caesar haircut has been a low maintenance solution for guys who prefer short hair. Often referred to as simply the "Caesar cut", it's a cropped hairstyle with very short bangs around the hairline.
7. Hard Part Textured Cut
Any guy can reach trendsetter status with a well-executed hard part haircut. In a nutshell, the hairstyle features a shaven part on one side, hence the name. When paired with a textured top, a hard part haircut can be the ultimate look for the modern man.
8. Spiky Textured Haircut
Short spiky textured haircuts are probably the most sought-after of them all. Even though they reached their popularity peak a decade or two ago, we now have new and improved spiky hairstyles for men. Instead of looking like a member of a pop boy band, you'll have spiky pieces of hair that fit in with the current trends.
9. Frohawk Haircut
If you're African-American, it's likely that you already have all the texture a guy could want. However, you can emphasize your afro-textured curls even more with a frohawk haircut. Basically, it combines the idea of an afro and a mohawk. The outcome is awesome, to say the least.
10. Messy Textured Haircut
A textured haircut with a messy hairstyle is a match made in heaven. The two ideas go together perfectly, resulting in major definition. In addition, a messy textured cut shows off the edgy side of your personality. If you're more of a nonconforming, laidback guy, it's definitely the combo for you.
11. Shoulder-Length Textured Cut
Nevertheless, we're aware that not all guys want to rock short haircuts. For that, we also have some great ideas for men with longer hair. If your locks are shoulder-length, for instance, you only need to add texture to the tips. To do so, ask your barber to give you lower layers.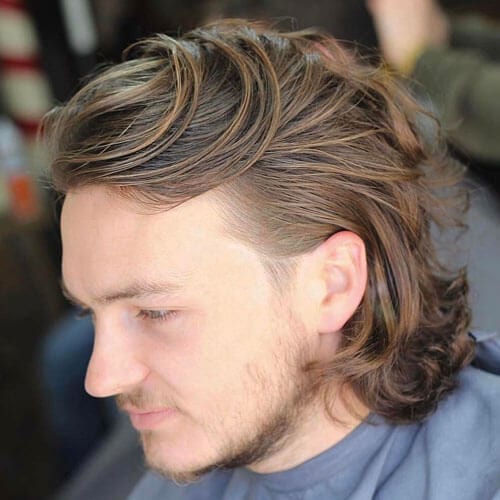 12. Short Textured Haircut for Curly Hair
As a guy with curly hair, texture is your long-time friend. Be that as it may, managing ringlets can prove to be a challenging task. If you want to take the easy way out and look good while doing it, crop your curls to about one inch. Mix that with a taper haircut and you're good to go!
13. Full Fringe with Texture
In our previous piece on fringe haircuts for men, we explained the difference between a fringe and bangs. To recap, there is none – fringes and bangs refer to the same thing. Therefore, if you want some strands over your forehead, get them cut in layers for a boost of texture.
14. Side-Swept Textured Haircut
If you're willing to leave some length for the textured portion of your hair, try a side-swept hairstyle. Indeed, you have to wait a while for your hair to reach about five inches long. However, once it does, you can get an undercut or taper the sides and back.
15. Comb Over Short Textured Haircut for Men
You don't necessarily require a head of flowing locks to pull off a comb over hairstyle. As a matter of fact, if you have thick hair, you'd be much better off with a short haircut. In this regard, you can obtain picture-perfect texture with short layers combed to the side.
16. Textured Mohawk Haircut
Mohawk hairstyles for men are usually split into two categories – punk hairstyles and faux hawks. If you want to stay true to the subculture, you can rock a long, textured, fanned mohawk. The double color scheme makes the hairstyle even more awesome. Sure, it's not for guys with an office job, but it's ideal for unconventional men!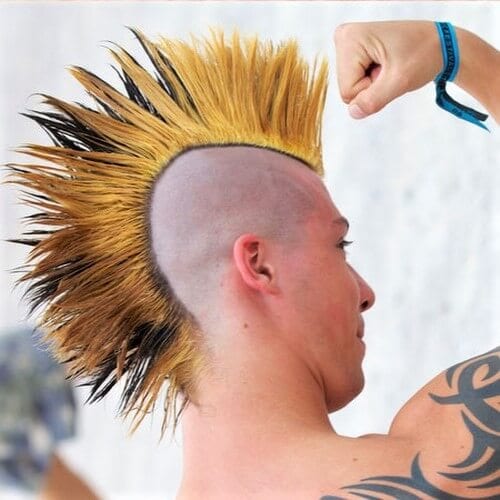 17. Pompadour with Layers
In contrast with the mohawk, we have the sophisticated pompadour haircut. Inspired by the greasers of the 50s, the modern pompadour always comes with a decent amount of texture. We wholeheartedly recommend the haircut for a dapper vibe.
18. Side Bangs Textured Haircut
If you want to soften your appearance, you can do so with a side part and bangs. The look is not as flashy as a hard part, whereas the side-swept bangs pull the look together with elegance. For texture, get some subtle layers sprinkled throughout your locks.
19. Long Layered Haircut for Men
Regardless if you have thin or thick hair, a long hairstyle can help you showcase your personality. Nonetheless, you might want to add some flavor to your long mane. As a solution, you can create a comfortable and alluring silhouette with numerous layers. Go for a mix of both long and short layers for texture galore.
20. Short Dreads Textured Haircut
Dreadlocks styles for men are another excellent way to highlight texture within a hairstyle. Firstly, you can try classic long dreads. Secondly, if you're aiming for easier maintenance, you might want to look into short dreadlocks. Get a disconnected undercut or a high fade and leave the top full with cropped dreads.
21. Angular Textured Fringe Haircut
As of late, the angular fringe has become a highly coveted hairstyle for guys of all ages. From our point of view, it's a fine choice for men with any hair type. Whether you have straight, wavy, or curly hair, an angular fringe haircut with layers will complement your facial features.
22. Faux Hawk Textured Haircut for Straight Hair
Nowadays, there are two main types of faux hawk haircuts for men you can try out. First off, we have the short faux hawk. It works particularly well for men with straight hair, as it will be simpler to style. Additionally, it tends to flatter men in their thirties or older.
23. Long Faux Hawk Haircut
For a bolder and more youthful alternative, you can sport a long faux hawk. As opposed to the shorter version, the long faux hawk is all about attitude. Today, you can often see it on boys, teenage guys, or men in their twenties. Do note that you'll need hair wax or gel for styling though.
24. Vintage Mullet Textured Haircut
Get inspired by retro fashion with a textured mullet haircut. Although the 80s mullet as we know it today might make you cringe, the modern adaptation is a cool hipster hairstyle. To give yours that contemporary touch, get as many layers as you can and style it in a disheveled manner.
25. Textured Bowl Cut
Likewise, the modern bowl cut looks more amazing than most would think. It gives you that edgy art student vibe, making it yet another interesting hipster haircut. If you throw layers into it, the bowl cut can be an eye-catching hairstyle that will enhance your individuality.
26. Flow Haircut with Layers
If you haven't heard, the flow hairstyle is all the rage among A-list celebrities this year. You can hop on the trend with an original twist by making it a layered haircut. Even more, having one side shorter will make your hair flow even more nicely on the opposing side.
27. French Textured Crop Haircut
Speaking of trends, another one to keep an eye out for is the French crop haircut. Although it shares similar elements with the Caesar cut, the French crop features longer bangs. The fringe section usually falls halfway down the forehead.
28. Blunt and Jagged Mixed Haircut
You know by now that texture can easily be obtained with the help of layers. However, you can unlock a completely new dimension of texture by combining techniques. To put it otherwise, think about coupling a textured top with a blunt edge. The striking contrast will make your hairstyle truly unique.
29. Cropped Coils
If you're not up to dealing with high maintenance curls, a neatly cropped haircut will do the trick. It won't be so short that your coils won't be noticeable, such as a buzz cut. Instead, the haircut will keep them tightly positioned on the top of your head and out of your eyes.
30. Emo Short Textured Haircut for Men
Although the climax of emo and scene is long gone, the associated hairstyle still looks as good as ever. You can take advantage of the heavy layering that comes with emo haircuts and apply the principle to your own hairstyle. Just make sure your bangs are swept as far to the side as possible, covering your forehead.
31. Rockabilly Textured Front Roll
If you want to take it back to the roots, go for a textured rockabilly roll hairstyle. The front curl is an instant nod to the genre, not to mention that it serves as an unforgettable look. In order to nail it, make sure the layers on top are long enough to style into a roll.
32. Medium Textured Haircut for Curly Hair
Not quite up for a long textured haircut, but not a short one either? Take a balanced approach with a medium textured haircut. If you have naturally curly hair, the look will come together flawlessly. To get more volume, integrate shorter layers throughout the longer ones in your hairstyle.
33. Wide Waves Cut
So, we talked about the deep waves haircut. How about another one but with a different technique? Instead of keeping your waves tight and narrow, you can spread them out. As a result, they won't have the ripple effect but rather one of larger waves spread randomly through your hair.
34. Thick Piecey Textured Haircut
As far as textured haircuts go, it's easy to why the piecey approach has been getting all of the attention lately. While you can always go for short and dynamic pieces, you might want to check out a thicker alternative. The pieces of hair will be fewer and wider, creating a more relaxed look.
35. Textured Haircut with Highlights
Another way you can rock the piecey cut and even upgrade it is with highlights. By adding a splash of color onto the pieces, you'll be creating texture like never before. We recommend using a lighter color if you have a darker base or a deeper tone for a blond foundation.
36. Long Bangs with Texture
Going through an edgy phase? Let it all out with a medium-length haircut with significantly textured bangs. The hairstyle is one of the biggest trends in South Korea and Japan right now. Therefore, if you want a grungy but stylish haircut, it's surely the way to go.
37. Textured Haircut with Overlapping Bangs
Both the French crop and the bowl cut are popping at the moment. Nevertheless, if you plan on getting one, you can think of customizing it. For example, you can leave a section of your bangs longer to the side so they overlap with the main portion.
38. Two Way Texture
Outstanding texture can be obtained from cutting as well as styling. In this sense, we encourage you to try out various styling techniques to reach your desired level of texture. As an example, you can comb sections of your hair in opposing ways to create more definition. Your hairstyle will certainly be visually pleasing.
39. Shaggy Textured Haircut
If none of the above are rebellious enough for you, we bet that shaggy hairstyles for men will satisfy your need for attitude. They're some of the most confidently careless haircuts around, not to mention that they come with a ton of texture. Plus, with a shaggy haircut, volume will never be an issue for you again!
40. Progressive Fade Texture
Yet another way you can creatively attain texture is through fade hairstyles for men. If your barber succeeds in creating an eye-catching gradient, the texture will come from the taper and fade. If you still want more, you can get layers through the top as well.
41. Twists Textured Haircut
In addition to dreads, twists are a fantastic textured hairstyle that black men can try out. The twists carry a highly remarkable texture, creating tight, individual coils. On one hand, an awesome way to sport twists is with an undercut or fade. On the other hand, a full head of textured twists looks just as amazing.
42. Textured Haircut with Undercut Design
Any textured haircut will exceptional on its own. Notwithstanding, you can also spice it up with personal touches. For instance, let's say you choose to get an undercut to go with the textured top. From there, you can create a special design, such as the diamond shown on the nape below.
43. Ducktail Mohawk
Back in the day, the ducktail was one of the classiest haircuts for men. Today, it still remains a vintage staple, but you can now combine it with other ideas. Just one way to do so is with a classic punk mohawk approach. Fully shave the sides and leave a ducktail mohawk down the middle.
44. Regular Textured Haircut
In other cases, you don't have to do anything fancy to get an appealing hairstyle. When you apply texture to a regular haircut, it can be the detail that accentuates the impact. All in all, we believe it's a smart way to touch up a normal haircut, especially if you're a middle-aged man.
45. Asymmetrical High Top Fade
The high top fade is an iconic haircut for men with afro-textured hair. Throughout the years, it has been adapted to meet modern trends, using elements like hard parts. Nevertheless, you can add an incredible twist simply by getting out of your comfort zone with asymmetry. Try making one side shorter than the other with a sculpted high top.
46. Slicked Back Textured Haircut
Generally speaking, a slicked back hairstyle can make any guy look dapper. Also, if it has an undercut, you also have an edgy touch. Using layers will give it visible texture. Furthermore, if you're willing to let your hair grow a little longer after, you can tie it into a top knot hairstyle.
47. Artsy Textured Cut
With a textured cut like the one pictured below, we guarantee that you won't have the same hairstyle as every other guy you see. Although it's more of an avant garde approach to hair, the outcome is worthy of a high fashion editorial, so try it on for size.
48. Frosted Textured Haircut
As we previously mentioned, color can help open up a whole new world of texture for you. Start by getting your hair cut into numerous tiny pieces. Then, use white or silver for the tips of the layers to make them appear even more jagged. It's a head-turning look for sure.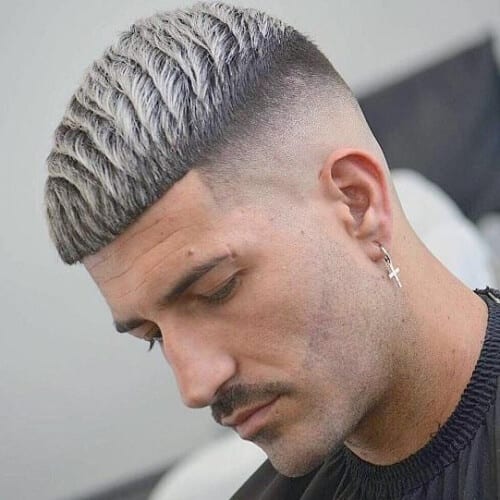 49. High and Tight Textured Haircut
Moving forward, we have one of the most effective short textured haircuts for thick hair. The high and tight is a well-known military haircut that many men have adopted for day-to-day wear. It's easy to maintain, comfortable to wear, and a smart solution for highlighting a textured top.
50. Colorful Textured Top
Last but certainly not least, probably one of the coolest ways to make your textured cut shine is with vivid color. The options are endless – you just have to see which tone best suits your personality.
Conclusion
Overall, a good textured haircut can truly turn your appearance around. Even if you go for a low-key approach, the details will stand out in a stylish way. You just need to find the most flattering form for your hair type, face shape, and features in general.
When you take the layers to a textured level, the hairstyle becomes all the more impressive. Essentially, any textured haircut can add aesthetic value to your appearance.
So, what type of textured haircut will you get the next time you visit your barber? Would you rather keep things on the subtle side or go all out with larger pieces? Share your opinion in the comment section! You never know how your personal experience can help others make their haircut decision.
Lilith Wetherall is a freelance writer, editor, and blogger. She graduated in 2014 with a B.A. in Theatre Arts and a minor in Journalism. She later found her passion for hairstyles and is now professing in a men's salon. Some of her favorite things to do include reading, writing, watching movies, and being outdoors. When she's not writing for our readers, she is either at the salon or at home trying out a new hair color.