After breaking down the coolest Tom Hardy beard styles, we're back with more inspiration from one of the hottest actors in Hollywood! Praised for his talent, work ethic, and ever-flourishing film career, Hardy is also widely recognized as one of the sexiest men alive. See how you can pull off one of his ultra-manly looks with our collection of Tom Hardy hairstyles and haircuts below!
1. Trademark Rugged Look
Tom Hardy has almost become synonymous with the concept of "rugged". His go-to style is edgy, masculine, and je-m'en-fou all around, with a perfectly messy hair and beard.
2. Tom Hardy Lawless Haircuts
In the 2012 modern Western Lawless, Hardy's character Forrest donned an unforgettable haircut. We would position it as a mid to high taper fade, with a sleek side part hairstyle as the cherry on top.
3. Layered Comb Over Tom Hardy Hairstyles
Tom's no stranger to comb over hairstyles, particularly those that exude attitude. He usually adds his own twist to combovers, such as the heavily layered method in the photo below.
4. Tom Hardy Shorter Sides, Longer Top Haircuts
A master of the short sides, long top hairstyle, Hardy often plays around with the idea as a foundation for his look. The approach flatters his face shape, forehead, and his hair texture, all at the same time.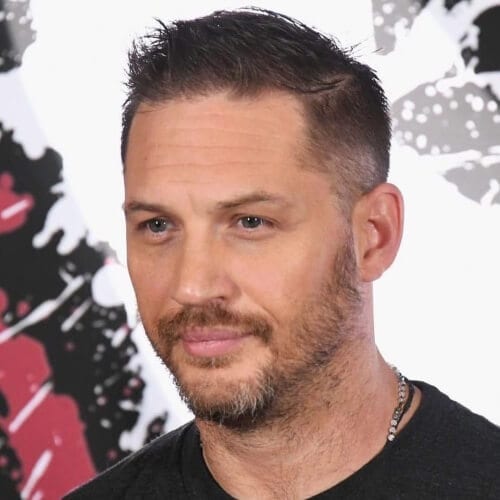 5. Tom Hardy Mad Max Haircut
There's no doubt that Mad Max: Fury Road is one of Tom's most raved movies to date. The rugged haircut he donned as Max Rockatansky has been adopted by men of all ages around the world.
6. Tom Hardy Manly Quiff Haircuts
One of our favorite Tom Hardy hairstyles of all is definitely his messy quiff. He succeeds in taking the classic haircut to the next level every time through effortless styling.
7. Crew Cut Hairstyle
Time and time again, Hardy proves that you can rock any basic haircut and still look incredible. A crew cut, for instance, can be just as alluring as any complex hairstyle if you wear it with confidence.
8. Tom Hardy Hairstyle Legend
In 2015, Tom wowed audiences with his double performance as twins Reggie and Ronnie Kray in Legend. For the roles, he wore a timeless retro hairstyle that's as appealing today as it was in the 50s and 60s.
9. Medium and Wavy Tom Hardy Hairstyle
We rarely get to see Hardy without some form of a taper, fade, or undercut. However, it goes to show that men who know their worth can nail any silhouette with genuine style.
10. Subtle Taper Tom Hardy Hairstyle
Speaking of tapering, we have the perfect example of what comes to mind when you think about Tom Hardy hairstyle. The sides and back are finely tapered, leaving room for a versatile top.
11. Tom Hardy Venom Haircuts
In his very-much discussed project as the antihero Venom, Tom sported a super cool and clean-cut hairstyle. Featuring a smooth mid fade, the haircut is completed by a side-tousled top hairstyle.
12. Tom Hardy Slicked Back Hairstyle and Undercut
Hardy almost always incorporates an undercut into his hairstyle in one way or another. To polish it enough so it's suitable for formal events, he often slicks the top part back.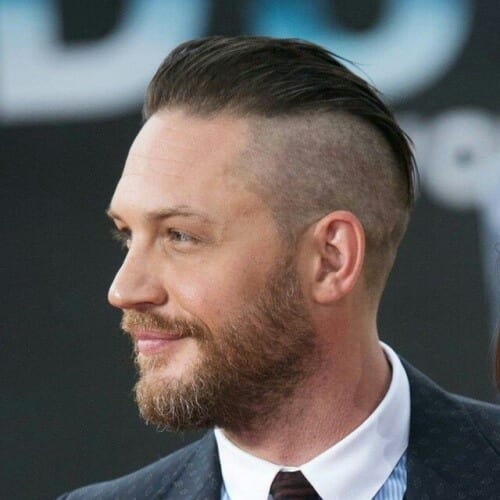 13. Tom Hardy Piecey Haircuts
If you don't want to go full-out bad boy but you still want a bit of Tom's edge, try a piecey haircut. Provided your hair is a few inches long, you can get it cut in jagged pieces for a rebellious look.
14. Warrior Tom Hardy Hairstyle
In the 2011 hit drama Warrior, the world got to see Hardy slip into the skin of an MMA fighter. Although it may be a long hard road to obtaining such a physique, anyone can copy Tom's side-swept bangs.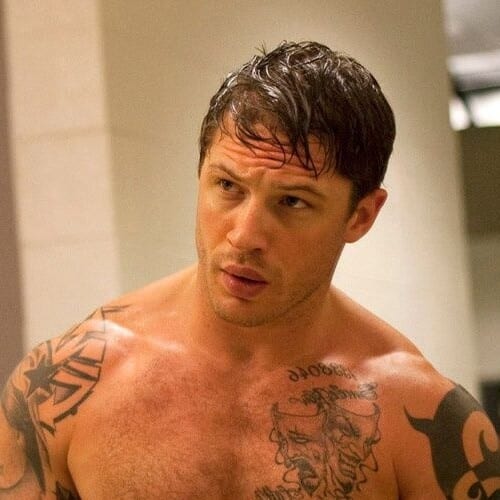 15. High and Tight Tom Hardy Hair
Arguably one of the most beloved military haircuts, the high and tight fits like a glove for Hardy. While the broad undercut is as alluring as they come, the shorter top is practical and easy to style.
16. Tom Hardy Disconnected Undercut Haircut
Nevertheless, we do have a close alternative if you're more into styling – the disconnected undercut. It's one of the most versatile Tom Hardy hairstyles you can try out, thanks to the way you can experiment with the top.
17. Dunkirk Tom Hardy Haircut
Tom's character in Dunkirk, Farrier, sported a haircut that any stylish guy can recreate. It lies somewhere between a quiff and a comb over, making it ideal for any occasion.
18. Small Man Bun Tom Hardy Hairstyles
We haven't been fortunate enough to catch Hardy with a full classic man bun yet. Be that as it may, we have enjoyed witnessing his athletic, gelled back, mini-man bun, perfect for medium-length locks.
19. Full Scruffy Hairstyles
It's clear by now that Tom Hardy hairstyles are all about tasteful negligence and confidence. Manliness first and foremost comes from within, and Tom's full scruffy allure proves it.
20. Child 44 Tom Hardy Haircut
Hardy's Child 44 hairstyle is a dream come true for the dapper man. It's cleanly slicked back and to the side, with a boost of edginess owing to the mid taper skin fade.
21. Tom Hardy Punk Hairstyle
Humorous Hardy is the best Hardy. A man who doesn't take himself too seriously will always be the center of attention. Therefore, you might want to try out his playful punk hairstyle.
22. Teenage Tom Hardy Haircut
Back in his modeling days, Tom was often seen with a messy hairstyle for teenage guys. Whether or not you're actually a teen, the look will always bring out your youthful side.
23. Wuthering Heights Hairstyle
Before he became an international icon, Hardy was appreciated as one of the best actors to take on the role of Heathcliff in Wuthering Heights. Sporting a shaggy, shoulder-length mane, Tom remains an inspiration for men who like flowing hairstyles.
24. Tom Hardy Hairstyle Messy Blond
Although we've yet to see Hardy with bold hair color, we have quite some inspiration in terms of natural tones. You can easily copy his messy blond look for a young and fresh approach to your haircut.
25. Burr Cut and Ducktail Beard
If you want to accentuate your beard, you may want to consider a shaven top. While you don't have to go fully bald, Tom proves that a burr cut perfectly complements an elaborate ducktail beard.
26. Tom Hardy Cropped and Gelled
Men with naturally thick hair will definitely want to take a shot at Hardy's cropped and gelled hairstyle. Once you take care of the haircut, all you have to do is throw in a bit of hair product and you're good to go!
27. Tom Hardy Taboo Haircut
One of the internet's most recent obsessions is how to get Tom Hardy's Taboo haircut. It's everything you could expect from the man of the year – rugged, sexy, and undoubtedly manly.
28. Red Carpet Slick Back
Have a black-tie event coming up? You can count on Tom's red carpet slick back hairstyle. It's highly presentable, polished, and simply perfect for dressy affairs.
29. Angular Fringe
Throughout the year, we've witnessed the outstanding rise of the angular fringe among hair trends. Hardy shows that you can rock it regardless of how warm or tough your personality is.
30. Soft Spikes
A younger Tom wasn't afraid to play around with spiky hairstyles, but tastefully so. Instead of harsh, vertical spikes, he chose softer ones with a forward tilt.
31. All Messed Up
Here's a pro tip we've observed from Hardy himself – the less you care, the more you'll attract. As a result, you can rock a heavily tousled hairstyle if you match it with the right attitude.
32. Buzz Cut
Would you rather keep your hair maintenance routine to a bare minimum? A buzz cut with a short beard always flatters the "manly man", not to mention that it only requires touch-ups now and then.
33. Edgy Caesar Cut
The Caesar cut is typically smooth and clean, but not in Tom's book. It goes to show that you can get creative with any haircut you choose, tailoring it to your personality.
34. Tom Hardy Regular Haircut
You don't have to hit the hair clippers to explore Tom Hardy hairstyles. In fact, you can get a regular haircut and still have Hardy's appeal. It's all in the way you carry yourself.
35. Spiked Bangs
Have a slightly longer top and you're not sure what to do with it? Take Tom's indirect advice and try spiking your bangs. However, avoid overdoing it with excessive hair product.
36. Flow Hairstyle
What we know today as the flow hairstyle was that irresistible neck-length look that countless heartthrobs sported in the 90s and 2000s. It's still as stylish as ever today, so keep it on your shortlist if you want a longer hairstyle.
37. Business Casual Haircut
Not too fancy nor too informal, Hardy's business casual haircut is ideal for the modern man on the go. Depending on your hair texture, you might not even have to style it all that much.
38. Gelled Spikes
If you're all about that "wet" look, hair gel should be your best friend. Although they're not as fashionable today as they were a decade ago, we're sure that gelled spikes will have their comeback.
39. Side Brushed
You'd be surprised to see the wonders that a comb and a quarter-size of hair product can work. Keep them close by and you'll be ready to impress in minutes!
40. High Fade with Spiky Quiff
Edgy quiffs look wonderful when mixed with high fade haircuts. The combination brings out the manly side of any guy, all while keeping things as sleek as possible.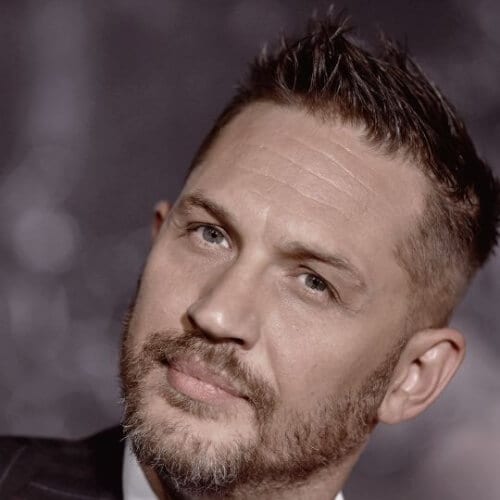 41. Wispy Bowl Cut
We'll probably forever associate the wispy bowl cut with Leo DiCaprio's iconic hairstyle from Titanic. Nonetheless, his Inception co-star and long-time friend Hardy pulls it off just as well.
42. Faux Hawk
Mohawks and faux hawks will always be clear bad boy indicators. You might not be comfortable going with a traditional mohawk, but Tom's faux Hawk is sure to inspire you.
43. Shaved Line
For years now, shaved lines in men's hairstyles have been a symbol of masculinity and ruggedness. Obviously, Hardy is the flawless example of how you can rock one the right way.
44. Side-swept French Crop
In spite of not being a French crop as we know it today, Tom Hardy's hairstyle in the shot above is a dream come true for thick-haired guys. Not only is it stylish, but it's also low maintenance.
45. Slick Comb Over
Edgy comb overs usually come to mind when thinking of Tom Hardy hairstyles. Notwithstanding, the Hollywood hunk succeeds in making even the slickest comb over look sexy.
46. Short Tuft
It's doesn't take a lot to draw attention to your appearance like Tom does. A look as simple as a short tuft paired with 5 o'clock shadow can be enough to make your mark.
47. Choppy Side Bangs
Layers play a key role in most Tom Hardy hairstyles. They're flattering for any hair texture and can add definition, attitude, and aesthetic value to any look.
48. Jagged Top Tom Hardy Hairstyles
Clearly, hair gel is often a must if you want to nail a Hardy-inspired appearance. No matter how short your hair is, running your fingers through it with a bit of gel at the tips can go a long way.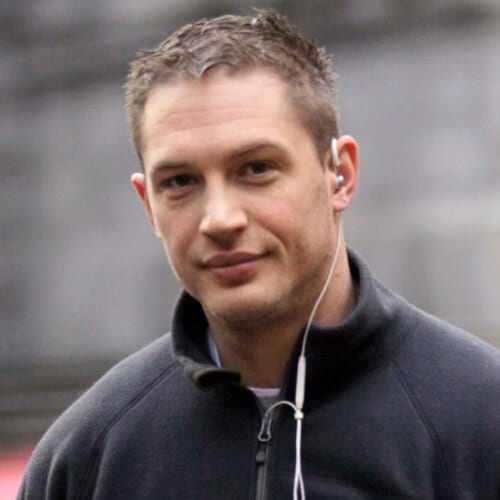 49. Fully Shaved
Vin Diesel, is that you? Nope, it's just Tom blowing us away with a fully shaved look. Build up some courage and see if it suits you as well as it does on our favorite actor.
50. Messy Curtain Bangs
Finally, if all else fails, you can go for the good ol' messy bangs hairstyle. It's one of the least complicated Tom Hardy hairstyles you can try out, and you won't even need to style it on the daily.
Conclusion
All in all, Tom Hardy hairstyles and haircuts are obviously manly, alluring, and pretty much irresistible for men and women alike. Nevertheless, regardless of the Hardy hairstyle you choose, always remember his secret ingredient.
At the end of the day, Tom succeeds in making such an unforgettable impression because he is highly confident. Therefore, rock your Hardy cut with your chin up!
Which of these haircuts do you wanna try out? Hit us with a comment to let us know!
This article was updated in June 2022.
Darla is a hairstylist and makeup artist. She loves creating bold and edgy looks for her clients and is very passionate about what she does. She has always loved writing, but never thought that she would ever get to publish her content. She decided to give it a try when she discovered us, and has been writing for our readers ever since!