Far and wide, fade haircuts are popping more than ever before. Even better, there are so many different types of fades that it's nearly impossible to not find the right one for you.
Whether high, low or anything else in between, a fade cut provides a massive upgrade for your whole appearance.
In our all-encompassing guide, we'll be unpacking all types of fades, starting with the answer to "what is a fade?" in the first place.
Moreover, we'll give you tips and tricks for how to style a fade like a pro, no matter if your hair is straight, afro-textured, short or long.
Let's get to it!
What is a Fade?
Before we dive into styling essentials, we'll address the fundamental question on many people's lips – what is a fade, anyway?
To put it shortly, a fade is a haircut that features tight and progressive tapering along the sides and back of the head.
The hairstyle has its roots in the United States military, around the half point of the 20th century.
Soldiers were required to keep their hair tightly cropped at all times, and the style continues to be ubiquitous among men in the army.
Fast forward to the 80s and the fade haircut became a staple in the African American community.
Sparked by the ingenuity of barbers and popularized by golden age hip hop icons, the fade secured its spot as one of the freshest hairstyles guys could get at the time.
Today, the fade has made a major comeback, extending to numerous styles that cater to the needs of all men.
Regardless of the length or texture of your hair, the grooming gem instantly boosts the charisma of the bearer.
How to Style a Fade
Learning how to style a fade all depends on the specifics of your hairstyle.
Considering how many different types of fades are out there, it's not a matter of a one-size-fits-all recipe, so to speak.
For instance, if you have longer hair on top, you'll obviously have more styling options available for you.
Just a few examples of longer hairstyles you can rock with a fade are comb overs, quiffs, pompadours, or faux hawks.
On the other hand, a shorter top can easily be molded in various ways to complement a fade too.
To style most fades, you can use any one of the common hair products listed below:
In addition, you might need a styling tool such as a comb (a wide tooth or narrow tooth) and a blow dryer, especially if you have longer hair.
In some cases, you can use your fingers to apply the product and work it into your hair.
Most of the time, you'll need to use a combination of a comb, your hands, and your styling product of choice to shape your locks.
The Different Types of Fades: A Visual Guide
1. Taper Types of Fades
The taper fade haircut is one of the styles that simply flatters any guy. No exceptions. As opposed to a classic fade, the taper fade usually has a thicker gradient. As a result, it's will leave more hair for a subtle approach to your fade.
You can pair your taper fade with any other hairstyle, such as the curly angular fringe pictured above. Even more so, it helps accentuate the styling by drawing attention to that specific area.
2. Different Types of Bald Fades
Also known as the skin fade, the bald fade haircut employs a notably tighter cutting method than that used in standard tapering. As the name suggests, the final haircut results in sections that are completely shaven down to the skin of your head.
As with all fades, the amount of gradient you choose to leave in your bald fade is up to you. Next up, we'll take a closer look at the different options you have from this point of view – high, mid, and low.
3. High Types of Fades
One remarkably popular option among men nowadays is the high fade haircut. Essentially, the hairstyle is defined by an abrupt transition that starts towards the top of the head. It resembles the high and tight cut, with the difference of fading out a bit lower down.
To accentuate a high fade, you can always add more shaved elements. Take the curved addition shown above, for example. Barbers typically refer to it as a surgical line, and the detail is used to emphasize the overall fade.
4. Crown Fade Haircuts
Want something between a high fade and a high and tight haircut? The crown fade is just what you're looking for. It's somewhere along the middle of the two styles, creating a professional yet eye-catching hairstyle for the person wearing it.
You can sport a crown fade with any type of length for the top. As you can see, it works just as well for fine hair as it does for thick locks. In either situation, you'll be creating an appealing foundation for your entire hairstyle.
5. Mid Types of Fades
The mid fade is ideal for men who want to spice up their hairstyle without being too flashy. It's also a reliable haircut option if you don't want to sacrifice too much hair in the cutting process.
Alternatively, you can make the gradient even finer if you don't want your mid fade to have a noticeably tapered effect. Simply ask your barber to trim down the upper part of your mid fade even more.
6. Drop Fade Haircuts
If you're all about incorporating dynamism into your appearance, the drop fade haircut is for you. Like you can expect from the name, the fade style above literally "drops" towards the lower part of your head.
Out of all different types of fades you can try, the drop fade is one of the most universal techniques. Indeed, it's an alluring choice for men with textured hair. At the same time, it can make a straight hairstyle far livelier.
7. Low Types of Fades
If you're not up for a high or mid fade, the low version is always there to meet your needs. You can get yours in a variety of ways, whether as a subtle detail or central point in your hairstyle. The V-neck low fade, for instance, will pull the whole look together.
By contrast, we can also recommend the cut as a discrete yet effective alternative for an otherwise showy fade. In this case, feel free to use it only to carve out the bottom part of your hairstyle.
8. Neck Fade Haircuts
Sometimes, all your haircut needs is the smallest accent that would make the greatest difference in the world. In other words – a neck fade. Rather than getting a full-head fade, you can use the technique to shape the back of your hairstyle.
While some men prefer a more pronounced neck fade, others use it as the icing on the cake for their haircut. In the latter situation, we recommend a gentle progression only at the base of the neck.
9. Different Types of Temp Fades
Even though there are different types of temp fades out there, they all share one common element. A temp fade gives you a killer hairline, hence the other "box fade" name it's known for. No matter how you choose to get your temp fade haircut, the results will be out of this world.
As a general rule of thumb, the boxier you get your temp fade, the sleeker the outcome will be. Naturally, there's a good chance you might not be able to replicate the look at home. Instead, we strongly encourage you to pay a visit to your favorite barber for a temp fade.
10. High Top Fade Haircuts
Another iconic haircut we have the black community to thank for is the high top fade. The legendary hairstyle kicked off in the 80s and 90s and has remained a must-have for hip hop heads around the globe.
Whether you use a timeless flat top at the base or a rounded off silhouette, your textured locks will be treated with the respect they deserve. The haircut is fairly easy to preserve, as long as you go to get a maintenance trim every now and then.
11. Beard Fades
Your hairstyle isn't the only part of your appearance that can benefit from a fade. In fact, a beard fade can be exactly the component you were searching for to bring your look to life. A bald fade with a beard, for instance, can make you look and feel like the flyest cat on the block.
What makes a facial hair fade so wonderful is that it can be adapted to any kind of beard you can think of. In saying that, you can rock a beard fade even if you're just a few weeks into forming a no-shave habit.
12. Burst Fade Haircuts
Are you the type of guy who isn't afraid to go above and beyond with their image? You're sure in for a pleasant surprise if you haven't heard of the burst fade before. It's a dream come true for men who want their haircut to be the focal point of their appearance.
The outcome is quite similar to that of a drop fade cut. However, the method is exactly the opposite. Instead of dropping down towards the ear, the burst fade springs out from the same area. It's awesome for getting a mohawk-like effect while maintaining a rounded form.
13. Undercut Types of Fades
It's easy to see why undercuts and fades completely go hand in hand. Although you don't need a fade to sport an undercut, the positive impact can be appreciated from a mile away.
We particularly recommend a faded undercut for men who have decided on keeping a longer top. The undercut portion plays a key role in emphasizing your chosen hairstyle. It also makes styling your hair in the morning a lot less time-consuming.
14. Pomp Fades
Everyone can agree that the pompadour is one of the classiest hairstyles for men that have ever existed. It's clean, sleek, and a must if you want to enjoy a dapper allure. To be frank, the pomp is a downright sexy and manly hairstyle you can't ignore.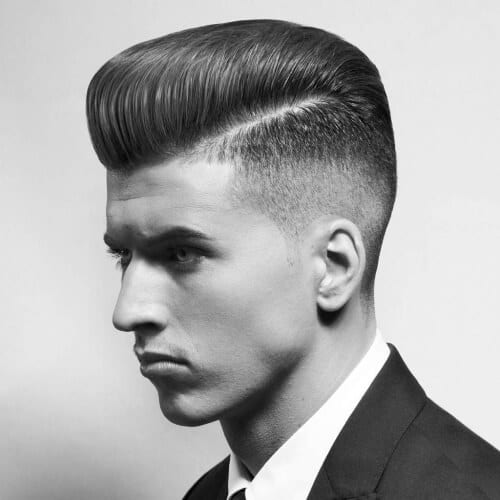 When you combine a pompadour with a fade haircut, the aftermath will blow your mind. The fade adds an edgy touch to the look while balancing out the grandiose impression many pomps tend to leave.
15. High and Tight Fade Haircuts
Since the fade is a signature military cut, we couldn't have talked about types of fades without mentioning the high and tight haircut. The hairstyle's name paints a straightforward picture of how it looks – tightly cropped far up on the head.
For a more creative approach to the normally conservative haircut, think about adding color. As an example, you can choose to bleach the top part of the hairstyle. In doing so, you'll get a nice boost of contrast, especially if the rest of your hair is dark brown or black.
16. Hard Part Fade Haircuts
Throughout the years, hard part haircuts have been an authentic symbol of fine taste and a flair for aesthetics. The look exudes masculinity without becoming over-edgy in the process. Simply put, a hard part is pretty much a regular hair part, with the exception that it comes in the form of a shaved line.
If you want definition without going over the top, you can soften your hard part up. It doesn't have to be shaven down to your skin to get results that are just as flattering.
17. Quiff Fades
When talking about hairstyles that accommodate different types of fades, the quiff haircut is among our picks of undisputed trends. There's no denying the modern charm that the quiff brings to the table, whether you're a child, teen or adult.
You can mix a quiff style with basically any fade haircut, whether it's a safe mid fade or a prominent skin fade. To recreate the look, just style your bangs upwards and slightly to the side.
18. Faux Hawk Fades
For years now, faux hawk haircuts for men have been a super stylish idea for guys who want to avoid a traditional mohawk. Popularized by soccer players and other international celebs, the faux hawk is a handsome hairstyle that comes with plenty of edge.
If you pair a faux hawk with a fade haircut, you get a rugged hairstyle that still has style written all over it. Most of the time, a mid fade will do, but you can also level up with a high fade for more of a bad boy vibe.
19. Shadow Fades
Is your personality as smooth as butter? You need a shadow fade haircut in your life. The precision and finesse that come with a shadow fade are clearly unmatched. Just look at that ultra-fine transition.
The majority of the time, a shadow fade works best with shorter haircuts. Considering that the main feature is the smoothness of the gradient, it's better accentuated with cropped locks. Nevertheless, that doesn't mean that you can't style your short top afterward.
20. French Crop Fades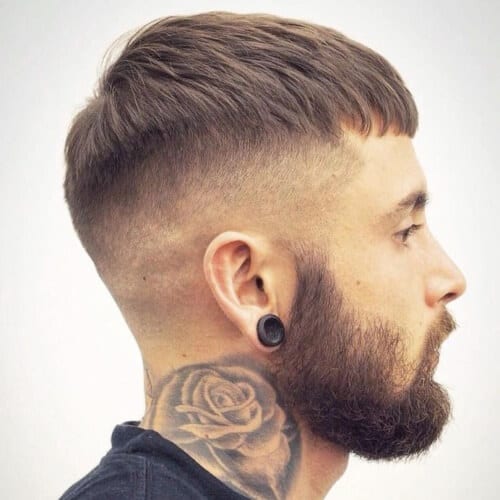 Within the last year, the French crop has worked its way to the forefront of hairstyle trends for men. It's easily one of the coolest looks on our list, especially for dudes with naturally thick and straight hair.
With a high fade as the cherry on top, the French crop is the way to go if you want to be in style right now.
Although the French crop doesn't leave that much room for mid or low fades, you can play around with the intensity of a high fade. For example, you can quickly branch out to a skin fade an inch below the outer line of the French crop.
21. Comb Over Fades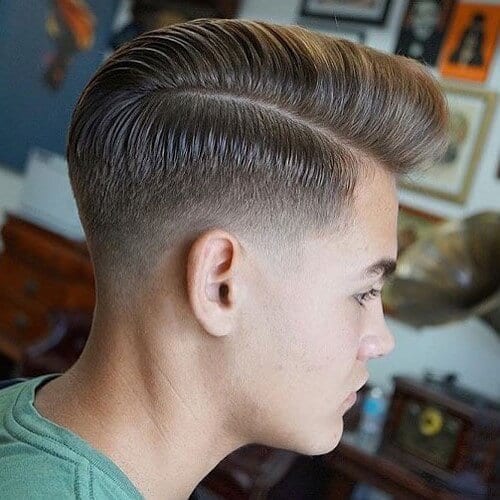 Whip out the hair gel, boys, 'cause things are about to get classy. We've all known and adored the combover hairstyle for decades now, ever since its rise in popularity in the 50s. Our fathers loved it, and now the same appreciation has been passed down to the new generation.
With or without a hard part, the combover pairs up amazingly well with a fade haircut. As you can probably already guess from the name, the style involves parting and combing your hair all to one side. Go with a mid fade for a classic approach or a high one for some contemporary edge.
22. Bald Fades with Beard
We talked about beard fades, but now a specific category deserves the spotlight. Out of the different types of bald fades available, you can rest assured that any beard will look incredible with your choice.
Even if you barely have some stubble, the gradient will make you stand out with refinement.
On the flip side, even the bushiest beard will be appropriately complemented by a skin fade. So much so, in fact, that it will make your beard steal the show. Therefore, if you've worked hard to attain a picture-perfect beard, do yourself a favor and frame it with style.
23. Slicked Back Fades
We know, we know. The slicked back hairstyle isn't for everybody, nor does it intend to be. Nevertheless, if your personality is the right fit, you'll end up with the hairstyle of your dreams. For starters, try mixing your slicked back top with a soft low fade and see how it looks.
For more of a rock star edge, don't hesitate to push your limits with a high bald fade. Together with a slicked back hairstyle, you'll be effortlessly cool on a daily basis.
24. Waves Fade Haircuts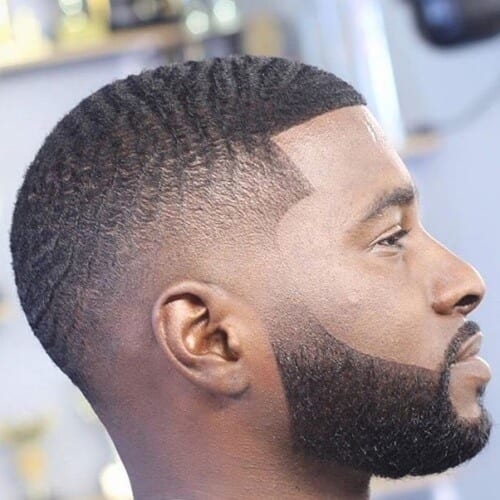 Deep waves have been a barber shop favorite for years and years. Despite being exclusive to afro-textured hair, waves look absolutely stunning. Top them off with a proper fade cut and you have a hairstyle that will make heads turn with admiration.
To a waves hairstyle with a fade haircut, make sure that your curls are closely cropped to begin with. After that, leave it up to your barber to brush the ripples into place until you get the perfect waves.
25. Crew Cut Fades
By now, you've surely noticed that all types of fades are directly inspired by military cuts. The same goes for the crew cut haircut. Featuring a neatly trimmed top, the crew cut is an easy-to-maintain hairstyle for guys who don't have that much time on their hands.
You'll almost always spot crew cuts with high fades. Notwithstanding, you can choose to try your hand at a mid fade if you want a different approach. Either way, you'll enjoy an attractive and practical hairstyle.
26. Blowout Fades
The blowout fade is just as awesome as it sounds. It allows you to free your locks, embrace your afro, and express your bold personality. Just as an example, a blowout with a neck fade can be the best finishing touch for your new 'do.
On the other hand, you can opt for a full fade to accompany your blowout. Here, you can see how the mid fade creates a boxier silhouette by removing curls from the sides.
27. Sideburns Fades
You won't believe how big of an impact a style of sideburns has on your look. Sometimes, all you need is a pair of faded sideburns to connect your hairstyle and beard in a flawless manner.
If you want to highlight your finely trimmed sideburns, we recommend picking a low fade haircut to go with them. Anything more dramatic and you'll be drawing attention away from them and to your haircut.
28. Mohawk Fades
Fade haircuts and mohawks really are the perfect fit, no matter if you have curly or straight locks. In the first case, we advise you to opt for a wide mohawk with a smooth grade on both sides.
Is your soul unapologetically rebellious? Well, go ahead and show it off with the ultimate punk mohawk. You can use the fade aspect of your haircut to highlight the longer portion going down the middle. Additionally, the shaved line on each side will further accentuate the mohawk.
29. Spikey Types of Fades
Even though the days of spikey boy band haircuts are long gone, the concept has been adapted to meet modern trends. Rather than lathering your hair with rock-hard gel, place a small amount on your fingers and rake your hair upwards.
You can also use the same technique but push your locks slightly to the side. In either case, a high fade is just what you need to make the difference between an early 2000s and late 2010s spikey hairstyle.
30. Shaved Design Types of Fades
Finally, we're happy to have saved the fade idea we admire the most for last. Shaved designs work for all types of fades, regardless if you want something simple or complicated.
If you truly appreciate the artistry involved, you can even get inspired by tattoos and other illustrations for your hair design. All you need is courage. Your barber will take care of the rest.
Conclusion
To conclude, you now have all the info you need to get the fade you've always wanted.
After you take your pick from the different types of fades at hand, use our tips for how to style a fade to complete your look.
When you're done, share your own insight with fellow fade lovers by leaving a comment with your experience.
Want to immerse yourself in even more inspiration? Check out our additional list with tons of other fade hairstyles for men.