Choosing a Zac Efron haircut can prove to be difficult because there are so many great choices.
We feel like we've known Zac Efron for a lifetime. The High School Musical star has proven to be more than a pretty boy and showed real class in his latest movie releases and role choices.
When it comes to Zac Efron's hairstyles, they can easily be put in 2 categories: long hair and short hair.
The Zac Efron Long Hair
If you want to achieve the Zac Efron Long Hair look you need to be comfortable with long bangs.
This haircut is mostly from his High School Musical days, and it was really popular during that period.
Every teen guy, including a young Justin Bieber, had that hairstyle.
The Zac Efron Short Hair
In terms of short hair, he likes a messy, tousled look.
We have seen him with a crew cut, different types of quiffs, undercuts, and he has always looked amazing.
His most popular haircut is the one from Baywatch. This hairstyle is an undercut with a long top. The top is textured and swept back.
30 Attractive Zac Efron Haircuts: A List
1. Platinum Blonde Zac Efron Haircut
Zac Efron was never one to shy away from changing his hairstyle, and that also includes its color. Just check out how cool he looks with platinum blonde hair.
2. Undercut + Textured Hair
In the picture above, Zac Efron combines a simple undercut with textured hair. The result? A perfectly fine bedhead look that we love!
3. Short Sides Long Top Zac Efron Hair
The actor really knows how to make a hairstyle his own, but especially in the case of short sides, long top haircuts, so can you. That doesn't mean you can't get inspired by this variant.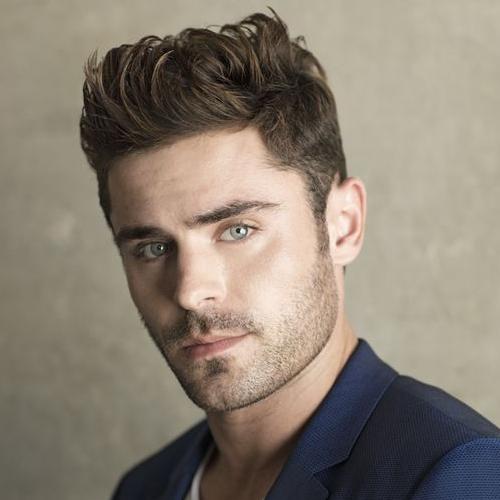 4. Taper Fade + Spiky Hair
There are many different ways to wear a taper fade, and in here, you can see it combined with spikes for a punchy effect.
5. Zac Efron Short Hair
After many years of almost medium-length hair during his Disney years, Zac Efron shocked quite a few with his short short hair. But doesn't he look dapper?
6. Highlights + Swept Back + Undercut
Here you can see a perfect example of two different haircuts: an undercut whose longer top was swept back to create a smoother look.
The finishing touch? Some highlights for those who don't want to completely dye their hair.
7. Zac Efron Bandana Hairstyle
Hair accessories are not only for women. Here, you can see how to sport a bandana and look cool while doing so.
8. Wavy Hair + Beard Designs
Quite the extravagant look, for this role, Efron combined his wavy locks with a what could have been a full beard. Instead, he went for beard designs.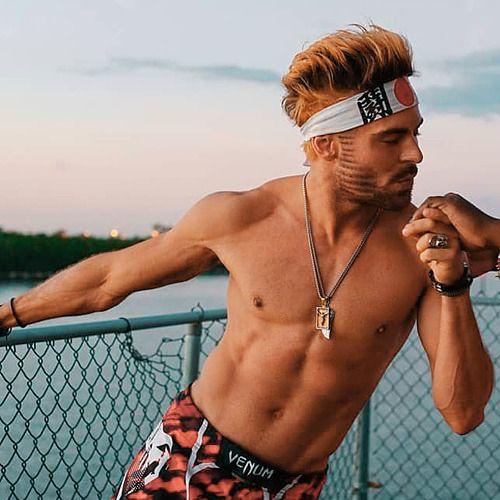 9. Zac Efron Baywatch Haircut
As mentioned at the beginning of this article, Efron is now very well known for his Baywatch hairstyle, a cool slicked back look.
10. Spiky Quiff Zac Efron Haircut
Spiky hair? Check! Cool quiff paired with sunglasses? Check! The perfect look for a night out? Absolutely!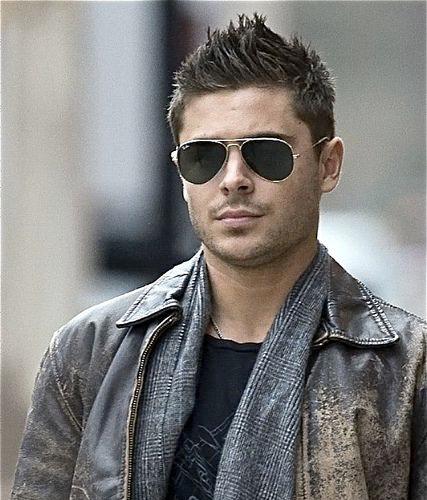 11. Modern Pompadour Zac Efron Hair
There are many ways to wear a pompadour besides its classic style. Draw inspiration from how Zac Efron wears its modern version.
12. Young Zac Efron Bangs Hairstyle
What a throwback to his days as a budding star. Still, his layered haircut with long bangs could be a great option for our teenage readers.
13. Comb Over + Soft Part
Comb over hairstyles are increasingly popular these days, and here, you can see a great way of wearing it. Combine it with a soft part if you want a smoother look.
14. Zac Efron Wet Look with Bangs
There's the wet look, and then there's the wet look. Zac Efron sports the second, and the way his wet hair falls creates a set of bangs.
15. Long Slick Back Zac Efron Hair
You can try the slicked back wet look with longer hair as well.
16. Medium Length Wavy Hair
Another great example of how you can grow out your hair and sport medium-length wavy hair.
17. Crew Cut
There are military cuts, and then there are crew cuts. If you're looking for the latter, just draw inspiration from the picture below.
18. Tousled Zac Efron Haircut
Pair your tousled hair with a beard and mustache and you are all good to go, whatever the occasion.
19. Slick Back + Undercut + Highlights
Here, we have yet another great example of an undercut paired with a slicked back longer top and highlights.
20. Short Sides + Quiff
Who says you can't pair a quiff with short sides? Definitely not Zac Efron.
21. Temp Fade + Tousled Hair
Zac Efron loves his tousled hair and here, he sports it with a temp fade base.
22. Ivy League Zac Efron Hair
Whether or not you are a college student or not, sporting an Ivy League haircut is always a good idea. It's a perfect fit for both a professional environment and a day or night out.
23. Wavy Hair + Hard Part
Combine your wavy hair with a hard part for a more serious and put together look. Pair it with a mustache and beard and you are good to go!
24. Spiky Hair + Goatee
You might have your opinions for or against a goatee, but you can't deny this: it looks good when combined with this spiky hair look.
25. Short Quiff + Hard Part
Another great example of how you can wear a har part, this time around, combined with a short quiff.
26. Messy Faux Hawk
Want a mohawk but aren't fully convinced or on board with the idea of it yet? Not a problem! Just go for a faux hawk first.
27. Zac Efron Ted Bundy Haircut
A role that's stirred a lot of controversies. Here you can take a look at Zac Efron portraying Ted Bundy, the renowned American killer. According to some, a disturbingly good role, according to others, a too hot Bundy.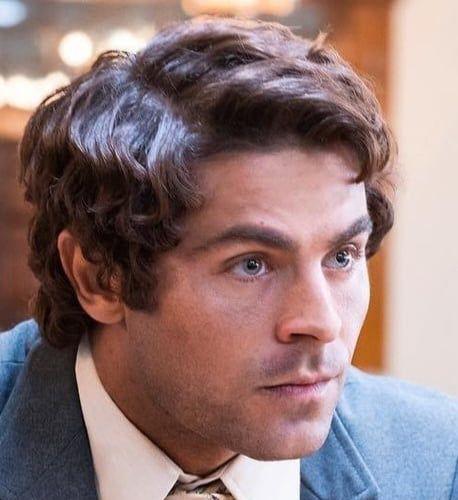 28. Bedhead Haircut
Looking for a no-hassle, low commitment haircut? Just go for the bedhead look!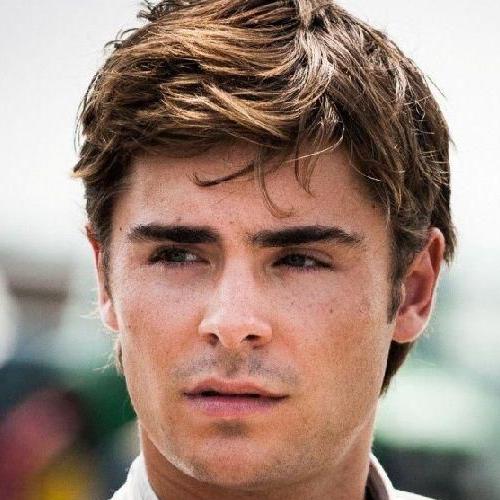 29. Temp Fade Platinum Blonde Hairstyle
Not that easy to see in this first original picture of his haircut, but Zac Efron is once again platinum blonde. His blonde locks are paired with a temp fade and a fuller beard than in the examples above. The mustache is in place too!
30. Zac Efron with Moustache
Perhaps the perfect picture to showcase one of his favorite facial hair elements, here, you can observe Efron's mustache in all its splendour.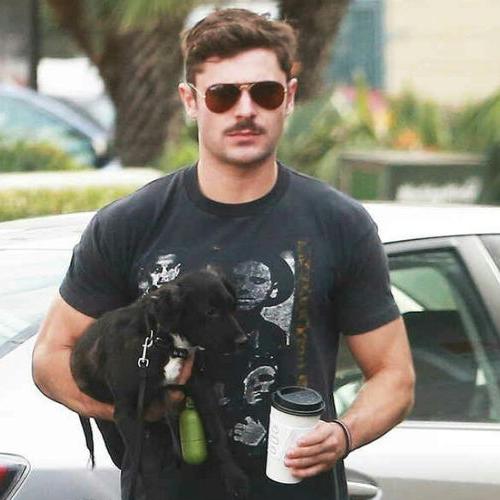 Conclusion
Zac Efron is more than just a pretty boy, as his film career goes to show. He always knows how to style his hair for maximum effect.
Let us know in the comments below what are your favorite Zac Efron haircuts!
Darla is a hairstylist and makeup artist. She loves creating bold and edgy looks for her clients and is very passionate about what she does. She has always loved writing, but never thought that she would ever get to publish her content. She decided to give it a try when she discovered us, and has been writing for our readers ever since!