What is your favorite TV show now that the monumental Game of Thrones has officially come to an end?
Is it Stranger Things? Well, that's also another year that we have to wait for new episodes (fingers crossed that we'll get a confirmation soon).
But the hype is real for another show coming soon to Netflix, similar, as some would say, to Game of Thrones.
I'm talking about The Witcher series!
Personally, I only had a brief look at one of The Witcher games, but millions of people around the world enjoying the games and love the book series.
Also, in case you didn't know, Netflix just recently released the trailer for the upcoming hotshot and it's time to look at the haircuts in it!
Check out the trailer below, and then scroll to see our breakdown of the haircuts!
The Witcher Hairstyles: A Close Look
1. Geralt of Rivia (Henry Cavill)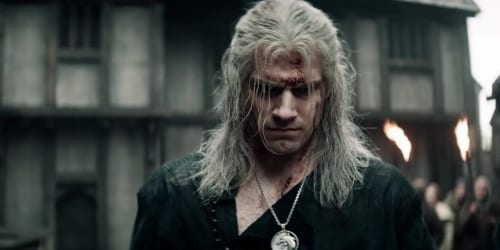 The main character, the Witcher himself, Geralt of Rivia, is portrayed by Henry Cavill.
The actor is very well known from his portrayal of Superman and role in consequent Batman vs. Superman.
Henry Cavill looks almost identical to the Gerald we got to love from the video games and I'm excited to see him in action!
His long white hair is tied up in a half up, half down style and it looks impressive!
It also gives the character the mysterious, yet strong appearance that we're expecting from (and for) him.
2. Istredd (Royce Pierreson)
Istredd, a highly respected and wel–known sorcerer plays an important role in the books and we are eager to find out how his story unfolds in the show.
With his short and rather cute afro, he looks a bit unfitting in the fantasy, medieval-inspired world of The Witcher.
But since he is a sorcerer, we can presume that the producers were going for a more 'out-of-this-world" look anyway.
Take a look and see how fans and the Wikia community envision him as per the books.
3. Mousesack
The last male character spotted in The Witcher trailer is Mousesack, played by Adam Levy.
Gamers will know him as the druid Ermion, but in the trailer, we see him trying his best to guide Geralt on his path.
Here he is, as per The Witcher Wikia fandom:
Conclusion
So there you have it, all major male The Witcher characters we've spotted so far in the Netflix trailer.
As you can see, there are some major differences in between how the show will portray them and how they looked in the books/video games.
Still, the excitement is very real and people can't wait to see the show.
Will you be watching the Netflix Witcher? And if yes, what do you make of the way the male characters look! Feel free to comment! (and do let me know if you want more!)