Long hairstyles for men look amazing and longer hair is something that should be treasured! Although more nowadays, you still won't see that many men embracing their long hair, even though they should. Up or down, braided or loose, wavy, curly, or straight, long hair is there to be celebrated!
Now, without any further ado, scroll down to see our list of the coolest long hairstyles for men that will inspire you to make the most of your long locks!
1. Long Hairstyles for Men with Colored Tips
Long hair is great, but there sure is a lot of it. Don't stick with one flat color when you can add in color to the ends for a pop of needed life in these dyed long hairstyles for men. Keep it safe by adding some blond to your dark hair or darker colors to light hair, or go bold with an unconventional color!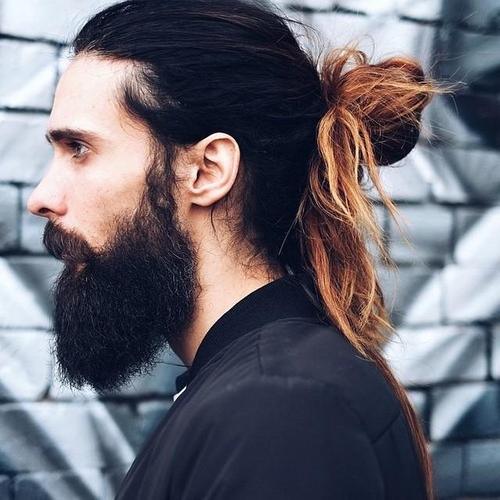 2. Long Dreadlocks Hairstyles
If you've spent the time growing out your natural hair to its full length, make it manageable and stylish by also throwing it into some long dreadlocks. As timeless long hairstyles for men on their own, your locs will speak volume about your culture and personality.
3. Natural Unbrushed Hairstyles
Get the equivalent of a longer-length bed head by opting to keep your hair in its natural state and leave it unbrushed. Run a hand through your hair and shake it up a bit to get that intentionally untouched look.
4. Long Haircuts for Men with Ringlets
If you're fortunate enough to have perfect little ringlets, don't hide them away in a bun or straighten them. Let them fall loose around your shoulders and along your back in this curly version of long hairstyles for men. Use a little oil to give them some shine, but otherwise, let those handsome curls flow free!
5. Loose Ringlets Hairstyles
Just like those tight little ringlets, long loose ringlets are just as pleasant and should be treasured too. Don't straighten out the curls or tuck them into a ponytail. Instead, part them in the center or to the side and let them cascade around your face. This will draw attention to your facial features!
6. Braids or Dreads with Highlights
If you need a way to keep your long hair in check or just want to change things up, go for long braids or dreads with highlights. These highlights are a great way to bring new life to your hair with different colors making their way through the long and braided strands.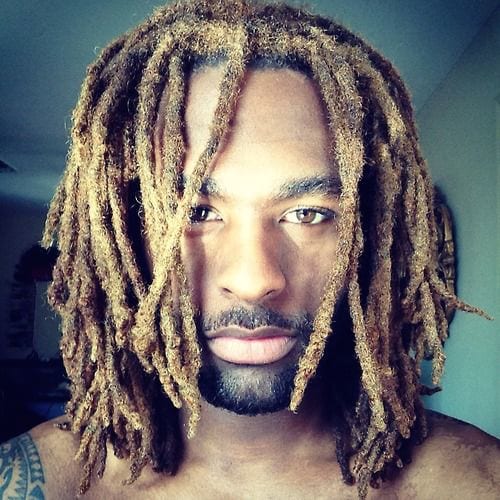 7. Beach Haircuts for Long Hair
Give your locks a tousled, beach look with some mousse or a little bit of gel and leave the rest to the elements (as in, to the wind) to toss your hair about for that perfect natural look!
8. Pushed Back Longer Hairstyles
If your longer hair is all one length, you can lend it a little more dimension by pushing it back over the crown of your head. This not only adds volume to what is usually a flat crown space, but it makes it more piecey to give it that depth and layered appearance.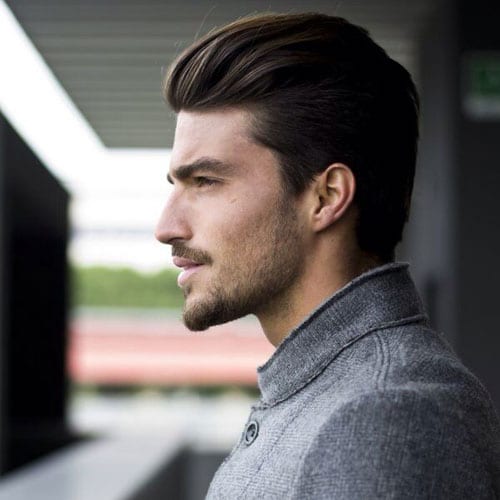 9. Center Part Haircuts for Long Hair
Something that you can't go wrong with when it comes to long hair is letting it provide a natural border for your face. Draw out your favorite facial features when you decide to part your long, straight hair right down the middle, letting it fall around your shoulders and down your back.
10. Natural Wave Longer Hairstyles For Men
If your mostly straight hair has a little bit of a wave to it, don't let that go to waste! With a center part or a side part, you can easily accentuate that natural texture. A central part displays the top layer of hair, while a side part will showcase some texture.
11. Half Up Half Braid Hairstyles
The half up, half down style is a great choice for long hair. It gives it a more diverse look, and you can wear the up-half in a number of ways. Put it in a braid to the side, in a high ponytail-like braid, or even braid it into a bun and let the rest of your hair fall as it will.
12. High Ponytail Hairstyles
If your hair is ultra long, one of the best ways to manage it is by throwing it into a high pony. This will draw the eye upward from your face as well as give your hair some brand new, modern appeal. This look works best with very straight hair.
13. Wavy, One Length Hairstyles
Wearing your hair in one solid length is great, especially when you have naturally wavy hair that has texture without being styled. Expose some of the wave beneath the surface with just a quick push back of the top layer of your hair or part it to the side for greater effect.
14. Wavy Side Part Long Hairstyles for Men
A wavy side part delivers even more body to your hair than in its natural state. When you part your wavy hair to the side, you are showcasing what typically tends to be more textured hair than that found at the top layer which can easily get straightened out by the wind.
15. Messy Braids Long Hairstyles for Men
For a truly unique look, play with your natural hair and put it in some tight braids along the scalp. But instead of following those braids all the way down, open them up at the back and let your hair go wild. This style looks great in ponytails or in pigtail styles.
16. 60s Freedom Haircuts for Long Hair
In earlier decades, people embraced their long naturally curly hair and did nothing to it except let it roam free. Embrace that liberty and let your long natural hair do what it pleases! You can part it either down the middle for a sprawling effect or the side for extra body.
17. Unkempt Side Part Long Hairstyles for Men
Another great thing to do with wavy hair is to leave it untouched. No product, no comb – just a quick part to the side for a bit of style while letting the rest of your hair behave naturally. This gives you a mixture of bed head and beach hair in a way that will gorgeously display those waves!
18. Retro Tight Ringlets
Embrace the styles of the 70s by letting your tight curls take center stage. Comb them out in all directions to achieve a retro afro look, one that will get modernized by your current style of dressing. This style speaks of confidence and culture and will frame your face excellently!
19. 90s Surfer Long Hairstyles
Seen in many a 90s film, this style of hair is reminiscent of days spent on the beach. It is disorderly, messy, and intentionally so. Part it in the middle or choose a side and flip it over. Just don't do too much else to it outside of that tousle.
20. Wavy Afro Long Hairstyles for Men
You do not need to have ringlets to make an afro work. Your wavy natural hair will do just fine and all you'll need to do to it is comb it out. Do so in all directions for a voluminous look that is sure to turn heads and make a statement.
21. Dramatic Short Sides Long Top Haircut for Long Hair
Add some drama to your 'do when you choose to ditch the center part for a more extreme one. Part your hair to the side as far over as you can and then flip it for a huge lift and impeccable style that adds a bold statement to any ensemble.
22. Tight Locs Longer Hair
Adding locs into your natural hair is a surefire way to add some class and style while also making your natural hair more manageable on a daily basis. Permanent locs or tight braids – it doesn't matter. You can choose how you want to form your hair and then choose again whether to wear them up or down.
23. Wavy Locs Long Hairstyles for Men
Not all dreadlocks are the same. While some are thick and chunky, others are thin and have shape. Use the latter when you implement wavy locs into your hair. These locs are slim and have the appearance of cascading water as they run down your back and along your sides.
24. Man Bun Hairstyles
The man bun hairstyle is an ultra-trendy way to style your long hair. Pull it on top of your head in a messy bun or to the back of your head for a more managed and cleaned up look. Both are great and will give you a modern appearance.
25. Lemon Juice Hairstyles for Long Hair
Called lemon juice blond or bleach blond, this vibrant platinum blond is a great way to change up your hair color. If you do not have layers and your hair is all one length, this is an excellent choice as you're trying to decide how to add more life to your 'do.
26. One Length Red Hairstyles
If blond isn't really your color, you can still change up the way you wear your hair by dying it red. All one length is a nice choice for long hair but it can leave it feeling as if it is lacking something. Fill in that void with gorgeous red hair.
27. Half Up, Half Down Long Hairstyles for Men
No matter the texture of your hair, a half up, half down look is your key to volume and vitality. Wear the top half in a man bun for a classier look, as a sprouting high ponytail for height, or even braid it for an extra dash of textured style.
28. Long Straight Center Part Hairstyles
If you are lucky enough to have this long, incredibly straight hair, use it! Keep it one length and grow it as long as possible. You can part it in the center for a more subtle appearance or flip it to the side for height.
29. Voluminous Side Part Hairstyles
When you have thick hair, it is best to use that to your advantage. If it is wavy or curly, that is even better! Don't neglect the idea of a side part – instead, part it far over and flip it to expose all of your voluptuous waves or curls to the world.
30. Natural Side Part Hairstyles
As if your natural hair didn't have enough volume before, now you can add even more to it with just a simple part. When you part your natural hair to the side, the curls from one end are going to rest atop the other end and add shape and height.
31. Side Swept Long Hairstyles for Men
Similar to a side part, having side-swept hair does numbers for its shape and texture. You don't necessarily have to part it to get this look. Simply use your hand and just brush it to the side and let the wind take it for a natural look.
32. Loose Waves Long Hairstyles for Men
Even if your waves are not heavily defined, you can still play them up to your advantage. It is recommended that you wear those handsome loose waves that you have in a central part.
33. Untouched Back Length Hairstyles
Straight hair doesn't have to be absolutely pin-straight to be gorgeous and unique. One way to help your slightly wavy hair make a statement is to grow it out down your back. The weight will draw out more of the kinks to help facilitate that subtle wave effect and let it behave naturally.
34. Long and Piecey Hairstyles
If you wear your long hair in one length, you can give it more depth by adding a little texture to it. Using a soft gel, go ahead and roll your hair very lightly and help it form thin strands here and there. This will give it a piecey appearance.
35. Loose Curl, Long Hairstyles for Men
Curls don't need to be thick little corkscrews to be terrific. Embrace the loose curl of your hair by wearing it long and natural. You can part it to the side or down the middle. Both will have the same effect and frame your face handsomely.
36. Side Braid Long Hairstyles for Men
One style that is both practical and incredibly handsome is the side braid. This braid features a side part of your straight hair. It is brushed over to one side and from there a braid of your choosing is formed. This not only makes it abundantly clear that your hair is long; it also makes it easier for you to manage during the day as well.
37. Bedhead Curls Hairstyles
Everyone can sport the bedhead look! You can get it and make it look intentional with just a little product to help smooth out some of the frizz and help your curls preserve their natural shape. Then, just tousle and go for a 'sleepy' look.
38. Viking Hairstyles for Men
Though this does look best with the Nordic appeal of blond hair, anyone can pull off this style. Viking hairstyles involve a messy appearance that is characterized by long hair on the bottom flowing freely and a natural curl or stick straight length finishing off the look.
39. Natural-Looking Long Hairstyles for Men
The best thing that you can do for your hair is let it behave naturally. If you have long wavy or thick hair, this means letting it fall freely and do as it wishes. Whether that means the hair is going out to the sides some or hanging heavy down your back, it will likely still look great!
40. Feathered Long Hairstyles for Men
The feathered look is something that Farrah Fawcett made popular, and today, there is a style that resembles that while still being suitable for men. Instead of it looking too feathered, your hair simply looks windblown, and your natural curls and waves are given room to shine. Fling back the sides a bit with some gel and see what the surrounding volume does for your face!
41. Half Bun Half Down Long Hairstyles for Men
One of the classier and tidier ways to wear your hair is in a half up, half down style. You can easily achieve this look with some help from a man bun. The man bun rests on the back of the upper part of the head while the remaining hair flows freely down the back.
42. Side Sweep With Disconnected Undercut
Long hair leaves room for many a dramatic statement, and you can achieve that too no matter if you have all one hair length or layers. Grab it on one side near the ear and flip it up into something of a part. Bold volume and texture will be delivered through this side sweep and disconnected undercut combo.
43. Man Bun with Box Braids
A man bun is a trendy way to style your hair, as you can already tell, but it often only draws attention to the top. Spice up the sides of this style with a braid of your choice – French braid, fishtail, or typical 3-strand – for a fresh new take on the man bun.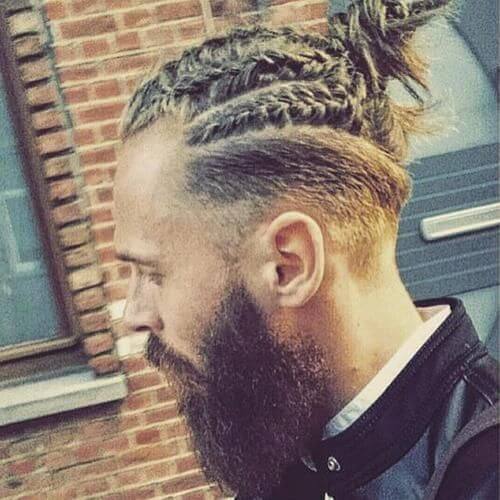 44. Long Braid, Shaved Sides Hairstyles
Your long hair deserves the spotlight, so give in and let it shine! Contrast against the length of your hair by shaving down the sides. From there, you can braid your back-length hair into a thick and beautiful rope that will easily stand out in any crowd!
45. Long Braided Faux Hawks
If you like the idea of a faux hawk but aren't ready to commit to shortening your hair all the way, fear not. Keep your hair long while you create the illusion of a faux hawk with a braid. This braid starts at the hairline, in the center, and goes all the way behind your head, down to the length of the rest of the hair to deliver the illusion.
46. Long Hairstyles for Men with Highlights
Adding some highlights or layers will help your long hair get some texture and depth. The layers work to create a voluminous effect that lifts the hair while the highlights accentuate those layers as well as accentuating the natural waves or curls in your hair.
47. French Braid Hairstyles for Men
Cornrows or tight French braids start along the scalp and expand into a conglomerate of braids that is striking and daring and certainly eye-catching. They also make your hair easier to manage.
48. Multi Pony Hairstyles
The multi pony is great for gents with straight hair who want to do something a little different when trying to manage their thick locks in a stylish way. No matter if the sides are cut or long, the multi pony can be made just by pulling the top hair into a high ponytail and sticking hair ties throughout it.
49. Undercut Long Hairstyles for Men
The undercut is one of the trendiest disconnected looks that are in style right now. With an undercut, you can wear your hair up in a ponytail to show off the shaved sides or wear it parted down the middle to cover them up. Go with both instead and part it down one side!
50. Messy Man Bun Hairstyles
As opposed to its neater alternative, the messy man bun is not meticulously combed back into place. Instead, it is pulled up quickly for an intentionally unkempt look. The sides are left to be messy and frizzy as well for a fresh out of bed appearance in no time.
51. The Weeknd Long Hairstyles for Men
We've talked all about The Weeknd hair ideas, so it's natural that we would include his most famous look on our list of long hairstyles for men. If you have the courage, try out the artist's iconic dreadlocks hairstyle with shaved sides.
52. Goth Long Dreads
You don't have to follow trends or go with the crowd, especially if you want to rock long hair. You can go all out with a two-tone hairstyle. Even more, you can shave down the sides and create dreadlocks for the longer part of your hair.
53. Two-Braid Long Hairstyles for Men
If you want to play around with your long hair, there are some other braided hairstyles you can try out. For example, you can part your locks in two and create a braid on each side. You can even throw a zig-zag part into the mix for a truly memorable appearance.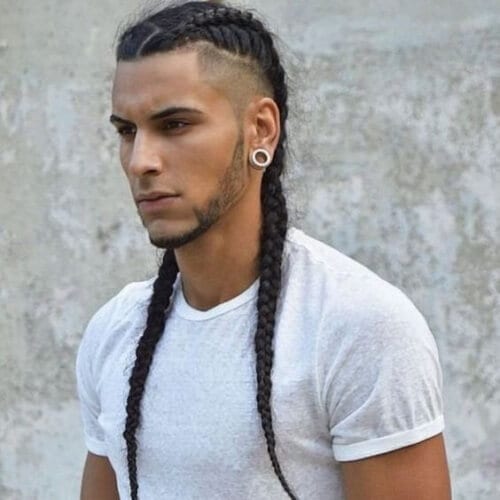 54. Modern Mullet Hairstyles
Are you the kind of man who likes to blend retro with contemporary? Well, then you can take a classic hairstyle like the mullet haircut and give it a modern twist! The resulting modern mullet is a fantastic, flowing hairstyle that will catch the attention of all the ladies.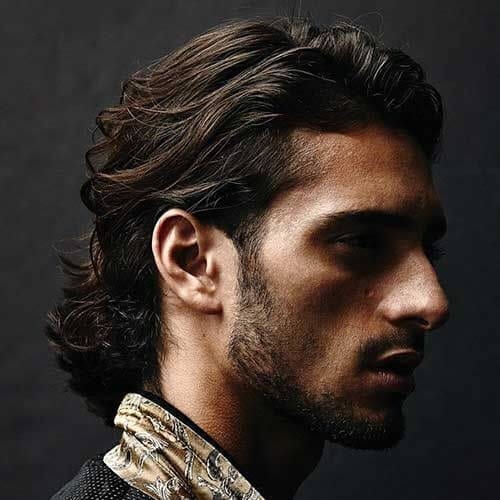 55. Extremely Long & Straight Hairstyles for Men
Lastly, we have the ideal look for men who want to wear their hair really long. If you have naturally straight hair, you won't have any problems sporting this hairstyle. Make sure you wear it with confidence!
How To Style Long Haircuts
Having long hair can be difficult for many, but if you have the right hair products, all your problems will disappear! Here is our 2-steps method of taking care of that godly long hair:
Pre-styling:
To prevent your scalp from drying out, we recommend washing your hair once every 2-3 days with this peppermint infused shampoo that protects the scalp.
For long hairstyles, using a brush is obligatory. The best brush we deeply recommend is this Mason Pearson brush which spreads the sebum perfectly evenly across your hair.
Brush your hair regularly!
Using a daily conditioner will help pamper your hair and give it a smoother feel.
Styling:
Having long hair might be difficult to control it and that's where the Redken Molding Paste kicks in. You'll look amazing and your hair will move naturally, but still be controlled.
Conclusion
Long hair, with its many options for varying lengths, colors, textures, and layers, is incredibly versatile.
The length can help you pull off any sort of look, and for that reason, it deserves to be experimented with. This list of the coolest long hairstyles for men should inspire you to play around a little with your own long locks!
What's your favorite way to wear your long hair? Tell us in the comments!
This article was updated in August 2019.
Lilith Wetherall is a freelance writer, editor, and blogger. She graduated in 2014 with a B.A. in Theatre Arts and a minor in Journalism. She later found her passion for hairstyles and is now professing in a men's salon. Some of her favorite things to do include reading, writing, watching movies, and being outdoors. When she's not writing for our readers, she is either at the salon or at home trying out a new hair color.