Shaved sides hairstyles men fashion is trending now because of the modern look and easy style.
If you are searching for some popular and classy haircuts, then you are in the right place.
To stay on top of trends and look your best, make sure you check out all of these shaved sides hairstyles below.
1. Ocean Waves
When you decide to shave your sides but still want to be stylish, you must learn how to deal with the hair on top. Soft ocean waves are a great way to sport this fashionable look.
2. Hairstyles for Men with Shaved Sides and Bangs
Not many guys are ready to deal with bangs. However, large foreheads can benefit from them greatly. This side shaved hairstyle for men is designed for people with wavy and thick hair.
3. Rainbow Mohawk with
Shaved Sides
If you are not afraid of a full-blown mohawk, go ahead and add some crazy color to make it even more fantastic. Go for something absolutely outrageous like the rainbow.
4. Faux Hawk Taper Fade
This mix of a faux hawk with a taper fade is a smart option for men with hair that grows quickly. Leave hair in the places where you want it to grow to get impressive results.
5. Tousled Top and Short Sides
Most men don't like a clean haircut, they are interested in getting short sides with a rough hairstyle for the top. Go for a choppy haircut with tousled layers on the top.
6. High and Tight Shaved Hairstyle
This hairstyle reminds about the side shaved haircuts of the 90's. Wear this hairstyle with a bleached top or highlights accompanied by the shaved sides to give a cool appearance.
7. Swept Over and Shaved Taper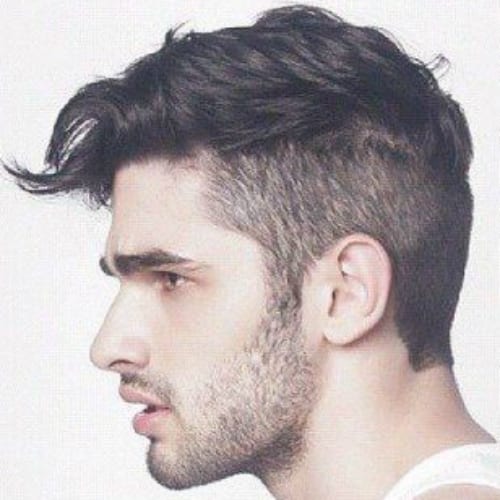 A perfect side part haircut can be made with the combination of side shaved and long top. Swept over haircut features messy curly swept hairs on the top and small shaved sides.
8. Blow Back Haircut with Shaved Sides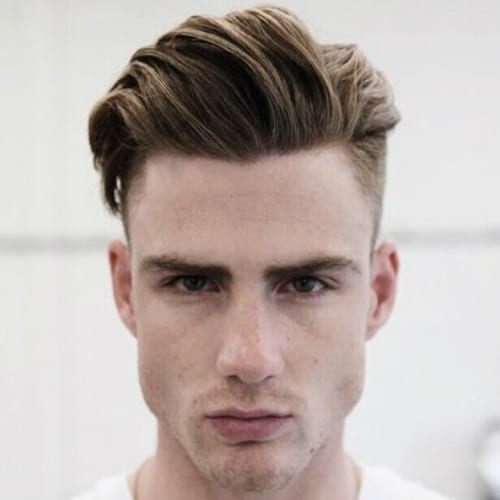 This shaved side hairstyle requires a blow dryer and some gel for styling. Blow back the hair using the product and keep it as it is for a while. You will get the look you desire.
9. Rocker Crop with Shaved Sides
This haircut will definitely need the skills of a professional barber to style the hair with an undercut starting from just below the hawk and creating a gradual fade for a smooth look.
10. Side Part with Faded Sides
This style with a clear shaved line is the requirement of a modern haircut. The top hair is separated from the sides using a shaved line which gives you an extra stylish look.
11. Simple

Mohawk
Simple Mohawks are the choice of many men. There is no tricky tapering or fancy top styling. Shave the sides and keep the top as natural as you wish.
12. Shaved Neck
Some men have hair growing on their necks and most of the haircuts except for long ones require it to be shaved off. Make sure your barber does it by making it look perfect.
13. Classic Taper Fade
A classic taper fade involves shaving your sides just to shape up the hairstyle. This hairstyle will save you time and money until the next barber shop visit.
14. Tattoos with Shaved Sides
If you have a high Mohawk, you can finally get some tattoos on your head. They might be a little painful but the impression they make is truly tremendous.
15. Parted and Slicked to the Side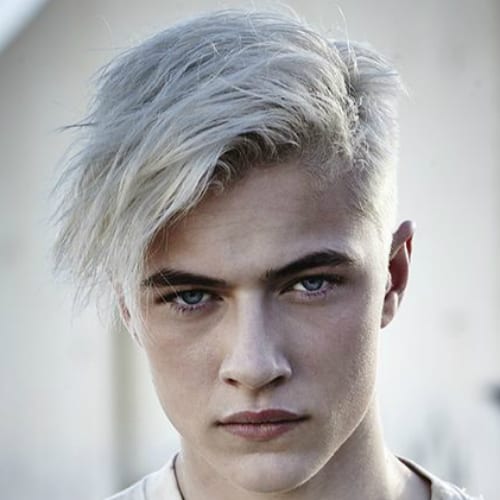 A parted haircut, tousled to one side and combined with a messy styling will most definitely make you stand out of the crowd. Bleach and dyed hair add up to the look.
16. Modern Mane with Short Sides
This modern hipster haircut for guys makes you look much younger than your actual age. The cutting involves the transition of long top hairs to the small taper sides.
17. Taper Fade Comb Over
High taper fades can be hard to achieve. The gradual tapering can be replaced by harsh levels. This is a good choice for men who already know what suits them best.
18. Modern Pomp with Shaved Sides
This hairstyle with shaved sides can be mixed with various lengths and styles on the top part. The fade goes high, close to the top of the head, ending with a stylish pompadour.
19. Layered Taper Fade with Shaved Sides
Start with a low layered taper fade and you just might find suitable the way shaved sides look on you. They require no maintenance and it is a great way to avoid touch-ups.
20. Spiky

Mohawk
This wonderful shaved sides haircut can help you forget about hair styling. Your entire effort will consist of applying a few drops of hair gel to spike up the top.
21. Comb Over with Shaved Sides
The hair is styled with a comb over cut while the sides are shaved in order to create contrast. You can use light styling products for the comb over.
22. Taper Fade with Line
You can opt for this shaved sides haircut without any constraints, and in order to make it even more special, just outline it with hair designs. Start with lines and go from there.
23. Shaved Sides Hairstyle for Men with Thin Hair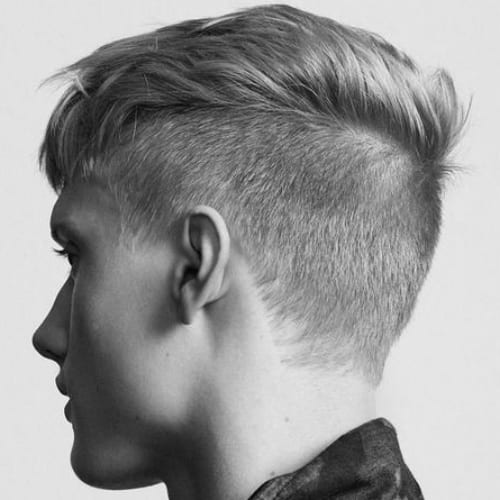 If you have thin or balding hair, shaved sides can become a great way out. Making your shaved sides look natural, you can focus on the areas where your hair is the thickest.
24. Two Level Taper Fade
This two-leveled taper fade has the top long enough to play around with and the second part is just a little longer than the shaved one. The rest of the sides are shaved.
25. Short Sides with Long Waves Haircut
A wavy hairstyle always remains in the top list for men hairstyles. Use hair product to adjust the hair on the crown with stylish waves by giving you a unique look.
26. High Taper Fade with Lateral Comb Over
Side part with a lateral comb over looks sweet on guys with any hair length. If you have shaved sides, this hairstyle will stand out, making a great impression.
27. Undercut with Comb Over
This is an elegant undercut variation to keep your sides shaved while still having a formal hairstyle. Keep the hair on top long enough to create a comb over.
28. Shaved Hipster Undercut
This haircut is extremely modern as it makes its place in the fashion industry with textured hair on one side. The plus point is the beard for a clean and edgy look.
29. Fashionable

Mohawk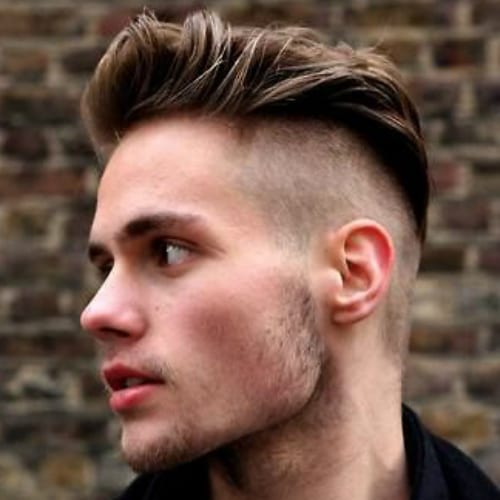 Mohawks are created unequal and this particular haircut for men is very attractive and can easily be adapted for special occasions. The secret is in the way you style it.
30. Medium Taper Fade
If you are not brave enough to deal with clean shaved sides, you can choose a subtle shaved sides hairstyle. A medium taper fade is a great choice if you enjoy being stylish.
31. Complicated H

air Styling
This haircut for men requires complicated hair styling to look smooth for a special occasion. In order to look unique, you need the top long enough for experiments.
32. Outrageous Shaved Sides with Contrast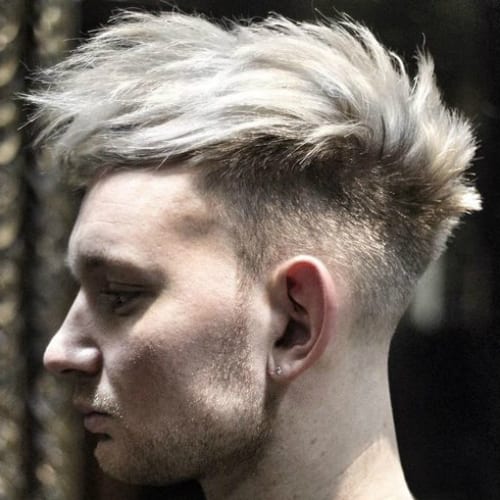 When you choose shaved sides, try to compensate with wild hair on top. Some men like making a statement by using the two extremes: shaved sides, and long messy top.
33. Keep it Short
Many guys choose shaved sides hairstyles men trends because they want to keep their heads free of worries. Forget about keeping your hair neat, keep it short and that's it.
34. Fashionable Taper Fade
For a special occasion, go ahead and try this fashionable taper fade. There isn't much dramatic shaving involved here but the overall look is truly amazing.
35. Shaved Sides with Simple Line
If your sides are shaved, there is room for haircut art. A simple line or more complicated drawings can make your hairstyle look truly amazing.
36. Messy Fohawk
If you like weirdly unique haircuts, you will fancy this interesting fohawk. Keep it shockingly outrageous or simply shave the sides to get a stylish Mohawk.
37. Real Mohawk with Shaved Sides
Real Mohawks are rare and this makes them a really impressive style. The sides are shaved and the top hair combed towards the back. It needs special maintenance and attention.
38. Asymmetrical Art
Shaved sides provide a lot of room for special art. Instead of simple lines that are very trendy right now, consider something more complicated and artistic.
39. Shaped Up Hairstyle
Shaped up shaved sides hairstyles men trends look especially neat if you add a beard to your style. Overall make the maintenance easier with just a simple shape up.
40. Color Mix Shaved Sides Hairstyles
If you want to complement your shaved sides, just get some assistance from the hair dye. Color the top part of your Mohawk with various colors that create a contrast.
41. Disconnect Cool Hairstyle
The hair has changes in length from the shaved sides to the longer part on the top. This is a disconnect hairstyle, having a subtle parting with the hair neatly combed.
42. Curly Taper Fade
Shaved sides hairstyles men trends are quite appealing for guys with curly and unruly hair. Get a high taper fade to keep the maintenance low and leave the top 2-3 inches long.
43. Shaved Sides with Exaggerated Side Part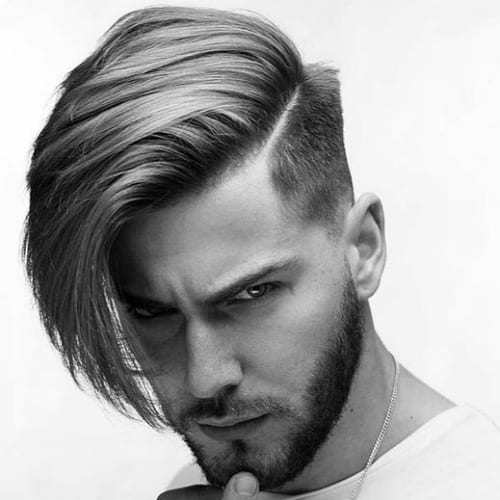 This haircut is difficult to create as it involves many details and it requires extensive maintenance. The top is cut in a retro style with a clean and silky smooth look.
44. Cool and Short Haircut
This cool and short haircut has been yet another favorite. You can use a matte product to flaunt that conservative look or to wear a natural look, you can add some shine.
45. High Taper Fade
A well done high taper fade it's close to becoming a full-blown Mohawk The difference is given by the shape. Shape your taper fade in a really unique way.
46. Slightly Shaved Sides
If you are not ready for skin shave but you want to get rid of as much hair as possible, you can try this type of a uniform undercut where the sides are only partially shaved.
47. Long Comb Over
Long comb over styles look very complicated to maintain, but in fact, the styling is quite simple. All you need is to apply hair gel and brush the hair backward.
48. Messy Top Hairstyle
When it comes to shaved sides hairstyles men trends, a lot of attention is being paid to the top. You don't have to stress about it to be stylish. Add just a few drops of hair gel and let the wind fix it.
49. Stylish

Mohawk
A Mohawk turns stylish depending on how well you approach the top part. The shaved sides are the easy part, but when it comes to the hair on top, some effort is required.
50. Long Bangs Hairstyle
This hairstyle is acceptable only for those who are ready to take good care of their locks. The hair on top must stay long enough in order to create amazing side bangs.
51. Punk Mohawks
Your boss might not approve of this one, but we guarantee that it's the perfect shaved sides hairstyle if you love punk subculture. If anarchy is your middle name, try out a classic fanned mohawk. Afterward, you can dye your hair in your favorite colors.
52. Long Curly Top Shaved Sides Hairstyles Men
Curls deserve to be showcased accordingly. If your locks are curly or wavy, you can think about getting one of the shaved sides hairstyles for men that accentuate them. For instance, you can leave your hair longer on top and let the curls flow down as bangs.
53. Hard Part Hairstyles
Lastly, one of the shaved hairstyles men can always count on are those with hard parts. A hard part is basically a shaved line that follows your natural part. It's an outstanding way to make any haircut edgier, giving you a rugged look.
Conclusion
Shaved sides hairstyles men fashion has experienced an array of transformations.
In this era of hair revolution, you have a wide variety of shaved sides hairstyles for men from which you can choose, making them by far the trendiest of all times.
These shaved sides hairstyles men trends give you various options to choose from and have been handpicked from the latest trends in hairstyles.
This article was updated in June 2019.
Darla is a hairstylist and makeup artist. She loves creating bold and edgy looks for her clients and is very passionate about what she does. She has always loved writing, but never thought that she would ever get to publish her content. She decided to give it a try when she discovered us, and has been writing for our readers ever since!