Step aside, dark hairstyles – this is the year that blonde hairstyles for men will conquer!
No matter if your hair is naturally blonde or you want to lighten it with hair dye, you can rest assured that you'll be as stylish as ever with it.
To celebrate the newfound appreciation for guys with blonde locks, we have compiled a list of hairstyles to inspire you.
Pick your favorite below!
1. Blonde Hairstyles for Men with Thick Beards
It's easy to see why beards have been practically worshipped by both men and women these past several years. If you can grow a full, thick beard to go with your blonde hairstyle, we say you should do it without hesitation.
2. Platinum Blonde Hairstyles
It may be difficult to achieve a platinum blonde hair color if you don't have Northern roots, but, luckily enough, you can dye your hair this way.
Take pop star Justin Bieber, for example. He shows that even guys who don't have light eyes can look great with a platinum blonde hairstyle.
3. Man Bun Blonde Hairstyles for Men
If you have allowed your blonde locks to grow, then you can happily experiment with various hairstyles. One of the most comfortable and fashionable choices lately is the man bun.
Even though it has had its fair share of controversy, you should be able to nail it with long and thick hair.
4. Warm Blonde Hairstyles
Although icy blonde tones have taken hair trends by storm, warm blonde shades are still an excellent choice for some men.
If you have a generally warm personality and/ or brown eyes, you may want to consider a caramel or honey blonde tone for your locks.
5. Blonde Ivy League Haircuts
The beauty of Ivy League haircuts is that they come with several variations.
If you want to keep your hair a little longer, for example, you can get a blonde Ivy League hairstyle with about two inches of hair. Toss it casually to the side.
6. Caesar Cut Blonde Hairstyles for Men
If you're into shorter haircuts, the Caesar cut may very well be for you. You can probably guess that the hairstyle's name comes from the way Julius Caesar was depicted.
Get a blonde haircut like this if you're looking for something short and low maintenance.
7. Cropped Blonde Haircuts
Another one of the easygoing blonde hairstyles for men that you can try out is a cropped haircut.
It's just as easy to maintain as the Caesar cut, as long as your hair is cropped accordingly. Try to keep the same length all around to get this outcome.
8. Undercut Hairstyles for Blonde Men
Blonde hairstyles for guys sometimes may come across as less "fierce" than darker alternatives.
In this regard, if you want to pump up the edge of your blonde hairstyle, try adding an undercut. You'll love the way it looks and feels all around.
9. Blonde Messy Short Hair
The Biebs is back in our list again, but now with a slightly different approach to blonde hairstyles. In this shot, you can see the singer rocking short and messy blonde locks, a perfect hairstyle for teens and young men.
10. Darker Beard and Blonde Hair Styles
Another cool way you can play around with your style is by using two colors. We're not talking about ombres here, but rather picking a tone for your hair and another for your beard.
For example, you can leave your beard your natural hair color and bleach your top.
11. Copper Blonde Hairstyles for Men
While copper comes close to another hair color, it's a fantastic alternative if you want to darken the tone of your blonde. We believe it looks particularly handsome on men with light-colored eyes, such as blue or green.
12. Blonde Bowl Cuts
Yep, believe it or not, bowl cuts are back and better than ever.
While we don't exactly recommend getting the kind that your mother would annoy you with when you were a kid, you can adapt yours. Add some layers for a nice touch.
13. Dapper Hairstyles
If you're all about dapper style, you should consider getting one of the blonde hairstyles for men that go with it.
For instance, you can allow your hair to grow longer and gently sweep it to the side and backward. It will look great with your suits.
14. Side Fade, Brush Up Fringe Hairstyles
The side fade brush up fringe sounds like a complicated hairstyle, but it's actually one that you'll find everywhere these days.
It involves shaving down your sides with a fade effect and brushing up the top to one side.
15. Top Knot Blonde Hairstyles for Men
If your hair isn't long enough for a man bun, you can always consider getting a blonde top knot hairstyle.
We also encourage men with undercuts and longer tops to adopt this hairstyle, especially if they have a faded undercut.
16. Braided Blonde Hairstyles
Another idea for guys with longer tops and undercuts is a braided hairstyle.
If your hair has a generous length on top, you should make the most of it and try out new creative hairstyles. A French braid is a nice way to start.
17. Silver Blonde Hairstyles for Men
Remember what we said about icy blonde hairstyles being all the rage this year? Well, this silver blonde example should definitely prove a point.
Guys with pale complexions or icy-colored eyes should certainly keep this option in mind.
18. Flow Hairstyles
We all know by now that this is the year of the flow hairstyle. Sported by celebrities from all industries, the flow hairstyle looks amazing on men with blonde hair.
Embrace your locks by messily styling them in this manner.
19. Highlights Blonde Hairstyles for Men
Zayn Malik is undeniably a style icon of his time. The pop singer has never been afraid to experiment with his look, whether he'd shave his head or add all sorts of colors.
In this photo, you can see how he used blonde for some highlights on his bangs.
20. French Crop Hairstyles
The French crop is yet another one of the most stylish blonde hairstyles for men you can try this year.
It's a longer alternative for the Caesar cut, with blunt bangs that fall below the middle line of the forehead. The layers are a must.
21. Blonde Top Hairstyles
We're all for new color combinations, so you can understand why we enjoyed this type of hairstyle.
The man in the photo has naturally dark hair, and he decided to brighten up the top by bleaching it. The style may work very well for you too.
22. Haircuts for Light Blonde Men
If you were born with light blonde hair, then you should consider methods of accentuating your natural features. You should think about leaving your hair a little longer, without focusing too much on sharp styling.
23. Textured Blonde Hairstyles for Men
Texture can play a major role in the outcome of any hairstyle. Like Jude Law proves in this picture, a heavily layered haircut can go a long way for a man's style.
To get this effect, it also helps if your hair is naturally curly or wavy.
24. Blonde Quiff Hairstyles
A quiff hairstyle will look wonderful no matter what hair color you have. This is the reason why it's one of the top blonde hairstyles for men too.
Comb your blonde locks to the side, but without making them seem too styled into place.
25. Shaggy Hairstyles
Yet another massive hair trend for guys this year is the shaggy hairstyle. Even though it was a staple in the 90s, we all know how trends have a knack for coming back after a few decades.
You can effortlessly sport one this year.
26. Men's Haircuts Thick Blonde Hair
Having thick hair can be a huge advantage if you enjoy styling your locks. For example, if you allow your hair to grow to about three inches, all you have to do is add some hair product and get almost any style you want.
27. Receding Hairline Blonde Hairstyles for Men
It may be challenging to deal with a receding hairline, but it's not impossible. If you want to completely stress-free, the best way to go is to get a blonde buzz cut.
You can pair it with stubble instead of a classic beard and you'll look awesome.
28. Shoulder-Length Blonde Hairstyles
Now here's one of the blonde hairstyles for men that the ladies can't resist. If you have naturally wavy hair, think about letting it grow to a shoulder-length hairstyle.
A few small layers will also aid in obtaining the cool results you see in the photo above.
29. Angular Fringe Hairstyles
Together with the French crop and the flow hairstyle, the angular fringe is topping the charts this year.
Although you don't have to use the headband accessory shown in this fashion show photo, you can use the haircut as a reference.
30. Swept Back Blonde Hairstyles for Men
A slicked back hairstyle will always come off as handsome. However, they're appropriate for formal events or if you want a bad boy rock star look.
If you're looking for something more casual, opt for a swept-back hairstyle instead.
31. Business Casual Blonde Hairstyles
On the hunt for a business casual hairstyle? The combover is one that you can never go wrong with.
While it's perfectly appropriate in an office environment, it's also a great look for sharing a drink with your coworkers after hours.
32. Long Blonde Hairstyles for Men
Regardless if you have a silky hair texture or you just enjoy a full mane, you can also look into long blonde hairstyles for men.
Indeed, you'll have to pay more attention to caring for your locks, but the look itself is highly flattering for some men.
33. Ash Blonde Hairstyles
We're back to icy blonde ideas, but this time with a warm-cool hybrid. If silver blonde is too much for you but you still want to get some gray tones in, go for ash blonde.
The color has a natural vibe to it, all while helping you step out of your comfort zone.
34. Tapered Blonde Hairstyles for Men
You won't believe how much of an impact a tapered hairstyle can have on your appearance.
It won't stand out as much as a skin fade, for instance, but it will help you get an amazing hairstyle silhouette. The longer top will also help you get the results you're looking for.
35. Crew Cut Hairstyles
Military haircuts have always been a reliable source of inspiration for no-stress hairstyles.
You may not want a full-fledged burr cut, but a crew cut, on the other hand, may catch your eye. You'll still have somewhat of a hair game going on, just without the struggle.
36. Hard Part Haircuts
Blonde hairstyles for men tend to have a gentle touch to them. Be that as it may, there are plenty of ways you can make yours edgier.
A fantastic example is the hard part – a type of haircut that involves shaving a line to the side as your part.
37. Hairstyles for Strawberry Blonde Men
What about our guys with a redhead tone to their blonde hair? We believe that strawberry blonde locks should be emphasized, and not hidden.
Try getting a short to medium haircut that will allow you to style your strawberry blonde hair in various ways.
38. Long Blonde Hairstyles for Men with Undercuts
Another undercut idea we have involves notably long tops. Even though some men prefer rocking short hair with their undercuts, others want the edgy cool impact of a long, side-swept top.
The hairstyle also looks terrific on guys with beards.
39. Front V Hairstyles
If you're all about style and high fashion, we're sure that you're going to love these kinds of blonde hairstyles for men. The guy in this photo has an undercut and a long top, which is strategically cut in layers.
As for the style, all of the hair is brought to the front in a textured V-shaped look.
40. Spiky Blonde Hairstyles for Men
You really can't get any edgier than with a spiky hairstyle. Now, it's up to you whether you get longer spikes, like in this shot, or shorter ones.
To find out which way works the best for you, try styling your hair when it's longer and, if you don't like it, cut your hair afterward.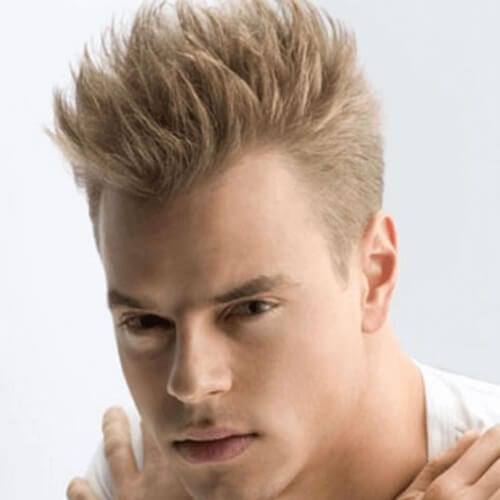 41. Skater Hairstyles
There's no doubt that skater haircuts are among the top blonde hairstyles for teenage guys. It's definitely the right choice if you're actually a skater, but you can also get the hairstyle if you enjoy the way it looks.
42. Blonde Hairstyles for Men with Messy Bangs
In a world of skillfully styled quiffs, combovers, and angular fringes, why not be the one that chooses to stand out?
You can use any one of these hairstyles for accentuating your bangs, but we recommend that you take a walk on the wild side and mess them up.
43. Faux Hawk Hairstyles
We're certain that the faux hawk will remain stylish for even more years to come. With edge and class as its main features, we support it as a blonde hairstyle you can rely on in almost any situation.
Remember to go easy on the hair gel.
44. Rolled Up Blonde Hairstyles for Men
Yet another dapper hairstyle you may be interested in has a rolled up approach.
You have to leave your hair a bit longer for this one, but don't hesitate to add un undercut to sharpen the overall look. Try it out with the help of a stylist the first time.
45. White Blonde Hairstyles
We're extremely happy that more and more guys are thinking out of the box for their hairstyles this year.
For example, plenty of men have been trying out white blonde as a hair color. We think it looks super cool and it totally has our approval.
46. Two Tone Blonde Hairstyles
We have talked about using two contrasting colors in your hairstyle, but what about using two tones in the same area? To help you get a better idea, take a look at the two blonde shades in the hairstyle above.
There's plenty of contrast, but your style gets a harmonious result.
47. Modern Pompadour Blonde Hairstyles for Men
The pompadour is undeniably a timeless hairstyle, judging on its trendiness more than half a century later. Still, the modern pomp has an edgier approach to it, as opposed to the slick silhouette it featured in the past.
48. Blonde Hairstyles for Men with Dark Roots
Even though shadow roots were initially a trend spotted among women, they have now extended to men's hairstyles too.
We love the way dark roots contrast with lighter tones, especially white blonde hair. Would you try it out?
49. Pastel Blonde Hairstyles
With pastels dominating aesthetics, it's natural that they would cross over to hairstyles as well. Men with blue or green eyes would look amazing with one of these pastel blonde looks, no matter what the secondary color is.
50. Super Long Hairstyles for Straight Hair
Lastly, we'll leave you with a blonde hairstyle that is sure to make heads turn. The method is simple: just allow your hair to grow as long as possible and trim the tips occasionally. It works like a charm for guys with fine hair.
Conclusion
To wrap everything up, you have every reason to go for one of these blonde hairstyles for men.
Not only are they highly fashionable this year, but they're also versatile and fun to wear.
When choosing your blonde hairstyle, consider your specific natural color and the type of haircuts you enjoyed.
Don't forget to come back and tell us how everything went in the comments!