Abel Tesfaye, commonly known as The Weeknd, is clearly one of the greatest alternative R&B artists of his generation.
The Grammy-winning Starboy is known for his rebellious style, particularly when it comes to his haircut choices.
Whether you want to get his big dreadlocks hairstyle or one of his recent short afros, enjoy all The Weeknd hair inspiration you could dream of below!
1. Former The Weeknd Haircut Style
Right before dropping his hit album Starboy, The Weeknd became famous for his unconventional hairstyle. He was highly well-known for his long, messy dreadlocks, often regarded as forming a "palm tree" shape that you could never miss.
2. Mini Afro Style
Fast forward to 2018 when you might have spotted Abel with a small, well-kept afro. While it's well known that he's grown out his hair again, we have to point out that this nicely-trimmed hairstyle suits him quite well.
3. The Weeknd Starboy Cover Haircut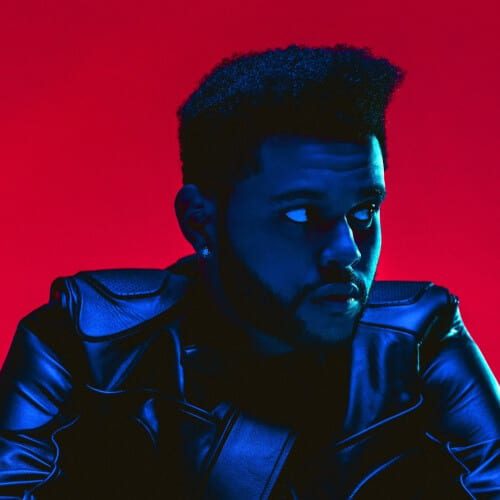 Not only did the Starboy album top the charts for weeks on end, but it also marked a legendary moment in The Weeknd's style evolution. When releasing the single with the same name, Tesfaye launched a music video that served to also introduce his new haircut.
4. The Weeknd Two-Level Facial Hair
We'll be covering all of The Weeknd hair ideas you can imagine, but we also want to stop and shine a light on one of his cool facial hair styles. For the picture above, he sported a two-level beard with an accentuated goatee that you might find interesting.
5. The Weeknd New Haircut
The Abel we see here opted for a short, low-maintenance haircut that any guy can copy. We particularly recommend the look for men with afro-textured hair that want an alluring silhouette for their natural curls.
6. Deep Waves
Hard as it may seem to believe now, there were times in which Abel chopped his hair close to a buzz cut. However, the great detail that we want to point out is the deep waves design that you can work with your local barber to obtain.
7. The Weeknd Long Matted Dreads
There are several types of dreadlocks you can wear, and they can be classified according to the way you can make them. You have twist & rip, backcombing, crochet, and neglect, to name just a few.
If you want a matted aspect for yours, go for neglect (also known as organic or natural dreadlocks).
8. The Weeknd High School Haircut
When he was a high school student, Abel kept his hair super short and evenly trimmed all around. If you're currently a high school student or teenager in general, you can count on this haircut for an appropriate school look.
9. The Weeknd Hairstyle with Box Fade
There's no doubt that The Weeknd looks amazing with shorter haircuts. When he decides to rock his hair this way, he often plays around with the shape of his hairline. The rectangular outline here serves as an excellent example of a professional box fade cut.
10. The Weeknd Low Fade Haircut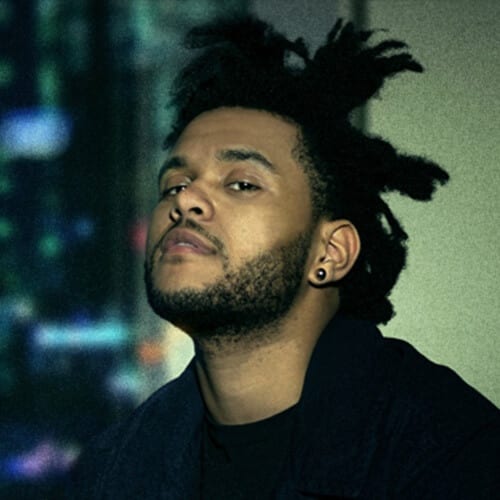 If we didn't point this out already, we are now: you should always pay attention to the lower parts of Abel's hair. You'll quickly notice the cool fade techniques he uses in his haircuts. Here, you can admire his low approach, which is one of the best fade hairstyles you can try out.
11. The Weeknd Hair with Sectioned Styling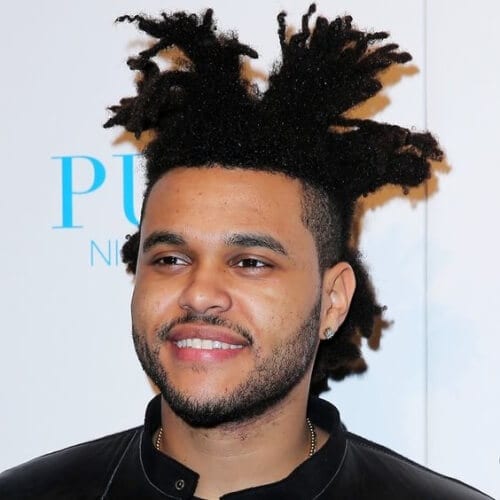 One of the benefits of Abel's former iconic haircut was its versatility. Thanks to the generous length of his dreadlocks, he could style them in whatever manner he pleased. In cases like the one above, this meant separating bunches into distinct sections at the top.
12. The Weeknd Frizzy Bangs and Cap
We're almost certain that you won't find The Weeknd wearing a snapback to the side these days. Be that as it may, we like the idea of leaving textured bangs up and the rest of the hair under the cap. It's a fresh look that you can try out any day,
13. The Weeknd Dramatic Vertical Bangs
On the other hand, we like how he brought back his bangs and even raised them in a dramatic fashion. During his concert at the 2016 Victoria's Secret fashion show, he flaunted bold bangs that almost seemed to be spiked in the front.
14. Angular The Weeknd Hair Style
Similarly, he sure knows how to inspire men when it comes to angled hairstyles. One of the most appealing The Weeknd hair ideas is this handsome and practical textured haircut. The curls are cut at a slight angle to boost definition.
15. Neatly Arranged The Weeknd Hair
Not all of The Weeknd's long dread hairstyles were eccentric. In fact, he occasionally arranged his locks quite neatly, usually for special events. For instance, he chose to elegantly style his dreads for a Red Carpet celebration.
16. The Weeknd Mid Fade Haircut
Another one of Abel's haircuts that we love is his mid-fade. Instead of leaving just a small faded strip close to his ears, he decided to fade it higher up towards the upper parts of his head. We consider this a great transition for shorter sides and a longer top.
17. The Weeknd Hair with Large, Long and Straight Bangs
We all know by now that The Weeknd isn't afraid to experiment with his hair, although it may go against the general trends. Even when he's not wearing his signature long dreads, he still loves rocking big, messy, textured hairstyles.
18. The Weeknd Swept Back Dreadlocks
If you have never had dreadlocks before, you should know that they're quite high maintenance. Additionally, they might become uncomfortable or annoying, particularly if they're long. For that, you can take Abel's indirect advice by sweeping them back and tying them with a hair accessory.
19. The Weeknd Untamed Afro Hair
For Abel, it's usually either dreadlocks or afros, as far as his medium or longer hairstyles go. If you're searching for one of his best afro-textured looks, check out this small yet wild afro that you can obtain without much effort.
20. Dreadlocks with Backwards Cap
Yet another cool trick for managing long dreadlocks is to make the most of hair ties, hats, and other such accessories. For example, an item as simple as a cap or beanie can help you keep them out of your eyes.
You can try Abel's look by turning a cap around and concealing all or most of your dreads underneath it.
21. Taper Fade Haircut
The taper fade haircut is one of the most adaptable, stylish, and stress-free hairstyles for guys, regardless of their hair type. As you can see in this photo of Tesfaye, his taper fade haircut accentuates the taller part of his overall hairstyle.
22. The Weeknd Messy Dreadlocks Hair
The Weeknd is famed for the nonchalance with which he displayed his dreadlocks. If you want to have a bad boy vibe like Abel, all you have to do is messily style your hair. The outcome will be even better if you have dreadlocks.
23. Clean Cut The Weeknd Hair
On the flip side, The Weeknd looks outstanding with a clean cut hairstyle too. We highly recommend this particular haircut for any professional situations, like working at an office with a strict dress and style code.
24. Pre-Dreadlocks Hairstyle
In order to get natural dreadlocks, you have to grow your hair out first. Even though you can start forming your dreads as your hair grows, it might be best if you waited until they reached the desired length. In the meantime, you can try out this great transition look.
25. The Weeknd Burst Fade Haircut
The burst fade is a common haircut among African American men. Not only is it flattering for your hair's texture, but it will also help outline your facial features. We suggesting going to a barber to get a professional burst fade haircut.
26. The Weeknd Hair with Choppy Dreads
The Weeknd first appeared with choppy dreadlocks around the time he was working on his debut album, Kiss Land. These would pave the way for his long, messy dreads, but we also support them as a standalone hairstyle.
27. Casual Hairstyle with Short Beard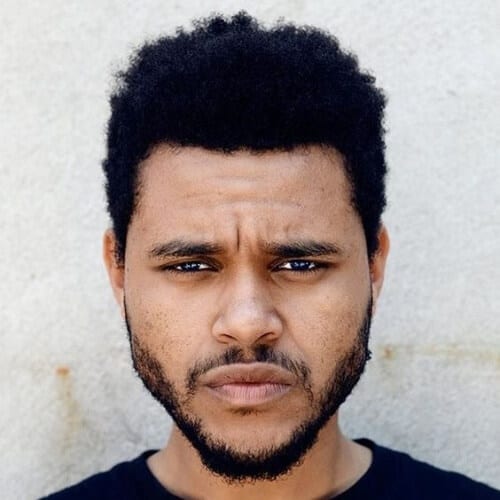 If a balanced hairstyle is what you've been looking for, then you've just found it! The Weeknd sports a casual hairstyle that is neither too short, nor is it too long or hard to maintain. We believe it's the ideal hairstyle for a well-rounded look.
28. Three Section Dreadlocks
We previously spoke about The Weeknd's technique of styling his big dreads into sections. Well, here's an example that shows three distinct bunches of dreadlocks. You can also consider leaving a section loose at the back of your neck.
29. Shape Up Hairstyle
As you've probably already guessed from its name, the shape up haircut is all about getting the right form. If you're into clean silhouettes, Abel's shape up hairstyle is just what you need as a reference. Focus on getting the proper angles for a picture-perfect haircut.
30. The Weeknd Hair with Frizzy Flattop
A great deal of short The Weeknd hair ideas involves a flattop foundation. Although you won't see him with a classic, 90s-style flattop haircut, Abel plays around with his frizzy locks to put his own twist on the look.
31. The Weeknd Textured Quiff
Yes, yes, we know, it is quite difficult to get a quiff hairstyle with textured hair. Nonetheless, it's not impossible, and the results are fantastic. Try using some hair product to twist your locks into place. Alternatively, trim the tips of your hair to get the same angle.
32. The Weeknd Hair with Short, Voluminous Dreadlocks
Short dreadlocks have become increasingly popular these past few years, even surpassing the hype of the long, classic dreads. If you want to stay on top of the trend, we recommend using this The Weeknd hair idea as inspiration and adapting his short yet voluminous dreadlocks to fit your style.
33. Short Haircut with Rounded Hairline
You're already used to seeing Abel with interesting hairstyles and a box fade or an otherwise straighter hairline. However, when he was younger, he used to sport a rounded one. You should choose this approach if you want to gently conceal a receding hairline.
34. Medium-Length Afro Hairstyle
In this shot, we can see The Weeknd with a hairstyle that falls somewhere between a medium-length afro and dreadlocks in their first phases of forming. As a result, we suggest testing the look if you want to systematically transition from an afro to natural dreads.
35. Sculpted Neglect Dreads
Speaking of natural dreads, here is yet another great way to shape them as they grow. The key to getting the silhouette you want is to slowly sculpt the dreadlocks as your hair gets longer. This way, you'll be working towards the final form you want.
36. Subtle Shaved Lines Haircut
We're all for incorporating shaved lines into your hairstyle. Still, we know that not all guys want bold and flashy lines shaved into their hair. As an alternative, you can get them subtly trimmed onto the side of your head.
37. The Weeknd Hair with Tall Flattop
This is one of The Weeknd's closest styles to a flat top, with a twist, of course. He still manages to add his personal touch to the classic hairstyle by leaving the top visibly tall and the edges unruly and adventurous.
38. Dreadlocks Mohawk Hair
We're pretty sure that most people haven't thought of combining dreadlocks with a mohawk hairstyle, or at least not the way Abel did. You can add a punk vibe to your appearance by arranging your long, natural dreads into a fanned mohawk fashion.
39. The Weeknd Clean Flattop
Despite the fact that the upper part of Abel's flattop here is characteristically untamed, the rest is cut as cleanly as possible. To get the hairstyle, make sure that you evenly trim down your hair starting from the crown of your head and down to your nape.
40. Brown Tips/Natural Dreads Combo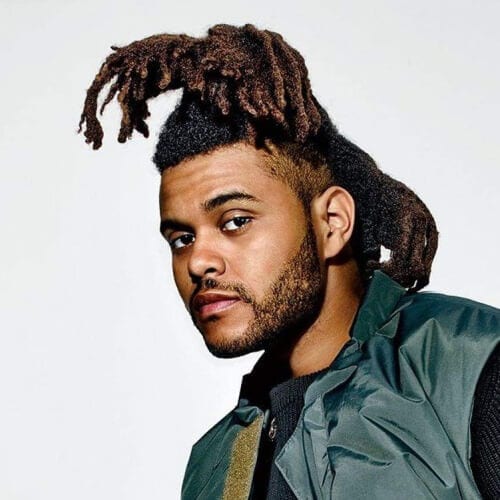 As opposed to many other performers, The Weeknd never really tried out different hair colors. The only exception we know of is his brown dreadlocks phase. Even then, he left the hair towards his scalp his natural black, opting for a brown, ombre-like color combination for the rest.
41. The Weeknd Bedhead Hairstyle
When you have such a strong personality like The Weeknd, it won't even matter what your hair looks like. So instead of struggling to style your hair to look perfect, you should try leaving it as it is. You can literally wake up and let your hair lay however it pleases; it will come off as cool and edgy.
42. The Weeknd Hair with Faux Hawk
Abel's style has definitely matured throughout the years. Nowadays, you won't be seeing him with a rebellious dreadlocked mohawk, but rather with a fine, textured faux hawk. Try it out for yourself if you want to step up your style game.
43. The Weeknd Business Haircut
Here is yet another business-oriented haircut that men with afro-textured hair can wear at their workplace. It's kept on the short side – an aspect that is both aesthetically pleasing and easy to deal with. Do note that you'll have to re-trim it often to maintain the shape.
44. Spiky Dreads Style
Natural dreadlocks look super cool throughout any stage of their formation. For a simple and fashionable hairstyle, cut the back and sides and leave the top with short and spiky dreads. The look also works for men with medium-length dreadlocks.
45. Well-Trimmed Facial Hair and Dad Cap
Another The Weeknd hair idea that focuses on facial hair is his neatly-groomed beard in the shot above. The dad cap accessory is great if you want to accentuate this area of your face, especially if your beard is perfectly shaped.
46. Discrete Undercut
When most men hear about undercuts, they automatically think about the lower part of their head being completely shaven. Nevertheless, some of the best undercuts are more on the subtle side and ideal for complementing an admirably-styled top.
47. Disheveled The Weeknd Hair with Scruffy Beard
Although clean beards are extremely flattering for the majority of men, some honestly look better with scruffy ones. If you sport a disheveled hairstyle like The Weeknd, you may want to consider going for an equally rugged beard.
48. The Weeknd Hair with Side-Swept Dreads
Once your dreadlocks are long enough, you can mold them into basically any shape you want. For instance, you can have fun with a side-swept dreads hairstyle as The Weeknd did in this candid. You can be sure you'll be turning heads as you pass.
49. The Weeknd High Center Top
On the same note, here is an example of how you can go completely wild with your long dreadlocks. You can use the section in the middle for a brilliant high top. Make sure you stock up on hair ties to get the long and tall aspect.
50. Clean Undercut, Crazy Top
We'll conclude with one last final The Weeknd hair inspiration piece that has a bit of both worlds. The look above features the messy top that we all know him for, while maintaining a sleek undercut. You can use both aspects for your hairstyle or just the one you like the most.
Conclusion
This list of The Weeknd hairstyles will surely inspire you, whether it helped you decide to go big and crazy, or nice and elegant.
We do want to warn you though that his famous palm tree dreadlocks are significantly challenging to maintain. The Starboy himself even admitted that he cut them because he had difficulties sleeping.
Whatever choice you make, we want to hear all about it in the comments!
Lilith Wetherall is a freelance writer, editor, and blogger. She graduated in 2014 with a B.A. in Theatre Arts and a minor in Journalism. She later found her passion for hairstyles and is now professing in a men's salon. Some of her favorite things to do include reading, writing, watching movies, and being outdoors. When she's not writing for our readers, she is either at the salon or at home trying out a new hair color.