Hair designs for men are on this very thin and fine line between art and hairstyle.
This creative trend has simply exploded over these past few years which is why we see it more and more in places like Instagram and Pinterest.
To make it easier for you to follow them, we've created a video and also put together a list (so don't forget to scroll down and see everything!).
Here's a list of amazing hair designs which will inspire you to get one of our own!
1. Sunset Hair Designs & Braids for Men
Let's start this piece in style with an intricate design that depicts several scenes that seem to be happening in a tropical paradise. On one side you have an ocean with a sailing boat and a palm tree, and on the other, you have the sun setting in the waves.
2. Starry Decal Hair Designs & Afro Mohawk
This is one of the most common hair designs for men out there. Stars are simple to do and even simpler to maintain, which might be one of the reasons men choose them.
3. Mohawk Hair Designs with Spiral
Traditional meets modern within this hairstyle that makes a classic 1970s mohawk meet a 2010s hair design. We can't even tell who's the actual star of this hairdo, but does it even matter?
4. Arrow Fade Hair Designs & Curly Hair
Another simple hair design which you can try are these stylized arrows. They retain something of the ancient warrior in them that every person still has hidden somewhere inside. We also love how they fade in the back!
5. Man Bun Hair Designs with V-Shape Undercut
This hairstyle has so much going on we don't even know what to look at first. The man bun tied with a healthy scrunchie? The fade with an arrow design? The dripping hair tattoo in the back or the blonde color?
6. Dollar Decal Hair Design & Fade
Hair designs are also called hair tattoos, and they pretty much work in the same way when it comes to conveying a message. They say a lot about the person wearing them. What message would you like to send?
7. Nike Brand Decal Hair Designs & Beard Fade
If dollar signs are not really your playhouse, you can also try some brand logos. They put forward the same idea that you are a classy guy who has a lot of money and likes the refined things in life.
8. Clock Dial Decal Design & Undercut
What does time mean to you? Is it just a social convention or do you depend on it on a daily basis? If the latter holds true, you can have it designed on the side of your head. Or, maybe you're a fan of Big Ben?
9. Intricate Rows Design
This is what a hair design looks like when you have it done all over a buzz cut. It's a bold move to do it all over your head, but the results will pay off because you will look badass and edgy.
10. Skull Decal Hair Designs
Speaking of edgy and badass, how about a skull on your skull? Skullception, anyone? This could also be a great idea for Halloween if you're really into this holiday and are willing to go all in for it.
11. High Top 70s Swag Design & Hard Part
This is what happens when hair designs meet the high tops of the 70s. It's a street style that won't quit and that will have you looking full of swagger and charisma. 70s haircuts had a certain persona about them that can't be matched.
12. Colorful 3D Spider Decal Design
Going back to Halloween, let's take things to another level. This is a 3D spider that a skilled barber or stylist can carve into your hairline. It looks so real that people will be swatting at your head the whole night.
13. Star Decal for Blonde Hair & Quiff
Blonde hair color is not a common choice if you want to get a hair design. The reason is fairly obvious. The hair color looks too much like your skin tone, and the design won't stand out. But that doesn't mean you can't try!
14. Rose Hair Decal for Men
Roses shouldn't be viewed as unisex anymore. The end of the 2010s has brought with it the beginning of a gender revolution that sees flowers as the appendix of both men and women. Don't be afraid to show your soft side!
15. Dove Hair Decal & Messy Bun
Doves have always been a symbol of peace, and now you can wear them on your head to prove that this is the cause you are fighting for. They also look beautiful in this hair decal paired with messy man bun combo.
16. Face Decal & Top Knot
This has got to be one of the most beautiful hair designs we've ever seen. The quality and colors alone make this stamp look like a painting more than anything else. That's what it means to have a talented barber! That top knot is also a perfect way to showcase this beautiful decal.
17. Star-Spangled Hair Designs
This is quite an uncommon look that will guarantee your uniqueness. The hair design descends into the beard which has also been shaped into stars. In this way, you can show the world you're a superstar in the making.
18. Lotus Flower Hair Decal
The lotus flower has been on the rise as a trend in actual tattoos for both men and women in the past few years. Celebrities such as Zayn Malik have been very heavy-handed with this print and got large lotuses tattooed.
19. Hummingbird Hair Decal
We're back to birds to watch another one take flight directly onto your hairline. This is a small hummingbird, but the truth is you can get any bird you want if it has some sort of special meaning to you.
20. Eye Hair Designs with Sleek Decal
This is a superb hair design that will leave everyone mesmerized. We absolutely love the sweet purple hue of the hair on top which matches the pink eye carved out in the undercut. Such attention to detail!
21. Screaming Ghost Hair Designs
Halloween surely gets a lot of attention hair-wise. This is the famous mask from the Scream movies, which is actually a parody of the I Know What You Did Last Summer films from the 90s.
22. Fist Hair Designs with Braids
We don't know what we love more about this idea. The strong message conveyed by the fisted hand or the dreads. Both are edgy choices, and when you combine them, you get a look that will speak for itself!
23. Colorful Pink Spiky Hairstyle with Decal
At first, there were frosted tips back in the 1990s and 2000s, and we were all crazy about them. The 2010s brought us the shade we all call millennial pink which you can see proudly displayed here.
24. Steampunk Hair Design
This is a good example of what the steampunk design can look like on your head. It's a collection of small wheels that resemble the intricate cogs of a machine's interior. Pair it with a non-traditional hair color.
25. Daffy Duck Decal
This idea speaks to the child in all of us. Why not pay homage to your favorite cartoons as a kid, Looney Tunes, and get the character you liked the most designed on your head? It can be Bugs Bunny, Daffy, or Yosemite Sam, to name just three.
26. Simple Hair Decal
On the other hand, you can try a simple design, if you lack inspiration or if you merely prefer a more minimalist approach to styling yourself. This is a hard part on one side that ends in a design at the back.
27. Electric Blue Hairstyle with Lotus Decal
This metallic blue faux hawk is a look we are living for. The hair design on the side is a stylized lotus flower. Its petals have been shaped into angled and geometric patterns rather than having rounded corners.
28. Purple Pink Hairstyle with Fade and Line Decal
If you look closely at this one, you will notice that the hair design, which is a simple line, descends into the eyebrow and cuts it in half. It's a fantastic detail that makes the entire look less soft.
29. Rainbow Hairstyle – Merman Trend
What a fantastic way to send a positive message. Not only that, but it's incredibly artistic as well. Just look at the way the colors blend into one another so perfectly. This is an amazing dyeing job.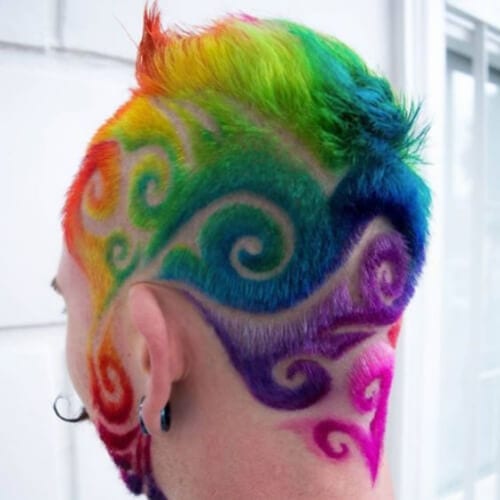 30. Futuristic Design with Straight Decals
This geometric pattern follows the natural lines of your hair but adds a little something. It will embellish them with a square outline that will make you look like a modern Rockstar waiting to go onstage.
31. Tribal Hair Designs
If you have an ethnic affiliation to this idea, you can get a coherent design that means something to you. If not, and you just like the aesthetic, you can ask your barber to give you a freehand design.
32. Mohawk Hairstyle with Tribal Decals
Hair designs or tattoos say one thing about you. That you are a rebel, who doesn't care about rules or traditions. You are carving your own way and making a name for yourself when it comes to fashion and style. The fact that you are sporting a mohawk is a statement in itself too!
33. Versace Logo Hair Designs
Are you a fan of a specific fashion brand? Because now you can show your love by wearing their logo in your hair. This is the Versace logo with the famous Medusa head surrounded by traditional Italian patterns.
34. Highlighter Yellow Hairstyle with Orange Highlights and Tribal Decals
Highlighter hair colors are a bold choice, but they are super on-trend right now. If you don't think you can pull this off at home by yourself, you can leave it up to a professional to do it for you. This is the definition of extra!
35. Zig-Zag Decals with Afro Fade
Abstract ideas work just as well as the ones with meaning. Allow your barber or stylist a little freehand and trust that he or she has enough talent and creativity to give you the best haircut of your life!
36. Bald Fade & Sideswept Long Top with Lotus Decals
The lotus flower crops up again as a favorite among hair tattoos this year. Only, this time, it's accompanied by a bald fade with a long top. This is a fancy haircut that goes well with a trimmed beard.
37. Feather Decal on Afro-Textured Hair
The design of the feather has the amazing quality of taking the shape of your head. It's almost as if you've always had this hair design and only now is the world catching up with you and your perfect sense of style.
38. V-Shaped Bald Fade
If you have a large tattoo on the back of your neck, it's a good idea to keep the hair design to a minimum. In this case, only one of these two can be highlighted, and it has to be the tattoo since it's the permanent one.
39. Greek-Inspired Decals
There is nothing wrong with taking a little inspiration from the classics. The Ancient Greeks and Romans surely knew what they were doing in terms of art. It's 2000+ years later, and we are still using their designs.
40. Spiral Greek Decals
Building on the above, you can use the same Greek or Roman design but in a spiral, to make it even fancier and a little more modern. This outline is perfect for summer nights in the club or at the beach.
41. Undercut Greek Decals
Here's another spin that you can put on the same type of pattern. In fact, there are endless ways in which you can use this undercut idea and make it completely your own if you want to stray away from the traditional.
42. Broken Heart Decal with Afro-Textured Hair
If you suffered a recent heartbreak, this is the best way to display your feelings for everyone to see. You know what they say. Wear your heart on your sleeve.
43. Fiery Red with Flower Decals
This design is impeccably beautiful. It's different from the majority of designs which are mere outlines in the back or side undercut of the hairstyle. This time, the flowers are colorful and alive.
44. The Paul Pogba Leopard Print Decals™
Not even celebrities could keep away from this trend. This is soccer player Paul Pogba wearing a burst fade mohawk and a leopard hair design. We love the fact that the colors are done to perfection.
45. Treble Clef Decal Hair Designs
If you're a musician, studying music, or just a huge music fan, then this hair design should be right up your alley. It's a hard part that ends with a huge treble clef at the back of the head.
46. Minimal but Creative Decal
Sometimes, less really is more, especially when it comes to hair designs. You can garner a lot more attention, both in real life and on Instagram, if you go for a simple or minimal outline rather than a complicated one.
47. The Kanye West™
Another celebrity famous for his hair designs is rapper Kanye West. A few years ago, he unveiled this haircut which was heavy in hair tattoos and covered his entire head. It was an iconic look.
48. Bad Bunny Inspiration
This haircut is inspired in its design by Benito Antonio Martínez Ocasio, otherwise known as Bad Bunny, the reggaeton and trap singer. He is known for his very specific look which consists of this type of hair outlines.
49. Gorgeous Colorful Flames Design
This is another take on the rainbow hair design. It's an artistic endeavor where the colors of the rainbow literally melt into one another from the top of the head to the nape. You get to see pink, orange, blue, green, and purple.
50. Funny Hair Designs Disaster!
We saved the best for last. This is one hair design you shouldn't try! It's a curly faux hawk that actually ends in a mullet in the back with a design on the sides and a frame beard in a strange, squiggly shape.
Conclusion
The main idea when it comes to creative hair designs for men is that they're fun.
Plus, given the fact that there are countless barbers around the world who push the boundaries of hairstyling every day, we see more and more creative examples all the time.
Let us know in the comment section below which one of these was your favorite idea!
This article was updated in August 2019.