The bald fade has been dominating men's hairstyling trends for a few seasons.
It is undoubtedly one of the most popular hairstyles in the world right now. Moreover, men are pairing it with a surprising but equally stylish touch of ruggedness – the beard.
Here's our rundown of the most impressive bald fade with beard ideas to inspire you!
1. Mid Bald Fade with Beard
This mid bald fade has a beautiful side part that is close to perfection and a lovely trimmed beard. The hair has been treated to some glossing agent or simple hair gel to make it shiny and easier to comb over to one side.
2. Textured Bald Fade with Scraggly Beard
Here is a very cool high bald fade with a medium top. The haircut is textured and slightly layered which gives the illusion of volume. You can also see some asymmetrical bangs on one side and a stubble.
3. Simple Bald Fade with Precision Cut Beard
This is what we would call a low skin fade connected to the beard through some tapered sideburns. The beard itself has been trimmed to make it look pointy, removing the unwanted hairs on the neck.
4. The Twisted Top with a Very Short Beard
We absolutely love how the top of this haircut has been styled. The strands have been twisted one by one and pushed back over the crown of the head to reveal the forehead and the undercut on the sides.
5. V-shaped Bald Fade with Ducktail Beard
This outstanding bald fade has a V shape designed into the back of the haircut. Normally, this portion would be a straight hairline. However, you can get any shape you want to be designed back there.
6. The Textured Quiff with a Short Beard
In this example, the bald fade is accompanied by a textured quiff with spikes all over and a small pompadour at the front. The beard is well-groomed, and you can also see a pair of sideburns riding up into the fade.
7. Bald Fade with Faded Beard and a Long Top
The beauty of the bald fade is that it's incredibly versatile. Seeing as it is so minimalist in itself, you can pair it off with anything, including longer tops, such as this brown one with blonde bangs.
8. Bald Fade with Scruff and Skull Tattoos
Skull tattoos are definitely a bold and edgy choice. They are not for the faint of heart but look amazing and artistic. The bald fade is the simple and correct hairstyling choice if you need to display your skull tattoos.
9. Bald Fade with a Bushy Beard, No Sideburns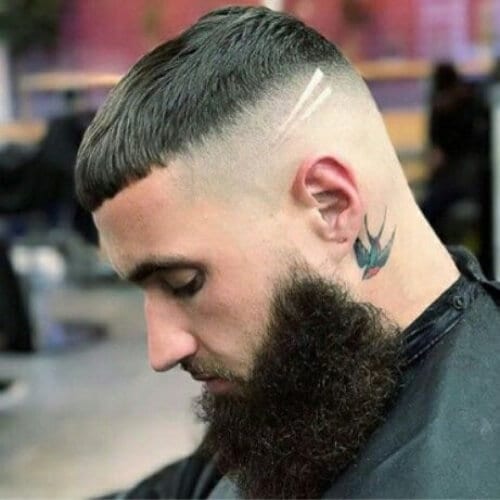 Seeing as you are sporting a bald fade and a super short haircut on top, you can afford to let your beard run wild a little. Wear it as bushy as you want and don't be afraid to get a skull or neck tattoo.
10. Bowl Bald Fade with Van Dyke
A type of beard that has been getting a lot of love lately is the goatee. Of course, this is not a new trend. Goatees have been around for literally hundreds of years, but we all know that fashion is cyclical.
11. Bald Fade with Goatee and Comb Over
This fade has a very geometric taper coming down at the temples which can only be achieved with a razor. It also has a comb-over with a long top that falls carelessly in layers on the sides and a goatee. Also, have you seen that rose tattoo?
12. Slick Hipster Bald Fade with Beard & Hungarian Mustache
Granted, hipsters are not quite the big stylish group they used to be a few years ago (some say they are even more, others less). However, that doesn't mean they aren't still major influencers or that they have disappeared completely. Handlebar mustaches still exist.
13. Bald Fade with a Man Bun and PRecision Cut Beard
The same goes for the notorious man bun. It may not create the same waves or spark the same heated debates as it did a few years ago, but the man bun is still alive and well.
You can wear it if you have long hair. Notice the way the hair fades close to the eye, while the sideburns fade way back towards the ear.
14. Bald Fade with Short Beard and Pompadour
The pompadour was invented in the 17th century in France for a woman, Madame de Pompadour. It saw its first rise in the 50s and 60 thanks to the greasers and celebrities like Elvis and James Dean and its second rise in the 2010s.
15. The Pompadour Quiff with Declining Cheek Line Beard
As mentioned earlier, the pompadour started making a comeback at the beginning of the 2010s, slowly at first and then in full force. Now, at the end of the 2010s, it seems that everywhere you look, all the men are wearing one.
16. Slick, Textured Bald Fade with Very Short Beard
This is yet another type of pompadour, a very high and textured one. If you want to copy this look, you will have to use as much hair gel as possible and a large comb to get it to stay up like that all day.
17. The Jelly Roll with a Bald Fade
Just like the pompadour, the jelly roll is another haircut that comes to us from days long forgotten. It used to be a rockability hairstyle back in the 40s and 50s when it was notorious for keeping men long hours before the mirror.
18. Bald Fade with Platinum Highlights and Very Short Beard
This high and gelled pompadour has been treated to some serious platinum highlights. Thanks to the way they are arranged, the haircut is now as close to perfection as a hairstyle can possibly be.
19. The Razor Fade with Jaw Strap Beard
Here is a good example of a razor fade with a very long and feathery top styled into a layered pompadour. You can see it has a lot of volume to it. The beard is just a frame around the jawline, giving the illusion of the highly-coveted square jaw.
20. The Messy Bald Fade with Pointed Fade Beard
We don't know exactly when it happened, but we're very glad that it did. Messy hair is now a trend on its own, and it looks fantastic. Not to mention that it saves you the trouble of explaining all those pesky bad hair days.
21. The Lumberjack Bald Fade with Medium Beard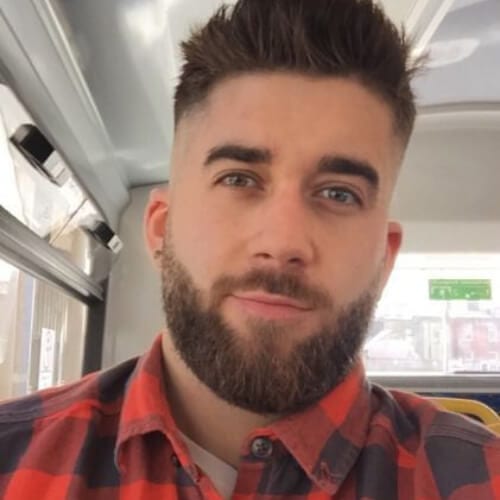 Yet another trend that seems to have diminished over time is the lumberjack look. It used to be a super cool trend adopted by many a few years ago, consisting of plaid shirts, short haircuts, and very bushy beards.
22. Bowl Haircut with Bald Fade and Scruff
The bowl haircut has recently started to make a comeback. We've seen more and more of it on runways and Instagram. This is the new version of it with a bald fade and a scruffy beard.
23. Military Bald Fade with Large Beard
This is the classic military high and tight haircut complete with a very long beard that we borrowed from the service. Even though it started with military men, it crossed over into pop culture.
24. Slick Back Bald Fade with Large Beard and Pointed Sideburns
Here's a perfect example of a slick back with a small pompadour in the front as well as a bald fade on the sides and in the back. The beard and mustache combo are wild and not trimmed but they go well with the ensemble.
25. Bald Fade with Beard and Faux Hawk
The faux hawk has now replaced the old Mohawk, which has not been seen on a large scale since the 70s and 80s. It looks much softer and approachable, but it still sends the same message of rebelling against the system.
26. The Hard Part and Bald Fade with Large Fuzzy Beard
A hard part is a line that follows the natural parting of your hair but is much more pronounced since your barber has to use a razor to create it. Keep the hairstyle to a minimum for this one so that you can grow a bushy beard.
27. Retro Bald Fade with Short Beard
This is how you update a retro haircut and bring it to the end of the 2010s. This hairstyle would have been perfect in the 1920s and even 1930s as well. However, seeing as it is feathery and coupled with awesome tattoos, it's a lot more modern.
28. Bald Fade with Jaw Strap Beard
Men are endlessly creative when it comes to facial hair. That's a fact. This, for example, is a chin strap beard. It's remarkable because it has no mustache or filling around the cheeks. Just the frame hugging your jawline.
29. Bald Fade for Receding Hairline, with Santa Beard
You can also wear this type of haircut if you have a receding hairline. It will look just as good and make you look like a complete badass. Plus, the bushy beard will make up for any hair you feel like you're missing on top.
30. Bald Fade with Waves and Descending Cheek Line, Medium Beard
Here's a super short African-American haircut with curly hair that has been styled in classical waves on top of the head. You can see the bald fade on the sides and in the back, as well as a gorgeous beard.
31. Glossy Slick Back Fade & Short Beard
You can get this level of glossiness in your hair if you moisturize your locks very well every time you're in the shower and then use hair oil or a cream with an oily base. Then reach for leave-in hair oil and hair gel.
32. Layered Curls, Hard Part, and Bald Fade
These layered curls have been obtained with the use of a curling iron. Of course, this is fantastic news for everyone out there who has straight hair but has always dreamed of sporting a few curls to spice things up style-wise.
33. Bald Fade with Large Beard and Long Side Swept Top
Here's a very bold haircut that is definitely not for the faint of heart. It requires you to grow both your hair and your beard to a medium length and pair them off with a bald fade. Add a few accessories such as studs and earrings, and you're good to go.
34. The Maluma
Singer Maluma is another celebrity who couldn't resist joining this trend, so he grew out his beard and got a bald fade. He also added a small design on one side consisting of two parallel lines.
35. The Zayn Malik
From one singer to another. Zayn Malik paired his bald fade and beard with a simple, yet effective buzz cut. Sometimes less really is more, especially when you have such beautiful and finely carved features as this Brit. This is one of his simplest designs, so check out 50 more Zayn Malik hairstyles!
36. The High Bald Fade, Spiky Fringe, and Medium Ginger Beard
This modern haircut has a retro element – spikes. Do you remember back in the 2000s when we all used to buy tonnes of hair gel and wear spikes every day? Spikes are still in style but not in the same way as back then.
37. Short Spikes and Bald Fade and Basic Neat Beard
This is another example of how you can wear spikes in the modern age. The bottom half of this haircut is a bald fade, of course, while the top half is short and spiky, giving you a young, almost boyish look.
38. Curly Bald Fade with Beard
Many men who have naturally curly hair resort to this type of hairstyle because it allows them both to keep their curls but it's short enough not to have to groom them all the time. However, you will have to groom your beard to get it to this level of perfection.
39. High Bald Fade with Medium-Large Beard
This is an extremely high bald fade with a very small sliver of hair slicked back on top of the head. The reason for this choice was so that the model could display his tattoos. Copy this idea if you have tattoos as well.
40. The Mid Zero Fade with Scruff
From an extreme high fade to a mid zero one with wavy brushed back hair and a beard. The hair has a lot of volume on top, and the sideburns are missing from this one. But this is a choice you should discuss with your stylist.
41. Bald Fade and a Long Van Dyke
If you want to keep your face free of clutter as well as the sides of your head, we suggest you go for a goatee instead of a full-on beard. In this way, you can show off your neck ink and even get new stuff.
42. Bald Fade and Hair Designs and Thin Beard
This is a mohawk with a very heavy texture on top plus blue peekaboo highlights, a high fade to which a cool hair design has been added, and a trimmed beard. The hair design follows the lines of the head very smoothly.
43. Curly Hair with V Finish and Long Beard
Here is a simple and creative thing you can do at the back of your head when you have a bald fade. Instead of finishing the haircut in a simple, straight line, ask your barber to give you a V. It's a lot more interesting and artistic.
44. Blonde Spikes, Bald Fade, and Short Beard
This is a very straightforward hairstyle that you can easily pull off at home. Take some hair wax on your fingertips and run your hands through your hair until you get the desired texture and spikes you need.
45. The Mullet Bald Fade with Precision Cut Beard, No Mustache
Have you ever heard of a mullet with a fade? Probably not. But here is what it looks like. This haircut is all modern pompadour in the front, party in the back. It may not be the classiest of choices, but it sure is fun.
46. Gelled Mohawk with Bald Fade and Very Light Beard
Here is another reinvention of a classic combined with the bald fade. This is a highly gelled Mohawk with a smooth hair design. Plus, have you noticed the beard shaped like a diamond? We're loving this!
47. Bald Fade with a Platinum Top and Wild Beard
Since platinum is, without a doubt, the hair color of the year, we could not have missed the opportunity to show you a beautiful zero fade with a combed platinum top. But remember, you will have to bleach your hair for this.
48. Box Top with a Bald Fade and Scruff
Here's a haircut coming to us straight from the 80s. It's still a hit today for people who want to relive the good, old days when box tops and straight afros meant you were the coolest guy around.
49. Iceberg Blonde with Colorful Peekaboos and Scruff
This is a combination of colors which works really well both in summertime and wintertime. The monotony of the iceberg blonde is broken up by the few hot pink and blue peekaboo highlights at the front.
50. Bald Fade with a French Crop and Short Beard
The French crop is a style very similar to the Caesar cut. It's short all over and a bit feathery, with a portion of it coming down on the forehead like bangs. In fact, many people confuse it with the Caesar haircut.
51. Neatly Groomed Beard and Bald Fade
Whether you like that finely defined temple line or not, you've got to appreciate the skill of the barber who did this. Look at how precise that beard is groomed!
52. Side Swept Undercut with Beard and Textured Sides
This one might be too much for some, but those textured sides are incredibly cool if you're into event hair. And it will probably look hella cool when it grows a little too!
53. Braided Man Bun with Bald Fade and Beard
Okay, this dude doesn't really look that great as the beard styles don't match his face shape that well. However, the style in itself is awesome. The braids are really cool and the beard is left a bit more wild so as to match the disorderliness of the braided bun.
54. Faux Hawk with Skin Fade
Faux Hawks are really cool and combining them with a bald fade results in a weirdly wild look, somewhat rebellious, somewhat asymmetrical. But overall worth a try!
55. Classic Skin Fade and Very Short Beard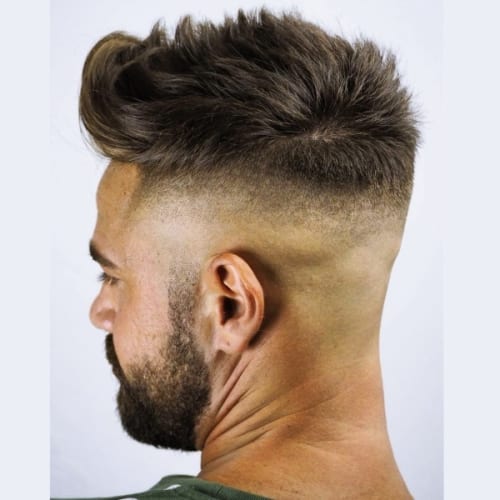 This is a classic bald fade for slightly wavy hair. If you're not feeling particularly adventurous, you can try this style and work your way from there if you like it!
56. Textured Grizzled Afro-Textured with Precision Cut Beard
Grizzled afro-texture hair is really cool because it gains a very distinguished look. Pair that with a skin fade and a precision cut beard (that's also almost white and you're sure to stand out in the crowd!
Conclusion
The bald fade with beard combination (or bearded fade as it is otherwise known) is one of the most loved styling choices of the decade for men.
The reason is that it is versatile, low maintenance, and gives you an air of handsome ruggedness.
Let us know in the comment section below which one of these ideas was your favorite and why.
This article was updated in June 2019.
Martin is a hairstylist and makeup artist, with a passion for art, interior design, and traveling. He has been in the industry for over 10 years and loves meeting new people. Martin enjoys assisting his clients with their various needs and is looking forward to running his own business. When he is not busy building on his career, Martin finds pleasure in spending time with family, going out for a run, and inviting friends over for dinner, boardgames, and a movie.