The pompadour is, without a doubt, one of the most popular hairstyles of the year.
Scores of men all over the world are wearing it as we speak, which is a testament to its beauty and power of styling.
However, seeing as this hairstyle dates back more than 250 years (see the most classic of pompadours), how do you exactly style it to fit this millennium?
Here's a large collection of modern pompadour ideas that will help you out!
1. Modern Pompadour with a Side Part
First things first. Did you know that, originally, the pompadour was a hairstyle for women? Curiously enough, though, it is now, more than 250 years after its inception, worn mostly by men and considered a staple of manhood.
2. Modern Pompadour with a Beard
The pompadour was invented and named after Madame de Pompadour who lived in France at the beginning of the 1700s and was a mistress to King Louis the XIVth. Her use of it was on a large, white, and powdered wig.
3. The Shaggy Modern Pompadour
The pompadour has a funny history as far as hairstyles go. It was popular in the 1700s thank to Madame de Pompadour but then, as all styles do, faded away.
However, it became popular once more as part of the look called the Gibson Girl, in the 1890s, an independent woman that relied on her talents and intelligence as well as her looks. But still no sign of men yet.
4. The Piecey Modern Pompadour
The Gibson Girl paved the way for the flappers of the 20s because that's when the pompadour stopped being a trend. However, it came back into women's style in the 1940s. And it is believed that this is were men come in and where they got their inspiration from.
5. The Layered Modern Pompadour
When the pompadour came back into style for women in the 40s, it was the first time it made an impression on men. They took notice of it and started wearing it. But the haircut really caught on when one young man started wearing it heavily. Elvis Presley.
6. The Blonde Modern Pompadour
Thanks to Elvis, the pompadour continued to be highly popular for the next two decades, the 50s and the 60s. The King is also responsible for never letting this hairstyle fade away. Even today men are lured to the beauty of the pompadour as worn by the young Elvis.
7. Minimal Design Modern Pompadour
Right now, we are experiencing one of the many revivals the pompadour has seen in its long existence. It exploded back into celebrity in the mid-2010s and it hasn't left us since. Scores of celebrities are now wearing it so keep scrolling because we have some on our list as well.
8. Long Fringe Modern Pompadour
Simply put and as a basic rule of thumb, the pompadour haircut consists of medium-length hair especially in the front that needs to be swept up over the forehead and the crown of the head in a slick way.
Today, it is considered a male haircut with women simply borrowing it from time to time.
Want something even more extra? Try our list of the flashiest pompadour hairstyles on the internet.
9. The Perfect Modern Pompadour
Although this is what the perfect pompadour looks like according to the basic definition we've given above, there are many variations to it, especially in the modern age, as you are about to see on this list.
10. Modern Pompadour with Hair Tattoos
This is an outstanding pompadour that serves as a faux hawk as well. It's bottle blonde in color, has a shaved fade plus a hair tattoo. The hairstyle is complicated and has a lot of visual information, perfectly summing up the end of the 2010s.
11. The Two-Toned Modern Pompadour
A great way of showing off your pompadour is by going for two colors instead of one. In this way, the wall of slicked hair will stand out even more. Add a taper fade to all this, which is also one of the biggest trends of the year.
12. The Purple Modern Pompadour
Speaking of the trends of the year, you probably already know that nonconventional colors have been a smashing hit. People are so much into them that cosmetic brands have even come up with new products specially to accommodate more consumers.
13. The Fuchsia Modern Pomp
What you need to understand is that there is no holding back when you're wearing a pompadour. As its history shows, you're sporting a women's haircut that was invented 250 years ago and which was worn on sky high powered wigs with coils in the back. Nothing you can do will ever top that!
14. The Blue Modern Pompadour
Building on the above, it might actually be somewhat of a duty to try and be as creative as possible when you're wearing a pompadour, just to honor its history. Therefore, don't hold back.
15. The White Modern Pomp
We just love it when we come across a fantastic hair color that can transition amazingly well from one season to another. And this extra white blonde does just that. Pair it with a demure pompadour and you've got yourself a winner.
16. Modern Pompadour for Boys
The pompadour is a suitable hairstyle for pre-teenage boys as well. Apart from that, it's a preferred choice by them because it makes them look cool and popular with their schoolmates and other children.
17. The Pink Modern Pompadour
When you dye your hair, you have two options. You can grow your beard in its natural color or dye it as well – to match your new hair. If you go for the latter, you should know it's called the unicorn beard trend.
18. The Bruno Mars
Singer-songwriter Bruno Mars is merely the first celebrity to grace our list of modern pompadour ideas. For a long time in his career, he used to embrace a classic pompadour, inspired by Elvis, to which he added a modern touch with hipster sunglasses and chunky golden rings.
19. Red Modern Pomp
Whether you're a natural redhead or you decide to dye your hair in this color, we completely support you. This is one of the main trends this year. Copper and brass have blazed their way in as a replacement to the older matte colors and rose gold.
20. Teal Modern Pompadour
Here is the unicorn trend we were referencing above. It asks you to choose a nontraditional color and then dye your beard in the exact same shade as well. We suggest you first do a little test as your skin might react badly to the dye.
21. The Modern Pompadour with a Design
Hair tattoos or designs have been really big this year. This is, of course, just a basic example of what you can get. In reality, your own creativity is the sole limit to what you can have designed in your undercut.
22. The Lavender Modern Pompadour
We're not supposed to have favorites, but we're only human, and we can honestly say that this pastel lavender pompadour is our choice of the heart. The color and the styling here with that white summer suit plus the paisley silk scarf are a thing of perfection.
23. The Gray Modern Pomp
If you're looking for something more demure, but still on the non-conventional side, why not try a bit of metallic gray? Raise that pompadour as high as you can by using mousse and hairspray and add some parallel lines.
24. The Orchid Modern Pompadour
Orchid is a shade belonging to the very extensive purple family. It works incredibly well with denim, as you can well see, giving you a very George Michael in the 90s kind of look, but definitely with a more modern vibe.
25. The Natural Gray Modern Pomp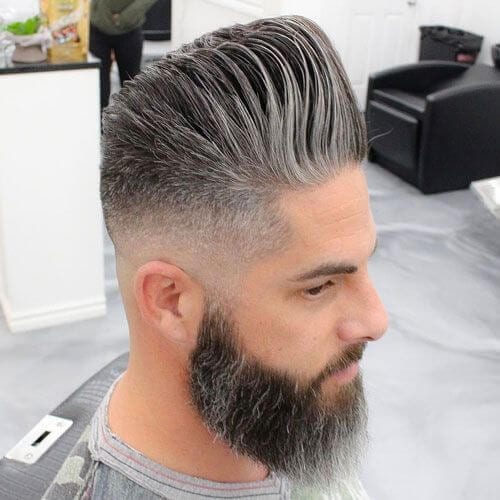 Sometimes, you don't even need to ask your stylist to dye your hair for an interesting look. If your hair is naturally gray or in the processing of becoming so, we support you in the attempt of keeping it all natural.
26. The Straight Modern Pompadour
This version of the pompadour requires a lot of practice and skill before you can master it. However, once you do, you will look insanely cool. So, get that comb and pomade ready, because it's time to be the coolest guy around!
27. The Flat Top
You can also combine a modern pompadour with a flat top. This can be achieved when you have shorter hair and by combing up not only the hair in the front but also the one on the sides, bringing it all up to the center.
28. The Blowout Modern Pompadour
If you're feeling brave, you can even try a nice blowout. Get out your hair blower and a round brush and get ready to spend some time in front of the mirror because this baby doesn't come easy at all.
29. The Gelled Modern Pompadour
Here's a version of the pompadour that you can wear to your prom. It's a gelled style which your stylist can create for you in case you can't manage on your own. It has a series of well-oiled layers plus a hard part.
30. The Metallic Pompadour
As we all know by now, the matte trend is out the door and has quietly but surely made way for the metallics. This includes everything from clothes to makeup and hair colors. They may be a shout out to the 80s and 90s, but we love them.
31. The Modern Pompadour with Highlights
One way in which you can showcase your gorgeous complexion, your tan or the special color of your eyes is by sporting some wicked highlights. Comb them over with your pompadour for a maximum effect.
32. The Deep Blue Modern Pompadour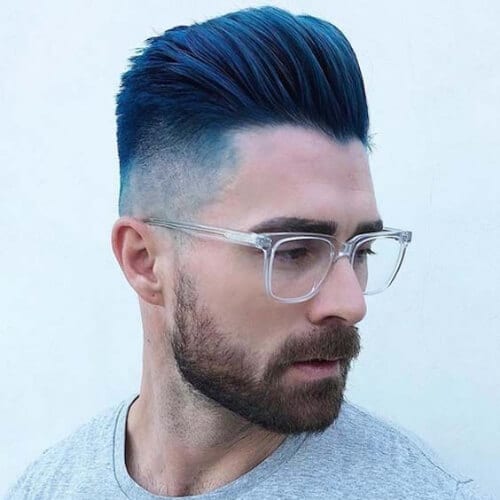 Are you looking for singular colors for your hair? How about this deep blue with hints of aquamarine? We love the fact that even the taper fade has been carefully colored in this situation.
33. The High Fashion Modern Pomp
Fashion is very important when you're wearing such a cool haircut as the pompadour. It's crucial to style yourself according to the hairstyle you're wearing, and this is just one example that you can use as inspiration.
34. Beautiful Modern Pompadour
Speaking of fashion and styling, take a cue from this one. It's a layered and feathery arctic blonde pompadour over a natural dark brunette taper fade. The styling includes a white tailored suit with black silk lapels, and a black and white leopard print shirt. Did you notice the makeup?
35. Handsome Modern Pomp
Depending on the version you choose, pompadours can, in fact, be very easy to maintain. We suggest you invest in some high-quality hair care products that can hydrate your locks and make them easier to slick back.
36. The Volumized Modern Pompadour
It's all about adding volume with this iceberg blonde pompadour. The top has been blown out using a hair blower and secured in place with a liberal amount of hair wax. This can easily be your next summer hairstyle.
37. The Hard Part Modern Pomp
Essentially, a hard part is an upgraded typical hair part. The difference is that your stylist or barber is responsible for it, as he or she has to give it to you using a razor. It's best not to try to do it at home by yourself.
38. The David Beckham
He was not only a king on the soccer field for many years, but he was also the king of hairstyles, as we all know. David Beckham has tried every single haircut in the world, so it was only natural to try a pompadour as well.
39. The Chris Evans
Captain America himself, Chris Evans, has chestnut brown hair in real life that highlights his baby blue eyes. He wears it in a carefree pompadour styled with some pomade or similar hair products. His hairstyle is accompanied by a bushy yet trimmed beard.
40. The Jon Kortajarena
Rightfully named one of the most handsome male models in history, Jon Kortajarena undoubtedly makes the case for the modern pompadour. His hair is milk chocolate brown which compliments his olive skin.
41. The Daniel Radcliffe
Always the unapologetic hipster, actor Daniel Radcliffe sports an original quiff. It's messy and bold and helps elongate his face. You might want to think about trying this as well if you have the same type of face.
42. The Zayn Malik
Singer Zayn Malik has been making the case for the modern and messy pompadour since his early One Direction days. Now, many years later, his style has not changed one bit. He has more tattoos, surely, but his style is pretty much the same.
43. The Adam Lambert
This is what it means to have a good stylist. Adam Lambert's dark chocolate brown and ultra-glossy hair highlights his unbelievably blue eyes in a way we've never seen before. He also has just the right amount of beard and mustache so as not to hide away his handsome features.
44. The Justin Timberlake
Although we are huge fans of his blonde meets brown pompadour, we can honestly say that whatever hairstyle Justin Timberlake wore after the blonde ramen one back in the 2000s is a good one.
45. The Liam Payne
Here we have another former member of One Direction and his great hairstyle. Liam Payne is just as enamored with the pompadour as his former bandmate Zayn. Although we must say that Liam always strived for newer heights with his hair.
46. The Harry Styles
It was impossible to talk about One Direction and not mention Harry Styles. He has curly to wavy hair which he once wore in a messy and glossy pompadour that sweetened his deeply angular face.
47. The Dan Stevens
Here is actor Dan Stevens photographed for a Giorgio Armani campaign a few years ago in a tailored suit and wearing a modern pompadour. We like to believe that this was all the audition he needed to play a prince in Beauty and the Beast.
48. The James Franco
There is no need for proof that James Franco looks good with a pompadour. He was chosen to play James Dean in a biopic mainly because he looks so much like the legendary actor. Therefore, upturned collars and a pompadour are definitely his thing.
49. The Zac Efron
Another product of the Disney school that now looks smashing in a grownup haircut such as the pompadour is none other than Zac Efron. He has classic chiseled good looks and a layered pompadour complete with medium-sized sideburns.
50. The Justin Bieber
Justin Bieber has never been able to fully ditch blonde hair so here he is in all his glory sporting a teenager's version of a gelled pompadour with a taper fade and his iconic smoldering look to the camera.
51. Faux Hawk Pompadour
The amount of hair wax or spray you'll need for this faux hawk hairstyle is insane, but it sure looks incredible!
52. Indian Style Pompadour
This one's a bit more classic, it reminds me of 1940s India, but it still looks hella cool and you can easily make it work, especially if you've got wavy hair and don't mind shaving completely every single day.
53. The Mads Mikkelsen Pompadour
Nothing beats Mads Mikkelsen. There's nothing more to say.
54. Medium-Length Modern Pompadour with Bald Fade
This is a slight twist on the classic pompadour, but with a bald fade and longer hair overall. That aspect makes for a wilder look and the small goatee and mustache just add to the charm!
55. Messy Wavy Straight Pompadour
Is this straight hair? Or is it wavy? Is it short? Or is it medium-length? We don't know! It's somewhere in between all of those and honestly it just looks amazing.
56. Asymmetrical Side Swept Pompadour
I like to call this one Elvis with a twist. Incredible sunglasses aside, look at the way the hair is cut short on the right hand side of this dude's face. Edgy and on point. Really, really cool!
57. The Vincent Cassel Receding Hairline Pompadour
Vincent Cassel is a staple of masculinity and his pomp was pretty daring for that time in that men with receding hairlines typically avoided the look. He went forward with it and made it his own and it just looks incredible.
Conclusion
The pompadour, as a hairstyle, has over 250 years of history which stand behind it as a testament to how attractive it still is to men all over the world.
However, if you want to try it out, you still have to learn how to style it in a contemporary way.
Therefore, take a look at these 50 modern pompadour ideas and let us know in the comment section below which one was your favorite.
This article was updated in July 2019.