A flat top haircut refers to cutting the hair on the top of the head to form a horizontal plane when the hair is styled. The hair on the lower portions of the head is clipper cut to a length of approximately 1/8 to 1/4 of an inch. The perimeter follows the traditional men's haircut pattern.
As for choosing your style, you have got these exceptional haircuts to get inspired from so just slide to see them!
1. Flat Prime With Fade
The flat prime with fade can easily be recognized and is inspired by groovy music videos. Similar to a that, this haircut follows the shape of your head, giving volume to the crown.
2. Loose Flat Top with Buzzed Sides
As a white guy, you can achieve this style mostly addressed to Afro hair by getting a square haircut with buzzed sides. Apply styling products to the top to keep it in shape.
3. Blonde Flat Top with Skin Fade
A very accessible version from the flat top hairstyles for men category is the blonde flat with skin fade. If you have naturally curly hair, this haircut is easy to acquire and maintain.
4. Side Parted Flat Pompadour
Its soft edges, neat side part, and comb over with volume make this flat top a distinguished one. Wear it in a natural way to keep your appearance flawless.
5. Hard Parting Flat Top Haircut
A simple element added in your haircut can give you that personal touch that makes a strong impression. Soft curly edges and a hard side part are the main attractions of this haircut.
6. Natural Curly Flat Top with Low Fade
This haircut is the living proof that curly hair is meant for this style. The high wild curls on the top portion become the center of attention.
7. Natural Flat Top with Designs
Add some edgy shaved designs and you will take it to the next level. In the image below the design fits the back of the head with fitting circular lines, while the flat-top is parted in two to create a unique look at the back.
8. Wavy Flat Top with Faded Sides
The waves on the top and the contrasting sides make this haircut special. If you want to achieve a cool dude image, then this haircut is just perfect for you!
9. Light Orange Messy Flat Top
One more idea for dyed hair. What sets this haircut apart from other flat tops is the light orange color of its top section and the slightly rounded shape.
10. Quick Natural Curls With Temp Fade
Your curly hair will look outstanding if you only shave the sides of your head and let the top be wild and free.
11. Sharp Line with Purple Flat Top Peaks
The good thing about a flat top haircut is that it is edgy and trendy enough to allow you to have much fun experimenting in various ways. This one features purple peaks on the top section.
12. High Flat Top with Angled Front
Angled above the forehead and accentuated with a neat fade cut, this flat top haircut shows you just how awesome it looks when you blend two types of haircuts into one style.
13. Classic Flat Top Haircut
A flat top can be easily made with fine and dense hair. Though it may not look as stiff as it looks on thick hair, the short length is going to give you a more personalized style.
14. Wild Afro Flat Top
This haircut is unconventional and arranged in a pattern that goes well with this type of hair. The high wild curls in the middle portion make the edgy bangs the center of attention and attraction.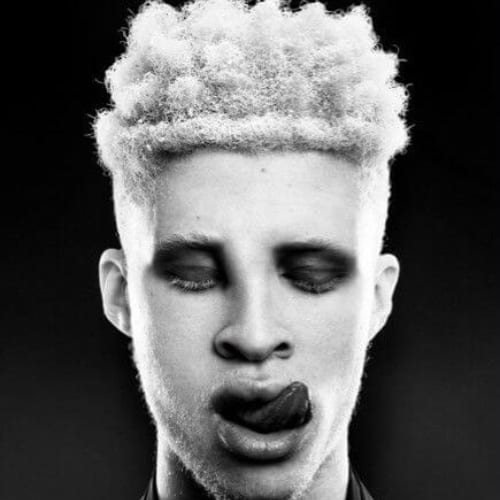 15. Hard Parting Flat Top Haircut
Another trendy approach to the flat top is this unusual arrangement. If you take a look at the picture, you can see that the flat top is delimited by straight lines on the sides.
16. Afro with Tapered Sides
The hair is arranged into an undercut by cutting the sides all the same length, while the top is long and can be arranged into a flat top.
17. Flat Top with Mid Fade
A neat mid fade and short flat top are one of the best solutions for curly hair. If you have a receding hairline, you can definitely use a flat top to your advantage.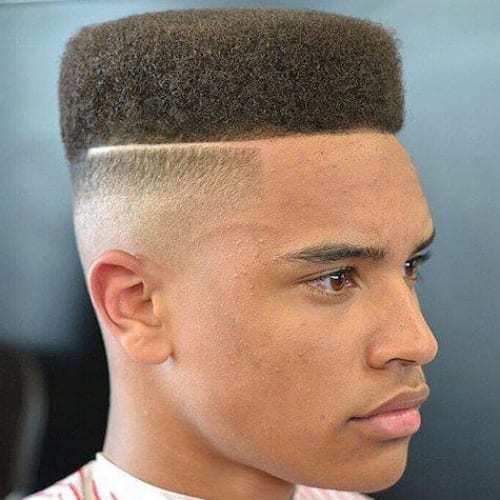 18. Flat Top with Short Back and Sides
The faded sides and the perfectly trimmed top will make you look like a macho. This buzzed trimmed top haircut has also become quite the popular choice among men.
19. Higher Shine Flat Top
The comb over is used for the impression of a flat surface, however, some curved elements are present and all is sustained by strong hair products.
20. Precision Flat Top
A medium length flat top is rarely this clean, however, this Sassoon is a flawless cut. Besides the precisely buzzed sides and back, this flat top also features the perfect right angle above the forehead, with purple roots to make it stand out.
21. Dark Faded Flat Top with Blonde Curls
Black men look awesome with flat top haircuts because they work well with their natural hair. This high flat top features a mid skin fade along the sides and the back with a messy blonde dyed top.
22. Textured Prime with Tapered Fade
Short flat tops inspired from undercuts are great for men who hold jobs that require them to sport short hairstyles.
23. Flat Prime with Fade and Design
Keep the design trend going and add to the flat top hairstyles for men a design of your own choosing. The mid faded sides divided by a line and the thick top section with rounded edges finish off the look.
24. Scissor Crop Flat Top Haircut
This flat top haircut is easy to make and to maintain. The sides are a little shorter than the top. The top is spiked to give the appearance of a flat surface.
25. Volume Flat Top with High Fade
A high taper fade makes for a wonderful flat top for men with all types of hair. Men with thin hair will appreciate this option since the hairstyle appears voluminous.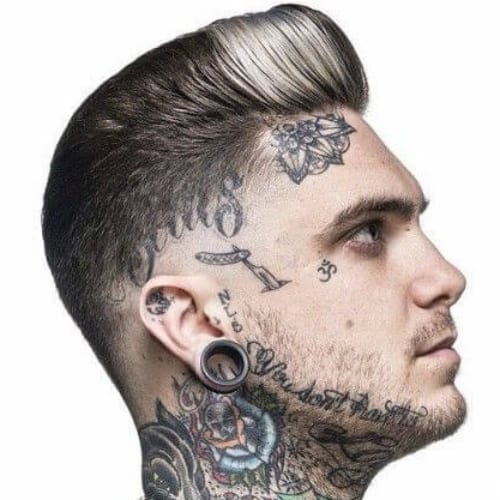 26. Artistic Asymmetric Flat Top
You should definitely try out the flat top from the picture below. With its precise asymmetric rounded cut that gives a slanted look on one side, it looks just stunning!
27. Higher Leading Flat Top with Fade
The precisely cut top and the smoothly faded sides will make you look like a star. A fade is a popular technique to make the top stand out.
28. Dramatic Curls with Fade
The faded sides and the contrasted curly top makes this haircut unique and attractive. If you want to maintain an awesome image of yourself, then this haircut is just perfect for you.
29. Short Flat Top with Undercut
The neat mid fade and the short flat top are the best for wavy hair. If you have a receding hairline you can make it blend in with some help from a flat-top.
30. Super Sharp Flat Top
This super sharp flat is wider on top than it is on the bottom. While the shape is precise, the top is flat and this hairstyle deserves your attention for being a trendsetter.
31. Flat Leading
Here is another example of the classic flat top haircut for black men. The longer the hair on top is, the harder it is to style but the more stunning it looks.
32. Blue Slicked Back Flat Top
This hairstyle creates an impression of volume while taking away the original flat top look. The hair on top is styled to resemble a square, while the blue dye adds a modern touch to it.
33. Salt and Pepper Flat Top
This flat top variation features black and gray throughout the hair in a perfect balance. Such blending makes a flat top haircut look less traditional and more free-spirited instead.
34. Flat Top Crew Reduce
This flat top crew reduce haircut for men is great for taming curly hair. This hairstyle is created with a medium taper fade on the sides.
35. Blunt Blonde Flat Top
The blunt blonde flat top is a very common combination for guys, no matter their tastes. The top is bluntly cut to give it a stiff appearance, wax precise, set off with short sides.
36. Flat Top with Partial Fade
By expanding the back section, flat top haircuts like the one below create something similar to a faux hawk look. You can say you have two haircuts in one and that is always good.
37. Pompadour Flat Top
The pompadour can bring the style into the modern era by combining it with a flat top, with medium length sides and a messy wavy top.
38. Side Part Flat Top
This flat top features a neat side part, softened edges, skin shaved on sides, and a precisely cut beard. For styling, you need hair gel and a comb to make it look perfect.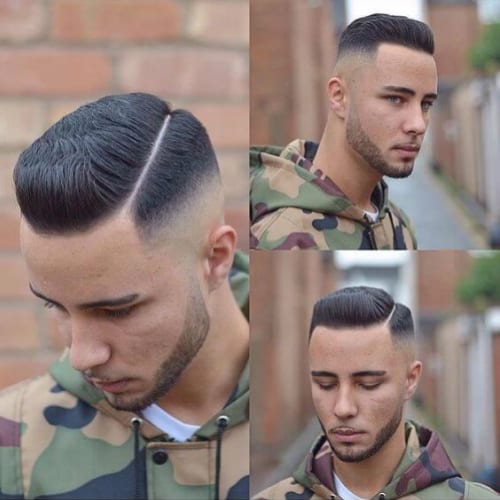 39. Neat Casual Flat Top
If your hair is not thick or dense enough, you can make it stand straight with hair wax. The sides are gradually shaved too.
40. Natural Spikes Flat Top
This Afro flat top style looks great on black men. It's neat and creates a fashionable impression while keeping the maintenance very low.
41. Quick Turquoise Top with Fade
Making waves back in the 90's, this hairstyle became highly rated and is still one of the top choices when it comes to the flat top haircut.
42. Flat Top for Fine Hair
With fine blonde and yet dense hair, you can still create a flat top. With the right products, you can add your personal touch to the look as well.
43. Organic Texture with Shaved Sides
If you have curly hair, it can be hard to create a short flat top. You can get as close to it as possible, though, by keeping the locks short and styled.
44. High Fade Pompadour
If you are obsessed with having the perfect hairdo, then this is the flat top that you were looking for! It will definitely emphasize your features.
45. Purple Flat Top with Gradual Fade
This purple flat top haircut goes well with anyone who fancies a smart casual dress code. It is also perfect for special occasions when you must wear a suit.
46. Lightly Faded Flat Top
One of the most modern techniques in popular men's haircuts is the lightly faded flat top. With smoothly faded temples and a precisely cut top, this look will suit anyone.
47. Difficult Parting Flat Top
If you want to be funky and fresh, forget about the classic flat top haircut and choose a precise asymmetric cut that will give you a smashing look.
48. Wavy All Natural Textured Hair
You can pull off the flat top without having to cut out on your side hair and the outcome will look just as magnificent!
49. Difficult Part with Fade and Design
A difficult part with fade is already a style that demands a lot of attention, but when you add some edgy shaved designs, you move to the next level.
50. Highly Faded Flat Top
This highly faded top is shaped so perfectly because of the great natural hair texture. In this haircut, the sides and the back are faded while the top is flat and high with a round shape.
Conclusion
Based on the pictures above, it is easy to see that the flat top haircut has various examples to pick from. It all depends on your personal style and the look you want to achieve.
Whether conservative, edgy, classic, or just plain awesome, the flat-top always appears to have a special place among the haircuts that men just can't stay away from. Which one will you go for?
This article was updated in August 2019.
Lilith Wetherall is a freelance writer, editor, and blogger. She graduated in 2014 with a B.A. in Theatre Arts and a minor in Journalism. She later found her passion for hairstyles and is now professing in a men's salon. Some of her favorite things to do include reading, writing, watching movies, and being outdoors. When she's not writing for our readers, she is either at the salon or at home trying out a new hair color.