Comb over hairstyles for men seem to be very popular nowadays. No matter the occasion, having a sharp look will always bring a certain elegance and boost of confidence.
For this reason, comb over hairstyles for men have a large range of options to match each taste.
1. Combined Long-Short Hairstyle
This combined hairstyle with short sides and long top does not only create a wavy natural look side volume and texture but also gives you a uniquely stylish look. It can be worn with a casual outfit and a pair of sneakers.
2. Equal Length Comb Over Hairstyle
Of course having a beard will make your hairstyle stand out, but also the 'Jim Carrey' features add up. Given that, the equal length comb over is looking classy with a celebrity touch.
3. Modern Comb Over with Shaved Line Hairstyle
For this hairstyle, the maintenance is very easy. Using a comb and hair gel, you can get the look above. The shaved line defines the hairstyle and also plays an important role in separating the top from the sides.
4. Wet Comb Over with Buzzed Sides
A first thing to remember, old age brings wisdom and a more open mind when talking about the latest trends. A wet comb over with buzzed sides will only emphasize your features.
5. The Neat Comb Over Hairstyle
Born to wear a suit, the short comb over is a take on this style. For those with a hard time to manage their hair or those who simply want to portray a more polished aesthetic, this is the hairstyle for you.
6. Medium Length with Side Part Hairstyle
At the present time, the medium length with side part hairstyle is becoming very popular and for the most part, men improve this style by adding more length and making it visibly asymmetrical.
7. Voluminous Pompadour + Temp Fade
This hairstyle is for those that prefer undefined lines. For making it a bit fancier, you can add hair powder at the roots to give it flexibility and a natural look.
8. Slick Back Pompadour Hairstyle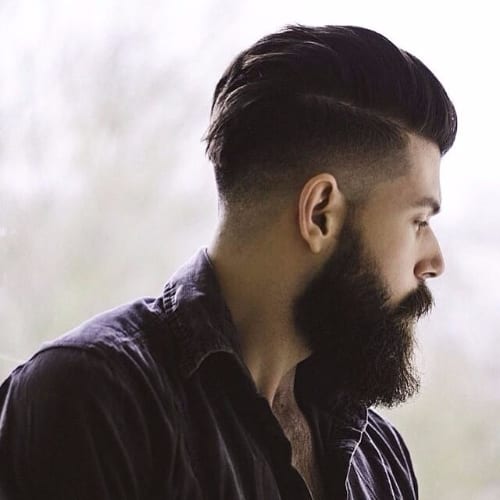 The slick back pompadour hairstyle is in the center of attention. Indeed, combined with a full-grown beard, it accentuates your features and gives you a very appealing look.
9. Modern Pompadour Hairstyle
Resembling a hawk, this modern pompadour hairstyle creates height on the top and the buzzed sides have continuity with the cheek line, all the way to the chin, giving you a perfectly balanced shape.
10. Comb Over With Hard Part Hairstyle
The comb over with hard part is very popular and present almost everywhere, especially since the physiognomy requirements are the norm. Ask your barber if this hairstyle is suitable for you and give it a try!
11. Disconnected Undercut Hairstyle
This particular disconnected undercut hairstyle denotes elegance and a modern attitude. Accordingly, it follows the shape of your head by creating a very defined flow of the hair.
12. Comb Over Hairstyles for Men with Messy Top
You are lucky if you enjoy painting your hair because you can easily make it stand out by shaving the sides. This will bring the best out of your hair and most likely you will get this look.
13. Classical Shape Up Hairstyle
The classical shape up takes you back in time when true gentlemen really knew how to wear their hair.
Matched with a suit and a tie will most definitely give you an outstanding look but also wearing something casual will definitely make it stand out.
14. Slick and Scruffy Hairstyle
The slick and scruffy hairstyle is very popular among tattoo artist and the men passionate about tattoos. Keeping your head breezy and yet classy, the slick and scruffy won't make you sassy.
15. Undercut with Textured Top Hairstyle
The undercut with textured top is a fluid hairstyle for men with solid personality. Out of the box, this style is accessible for your everyday look with a very low maintenance.
16. Undercut with Pompadour Hairstyle
A balanced hairstyle with extra volume on top, especially used for fashion magazines can draw attention to you in no time. The styling is very important for a clean shape.
17. Messy Side Part Comb Over Hairstyle
Here and there you will encounter times when you are not in the mood to keep your hair in a perfect shape. A very good haircut can make this easier for you because it will fix itself.
18. Classic Wavy Comb Over Hairstyle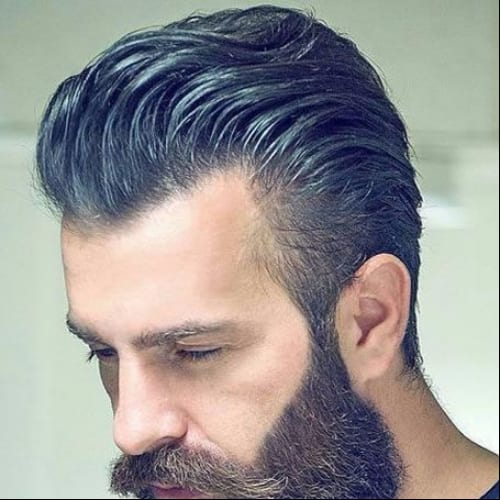 The classic wavy comb over hairstyle for men with a holy look. It illuminates your face and it draws attention to the gates of the soul: the eyes.
19. Medium Fade with Comb Over and Beard
Generally speaking, ginger men have a particular 'je ne sais quoi' that brings them in the center of attention. This contrast between the medium comb over and a full beard will only sum up the above.
20. Messy Comb Over
If your job is to fix motorcycle bikes or race cars, you need a messy look from the comb over hairstyles for men class. Add an undershirt with oil stains and grab a key wrench because you are the ultimate mechanic.
21. Faded Comb Over with Beard
Frequently met on the streets, the faded comb over with beard even if being popular, it won't stop drawing attention to you. Best worn with a sharp outfit, you can always adapt it to your needs.
22. Classic Ivy League Hairstyle
The classic Ivy League hairstyle is mostly preferred by the men that are passionate about sports. It is a clean and natural hairstyle that can be easily maintained.
23. Wet Comb Over Hairstyle
The wheel of time keeps on turning and retrieving old styles. As an illustration of the whole picture, not only the hairstyles get the attention but also the clothing. Above you can witness the process.
24. Comb Over For Ginger Hair
These medium sides with a long top, combed over towards the back give you a clean and elegant look. It can be easily worn with a beard to balance the features of the face.
25. Long Length Comb Over
Suitable for businessmen, the long length comb over supplements the overview and amplifies the elegance that is dominating this particular world.
26. Low Fade Hairstyle + Dark Beard
This particular hairstyle denotes elegance and a modern attitude. It follows the shape of your head by creating very defined flow of the hair.
27. Burst Fade High Pomp Hairstyle
Comb over hairstyles for men suggests a mixture of a hawk and pompadour. The faded sides blend perfectly with the beard, giving you balance and a touch of elegance.
28. Classic Side Part Comb Over Hairstyle
The classic side part comb over is used for a professional look yet arranged in a natural way. Men everywhere adapt this hairstyle to their needs and is often used for business meetings.
29. Cowlick Hairstyle
This amazing hairstyle was preferred by the cinema stars back in the days and today it came back to the men on the streets. It is a retro look that will get all the eyes on you.
30. Buzzed Sides with Comb Over Hairstyle
The buzzed sides will always bring out the top and bottom of your face, creating the perfect balance. If you take good care of it, having a constant sharp look will make everyone think you were born like this.
31. Full Comb Over Hairstyles for Men
In the above image, you can witness how a classy modern old man looks like. From the category of comb over hairstyles for men, a full comb over hairstyle with sides connected with the beard adds an outstanding attitude.
32. The Loose Comb Over Hairstyle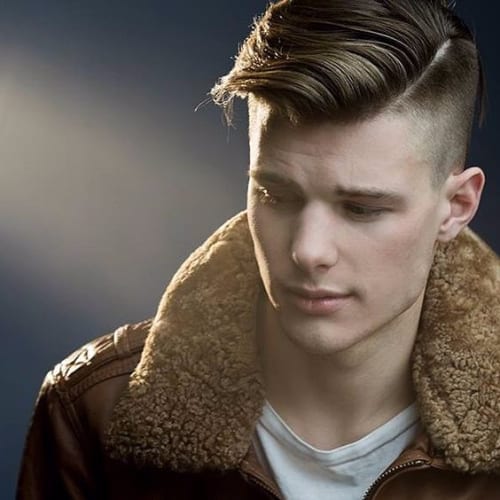 The loose comb over is a hairstyle that brings out the wild side. With buzzed sides all the way near the top, you can easily arrange it just by crossing your hand in it, as simple as that.
33. Messy Spikes Hairstyle
The messy spikes hairstyle is suitable for a more difficult hair. It is elegant and classic with a touch of modern and retro. The hair is worn natural and on one side.
34. Side Part Comb Over Hairstyle
If you are getting ready to attend an important event in your life or in someone else's, here is the suitable hairstyle for you. 'Accessorized' with a beard and a modern elegant outfit, you will not go unnoticed.
35. High Fade Slick Back Hairstyle
The high fade slick back hairstyle is created with a razor and with the scissors over comb technique. It is easy to maintain and by combing it over after using hair gel will keep it in place for the entire day.
36. Shaved High Fade with Comb Over Hairstyle
The shaved head with a comb over hairstyle is unique because of the carefully made fade that exposes the top. Volume and texture are added to the hair for a dramatic look.
37. High Fade With Shaved Line Hairstyle
A comb over hairstyle with a shaved line, suitable for the summer season. It is easy to maintain and it gives you a fresh look.
38. Medium Length Comb Over Hairstyle
The medium comb over hairstyle is adequate for men searching for an easy to maintain haircut. It only asks for adjustments once in 2-3 months and the styling is gossamer.
39. Long Comb Over Hairstyles for Men
Comb over hairstyles for men brings to you a trendy look. Associated with a beard gives the man that wears it a warrior look. It also makes a good combination with a suit or leather.
40. Messy Long Hairstyle
The messy long hairstyle became trendy at the end of the year 2012. Men are drawn by this particular hairstyle because it is easy to arrange and it gives you a natural and wild look.
41. Line Up With Sideburns Hairstyle
The line up with sideburns hairstyle is very classy and elegant. Using hair gel, your hairstyle will have a defined wet look. It goes well with your attitude.
42. High Fade With Shape Up and Comb Over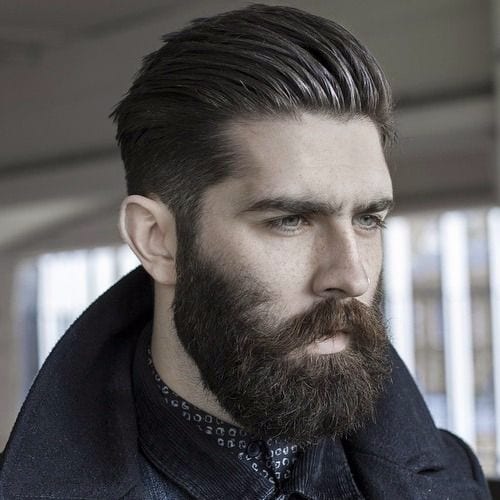 First, you need to love being heavy tattooed, second, you understand that you draw attention all the time, and third, having a high fade with shape up comb over hairstyle is consequently the icing on the cake.
43. Straight to the Point Hairstyle
The "straight to the point hairstyle" is created with a clipper over comb technique and the length of the top is used to give volume and texture. The disconnected sides with the beard bring out the hairstyle.
44. Side Slick Back Hairstyle
This hairstyle allows you to arrange the top in any way because of the short shaved sides that keep the hair balanced. You can give it direction and texture just by using hair wax.
45. Bald Fade Undercut Hairstyle
The bald fade undercut matches with the square features of the face. The sides are shaved all the way to the top, giving it fluidity.
46. Comb Over Fade Hairstyle
Besides the appearance, a strong personality will always contribute to the overview. Choosing a comb over fade hairstyle is a true ego booster and a women cluster.
47. Tousled Side Part Hairstyle
This particular one in comb over hairstyles for men is a combination of classy and messy, perfect for a balanced personality. It can be easily accessorized with a T-shirt and a leather jacket.
48. High Fade Comb Over Hairstyle
Especially if you are a redhead, the high fade comb over is recommended for you. Surely, having a full-grown beard will improve this unique hairstyle. Add a leather jacket over a hoodie and with the right attitude, success will follow.
Conclusion
The comb over has long been known as a favorite hairstyle among men of all sorts. It has been revived and reinvented for a modern aesthetic, so don't hesitate to try it out.
It's a versatile and contemporary hairstyle that frames almost any face and fits any taste.
This article was updated in June 2019.