It's time to mix business with pleasure and in one of the most enjoyable ways possible. We're talking about business casual hairstyles, a category that is extremely popular at all times.
Without any further ado, explore our great casual business hairstyle suggestions, all below!
1. Medium-Length Curly Hair
Rarely do we see men fully embrace curly-textured hair. For business casual situations, we can only encourage our curly guys to show off their eye-catching hair with a medium-length haircut. We're sure that you'll silently be the center of attention.
2. Ivy League Haircut
For decades now, the Ivy League haircut has been identified as a handsome hairstyle for men of all ages. If you want a clean-cut hairstyle that will work both at the office and out with your friends, this just may be the idea for you.
3. Quiff Business Casual Hairstyle
How could we not take the infamous quiff into consideration when discussing the best business casual hairstyles? We support it as a timeless hairstyle that you can adapt to any type of hair – or as long as you have the right styling tools.
4. Classic Comb Over Hairstyle
Then there's the comb over – a hairstyle that reminds us of the quiff but which has its own charm. It resembles the aforementioned style through the side part, but it stands out through emphasizing the part rather than the bangs.
5. Business Hairstyle for Medium to Long Hair
Nowadays, men are less criticized for sporting longer locks in a business casual environment when compared to just a few years ago. Still, if you want to play it safe, you may want to tie your lengthy strands in a low ponytail.
6. Edgy Business Casual Hairstyle
Even if you want to "dress" to impress, so to speak, that doesn't mean that you can't give your hairstyle some edge. You can liven up any look by messing up your hair just enough to make your overall appearance even more appealing.
7. Short Wavy Hairstyle with Scruff
Wavy here is honestly a joy to style. It's not as chaotic as curls may be, nor is it so straight that you'll have to struggle with getting it to stay the way you want. With wavy locks, running your fingers through your hair just may be more than enough. If you want it more business, less casual, get rid of the stubble beard.
8. Short, Tapered Afro-Textured Hairstyle
Multi-talented entertainer Will Smith is a first-rate example of how you can mix afros with business casual hairstyles. As you can see in most of his photos, it's all in how you get your initial haircut. In this regard, we always recommend working with professional barbers to get your dream hairstyle.
9. Professional Hairstyle for Medium Length Hair
Medium is probably one of the coolest hair lengths to work with. Just like in the case of wavy hair versus other hair types, mid-length locks are extremely versatile and have a knack of settling in perfectly on their own.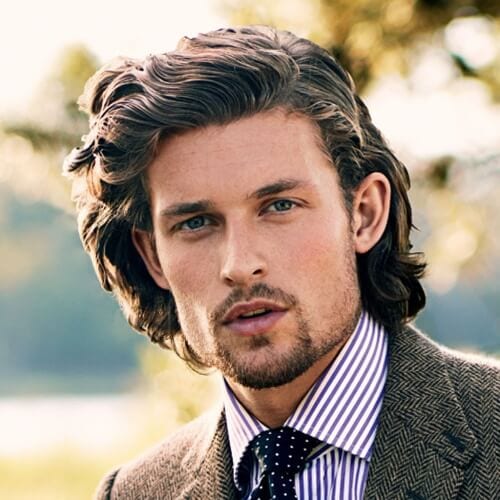 10. Slicked Back Hairstyle
For a genuine gentleman look, slicked back hairstyles are a must. You will add some of that much-needed edge we were talking about before. You will also reveal some of those flattering facial features, such as a sharp jawline.
11. Taper Fade Business Casual
We look up to taper fade haircuts for their simple brilliance. Although it isn't an unusual haircut (quite the contrary), it sets the foundation for a stress-free grooming life until your next appointment with your hair specialist.
12. Short Faux Hawk Hairstyle
We always applaud faux hawks for their smart and subtle way of mixing the "good guy" and "bad guy" styles. In other words, this hairstyle can give you a rebellious allure, all while maintaining a highly presentable appearance.
13. Tousled Hairstyle
Hey, don't be afraid to mess things up a bit! Just like we explained with edgy business casual hairstyles, messy ones can add just the right amount of spice to your all-around look. Short layered haircuts are great for making the idea work for you.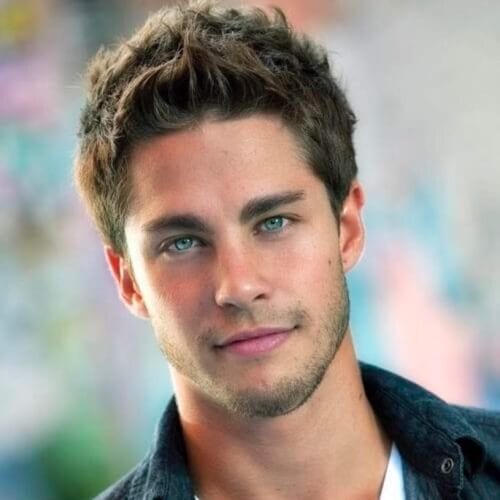 14. Professional Hairstyle for Interviews
Do you have a potentially life-changing interview coming up? Well, you know the drill, you have to look the part! To march into the room with confidence, find a sleek hairstyle or even combine elements from several, like quiffs, comb overs, or Ivy League haircuts.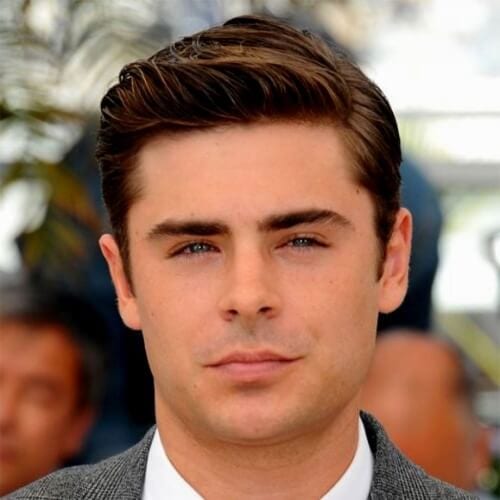 15. Brushed Up Business Casual Hairstyle
You know by now that the ever-popular quiff is defined by styling the section of locks around your hairline upwards and to the side. But what if you just stuck to brushing them up? Rest assured that you'll end up with a cool business casual hairstyle.
16. Temple Fade Haircut
The temple fade, commonly referred to just as a temp fade, is yet another clever haircut that can bring out the best in your natural features. It stands out by highlighting your temple, namely shaping your hairline in a box-like fashion.
17. Pompadour Business Casual Hairstyle
Pompadours may not quite be business casual hairstyles that you'd rock on a day to day basis, but they surely are an impressive choice for any man. Provided your hair is sufficiently long, you can sculpt it in this iconic retro hairstyle.
18. Spiky Professional Hairstyle
Do you have to face the rollercoaster of pros and cons that thick hair comes with? You don't need to worry; we have the most practical and good-looking hairstyle for you. Keep your hair nicely cropped and style it in a lightly spiky fashion.
19. High and Tight
Military haircuts can always be an awesome base for business casual hairstyles. Considering the length of haircuts like the high and tight, you won't have to fuss about your hair or about looking the right way or about being judged by your peers.
20. Regular Haircut, Forward Swept
If all else fails, a regular haircut is guaranteed to get you out of any sticky situation. You can pretty much find it with any celebrity that sports short hairstyles, making it an easy-to-replicate and popular choice at the same time.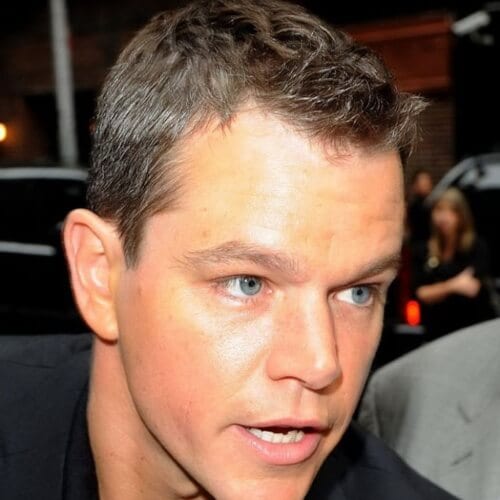 21. Side Combed Hairstyle
Don't let the name fool you – a side combed hairstyle isn't exactly the same as a comb over. While the latter involves neatly combing your hair over to the opposing side of your part, the former can consist in combing your hair to the side in any manner you'd like.
22. Side Slicked Hairstyle
The same goes for side slicked hairstyles. With this look, you're basically blending the combover with a slicked back hairstyle. To make the magic happen, you should invest in a good hair product that won't grease up your hair too much while providing the necessary freedom to style it.
23. Layered Business Casual Hairstyle
We can't stress enough how huge of an impact a good, layered haircut can have on your appearance. With the right layers, your locks will fall into place with grace. Consequently, you can even cut your styling time down to a handful of minutes.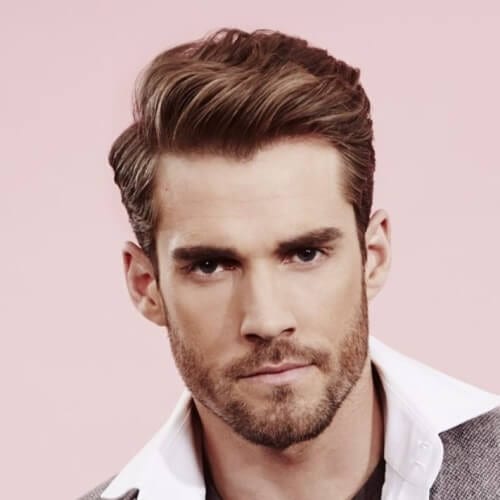 24. Feathered Business Casual Hairstyle with Layers
On a similar note, business casual hairstyles with feathered layers can prove to be just as practical. We recommend them for men who want a short haircut that slightly leans towards the medium side, all without the added hassle.
25. French Crop Hairstyle
If you know everything about hair trends for men, you'll already be aware of how the French crop was everywhere this year. This edgy and hipster-esque haircut is wonderful for business casual hairstyles that are still packed with personality.
26. Business Casual Bangs
Bangs are a memorable addition to any hairstyle, especially one that you want to wear both for business and for casual environments. Of course, there are numerous styles you can pick from, but you can start with this ruffled look for any occasion.
27. Swept Back Business Casual
Similar as they may seem, slicked back hairstyles are a bit different from swept back hairstyles. While the first one involves using a fair amount of product and literally slicking the hair down, the other can be achieved simply by combing back your hair.
28. Buzz Cut
You really can never go wrong with a buzz cut, regardless of the setting. You can work at a corporation, be out in town for a party or anything in between and you'll still look respectable. Moreover, you won't have to waste time on styling.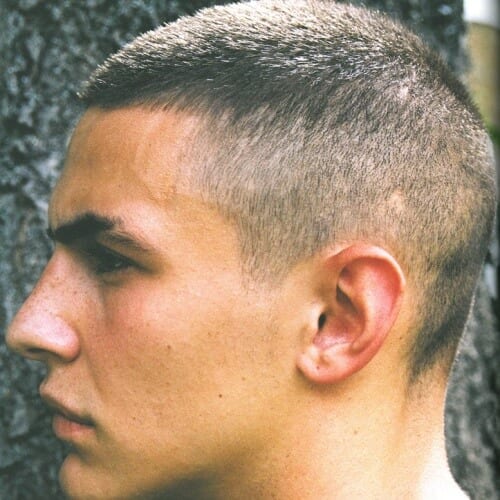 29. Front Bangs
Another bangs style you can try out is having them directly on your forehead. If you go for this option, we recommend getting them in layers, like the guy in the photo below. They're far easier to manage this way.
30. Man Bun with Low Side Part
No matter how long your hair is, a man bun can save you from any situation where you might be judged for the length. Keep it loose for more of a casual approach, and do the opposite and wrap it tightly for more formal events.
31. Youthful Forward Waves
You can pull off a business casual allure even if you want to maintain a youthful tone to your appearance. To get that fresh glow, don't focus that much on styling your hair. Rather, keep it cool and careless!
32. Tapered Side Combed Haircut for Receding Hairline
As we've mentioned before when discussing hairstyles for receding hairlines, it's often best to embrace yours if you have one. If you're comfortable with accepting this feature, you'll spare yourself any self-image doubts.
33. Crew Cut Hairstyle with Scruff
Yet another one of the best business casual hairstyles for keeping everything sleek and simple is the crew cut. Like quite a few other ideas on our list, it's a military haircut that caters to any occasion you may come across.
34. Voluminous Quiff with Part
We often recommend experimenting with multiple hairstyles in one for expressing your personality through your looks. In this case, you can admire a delightful example of how a pompadour and quiff would look together to form a voluminous hairstyle.
35. Layered Bowl Cut
Surprised as some may be, the bowl cut is back and going as strong as ever this year. However, it does comes with a twist. Layers and undercuts are great ways of adapting this classic haircut to modern trends, so keep them in mind if you want to get one.
36. Retro Hairstyle
We'll go even farther back in time for this alluring hairstyle. It greatly reminds us of the retro hairstyles that were popular among men in the 50s. You know how it is with trends – they will always come back, especially when they're this classy.
37. Business Casual Hairstyle for Men with Very Long Hair
We've displayed a few options for men with longer hair, but what about guys with really, really long locks? We're talking about mid-back or even longer. Well, all can be solved with the help of a polished ponytail, whether it be a low or a high one.
38. Half Up Business Casual Hairstyle with Man Bun
As an alternative for ponytails, man buns and other updo hairstyles, guys with medium or long hair can also venture int the half up half down business casual hairstyles. In a nutshell, they follow the same pattern, just that you section your hair beforehand.
39. Textured Hairstyle with Medium Fade
Texture is the kind of detail that makes the difference between a nice hairstyle and an awesome one. The easiest way you can obtain texture in any business casual hairstyle is by getting your hair cut in super short, abundant and jagged layers all around.
40. Easygoing Business Casual Hairstyle
All in all, business casual and easygoing are synonymous. Be that as it may, we want to show Orlando Bloom's hairstyle in this shot to prove a point. Aside from the haircut itself, it's all about maintaining the right attitude.
41. Cropped Curls
Sometimes, curly hair can prove to be quite the challenge to tame, depending on what your specific texture is. If you want to avoid annoyance altogether, you can stick to a short haircut. It will accentuate your curls without you having to deal with them all over the place.
42. Mature Business Casual Hairstyle
They say that, as a guy, the more you progress in life, the more you'll become a real man. And we're not talking about age here, but rather style, posture, and dignity. In saying this, we recommend business casual hairstyles even for seniors.
43. Hair Down Style
Most of the medium or long hairstyle ideas we have covered consisted of tying the hair up. Nevertheless, you can wear your longer strands down and still keep it classy if you get a well-rounded haircut.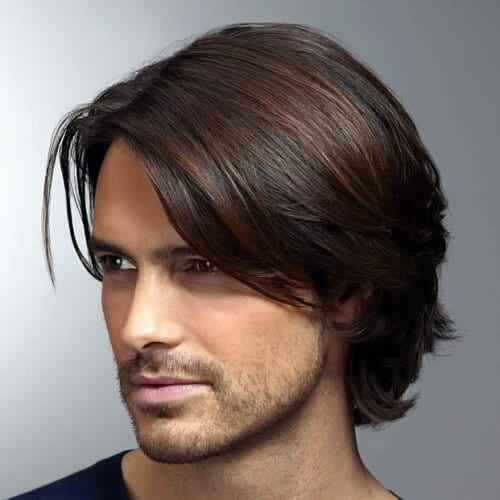 44. Neatly Trimmed Business Casual Cut
You can't make a mistake by keeping your hair well-trimmed, no matter your texture. Indeed, it involves investing more time and money into getting regular haircuts, but we assure you that your looks will always be on point.
45. Dapper Beard Style for Receding Hairline
For men, facial hair styles are just as significant as normal hairstyles. This is particularly the case for men who are keen on growing a full beard or mustache. Take note, however, that you should always maintain it properly groomed.
46. Caesar Cut Hairstyle with Fade
Together with the French crop and the bowl cut, the Caesar cut has been all the rage this past year. We can all understand why; it's flattering for most men and has quite the contemporary touch for a hairstyle inspired by a historical figure.
47. Mid Fade Business Casual
A mid fade hairstyle will be appropriate regardless of context. Even though it does have a non-conformist vibe to it, the hairstyle can come off as highly sophisticated. It's all in the way you choose to style the top part.
48. Business Casual Hairstyle with Slight Side Part
How could we have contemplated business casual hairstyles for men without regarding a professional as refined as Christian Bale? The award-winning actor always has a poised presence, partly owing to his smart, side part hairstyle.
49. High Fade Haircut
If a mid fade haircut is too traditional for you, go for a high fade haircut! It comes close to the classic high and tight haircut, just that it fades down instead of stopping at the upper sides of your head. We also recommend the styling used for the top part.
50. Deep Wave Hairstyle
To wrap things up, here's a fresh hairstyle that's ideal for African-American men. You can shape your textured locks into deep, 360 waves. Not only will you have a short and clean haircut to meet your business casual needs, but you'll also enjoy sporting a super appealing hairstyle.
Conclusion
In summary, business casual hairstyles are adequate for all occasions. We believe that they're so popular thanks to their adaptability, but also for their flattering charm.
When picking your haircut, don't forget to acknowledge the facial features you want to accentuate the most. Whether you're a young man or a 40-something CEO, this style will surely complement all guys in almost all situations.
Don't hesitate to share any other business casual haircut and style ideas with us in the comments!
This article was updated in August 2019.
Lilith Wetherall is a freelance writer, editor, and blogger. She graduated in 2014 with a B.A. in Theatre Arts and a minor in Journalism. She later found her passion for hairstyles and is now professing in a men's salon. Some of her favorite things to do include reading, writing, watching movies, and being outdoors. When she's not writing for our readers, she is either at the salon or at home trying out a new hair color.