Facial hair is one of the most prominent physical traits men can present to the world. While some guys prefer a clean-shaven face, others enjoy experimenting with various styles.
The chin strap beard, for example, is a versatile option for men who care about personal grooming. Although the chin strap is not the easiest to maintain, it's a beard style that flatters almost every face shape.
In addition, you can tweak the thickness, length, and shape of your chin strap beard as you please. If you want to switch up your beard, check out the adaptable ideas below to get inspired.
1. Thin Chin Strap Beard
You'd be surprised to see just how broad the thin-wide spectrum is in terms of chin strap beards. If you're not one for extremes, you can go for a fairly thin design that outlines your favorite lower features. To top it all off, trim your overall facial hair so it doesn't exceed a 3-day stubble.
2. Chin Strap Beard with Mustache
Some men like sporting their chin straps with mustaches, while others prefer theirs without one. Ultimately, it's a matter of personal taste and what features you want to highlight. A mustache paired with a chin strap can help you bring out a great smile.
3. Subtle Chin Strap
Not all guys want their chin strap to be the highlight of their face. Quite the contrary. Plenty of men opt for a short, raw-looking beard that discretely contours their jawline. The mustache and chin strip are both optional, but they do make the look all the more natural.
4. Thick Chin Strap Beard
On the other hand, there are just as many men who like their beards as thick as can be. The idea is particularly useful for guys with naturally thick facial hair. Instead of struggling to tame your coarse beard, allow it to grow as is and lightly trim it to your liking.
5. Puffy Chin Beard
If you're not part of either category we just described, you can combine aspects from both. For instance, you can maintain fairly narrow sides for your chin strap.
After that, let the facial hair in the bottom center grow a bit longer than the rest for a more pronounced chin.
6. LeBron James Chin Strap Beard
Throughout our guide, we'll also be offering celebrity inspo for a chin strap that will make you feel like an A-lister.
Take basketball legend LeBron James for example. He often sports chin strap beards, and boldly so. He takes advantage of his generous facial hair to create an upside-down triangle silhouette.
7. Long Chin Strap Beard
The length of your chin strap is all up to you. Even though the beard in the image above isn't the longest, it goes to show that you don't have to keep your's finely-trimmed. Feel free to allow yours to grow even longer while maintaining a chin strap shape.
8. Isolated Chin Strap
Your chin strap beard doesn't need to be accompanied by any additional facial hair. As a matter of fact, you can completely shave your face and leave only the strip embracing your jaw. In doing so, you'll be bringing attention to that very area and accentuating it.
9. Chin Strap Beard with Goatee
Goatee styles are on the rise among trends yet again. Instead of choosing a classic, 90s-style goatee, you can make yours more modern by adding width to the chin strap. Any hairstyle – and even a bald head – will look amazing with the extended goatee.
10. Wide Chin Strap Beard
Even more, you can go even wider with your chin strap. It won't be as high maintenance as a full-face beard, but it will have a positive impact on your appearance. We encourage you to reach out to your favorite barber to obtain the most suitable width.
11. Angled Beard
When it comes to chin strap beards, angles are everything. The sharper the angles are, the sharper your jawline will come across.
Consequently, don't be afraid to use them. The idea is perfect for men who want to emphasize their hunky jawline.
12. 50 Cent Chin Strap Beard
The next celeb on our list of red carpet worthy beard inspiration is 50 Cent. The rapper is almost associated with the chin strap, and he's one of the first famous men who come to mind when thinking of it.
Although he has tried different details throughout the years, we say that a one-inch wide chin strap suits him the most.
13. Chin Strap Beard for Round Face
For numerous men, a round face can prove to be a source of insecurity. In such a situation, you can use a chin strap to work with your face shape. If you share similar features with the guy in the photo above, you might also be interested in our other Asian beard styles too.
14. Face Shape Modifier
Speaking of face structures, did you know that a chin strap can help you modify your shape altogether?
Use the lines in the beard to create any silhouette you want to achieve. Alternatively, you can also look into other beard shapes and styles by face shape.
15. Chin Strap Beard with No Mustache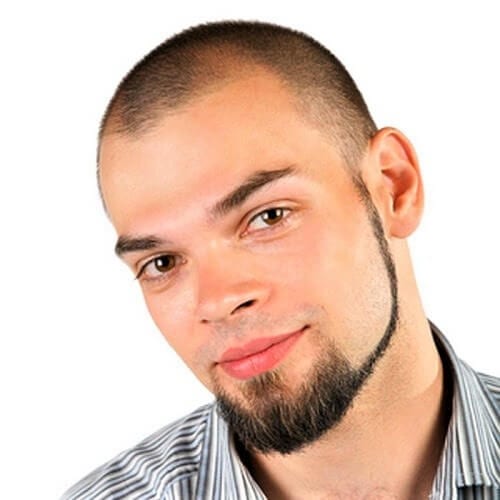 No mustache? No problem! We ensure you that your chin strap will look just as fine without one. For the style above, all you have to do is grow a goatee to go with your chin strap. Once you've reached your desired length, go ahead and shave the mustache off.
16. Pencil Thin Chin Strap Beard
We've shown you how a thin chin strap beard looks like, but what if you took yours to the next level? You can make yours even narrower with a pencil thin line. We recommend it as a chic and subtle option for men seeking a small yet effective boost of definition.
17. Curly Chin Strap
Curly hair, don't care. A chin strap looks outstanding regardless of hair texture. If you want to highlight your natural coils, do so with a longer chin strap.
18. Zac Efron Chin Strap Beard
Ever since his High School Musical days, Zac Efron has never ceased to amaze us with his aesthetic.
For example, he chose to mix his dark chin strap beard with a platinum blonde hairstyle. Want to get even closer to his appearance? See what Zac Efron haircut ideas you can experiment with.
19. Chin Strap Beard for Black Men
Here, we have another fine example of how textured facial hair works with the chin strap style. If you're ready to make a small investment in a barber appointment, your results will likely be just as impressive.
Recommended Read: For more curl-infused inspiration, feast your eyes on our favorite hairstyles for black men.
20. Hipster Mustache Chin Strap
After covering the highly sought-after hipster haircut, we figured that a chin strap with a hipster mustache was needed.
With a little bit of TLC, your mustache can become just as glorious, not to mention that it will fabulously complement your chin strap.
21. Circle Beard with Chin Strap
We're sure you've noticed by now that chin straps go fantastically well with a variety of other beard styles. To continue our extensive list of examples, we present to you the timeless circle beard. When added to a chin strap, it creates balance in terms of facial features.
22. Leonardo DiCaprio Chin Strap Beard
Leo is one of those guys who can pull off any beard style and get away with it. When he decides to sport a chin strap, he typically opts for a discrete version in which the beard barely exceeds stubble level. It could suit you as well, especially if you're starting out with a clean-shaven face.
23. Mutton Chops
An iconic facial hair choice of the 19th century, mutton chops are a sure sign of being a grooming connoisseur. You won't see the beard style on every other man, but we believe that's precisely what makes the look memorable.
Would you be willing to give it a shot?
24. Chin Strap Beard Faded Style
Fades aren't exclusive to hairstyles. In fact, a faded beard can notably increase the impact of your entire look. If you want, you can even put the ideas together to get a fully faded hairstyle and beard combo that will look incredible.
25. Scruffy Chin Strap
We've got to be honest with you. Without stereotyping, manliness is often associated with a casual, effortless, and even careless approach to grooming. A scruffy beard can help you achieve that super masculine outcome you're aiming for.
26. Prominent Chin Strap, Discrete Mustache
You don't have to choose between rocking a chin strap with or without a mustache. Meet them halfway!
Play around with contrasts and go for a subtle mustache with a thicker chin strap. You get bonus points if you sport it with a smile as bright as the one shown above.
27. Elijah Wood Chin Strap Beard
Everyone's favorite hobbit portrayer is no stranger to the chin strap beard. Elijah Wood has been incorporating it into his appearance in some way or another for years now. Although nowadays he generally wears it with more surrounding stubble, the simple version above is ideal for younger guys.
28. Bushy Beard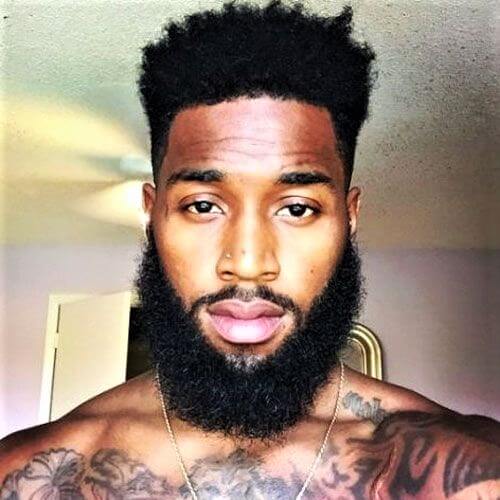 There are no boundaries when it comes to the thickness and length of your chin strap. You can make yours as bushy as you want, even more so if you're lucky enough to have rich facial hair. Feel free to let it grow to the length of your main hairstyle to get a visually harmonious result.
29. Clean Cut Chin Strap Beard
Other guys feel like clean cut is the most flattering approach for them, and we agree. The example pictured above shows how you can get even more technical with your beard and carefully trim it to chisel the borders of your face.
30. Chris Pine Chin Strap Beard
Aside from being the Star Trek megastar we all cherish, Chris Pine rocks a mean chin strap beard. His version leans more towards a traditional beard, with a wider approach for the sides. However, the angled top cut brings out the best in his diamond shaped face even more.
31. Barber Shop Beard
No matter how much grooming knowledge you may have, you probably won't get barber shop results unless you're a professional yourself.
We always encourage our readers to work with the top barbers in their area to get a picture-perfect outcome. A small price can go a long way for your appearance.
32. Grey Hair Chin Strap Beard
As with all beard styles, a chin strap with grey hair should mirror the personality of the person wearing it. If you're a conservative senior, keep it cleanly cropped. However, even as an older man, a rebellious spirit calls for a cool and messy beard.
Recommended Read: On that note, go ahead and access our hairstyles for older men guide to complete your look with a youthful touch.
33. Carved Out Beard
Go with the flow and carve out your beard according to your beard growth patterns. All you have to do is follow the direction your facial hair grows and work along those lines for your chin strap. The results will come across as natural, nonchalant, and appealing to see.
34. Kit Harington Chin Strap Beard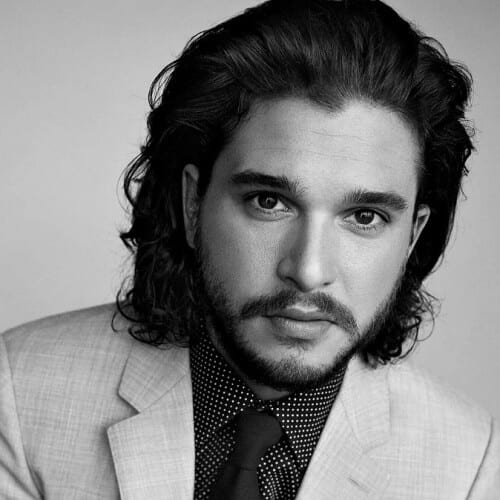 While his GoT character "knows nothing", Kit Harington sure knows a thing or two about style. In addition to his irresistible flow hairstyle, the appreciated actor is almost always spotted with a relatively wide chin strap beard with a scruffy goatee.
35. Natural and Professional Chin Strap Beard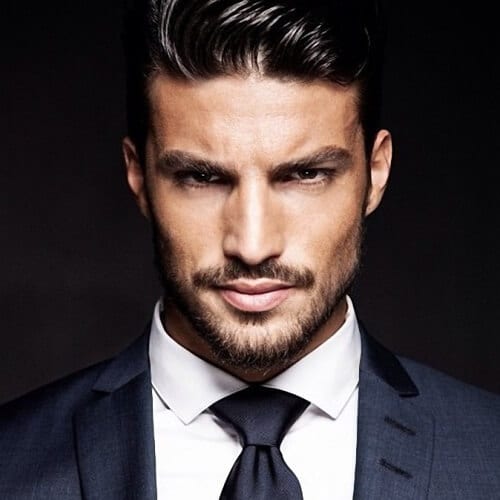 Over-grooming can often do more harm than good. A common misconception is that not having your beard flawlessly trimmed can lead to a messy appearance. We beg to differ. A natural yet lightly maintained chin strap can be one of the most professional styles around.
36. Chin Curtain
Are you aiming for the vintage Abe Lincoln look with your chin strap beard? In your case, a chin curtain might be the most suitable option. We particularly recommend the look for senior men who want to have fun with their looks.
37. James Franco Chin Strap Beard
The Franco brothers are known for their acting chops as much as they are for their handsomeness. James, the older of the two, is quite the ambassador for the scruffy chin strap.
He looks great while doing it, so you might want to take a page from his book for your final beard choice.
38. Half Chin Strap
If we've said it once, we've said it a thousand times – essentially, there are no rules in terms of facial hair. Sure, some styles are encouraged more than others, but we believe that it all comes down to how you want to show up.
For you, it could mean sporting a chin strap beard only halfway up your jawline.
39. Shadow Beard
It's not that much of a secret that you can use your beard to alter certain features. For instance, a shadow beard does exactly what you would expect it to. It can conceal an unwanted double chin or weak jawline, defining the borders of your face in a highly flattering manner.
40. Ice Cube Chin Strap
Compton icon Ice Cube definitely isn't someone you'd want to mess with. At least that's the vibe he constantly gives off through his imposing appearance. We have a feeling that his razor sharp chin strap goatee has something to do with it too.
41. Neck Beard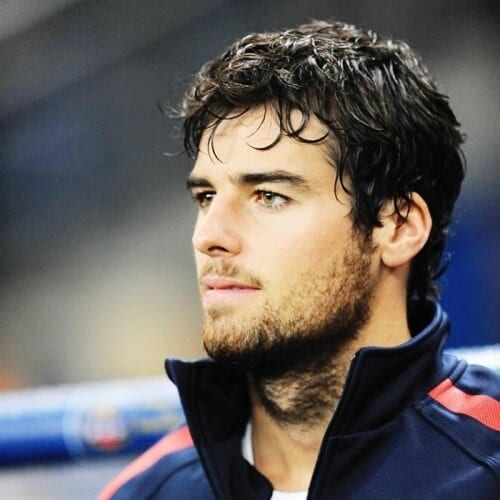 Similar to the shadow beard, the neck beard can help you hide or accentuate specific facial features. If you want the illusion of a longer neck, for instance, it can help you achieve that very goal. On the flip side, a neck beard can also visually push your jawline up and make it stand out.
42. The George Clooney
For decades now, everyone has been comparing legendary actor George Clooney to the likes of fine wine.
The word around is that he gets better with age, and we can't agree more. His chin strap beard is another excellent example of how a man can age with grace.
43. Wide to Narrow Chin Strap
There's no reason why you'd have to maintain the same width throughout your chin strap beard. Quite conversely, we urge you to go against the grain and figure out your own shapes and sizes. As an example, you can start your beard wider at the sideburns and narrow it out towards your chin.
44. Contour Chin Strap
Sometimes, a tad of contour can make all the difference in your physical presence. Make the most of the benefits a chin strap offers and use it to outline any areas you want to highlight.
The jawline will probably be the main region, but you can also use it to accentuate your chin.
45. Craig David's Strap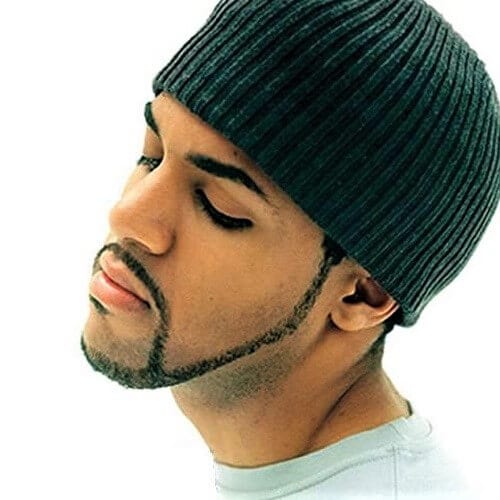 Like countless other R&B singers of the 2000s, Craig David wore a chin strap with pride back in the day. We completely understand why.
The beard style takes his softer features and sharpens them in all the right places. In addition, the width of his beard line is ideal for most men.
46. Gradual Chin Strap
If you have a fade haircut, it might be best to create your chin strap beard in the same gradual manner. Considering that the fade hairstyle cancels out the sideburns, you'll want to start with a soft gradient at the top and work your way towards a thicker chin strap towards the bottom.
47. Patchy Beard
Unfortunately, not all men are blessed by the beard gods with thick, rich, and unruly facial hair. Be that as it may, if Johnny Depp can still win the hearts of millions with his patchy beard pattern, so can you. The chin strap will help you shape your beard along the way.
48. Ludacris Creative Strap
For our final ideas, we'll be showing you some of the most creative chin strap styles we've had the pleasure of discovering.
Rapper Ludacris is known for standing out with his facial hair styles, and his out of the box shaved design is no different. It's fairly subtle, but it's guaranteed to get your attention.
49. Flashy Chin Strap
As Tony Stark, Robert Downey Jr. has fun displaying funky beard styles. His chin strap goatee, for instance, adds a few more lines up towards the corners of his mouth. It may be silly for some, but we think it looks cool and original on a guy with an outgoing personality.
50. Faux Handlebar Mustache
Finally, we've saved the most intriguing chin strap for last. Although it's technically a full beard, it's expertly shaved down to feature a remarkable chin strap at the bottom. The cherry on top is clearly the faux handlebar mustache, which is enough to spark the envy of any stylish hipster.
Conclusion
In conclusion, the chin strap beard is certainly here to stay. It has withstood the test of time among beard trends, especially thanks to its practical value. If the likes of rappers and actors have proudly sported it for decades on end, so can you.
What do you think about the chin strap and are there any other beard styles you would like us to talk more about? Let us know in the comment section and share your thoughts with fellow readers.
Lilith Wetherall is a freelance writer, editor, and blogger. She graduated in 2014 with a B.A. in Theatre Arts and a minor in Journalism. She later found her passion for hairstyles and is now professing in a men's salon. Some of her favorite things to do include reading, writing, watching movies, and being outdoors. When she's not writing for our readers, she is either at the salon or at home trying out a new hair color.