One of the advantages of having afro-textured hair is that you have tons of hairstyles for black men to choose from. The wide variety ranges from short and sleek haircuts to long hairstyles with braids, twists, dreadlocks, and more!
Your hairstyle can say a lot about you – active people, athletes, for example, will definitely opt for short hairstyles or mohawks. Creative people often choose a natural curly look or braided hairstyles. The youngest of us are attracted to somewhat messy hairstyles, with a wonderful look that will drive girls crazy.
Whether you're looking for a temporary fade to go with your naturally curly hair, a retro look, or a fade mohawk burst for a modern flair, you'll love this collection of 55 popular haircuts for black men!

Below, you can find some of our favorite black men hairstyles, so check them out and see which one goes with your personality!
Hair Care Tips for Black Men
In the following lines, we will share with you four of our favorite tips that will make your hair care routine a lot easier.
Wash your hair less frequently! Try washing your hair only twice a week with a product that is SLS-free.
Use moisturizer every single day.
Choose a hairstyle that doesn't need too much maintenance.
Choose styling products suitable for your type of hair. Avoid using products that contain alcohol, mineral oil, or petrolatum – these are good for holding hair in place but will dry your hair.
1. Natural Hairstyles for Black Men
If your style is the definition of cool, this is the hairstyle for you! It focuses on an abundance of small, twisted curls that fall perfectly into place with any accessory. Wear them with classy hats or without anything else at all – you'll still be flying.
2. Creative Cornrows for Black Men
It's well-known that cornrows are among the all-time most popular hairstyles for black men. But what can you do to make yours more interesting (and with no cultural appropriation)? Opt for fewer braids and experiment with different parts in between – like this zigzag and straight-line mix.
3. Temple Fade Line Up Haircut
Undercuts offer countless possibilities for bringing your hairstyle to life. While you can always go for a classic version, you can also make yours unique with shaved designs. This arched surgical line is one style to keep in mind.
4. Man Buns and Full Beards for Black Men
If you prefer longer hair (and facial hair for that matter), then why not mix 'em? This alluring hairstyle blends long curls wrapped in a man bun with a rugged beard to match. Consider adding an undercut to shape up the look.
5. Curly Hairstyles for Black Men
This short to the mid-length top with short sides is ideal for black men who want a natural look. It stands out through twisted curls and a faded undercut. It's particularly recommended for younger people, but it works just as well for black men of all ages.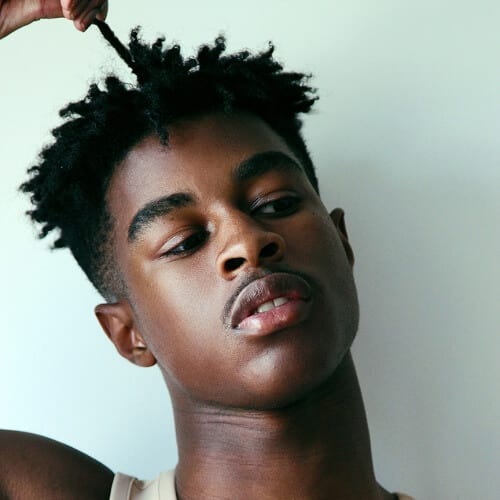 6. Mohawk Hairstyles for Black Men
Mohawks are also all the rage among men. If you want a more easygoing look, try out a short mohawk that fades down on the sides. You can wear this hairstyle both with or without facial hair.
7. Bald Head with Full Beard
If you want to cut the maintenance that a complex black mens hairstyle requires, you can always go for a full, clean shaved head and a tasteful beard. Here, you can see how rapper Common wears the look, with a well-groomed beard that frames his face in a flattering way.
8. Hair Design with Long Beard & Hard Part
Do you want an original look? Try out different lengths, shaved lines, and cutting techniques for your hairstyle. This haircut for black men stands out through an angled top that steeps into a deep line. Afterward, it continues with a skin fade. The large beard makes it all even more memorable.
9. Long Hairstyles for Black Men
If you prefer sporting really long hair, dreadlocks are definitely one of the options you should keep in mind. The longer your dreads are, the more options you'll have for styling. In this example you can see how wearing them half up half down would look.
10. Two Braids and Knot Hairstyles for Black Men
You can wear man buns in numerous different ways. For a different approach, consider a sharp undercut and braiding the edges of the top part. This way, you'll get a crown-like effect that you can end in a top knot.
11. Short Hairstyle with Stubble Beard
Like keeping your hair short and clean-cut? This fetching black men hairstyle is so well-kept that it can be worn in any professional or formal environment. The low fade and 5 o'clock shadow make it not only attractive but also appropriate for all occasions.
12. Tied Up Messy Braids for Black Men
Rapper ASAP Rocky is known for setting trends in all areas of grooming and fashion for men. He's also renowned for his braided hairstyles, which you can get inspired from at any time. Tie your braids at the back for a comfortable and effortless look.
13. Taper Fade with 360 Waves
Waves have also been a stylish hairstyle for afro-textured hair for ages. These deep, sculpted waves are complemented by a stately taper fade that will make heads turn. It works equally well for boys and adults alike.
14. Temp Fade with Curly Hair
If your hair forms eye-catching natural curls on its own, don't hesitate to accentuate them by going for afro fades. This temp fade hairstyle not only highlights the texture of the hair but also transitions flawlessly to the clean-trimmed beard.
15. Natural African American Hair
Another approach for a natural look for black men is twisting your braids into small, tight coils. This is an excellent style for men that don't want their hair to be too short, but not overly long either. As always, an undercut can flatter the top part.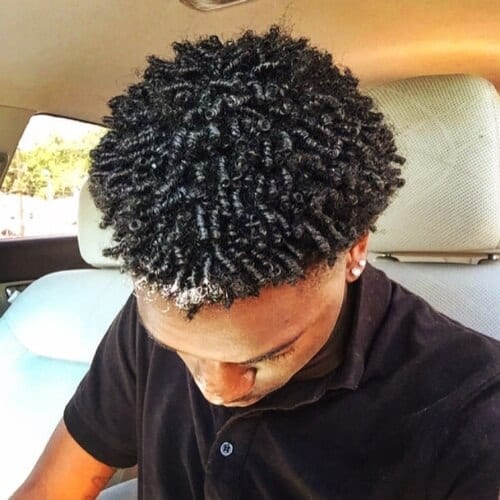 16. High Top Fade with Sponge Twists
Sponge twisting or curling is one of the top ways to get that all-clean look. However, make sure your hair is at least about an inch long for the best results. Comb your hair out, apply moisturizers like holding spray or pomade and use the sponge for a few minutes.
17. Braided Long Hair for Black Men
Most black men with significantly long hair choose to style it with dreadlocks for black men. After you get your dreads done, you can, in turn, style them as well. These half braids are one idea to keep in mind, but feel free to experiment with others too.
18. Dynamic Hairstyles for Thick Hair
If you have thick hair and want to style it in a way that brings out the best of your features, go for creative designs for black men. Whether you opt for arched shaved lines or straight surgical lines, the sky is the limit with your possibilities.
19. Fade Hairstyles for Black Men
Another way to rock a high fade is to keep the top curly. You can balance the look with a full beard or any kind of facial hair styled according to your preferences. Keep the top as long or as short as you like.
20. Box Fade Haircuts for Black Men
This hairstyle is the spinning image of fresh and clean. It is based on a box fade haircut that has a fine transition to the skin in the second half. Keep it trimmed well at all times for a polished look all around.
21. Buzz Cuts for Black Men
If you don't want the hassle associated with extensive styling, but you don't want to go fully shaven either, try a buzz cut. This traditional haircut is still incredibly popular and a prime choice for the athletic man.
22. Fade Hairstyles for Black Men with Short Hair
Yet another way to wear your hair short but fashionably is a buzz-cut fade. It starts a bit longer on the top and continues with a subtle gradient until it reaches the fully shaven part at the back of your neck. You can also rest assured that the hair will fall down really well no matter the hair type.
23. Short to Mid-Length Dread Hairstyles
Dreadlocks are versatile, a quality that you should always take advantage of as a man with afro-textured hair. These medium-length dreads for black men can be worn down or tied up casually. You can style them towards the front for a rugged look.
24. Edgy Afro-Textured Hairstyles
Twisted hairstyles are also generous for black men. You can easily shape your hair however you'd like, such as this faux hawk look with a faded undercut. Try pairing it with a beard for a captivating outcome.
25. Temple Fade Haircuts for Black Men
This low-top temple fade is also part of the trendiest hairstyles for black men. It shines through a perfect 90-degree angle on each side, and a subtle transition from top to bottom all around.
26. Short Curly Hairstyles for Black Men
No matter if you have naturally well-shaped curls or you use a sponge to obtain them, this is a hairstyle that will contour them appropriately. As opposed to many other hairstyles for black men, it doesn't include a fade.
27. Hairstyles for Black Men with Thick Hair
Free-form dreadlocks are a smart choice for black men with thick hair and one of the best hairstyles for black men. The ones shown in this example are just the right length if you want balanced results. You can also tie them up if you want to free your face.
28. Pompadour Haircut Styles
Due to the coarse texture, natural black hair is, unfortunately, challenging to style in a pompadour. However, with the right hair product and a suitable length, you can enjoy this dapper hairstyle.
29. Small Natural Dreadlocks
As you most likely know by now, dreadlocks come in all sorts of shapes and sizes. Neglect or free-form dreadlocks can start taking shape even if your hair is an inch or two long. This is a haircut that will help you get them.
30. Professional Hairstyles for Black Men
Sadly, many corporate environments still don't allow complete freedom of hairstyles for their employees. If this is the situation you're in, here is a professional, office-friendly haircut you can consider getting.
31. Frohawk Hairstyles for Black Men
Among hairstyles for black men, you will also find the idea of frohawks. As the name suggests, it combines the idea of an afro with a mohawk. It's a voluminous hairstyle that has just enough edge to it.
32. Braided Hairstyles for Black Men
You already know that braids and man buns can be mixed, but what about colors? This temple fade haircut stands out through a lighter brown color on top, contrasting with the dark roots.
33. Curls and Undercuts for Black Men
This high fade undercut is perfectly complemented by a full top of curls. You can get this look either with or without a beard, as long as you take good care of your curly hair on top.
34. Twist Hairstyles for Black Men
A twisted hairstyle is just what you need if you have ear-length hair. It's best to have your twists done by a specialist, but you can also do it yourself at home if you have a quality hair product to help you.
35. Modern Day Flat Tops
We usually associate flat tops with hairstyles for black men in the 1990s. Nevertheless, this hairstyle can be as fresh as ever if you give it your own twist. Here, you can see how a shaved line made the entire difference.
36. Medium Locs with Undercuts for Black Men
These black men locks are medium length and, as a result, easy to style. If you add a small undercut to the hairstyle, you can wear them all tied up or half up half down any time you like.
37. Afro Hairstyles for Black Men
It's crystal clear by now that the afro hairstyle will never go out of style. It's an exceptional way to celebrate natural hair, regardless of whether you're a man or a woman. Just make sure you shape it often with the help of a barber.
38. Modern Hairstyles for Black Men
Another way to rock an afro is in a relaxed, laid-back way. To get this look, make sure your curly hair is well moisturized and long enough to be able to style. After that, it's all in your attitude.
39. Dreads & Fade with High Top Hairstyles
This is an example of how you can wear medium dreadlocks tied up. The look comes with a high fade, while the dreads match with a high-top hairstyle. It's easy to wear for all types of events. One of the most attractive hairstyles for black men.
40. Hairstyles for Young Black Men
Now, this little man is what we call stylish. Not only does he have a perfectly constructed taper fade, but his sponge curls are on point. The look is topped off with a flawless surgical line as a side part.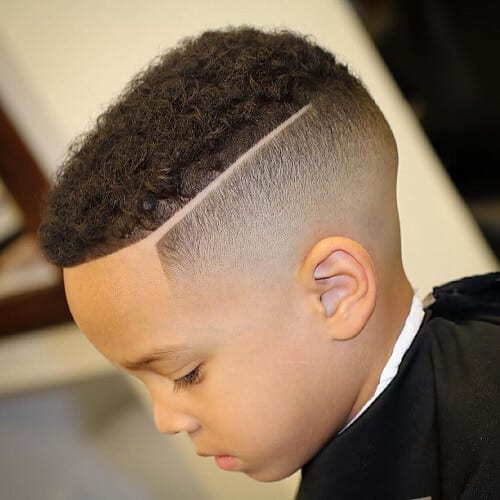 41. Low Skin Fade with Lightning Part
One of the best parts about these types of hairstyles for black men is the tattoo effect created. The haircut is a low skin fade that is customized with a lightning-shaved line that adds dynamism.
42. Two-Tone Medium Hairstyles
There are more than enough medium hairstyles for black men that you can choose from. In the photo below, you can see a picture-perfect example of a high taper ombre mohawk with a temple fade that can easily transition to a burst fade too!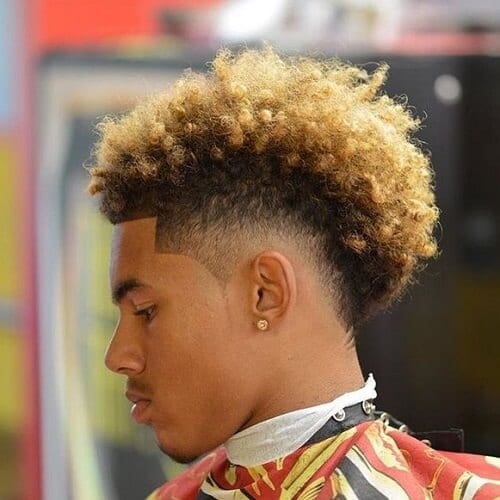 43. Locs and Buns
Your dreadlocks can start with small, twisted locks in the front and continue with thicker dreads in the back. If they're long enough, you can style them in a bun or ponytail.
44. Hairstyles for Black Men with Receding Hairlines
Receding hairlines are often difficult to tackle. However, if the rest of your hair is thick, you can enjoy a full head of dreadlocks. Alternatively, consider dreadlock extensions to balance out the look.
45. Asymmetrical Flat Tops for Black Men
Another creative take on the classic flat top is to have yours cut asymmetrically. Keep one side high and gradually steep into a shaved side part on the opposing side.
46. Double V Haircuts with Reverse Fade
Tattoo-like effects can also be obtained through a reverse fade like this one. The hair is cut in a double V fashion in the back, and the second V is prepared with a reverse fade.
47. Faux Hawk Black Men Hairstyles
A faux hawk like this will undoubtedly make heads turn. Not only is it spiced up by having two colors, but it also has a clean-shaven design at the nape. It recreates a mohawk without fully shaving the sides.
48. Barber Hairstyles for Black Men
Most barber hairstyles for black men include shaved lines executed with surgical precision (hence where they get their name). This look also has a perfect gradient on the lower half, as well as an expertly styled curly top.
49. Hairstyles for Black Men with Wavy Hair
If your hair texture leans more towards the wavy side, you can get a short haircut to define it. The impeccably trimmed beard is also a nice touch for the outcome you desire.
50. Long Zig Zag Cornrows
This hairstyle takes a classic braiding technique and adapts it to current trends. The cornrows are braided in a zigzag pattern and then tied at the end. You can untie them at your convenience. This is one of the coolest and most attractive hairstyle for black men.
51. Dreads with Blonde Tips for Black Men
This is a short haircut with brunette dreads and blonde tips. It also has a hard part on one side and an undercut to complete this modern and edgy look. Not to mention the accessories and polka dot shirt which are to die for.
52. Turquoise Hairstyles for Black Men
This hairstyle looks exactly like turquoise wisteria in full bloom. Or a big bowl of spaghetti, depending on whether you're a glass is "half full or half empty" type of person. We also love the half of a tiger tattoo.
53. The Usher Hairstyle
Do you remember that time in the 2000s when Usher was a huge star, and everyone wanted to copy his short and curly hairstyle? He looked amazing when he danced with Beyonce in her video.
54. The Mohawk Hairstyle for Black Men
We could call this a curly mohawk, a burst mohawk, or a faux hawk. They are all correct names since this is a variation on the traditional mohawk with gelled spikes of the 70s and 80s.
55. Blue Hairstyles for Black Men
Did you know that non-traditional colors are the biggest hairstyling trend of the year? Among them, neon colors reign supreme. Not to be confused with marker colors, which are a completely different thing.
56. Long Twisted Box Braids with Natural Hairstyle
Long twisted box braids are a classic look that will never go out of style. Here he has started his classic look off with a middle part, and left the box braids about mid-width and twisted down long and it looks so cool.
57. Natural Perms with Trimmed Front Haircut
Up next is a hairstyle for black men who like wearing their hair with a natural perm. In the photo above he has kept his hair short but it is still long enough to let the hair on top come to a perfect curl. Trim the edges with a temple fade and you are all set.
58. Skin Lowered Fade with Natural Perms Buzz Cut
This next fade is so cool that you must try it out at least once. Here he has a skin-lowered fade with a natural buzz cut. He has also paired this handsome look with a big thick beard that looks so cool.
59. Clean Semi Bald Hairstyle with Lower Fade
Here is a classic hairstyle for black men that you can wear any time of the year and always look fresh. He has his hair trimmed perfectly straight across the front and kept the top and sides super short.
60. Tight Braids with Slit Style and Gold Bead
Up next is a braided hairstyle that you can wear for weeks on end. Here they have pulled his hair into two small braids that wrap around the hair and kept the top braids super thick and pulled together in the back for a fresh finish.
61. Semi Bald Regular Perms with Side Slit Cut
Semi-bald styles look cool enough on their own but when you add in a cool design as they did here you are going to feel like a brand new man. Keep the top section even and short, add a bald fade around the sides, and throw the design right in the middle of the two styles.
62. Bob Cut Hairstyle with Curly Fringe Bronze Highlights
This next look would be perfect for men who have naturally curly hair. In the photo above he grew his hair out long enough to let his curls come to life, and even added a few pops of brown color.
63. Thick Perms Taper Fade Hairstyle
If you have not tried a thick perm with a taper fade here is your sign. In the photo above he has an even taper fade along the sides and in the back and left the hair on top thick and full for a super fresh finish.
64. Waves Perms with Taper Fade Hairstyle
Once you perfect the wave hairstyle you never want to give it up. In the photo above he has paired his wavy hairstyle with a taper fade and the combo of the two styles looks so amazing together.
65. Slit Back Artsy Cut with Wavy Trimmed Hair
If you are looking for a unique hairstyle for black men, this next look is one of a kind. Here has kept his waves big and even all the way around with a fun cut-in design in the back. He went with a triangle but you can try anything your imagination comes up with.
66. Undercut Twisted Hair with Natural Perms
This next look is one of the most popular hairstyles for black men. Here he has paired the hair on the top evenly all the way around and twisted smaller the sections into box braids. Do not forget to add in the undercut to complete this handsome hairstyle.
67. Platinum Shade with Tiny Curls Hairstyle
This next hairstyle is for all the men who have naturally gone platinum. Here he has kept his hair long, curly, and grey and it looks amazing. Add in your favorite type of fade to complete this look.
68. Twisted Long Bob Braids with Bronze Ends Shade
A bob cut is a style that keeps your hair cut right along the chin line and here he is wearing his bob-length hair twisted into braids with bronze hints on the ends and it looks so cool.
69. Perms with Undercut with Lowered Fade
Another way to style your long hair would be to add in a perm and an undercut as he has done here. He went with a temple fade for the undercut and left the hair just long enough to hold a curl on the top.
70. Long Hair with Twisted Tight Braids
Up next is a handsome hairstyle for black men who have been growing their hair out. Here he has kept his hair parted on the top in straight and zig-zagged lines and braided the hair down his back and it looks so cool.
71. Trimmed Front Hair with Long Twisted Box Braids
Up next is another bob-length hairstyle with braids. But what makes this style different is that he has left the edges out and dyed the tips a light brown color. Start this look off with big boxed even sections to get the most out of this style.
72. Lengthy Twisted Glossy Hairstyle with Undercut
Glossy hair is one of the biggest flexes in hairstyles for black men. In the photo above he has kept his braids long, skinny, and glossy and it looks amazing. Be sure to add in an undercut to keep you looking fresh in between retwists.
73. Corn Row Thin Braids with Skin Faded Cut
You cannot have the best hairstyles for black men without including a classic cornrow look. Here he has added a short undercut along the sides and added in about 8 cornrow braids on the top. You can keep the braids short as he has done here, or tie the hair off into a man bun, completely up to you.
74. Long Bob with Corn Rows Tight Hairstyle
Up next is a long bob hairstyle with tight and long cornrows. Here he kept it simple with straight braids and tight braids and it is a classic look that will never go out of style. You will need to pair this look with your favorite type of fade to get the most out of it.
75. Voluminous Natural Perms with Artsy Style Slit
Voluminous hair is always a good idea no matter how old you are. Here he has his voluminous afro styled with juice part for a little extra flare and it looks amazing.
76. Straight Braids Style with Trimmed Front Cut
Next up is one of those hairstyles for black men that once you wear one you will never want to stop. He started this look off with a middle part and divided his hair into 6 even horizontal braids and it looks amazing.
77. Bob Haircut with Twisted Messy Hairstyle
Twisted messy braids look amazing once you learn how to style them. Here he has kept his braids small and plentiful and they all end at different lengths. The most important part of this hairstyle is to remember that you will need to trim around the edges to stay looking fresh.
78. Semi Bald with Short Pony Style
This next look is very popular in the music industry today. He has a semi-bald style going on with a few buns on the top. This is a perfect look for men who have been growing their hair out for a while but are tired of braids.
79. Frizzy Taper Fade Hairstyle with Fringe Front
Frizzy styles look great with a taper fade. Here he has a handsome haircut where the sides and back are trimmed short and the hair on top is left long and brushed back. Pair it with a beard and you are all set.
80. Burst Taper with Braids Straight Lines
Burst tapers are another stylish way to wear your long and natural hair. In the photo above he has his hair braided down and around his head with a short temple fade along the sides. He paired it with a thick beard and it looks amazing.
81. Full Volume Smudged Orange Blonde Hair
If you are looking to add a bit of color to your life, this next hairstyle for black men would be a great place to start. Here he is wearing his hair big and natural in an afro and dyed it all a bright orange hue. You could always find yourself a wig first before diving into this look.
82. Spiky Taper Fade Haircut with Trimmed Style
Spiky taper fades are a staple in hairstyles for black men. In the photo above he has a short taper in the back and sides but left the top long enough to spike up perfectly.
83. Zigzag Tight Braids with Bob Haircut
Here is a style with zig-zag parts and super-tight braids. To get this look you will need to divide your hair into eight even sections and braid it all back neatly. You are going to love this style once you give it a shot.
84. Long Hair with Two Way Braids Faded Cut
If you are looking for a simple but stylish way to wear your long hair then you have to give this next look a try. Here he has kept the sides shaved super short and thrown the rest of his hair back into two long dutch braids and it looks so good.
85. Fringe Twisted Hairstyle with Bob Cut Length
Next up is a twisted hairstyle with a fringe in the front. To get this style you will need to tell your hairdresser that you want small twists all along your hair and keep it trimmed around the natural hairline.
86. Buzz Haircut with Natural Perms
Next up is an easy breezy hairstyle that would look great on men of any age. Here he has cut his hair in a buzz cut that is cut around the natural hairline and left straight in the front.
87. Dreadlocks Pony Style with Trimmed Faded Cut
Dreadlocks are one of the most popular hairstyles for black men. In the look here he has shaved the bottom half of his hair short and left the dreadlocks on top colorful and pulled into a high pony for a fresh finish.
88. Clean Buzz Cut with Skin-Faded Haircut
Another way to wear your hair short would be with this clean buzz cut with a skin fade along the sides. This is a simple style you can try when you are starting fresh or need a low-maintenance look.
89. Curly Perms with Tiny Bangs Hairstyle
Curly perms have always been and always will be in style. Here he has kept his hair mid-length and added in a wet-perm style. Be sure to keep the edges straight in the front to get the most out of this style.
90. Cleaned Haircut with Mid Fade Hairstyle
Last but not least is this fancy clean haircut. Here he has added in a mid-fade to clean up the edges and left the hair on top just a few inches longer. But what this style look so clean is that he has added unique designs throughout the beard.
Conclusion
In conclusion, the latest hair trends for black men range from short, medium, and long hair to classic and modern haircuts. From pompadour, fohawk, smooth back to French culture, or fringed hairstyles, there are many popular cuts and styles you can choose from.
All of these hairstyles for black men are admirable choices for anyone sporting afro-textured hair. Still, we recommended that you speak to your barber about getting a haircut that reflects your personality, and which you can style accordingly.
Press play to get a recap of the haircuts above, and then slide back up and see them, take your pick, and let us know what you went for!