Cornrows have been one of the most popular hairstyles for black men for as far back as we can remember. They're a practical choice for natural hair protection, not to mention that they look super fresh in any way, shape, or form you decide to wear your cornrow hairstyles.
Historically, cornrows are an African braiding style but they now enjoy worldwide mainstream attention. Although we will be presenting ideas for men with various hair textures, we strongly recommend being wary of cultural appropriation and pay respects and give credit where it's due.
That being said, let's dive into the myriad of cool braids you can try out below!
1. Simple Cornrows
Firstly, we'll start with easy styles and work our way up from there. In their most basic form, cornrows start from the hairline and are braided directly down towards the base of the neck. If it'll be your first time rocking them, the approach depicted below is a nice way to start.
2. Kids Cornrow Hairstyles
If you're a parent, you should know that cornrows for kids are an excellent idea. Your son will look and feel like a young king with his braids in. When picking out a style for boys, you should always let them be part of the process so as to encourage their creative expression.
3. Crown Cornrow Braids
Speaking of having a royal aura, you know what takes the cake? Cornrows with a crown braid. To get the look, first figure out what braids you want to have as the centerpiece of your hairstyle. After that, encircle them with a thicker crown braid to top it all off.
4. Small Cornrow Hairstyles
It's no secret that braids come in all sorts of shapes and sizes. Men, specifically, often choose to get smaller braids, like those shown below. The trend reached its peak in the 1990s and 2000s, but we're sure it'll always be up for a comeback.
5. Big Cornrow Hairstyles
Conversely, feel free to experiment with thicker braids. In general, we recommend bigger ones for guys who have longer or thicker hair so they have what to work with. To help you get started, you can learn how to do cornrows in this manner by following a tutorial for beginners.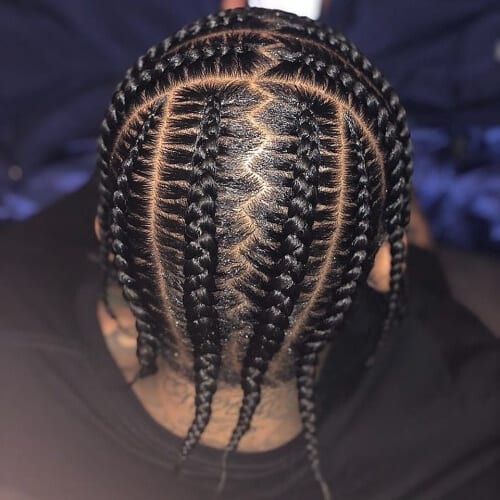 6. Taper Fade Braids
In recent years, the taper fade haircut has deserved its spot among the hottest hairstyle trends for men. We can't deny that the cutting technique looks simply amazing on any guy we've seen. In the context of braiding, a taper fade can be the ideal finishing touch for top-focused cornrows.
7. Side Cornrows for Men
Another category of cornrows men can look into is to the side. With the style below, all you have to do is create a handful of braids on your good side to complete your main 'do. The hairstyle that gets most of the spotlight is up to you.
8. Two Cornrows Styles
You can choose pretty much any number of braids for your hairstyle. If you don't have the patience to sit in a chair for a few hours to get a full head of braids, you can opt for just two cornrows. They're bound to look just as appealing but you'll be saving time and energy too!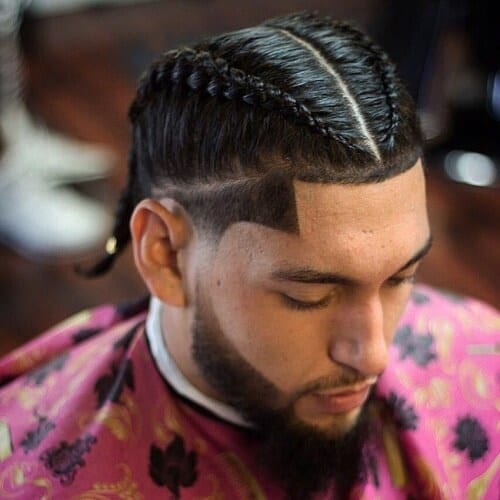 9. Trey Songz Braids
Cornrows have been a major part of pop culture for years now, with dozens of celebrities sporting all kinds of braids. Trey Songz, for instance, proves yet again that the hairstyle is a staple for R&B singers. If you want a clean and simple version, get inspired by his classic braids.
10. Half Cornrow Hairstyles
You don't always have to use all of your hair for braids. In fact, some of the coolest hairstyles feature braids only halfway through. If your hair is naturally voluminous, let your textured coils get the attention they deserve by tying them in the back.
11. Long Cornrows Styles
Calling all guys with long locks! If you've been patient enough to grow your hair, it's time to treat yourself to some long hairstyles for men. To be honest, the guys who fall under this category are the luckiest. Even though maintenance takes up more time, the braiding options are limitless!
12. Feed In Cornrows
Nowadays, feed in cornrow hairstyles have reached the height of popularity among men. To put it shortly, they start small towards the hairline and get thicker as they flow down the head. You can pick any additional styling details with feed in braids. They'll look incredible all the same!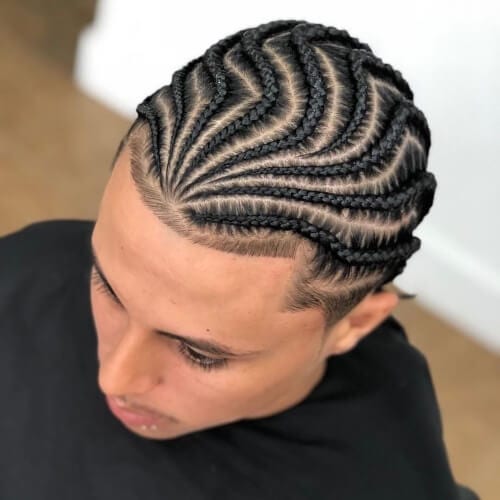 13. Tyga Braids
Yet another celebrity who knows all about picture-perfect braids is Tyga. The rapper usually opts for an easygoing front to back braiding pattern. Moreover, it seems like he prefers thicker braids for his hairstyle. Would you recreate his look?
14. Braided Top Knot
If you plan on wearing your braids with an undercut, you'll almost always have to add a top knot to the mix. Considering that the braids won't be done all the way down your head, you have to tie the tips up somehow. If you want to find out how to do cornrows with a top knot at home, a tutorial is all you'll need to get the job done on your own.
15. Jumbo Cornrows for Men
Want your braids to be the main feature of your appearance? The bigger you make them, the more they'll stand out! Jumbo braids are not only pleasing to see, but they're also a time-saver for guys on the run. Do note that even jumbo braids will get narrower towards the base of your neck, though.
16. Asian Cornrows Hair Ideas
There are so many Asian men hairstyles out there, that we've dedicated an entire article to them. However, cornrows might be a bit challenging for some Asian guys to pull off. The finer your hair texture is, the trickier it will be to keep them in place. Either way, they look awesome!
17. Bryce Harper Cornrows
If you're a baseball fan, it's impossible to not have seen Bryce Harper with braids in 2017. Although his choice sparked quite some debate back then, it shows what cornrows men with thick and straight hair could sport. Athletes can use the idea for practical purposes just as much as aesthetic ones.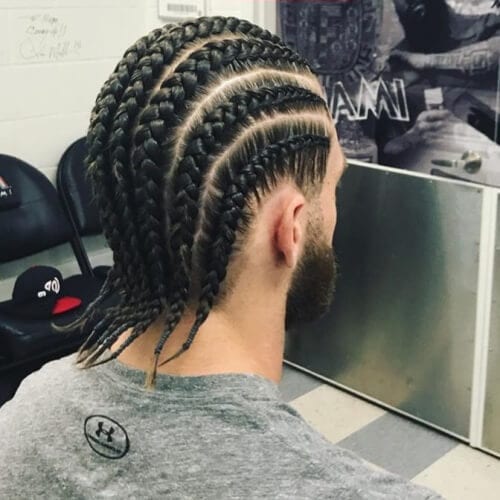 18. Crisscross Braids
Think of your hair as a canvas and your braider as the artist. The sky isn't even the limit when it comes to what you can create together. For example, you can complement a set of bigger braids with crisscross weaving on the sides. The results are impressive, to say the least.
19. Mohawk Cornrows for Men
Undoubtedly, mohawk hairstyles for men are totally badass. Nevertheless, not all guys are ready to completely shave the sides of their head. For a temporary mohawk that still gives off the same rebellious vibe, braids on each side are the perfect solution.
20. Cornrow Hairstyles with Beads
Once you have your braids in place, there are plenty of ways you can continue to customize your appearance. Metal beads, for instance, can add personality to your overall look. Whether you get them in gold or silver, they're definitely an original touch to keep in mind.
21. Infinity Braids
Creativity is the essence of any braided hairstyle. Naturally, you can always keep it all neat and simple. On the other hand, you can go crazy with the most complex of braiding styles. The infinity braid cornrow hairstyles showcased below is one of the clearest examples to illustrate the concept.
22. Ludacris Cornrows
In the 2000s, Ludacris would often rock small feed in braids that extended to his shoulders. If you usually wear more extravagant outfits or accessories, standard braids might be the best direction for you.
23. Angled Braids
Any expert braider considers a series of factors before suggesting a particular style to a client. The shape of their head, hairline, forehead, and face all contribute to the final recommendation. In this regard, a set of angled braids are highly flattering for men with the features pictured below.
24. Blonde Cornrows
Color is always a fun way to further spice up your hairstyle. As far as we're concerned, you can choose any tone in the rainbow to make your braids stand out. However, we've noticed that blonde is one of the most popular options in terms of colored braids.
25. Ron Swanson Cornrows Hair
In Parks and Recreation, Ron Swanson comically pulls off a mean set of cornrows. Although the results are funnier more than they are flattering, the character's hairstyle still serves as inspiration for braiding techniques.
26. Zigzag Braids
You'd be surprised to see just how big of an impact details like braiding directions have on a hairstyle. Zigzag braids will give your appearance a huge dynamic boost, adding flavor to your entire physical presence. At the same time, zigzag braids are perfectly wearable for almost any occasion.
27. Big and Small Cornrow Hairstyles
We've talked about small cornrows and big ones, but what if you paired the ideas for a single hairstyle? Even though it all comes down to personal preferences, we think the outcome will attract a ton of admiration from your family and friends.
28. Xzibit Cornrows Hairstyles
Today, rapper Xzibit can typically be found with a fully-shaven head or a buzz cut. Be that as it may, he was a huge promoter of braids for men in his younger years. He would frequently appear with either classic cornrows or feed-in braids, and he looked outstanding while doing it.
29. Star Center Cornrows Braids
It's easy to see why patterns and designs are so important when choosing original braiding styles. As an example, you can get braids that start from the crown of your head and spread out in a star-like fashion.
30. 4 Cornrows for Men
When men get four cornrows at a time, they generally lean more towards the Ghana braiding technique. Regardless, the jumbo braids have a remarkable visual impact. If you decide to get four wider braids, think about what part designs you can use between them.
31. Hourglass Cornrows
If the photo below doesn't convince you that braiding is a genuine art form, we don't know what will. The braiding artist went above and beyond with the intricate method used for the hairstyle, creating an hourglass silhouette in the middle. Talk about unique!
32. Cornrows with Buns
In this day and age, the man bun hairstyle has been adopted by countless guys with longer hair. It may not be the best for all dudes, but it has proven to be a useful choice for a variety of cornrow hairstyles. With cornrows and taper fade cuts, it almost becomes mandatory for making the look complete.
33. Interwoven Cornrows Braids
You'll never get bored if you decide to explore all the braiding styles that are available out there. We're almost certain that you'll be investing hours on end to get meticulously interwoven braids. Still, there's no denying that you'll end up with one of the most original hairstyles in town.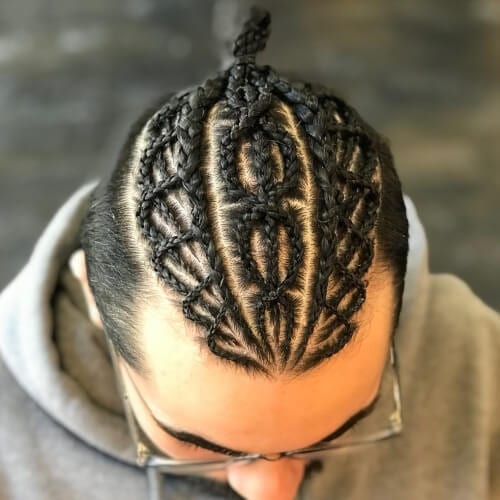 34. Post Malone Cornrows
We've covered quite a few rappers and R&B singers that have been seen with braids during the earlier years of their careers. Post Malone, on the other hand, is one of the most well-known musical artists that happily sported two feed-in braids back in 2017.
35. Diamond Braids
Can you see how there truly aren't limits to the types of cornrows men can get? Diamond-shaped braids are a surefire way to be the center of attention (and in the best way possible). The artistry involved here is highly praise-worthy.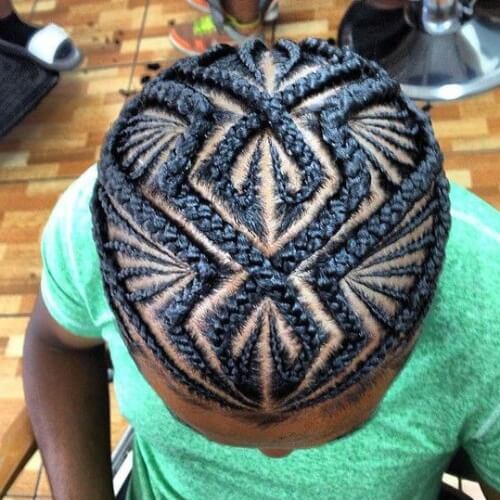 36. 3 Cornrows Styles
Men who want to get three main cornrows should follow the "recipe" presented below. Generally, it's best to fill in the gaps between the three primary braids with smaller ones in the pattern of your choice. Of course, an undercut hairstyle will be necessary to nail the look.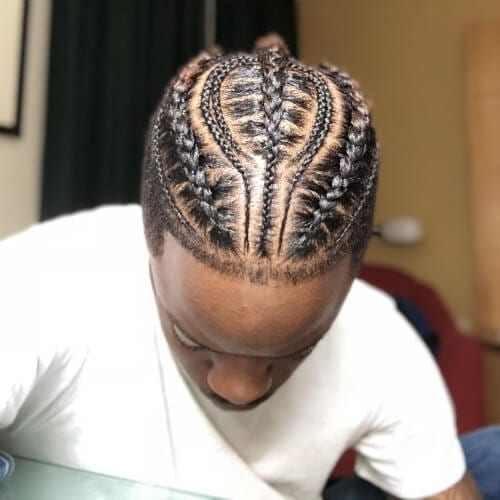 37. Sean Paul Cornrows
Among world-famous artists, Sean Paul is undeniably one of the first names that come to mind when thinking of longer braids. The Jamaican dancehall superstar had been associated with shoulder-length braids for most of the 2000s. He followed this with a wide mohawk phase in the early 2010s.
38. Parallel Cornrows and X Braids
Oftentimes, totally different braids look even better when brought together in one hairstyle. For instance, overlapping braids that form an X on each side can be completed with perfectly straight ones in the middle. Playing around with the thickness of each braid is also a fine idea.
39. Cross Cornrows
You can get even more specific than that with your braiding designs. If you're a man of faith, you could consider incorporating religious elements into your hairstyle. The crosses inserted between the four main braids above truly have a charm of their own.
40. Jeremy Lin Cornrows
Just like Bryce Harper, Jeremy Lin is yet another athlete who has rocked braids in the past. The star basketball player chose to shape his hairstyle in the form of two top braids and a steep undercut. To get similar results, make sure your undercut is high and tight.
41. Tied Back Jumbo Braids
If your braids are significantly longer, it's likely that you'll want to tie them back every now and then. To do so, all you have to do is bring them to the center of your nape in a low ponytail. Alternatively, you can weave the individual braids together to create a single long braid that goes down your back.
42. Cornrows with Sharp Angles
With feed-in braids, you can create endless designs within your cornrow hairstyles. You don't have to follow any visual rules. As a matter of fact, we encourage you to break any so-called rules as much as you can. Your appearance is just as unique as your personality!
43. Beckham Braids
If you can't bend it like Beckham, you can at least look like him! David Beckham hairstyles never cease to be extremely popular around the world, so you know you'll be on-trend with one. His blonde cornrows follow the standard front-to-back pattern followed by most braids of the 2000s.
44. Cornrows with Two Thick Braids
Why get a head tattoo when you can get braids designed with a similar effect? The two jumbo braids used in the hairstyle are surrounded by eye-catching decorative mini braids. Consequently, you can spot the look from a mile away. Still, we recommend not getting your braids done too tight so they won't damage your hair follicles or scalp in the process.
45. Wavy Cornrows Braids
If summer's knocking at the door, you might as well get a set of braids that match the season. Wavy cornrows are fresh, intriguing, and practical – all bundled into one. We also appreciate the effort that went into the striking symmetry of the hairstyle.
46. Straight and Dynamic Cornrows
Balance is key for a lot of successful hairstyles. For example, many out-of-the-box braid designs go well with classic braids woven into them. By choosing a style like the one above, you'll be drawing equal attention to both main elements that make the look as interesting as it is.
47. Three Thick Braids and Cross Cornrows
The same principle of harmony applies to the hairstyle displayed below. The crosses used to separate each braid are doubtlessly intricate and a pleasure to see. All the same, they look even more attractive with the three jumbo braids before and after each one.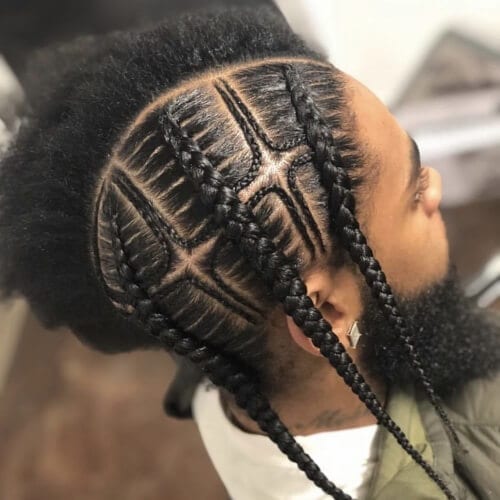 48. Dollar Sign Cornrows
Are you all about getting that paper? Show it through your hairstyle! As part of the wild designs you can obtain with braids, a dollar sign is definitely a top contender in terms of originality. The gold beads placed on each side make the hairstyle pop even more.
49. Numerous Braids
While some guys are all about minimalism in the way they approach their braids, others love going over the top. You can get as many braids as you'd like, combining all sorts of widths, lengths, and angles. Do keep in mind that the more complicated your braids are, the more effort it will take to create them.
50. Horizon Cornrows
We're saving some of the most awe-inspiring braids for last. Whoever thought that you could create an entire landscape just by using your hair? If you look closely, you can observe the illusion of a horizon line with what seems like sun rays coming up from behind it. Now that's what we call true braiding mastery!
Conclusion
To conclude, cornrows are easily some of the dopest braids you can ever hope to get.
Although specific styles have varied as trends throughout the years, it's clear that cornrow hairstyles are here to stay. Not only do they look wonderful, but the variety they offer makes them accessible to all.
Which style did you decide to get? Did we miss any of your favorites in our list? Let us know in the comments below!
Darla is a hairstylist and makeup artist. She loves creating bold and edgy looks for her clients and is very passionate about what she does. She has always loved writing, but never thought that she would ever get to publish her content. She decided to give it a try when she discovered us, and has been writing for our readers ever since!