Some know the blowout haircut as the temp fade haircut owing to the fact that the cut is short at the temples. The fade stops just behind the ear and up to the top of the temple or as far as the corner of the forehead.
It's preferable to add an undercut or fade to your look. Use this style to add definition to a buzz cut or a longer on-top cut in a manner that suits your features and personality.
Let's see some alluring blowout haircuts, all below!
1.

Highlights Blowout Haircut

If you choose a classical blowout hairstyle but still want to add zest to it, go for crazy highlights. Subtle strands will look great if they are dyed with a lighter color than the rest.
2. Blue Blowout Fade Haircut
Instead of a straight-out blowout haircut, there is a more conservative way to go about it. Make a fade to surround the hair on top and then style the top part in a fancy blowout.
3. Bangs Blowout Haircut
Bangs can be a part of the blowout hairstyle. To be even more unique, allow the bangs to fall down your face while keeping the rest of the hair styled with a light wax.
4. Messy Wavy Blowout Haircut For Men
This style gives the impression of messiness, made with blowout techniques to maximize your volume and then with your fingers up and across right from the roots, randomly.
5. Side Fringe Blowout Haircut
Make sure to get creative with the long part of your blowout haircut. The upwards styling is supposed to be a classic look, then curl down the bangs to give a great appearance.
6. Quiff Hairstyle with Facial Hair
Use styling gel and a comb to tease your hair up into a quiff haircut style at the front. Complement your flowing hair with a small beard to mix different styles.
7. Spiky Messy Blowout Haircut
If you don't like the traditional approach and you decided to leave the sides medium, you can go wild with the top part. Style it to be upright in a messy and chaotic spiky manner.
8. High Comb Over Blowout Haircut
If your hair is thin, you can make a high comb over which will look very visually close to a blowout. Use hair gel and spray to keep the hairstyle intact for a long period of time.
9. Straight Blowout Haircut
This type of blowout haircut can be considered a classic because of the little amount of hair gel used. However, hair spray is still needed to keep the style intact.
10.

Curly Blowout Haircut

Curly hair can easily be integrated into the timeless blowout style. Cut the lower part properly, and then just get as creative as you wish. Create a stylish long top with a bit of gel.
11. Wild Ginger Blowout Haircut
With hair long enough you can make a really wild blowout. Get creative with the top part, giving you the chance to make anything from a wild mess to a textured pompadour.
12. Brushed Back Blowout
Blow out your hair so that it is big and full of volume by rolling your comb backward to create a brushed back style. Light facial hair helps create a dark, brilliant, and brooding look.
13. Textured Pompadour Blowout
A modern way to style your blowout haircut is to forget about the gel completely. Keep the hair on top medium so that it stands up all on its own. The end result is a great pompadour hairstyle.
14. Side Swept with an Undercut Blowout
Grow your top hair as long as you desire but keep the underside about a 1/4 of an inch in length. Slick parts of the longer sections of your hair up and straight back.
15. Long Windswept Blowout
You have endless options that you can apply to your hair if it is of a medium length. The locks have a textured cut and a unique windswept look suitable for young men.
16. Forward Spike Blowout
This blowout haircut is perfect for guys with straight, thick hair. Arrange the spikes any way you like with the use of high-quality hair gel, making the hair in front stand out even more.
17. Natural Flow Wave Hairstyle For Men
The funky wave at the top of this hairdo is natural and it requires minimal blow-drying with a little amount of gel to style it. This flow hairstyle also has some subtle highlights.
18. Spikes Blowout Haircut
This blowout haircut is perfect for guys with curly hair. You don't need to straighten them, just add some hair gel and style the hair with your fingers to make some spikes. You can never go wrong with spiky hairstyles for men.
19. Ivy League Waves for Ginger Hair
This Ivy League wavy style is suitable for any man looking for a dapper and put together look. Defined waves in voluminous red hair are the ideal choice if you enjoy staying sharp and serious.
20. Frizzy Blowout Haircut
A frizzy blowout style normally requires very little styling product to keep it in check. This particular hairstyle is great for people who really just want to get up and go.
21. Long Blowout Haircut
You don't necessarily have to shave to get a blowout. Keep the hair on the sides short and style the long top part in the blowout way. Make sure to do your best with the top part styling.
22. Voluminous Blowout Haircut
Arranging the top part straight and upward might get tiring. So you can play around with brushing it a bit to the side to create a messy and wonderful blowout look.
23. Pushed Back Blowout
This look is for guys with quite a bit of length on top. Blow-dry the hair straight up before lightly combing or pushing the ends backward. It's a great way to add some sophistication to your style.
24. Lazy Blowout Haircut
This hairstyle is obtained without too much cutting. It is an imitation of the blowout fade haircut that has you styling your locks with hair gel. Push the hair upwards and the style is ready!
25. Flowing and Movable Bang

s

Use plenty of flow and movement on the top section. To get this, blow-dry and mess around with the wavy locks at the top. Finish the look with light hair wax for movement.
26. Kristofer Hivju Slicked Back Blowout
The size of the hair here is amazing, but you will need to use a lot of product to style it into the heavy side and slicked back wave. With a lovely natural texture, this is all you need.
27. Lightly Swept Waves
Use just a bit of styling gel so that your hair does not stay completely in place and then distress it a little bit with your fingers to create lightly-swept waves.
28. Messy Blowout Haircut
To be in trend, opt for a stylishly disheveled look by simply messing and scrunching your hair. Use your hands and some pomade after blow-drying.
29. Asymmetrical Blowout Haircut
Choose asymmetrical styling for the upper part of your blowout. It guarantees to make you look amazing. Hair gel is a compulsory part of any blowout style though, so keep that in mind!
30. Messy and Tapered
This is a straightforward styling idea that entails tapering the strands to make the sides and back short. Gel the strands at the top, making them as messy as possible.
31. Disheveled and Textured Blowout
It is all about creating a textured and nonchalant structure by using clippers or scissors. The sides are gradual, and for the final look, front sweep the textured locks.
32. Blowout with Spikes
Blowout styles can have various designs, a spiky blowout hairstyle being one of them. The gel is used to style the hair into spikes. Also, use a hairdryer to blow it upwards.
33. Blowout for Men with Blonde Hair
A blonde blowout can be even more eye-catching because of the light color combined with the wind-blown style, which creates a unique and stylish appearance.
34. Elegant Tapering
The beauty of this hairstyle comes from the skillful cut. It implies tapering the sides and back while leaving textured and blow-dried wavy strands on the upper section.
35. Textured Blowout Haircut
Getting your hair cut into a blowout shape is easy. Styling it, on the other hand, can be more difficult. If your hair is fluffy and unappealing, try adding some texture. Check out our hair products guide to find the best options for your needs.
36. Low Blowout Haircut
If you don't get along with hair gel, you can pick a more subtle blowout hairstyle such as the one in this example. This haircut is pretty easy to achieve and is the lowest maintenance one so far, as well.
37. Flicked Over Fringe Haircut
If you have longer hair, you can finish off any style with a flicked-over fringe. Literally, flick your hair over from one side of your head to the other for loose styling.
38. Side Parted Blowout with Undercut
Play around with the top part to create a side-parted blowout pompadour. The hairstyle will look even better than the classic version and it will surely grab attention.
39. Cropped Blowout
A short, cropped blowout can look just as stylish as any standard one. Because of its subtle appearance, you can easily wear this look with confidence when going to the office as it's quite a business casual look.
40. Up Swept Curly Layers
With this haircut, the strands on the upper part have some subtle curls and layered, up-swept styling. Complement the look with small facial hair.
41. Rolls and Waves
Mix two different blowout styles by wearing your hair wavy with a rolled fringe at the front. A style like this is easy to maintain and achieve right after a shower.
42. Comb Over Blowout
If your hair is not thick enough for a regular blowout haircut, go for a comb over to create volume. Keep the lower part short and you can style the top part the way you like best.
43. Long and Messy Layers
This beautiful style involves leaving extra-long strands all over the head that can be styled into wavy layers. For styling, just let the wind take care of everything. Easy!
44. Rolling Locks Blowout
Give your hair more volume by rolling your hair over to one side. Use a barrel brush to create rolls straight from the roots. Use styling wax to keep your hair in motion.
45. Side Blowout with Moustache
This blowout hairstyle has the hair tossed only to one side, while the hair on the top is left to be styled according to preference. This hair blowout style is a very unique one, and the mustache adds that extra bit of something.
46. Slick Brushed Back
A slight lift and brush back are all that you need to get this funky hairstyle. However, choose to taper fade the sides to create a disconnection with the top part.
47. Wispy Blowout Ducktail
Leaving your hair long enough for a wispy blowout can be tricky, but everything is possible. Style the top part with gel to create a wispy style and stand out from the crowd.
48. Hair Raiser
This extravagant blowout is about achieving maximum volume and raising the roof with your hair. A comb and hairdryer give a lot of volumes, creating a lightly-tousled look.
49. Levels Blowout
While styling the top part of your blowout, you don't have to make it all leveled. Make the hair higher in front and lower in the back into a blowout variation.
50. Wedge Blowout
This wedge hairstyle is much longer at the front than it is at the back. Keep your wedge looking super cool by using a light product and your fingers to smoothly tease out your hair.
51. Dapper Low Blowout Haircut
Vintage hairstyles are still as fashionable as ever, especially if you're a dapper kind of guy. If you like the handsome style of the past, you should totally consider a low blowout haircut with a dapper touch. The perfectly-groomed mustache is just the cherry on top!
52. Dreadlocks with Blowout Style
Blowout haircuts work wonderfully with all sorts of hair textures. For instance, if you love rocking dreads, you should know that a blowout is perfect for them. Not only will you get plenty of volumes, but the low fade will also contour your features nicely.
53. Eccentric Blowout Haircut Style
On the other hand, you may be a guy with a colorful personality. If you feel like we've just described you, take a look at this jaw-dropping blowout haircut. Not only is it creatively designed, but it also features brilliant, head-turning tones.
54. Blowout Hairstyle with Highlights
Alternatively, you may want just a hint of color throughout your locks. For this, we recommend a blowout hairstyle for highlights. The look is particularly flattering for men with afro-textured hair, as the highlights make their curls stand out.
55. Box Fade Blowout
Our final box fade haircut goes back to the roots with one of the hottest styles of the 90s. A classic take on the blowout, this hairstyle showcases a box fade haircut with a textured blowout style expertly performed by a skilled barber.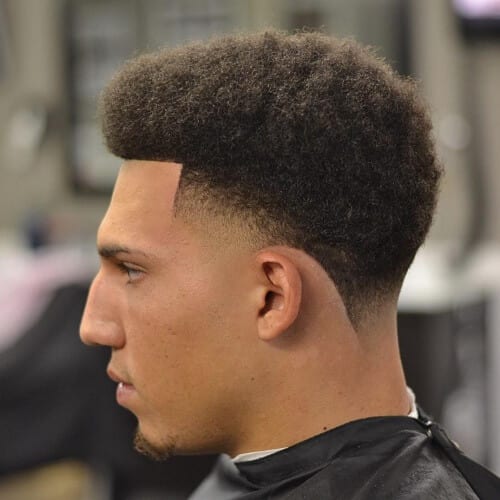 Conclusion
The blowout haircut remains one of the trendiest hairstyles of the year, as it continues making your hair seem to have been blown by the wind.
This hairstyle is especially useful for people with a round-shaped face and is most popular among the young generation.
A high-quality gel or hairspray can be quite handy too if you want to bring perfection to the blowout hairstyle for guys.
Which one of these is your go-to blowout style or at least favorite?
Darla is a hairstylist and makeup artist. She loves creating bold and edgy looks for her clients and is very passionate about what she does. She has always loved writing, but never thought that she would ever get to publish her content. She decided to give it a try when she discovered us, and has been writing for our readers ever since!