The hairstyles in the gallery below were chosen because they look great with thin hair!
Hairstyles for men with thin hair help to show you that thin hair can be just as good as thick hair. These styles allow you to use styling tricks to make your hair look thicker and more voluminous!
Thinning hair is a natural part of aging that happens to both men and women. But if there is a will, most certainly there is a way too.
1. Fringe Hairstyles For Thin Hair
We debut these hairstyles for men with thin hair ideas with the thin fringe. You can create a thin fringe with ease just by front loading your hair over parts of your face and this can actually help to make the rest of your hair look thicker.
2. Center Mop Hairstyles For Thin Hair
Obtain the center mop by cutting your sides short, leaving a handful of long locks in the center. Style your remaining hair with hair product for a classy, effortless look.
3. Messy Swept Back Hairstyle
This haircut, in particular, is a great way to conceal thinness as well as focus attention on the center of your hair and not the weak spots.
4. Thin Hair and Man Bun
Get a medium-length undercut for the sides and the back, then grow out the center long enough to achieve a stylish man bun. This style can go with both casual and formal wear.
5. Long and Layered Hairstyles For Thin Hair
This cut included in the hairstyles for men with thin hair category can go along with any features. Use a bit of styling gel to get that slick, combed look that gives you a neat layered sophisticated look.
6. Spiked Up Hairstyles for Men with Thin Hair
A neat undercut mixed with a spiked up top will make your hair look thick while giving volume. This hairstyle usually goes well with facial hair to give you an even manlier vibe.
7. Ultra Thin Haircut
This hairstyle is very easy to obtain just by cutting the sides of your hair very short, then just use a bit of gel and brush back the center of your hair for a slightly messy look.
8. Slicked Back for Long Thin Hair
Achieve this magnificent look by slicking back your long fringe with hair product to keep it in place. It goes well with all face shapes and is manageable for your everyday look.
9. Hippie Hairstyles For Thin Hair
Grow your hair down to your shoulders and get a little bit of layering at the ends. This can work great with both formal and casual styles. But it does require extra maintenance than shorter cuts.
10. Short and Messy Fringe
In this particular style, you can also spike up the sides. This style fits perfectly great for thin hair because it can make your hair look denser thanks to the added height.
11. Square Cut
Apply gel onto your hair and brush upwards and away from your face. This cut makes you look clean and classy with a minimum of effort.
12. Voluminous Pompadour
Grow out your hair and create volume either by styling or blow-drying. Even if your hair is thin, your locks can hide the thinnest spots, giving your hair a thick and full look. For more pompadour ideas check out our collection of modern pompadour hairstyles.
13. Forward Sweep Haircut
To get this style, have the sides of your hair cut short and grow out the top until you can sweep it forward into long bangs. It's perfect for any face shape.
14. Messy Waves Haircut
If you have messy waves, consider styling up your locks with some gel to create an elegantly curly look that goes great with a casual fashion sense.
15. Mini Quiff
Use a medium hold styling gel to apply to the front of your hair and shape it up into a mini quiff. The rest of your hair will look awesome with a slightly disheveled look.
16. Long Bangs with Undercut
To achieve this look, get a medium-length undercut on the sides and back, then let your bangs grow to the desired length. The left bangs will cover up your hairline.
17. Messy and Tousled Thin Hair
To get this look, simply brush back your hair with your fingers. Add height and tousle your hair for the intentionally messy look that can make thin hair seem thick.
18. Long Slick Back Hairstyles for Thin Hair
If you have extremely thin hair on the top, think about growing out your locks to mask the thinness. This look, combined with a slight undercut, can give your hair a look of richness.
19. Messy Side Sweep Hairstyle
Create this great look with hair gel and a comb. Comb your hair to one side, adding a little bit of height to create a messy hairstyle that can make your hair look thicker.
20. Classy Vintage Hairstyle For Older Men
This hairstyle is recommended for older men with high hairlines to take the attention away from the forehead. It also works great as a casual fashion style.
21. Long and Straight Hairstyles For Thin Hair
If you have long, thin hair in a straight style, you need to make sure that you take care of it regularly. A messy ponytail can keep your hair clean for a longer period.
22. Brushed Back Undercut
If you have soft and slightly wavy hair, create volume on the top by getting a slight trim on the sides of your head, then brush back your hair a little to the side.
23. Thin Textured Fringe
Layered curtains most definitely look better on thin hair than on thicker hair. This haircut looks stylish, rather than looking like a throwback to a 90's boy band.
24. Curly Top Hairstyles For Men
Not only does this haircut make your hair appear thicker and fuller, but it also provides coverage for thin spots and highlights your natural curls. It goes great with a beard too.
25. Full Fringe
A full fringe can help to give you a stylish and mysterious look. Comb your hair forwards and down over your forehead to create a thick, full look.
26. Side Comb Over Hairstyles for Men with Thin Hair
Give your hair a thicker and fuller look by focusing the volume at the center and then combing it to one side. Fix it up with hair gel to help it stay in place and look slick.
27. Preppy Middle Part Haircut
Achieve a preppy and classy look with this haircut by getting your sides cut short, the sideburns trimmed clean, and by styling the top of your hair into a neat side sweep.
28. Modern Ducktail Haircut
Grab all the attention with your Ducktail Haircut that has a very short and neat undercut. Grow out your hair and brush it forward to achieve that messy and wild look that is so trendy nowadays!
29. Long Buzz Cut
A long buzz cut is a great choice for thin hair. Is much softer than a severe buzz cut and it will conceal all the remaining gaps.
30. Flow Hairstyle for Thinning Hair
If you want to distract attention from your receding hairline, create height on the top by using styling gel. It will give your hair a thicker appearance and the casual style you like. Going for a flow helps, a lot.
31. Short Side Fringe
For this classy look, achieve height by fixing your hair with a bit of wax. This haircut will give the impression of thicker hair, most important on the top of your head.
32. Rollover Hairstyle
Give your hair upwards volume by rolling it over with your fingers. Create this styling by using a round brush whilst you are drying it.
33. Buzz Cut
Thin hair can appear thick and dense with a traditional buzz cut and it's easier to maintain than other hairstyles. Grow out your facial hair to a style that will complement your hair.
34. Volume from the Roots
Combing your hair upwards from the roots give the impression of more volume. Use your fingers upwards through the hair to get volume without having to use any hair product.
35. Brushed Forwards
With a bit of holding gel on them, run your fingers through your hair, making sure that you create volume from the roots along with a messy styling. This is one of the best choices from this hairstyles for men with thin hair list that we highly recommend.
36. Short Crop Haircut for Men
If your hair is thin and fine, cut it very short. A light amount of facial hair is also recommended to complement this style and to balance the entire appearance.
37. Mid Length Haircut
Grow your hair into long locks if you wish to make your hair seem thick and dense. Moreover, this medium length hairstyle is as casual as it can be and it will provide a lot of hair volume.
38. Military Haircut
If you wish to get a serious style, try this hairstyle instead. Style your bangs upwards to give you a sharp, clean appearance. Military-style cuts are suitable for office and public domain jobs.
39. Classy Flick
Check out this subtle hairstyle that is great for the office as well as for casual events. Pull your hair upwards into a small subtle flick. Use your fingers to tousle the rest of your hair in the desired shape.
40. Long Bangs Hairstyle
Long bangs can also cover a high hairline. If you have thin, straight hair, try growing it out into long bangs to get some thickness and to also make you look younger.
41. Long and Messy Hairstyles for Thin Hair
You can still wear your hair long if you have thin hair. Straight and messy hair is very eye-catching on a man.
42. Subtle Mohawk
If you don't want to go with a full Mohawk, just style your hair into a subtle one instead. Run your finger randomly inwards from either side of your head to achieve this look.
43. High Up Top Hairstyles for Thin Hair
No more need to worry if you have a receding hairline. Draw attention away from it by giving the top of your hair height. With a comb and styling gel, brush back your hair and towards the center.
44. Shaggy Hairstyles for Thin Hair
If you have limp hair, hairstyles for men with thin hair come with the solution: a shaggy haircut will provide with the volume and height you need. To obtain this hairstyle, just tousle your locks while blow-drying.
45. Long Comb Over Haircut
Short sides and an extra long top make for the perfect look. Brush back the center of your hair and keep it in place with styling products for a neat, asymmetrical appearance.
46. Short Hair with High Fade
If your hair is getting very thin or is naturally as such, get a short haircut that will give the illusion of fullness with a high fade on the sides and leave the center part very short.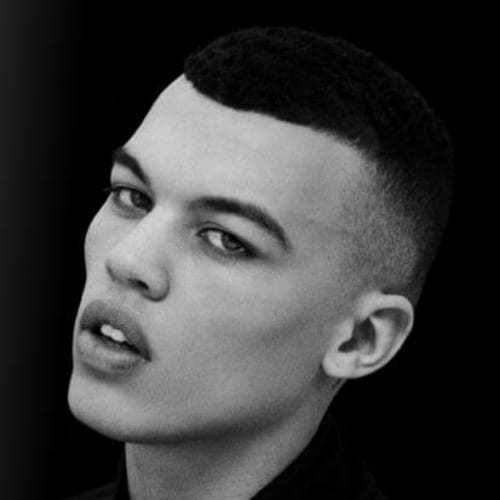 47. Messy and Wavy Short Hairstyle
For this style, use a hairdryer to give your hair that natural volume, and you may also want to add a small amount of styling gel at the ends to create an intentionally messy look.
48. The Boy Band Hairstyle
Growing out your thin hair can make it look fuller and provide you multiple choices for styling. Just crop your locks just by the ear and part your top to the sides.
49. The Long Wave Hairstyle
Get a short undercut on the sides and grow out the center of your hair to create a wave. This style will definitely draw eyes to your hair rather than your hairline.
50. Clean Cut with Beard
A very short haircut can hide a receding hairline. Growing out a beard can further take attention away from your hair, plus give you a strong, masculine vibe.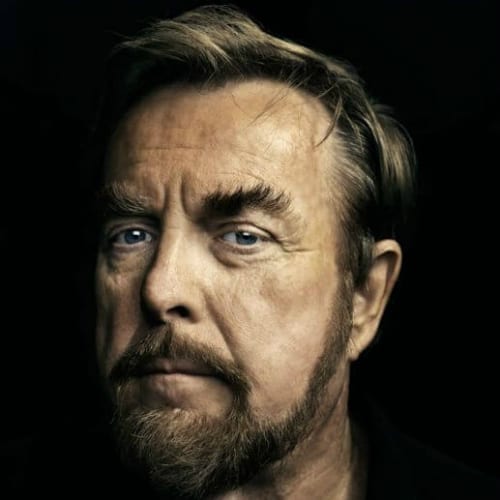 51. Undercut Straight Swept Haircut with Thin Hair
One of the most popular hairstyles for men with thin hair is an undercut around the sides and leaving the hair on top long. Here he went with a curtain hairstyle and it looks so cool.
52. Layered Front Taper Hairstyle with Natural Black Hair
Next up is a layered hairstyle with a front taper and a trim around the natural hairline. He went with an almost bowl cut here and it makes his thin hair look thicker and fuller.
53. Side Sleek Hairstyle with Taper Cut
Side sleek hairstyles are such a good idea. In the photo above he has kept his hair long and brushed it back in the front to make hair look thicker. Be sure to trim the hair around the natural hairline and keep it a few inches long and you are going to look amazing.
54. Curtain Hairstyle with Bronze Shade Thin Hair
Curtain hairstyles are such a good idea and they are one of the best hairstyles for men with thin hair. In the photo above he kept his hair long with a middle part and curled the edges of the hair out. He has also added a light brown hair color to complete this awesome look.
55. Natural Layered Straight Hairstyle with Undercut
If you like keeping your hair natural this next style would be perfect for you. In the photo above he has kept the sides and back of his hair with a longer layer on the top that is straight and brushed down neatly.
56. Thin Straight Glossy Hairstyle Layered Cut
If you have thin and straight hair you have to give this next hairstyle a chance. In the photo above he went with long and wispy layers in the front and kept the rest of the hair layered and full. This would be a handsome hairstyle that men of all ages would look great wearing.
57. Bob Haircut with Straight Thin Hairstyle
Next up is a style for men with thin hair who would like to keep their hair long and stylish. Here he went with a bob length and parted it right down the middle. Be sure to keep the sides and back trimmed neatly to get the most out of this style.
58. Edgy Cut with Full Light Brown Blonde Undercut
Edgy hairstyles will always be in style because they leave you feeling cool and confident. In the photo above he has his edgy hair trimmed around his natural hairline and added a thick fringe towards the top. You will want to add in a few light brown highlights to get the most out of this look.
59. Curled Side Parted Haircut with Undercut Hairstyle
Here is a hairstyle for men with thin and wavy hair. He went with a side part and trimmed the hair on the smaller side short, and left the other side full and wavy. You may need to train your hair a bit before it stays in place.
60. Pixie Edgy Haircut with Front Layered Straight Hair
Pixie hairstyles are not just for women, men around the world are wearing them more and more. Here he has a fancy pixie hairstyle with layers on the top and left it thick in the back. This would be a great look for men who are thinking about growing their thin hair out.
61. Taper Fade with Messy Light Brown Shade Haircut
You cannot go wrong with a taper fade. In the photo above he is wearing his light brown hair with a nice fade along the sides but left the hair on top a few inches longer. You can wear it messy as he has done in the photo above or spike it up for an edgier style.
62. Smudged Hairstyle with Curtain Hairstyle
Up next is a look with a smudged style with curtain bangs. To get this look you will need to ask your barber for plenty of layers on the top but keep the sides trimmed short with a buzz. You can part it in the middle, or just let your hair do its thing, it is completely up to you.
63. Bob Messy Haircut with Thin Hairstyle
Bob haircuts are a perfect hairstyle for men with thin hair. Here he went with a full bob all the way around with a few messy layers on the top. You will need to keep the back trimmed short to get the most out of this style.
64. Trimmed Side Parted Straight Hair with Undercut
If you like keeping your thin hair with bangs you could always go with this next look. Here he has styled the hair in the front with side bangs and left the rest of the hair short and brushed back neatly. This is an awesome look that will never go out of style.
65. Fringe Front Hair Swept with Layered Hairstyle
Fringes look great for men who have thinner hair. In the photo above he has kept all of his hair dark and left the hair on top long and styled it a bit messy. Add in some gel and style it back with your hands and you are going to love the way you look.
66. Bowl Straight Haircut with Undercut Style
You do not have a complete bowl hairstyle with some sort of undercut. Here his undercut is very subtle with just a short shave around the temples and it helps to keep his hairstyle looking neat and tidy.
67. Messy Layered Undercut with Natural Black Hair
Messy layers are a great way to add texture and thickness to your thin hair. Here he went with a messy bowl look with an undercut that comes up to meet his long hair and it looks fantastic.
68. Curtain Hair with Classic Hairstyle Natural Black Hair
Curtain hairstyles for men with thin hair are one of the most popular cuts to try. In the photo above he has kept his thin hair looking full with a middle part and a short trim around the edges. You could always add in a few highlights to get the most out of this look.
69. Front Fringe Haircut with Full Blonde Colors Shade
Here is a look that would work if you are dealing with a cowlick, or if you like to keep your hair up and out of your face. He kept the hair just a few inches long on the top and brushed it back perfectly. Be sure to keep a few strands out in the front for side bangs and you are all set.
70. Trimmed Front Taper Thin Haircut
Tapers come in all different shapes and sizes and will work great on your thin hair. Here he is rocking a full fringe in the front that tapers off around the sides and the back. You will want to add in your favorite fade as well.
71. Wavy Pomp Front Taper with Undercut Fade
The pomp is back and better than ever. Here he went with a high fade around the sides and in the back but left the hair on the top long enough to style in the perfect pomp. Invest in a good product to ensure that your style will stay looking fresh all day long.
72. Curtain Wavy Hairstyle with Regular Black Hair Shade
Up next is another curtain hairstyle that younger men love wearing. He has tapered his thin hair long and left the back in a mullet-looking style, but kept the front parted down the middle for curtain bangs. He has straight hair here, but this style would look great no matter what kind of natural hair you have.
73. E Boy Thin Hairstyle with Black Hair Shade
E-boys styles are so popular nowadays and there are plenty of different ways to tweak an e-boy style to meet your needs. In the photo above he is wearing his thin hair parted down the middle and cut right above the ears and it looks so cool.
74. Layered Edge Haircut with Long Bangs Cut
Up next is a classic hairstyle for men. Here he has long bangs and a simple bowl cut around the sides. Keep the hair trimmed short around the sideburns and you are all set.
75. Blonde Curtain Hairstyle with Undercut Layered Cut
This next hairstyle has a super cool vibe to it. He has kept his short undercut a natural brown color and added a bright blonde into the top section. Part it down the middle and keep it straight and you are going to love your new blonde curtain hairstyle.
Conclusion
These hairstyles for men with thin hair give countless different options to choose from.
Some men worry about styling their hair once it starts to thin out, but this catalog shows that you don't need to worry.
There are many things that you can do to maximize your style and even transform your hair and make it look thicker.