Are you looking for a stylish cut that will keep you looking trendy? Believe it or not, but short hair with bangs is in for men's fashion! If you're looking for a way to upgrade your hair game, below, we've compiled a list of the best fringe haircuts for men! Check out the best fringe haircut that we have gathered.
One thing you'll probably notice over and over again is the excessive amounts of texture in most of these styles. So any of these haircuts is sure to give you inspiration for your next 'do, so keep your eyes peeled!
In addition to numerous photos and descriptions to accompany our ideas, we'll also settle the bangs vs fringe dispute once and for all. Let's go!
1. Disheveled Yet Sophisticated Fringe
This textured fringe style screams bad boy, but it's still sophisticated enough to keep you from looking like a punk. Low maintenance and stylish, this cut is sure to keep you looking trendy with little to no effort required. Never have issues with bad hair days again. Keep it naturally stylish.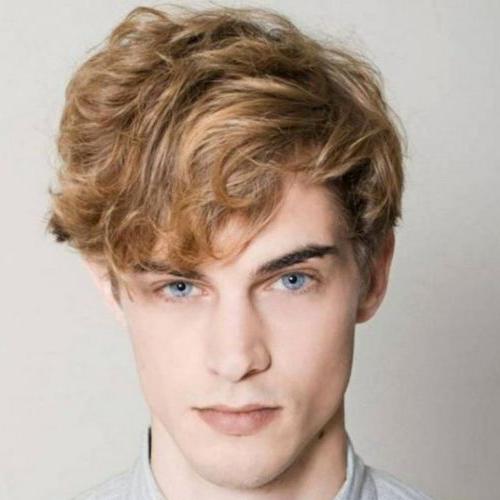 2. High Fashion Gothic Fringe Style
Pushing the envelope is the name of the game for this style. It's really about how edgy you're willing to go in the name of fashion. Hair fashion trends are starting to trickle their way into mainstream hairstyles for men, so who knows? You could be one step ahead of the curve on this one. Talk about creativity!
3. Messy Pompadour Haircut
A fringe with good texture is an absolute classic, which is why we're bringing back this messy pompadour look. It's an oldie but goodie, so if you're aren't hip to high fashion or the latest trends, then this may be the perfect look for you. Channel your inner rockabilly!
4. Asymmetrical Angles
Sharp angles with no layers make for a very intriguing look, which pairs nicely with high cheekbones or chiseled features. Not many men can pull this look off, but those who can are sure to stand out from the crowd! Perfect well-defined edges.
5. Punk Rock Flirt
Breaking the mold and going against the grain are all core tenants of the punk rock movement. Fringe bangs on men, especially in this style, are a great way to flirt with the punk rock principles without fully investing in it. Never be afraid to explore what your hair could offer your sense of fashion.
6. Long Side Fringe Cut
Choosing the right hairstyle is an integral part of this process. With this hairstyle, you'll look like you have better things to do than fix your hair, but your hair will still look great. How does he do it? Aging is not a hindrance to styling. Just like wine, man gets finer as time passes by.
7. 18th Century Classic Fringe
If the 50s aren't really your cup of tea, then maybe you should try going back a little further. This is a modern take on a distinctively 18th-century hairstyle. The curled fringe adds personality to an otherwise conservative choice. Side bangs make for a great way to frame the face and eyes.
8. Curly Fringe Style
Everyone knows that curly fries are better than regular fries. The same holds true for curly fringe vs. regular fringe. This style is a great way to combine curly hair with a sleek look to keep your cheekbones visible. We definitely love a look that allows the natural hair texture to show through. And with your natural curls, try out this style.
9. Modern Bowl Cut
The traditional bowl cut hairstyle has a bit of a bad rap but is making a comeback with its modern version. Styled the right way, this fringe style keeps the look interesting yet simple, messy yet controlled. The simpler the cut the less maintenance it requires as well!
10. Controlled Curly Fringe Cut
If you're looking to make your face appear longer and thinner, this style is the best way to do it. Similar to the curly fringe hairstyle a few cuts back, this look may require a little more hair gel. Regardless, the curls will not detract from your angled features; they will actually enhance them. Boyish yet sophisticated are the main highlights of this men's fringe haircut. Have a go with this masterpiece.
11. Downplayed Haircut
This is a very traditional, somewhat conservative fringe hairstyle that doesn't immediately scream, "I have a fringe!" This allows you to follow the fringe trend and look fashionable. Keeping the look messy is a great touch. This allows you to look more natural as ever.
12. Extra Long Fringe Style
This fringe is so long that you could almost tie it in a top knot. The sides are buzzed off for a rough and edgy look while the long fringe goes to show that you know how to take care of your appearance. We love a style that looks like it took half an hour to perfect but actually needed just 5 minutes.
13. Boyish Charm Haircut
This look is messy and sweet, with a little edge that implies you might be related to Peter Pan. With the right attitude paired with this fringe, the possibilities are virtually endless on what you can accomplish. Short, disheveled, but still put-together describes this 'do perfectly. Bring out the inner gentleness in you through this style.
14. The Efron-Bieber Combo
Some of the most popular male celebrities either have this hairstyle or have had it in the past. It's a good wavy look that takes minimal effort to pull off. A men's fringe haircut doesn't have to be sleek or angular; it can be rugged and wild and still carry a fashionable weight to it. Have it this way!
15. Forward Thinking
The side fringe is a very good way of bringing an interesting dimension to any haircut. Brushing the hair forward from the back also adds another element to this style. This is another classic cut that takes its inspiration from older men's fringe haircut styles. A simple display of character.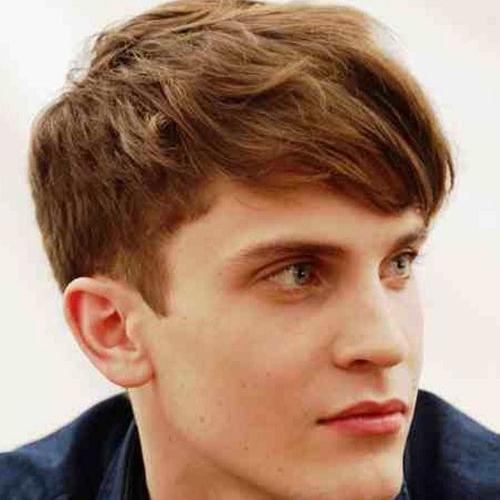 16. Wind-Blown
The off-center tilt of this handsomely disheveled look will complement an asymmetrical face while drawing attention to what is probably one of our best features: the eyes. Let this textured fringe style inspire you!
17. Wavy Fringe
Don't be fooled; there's a lot more going on with this wavy hairstyle than meets the eye. It is fairly unassuming and moderate but it stays fashionable and keeps texture, texture, texture at the forefront of it all. This is also a low-maintenance look for the man-on-the-go.
18. K-Pop Fringe Style
Taking inspiration from Korean pop stars, this men's fringe haircut is well put together without much room for mistakes. Shadowing the eyes with the side fringe allows the rest of the facial features to stand out nicely.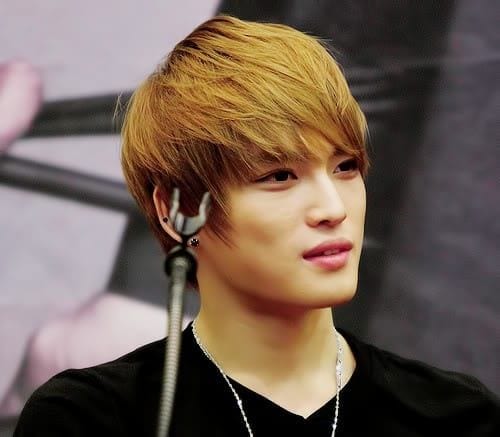 19. Business Casual Cut
Carefully sectioned-off pieces of hair frame the face and add a bit of mystery. It is almost too long for a business environment, but pushing the line is all part of the fun here. Keeping the fringe long and sleek allows the wearer of this style to remain well-groomed and fashionable.
20. Short Beach Waves Bangs
Typically, when you say "beach waves" in association with a hairstyle you think long, bleached-blond hair. In this case, the hair is a bit shorter and it isn't very blond, but the waves are definitely still there. Waves evoke movement and flow, which works brilliantly for this men's fringe haircut.
21. Undercut with Bangs Haircut
Undercutting long hair makes the hair on top appear thicker and makes for an intriguing combination. Wear it down or pulled back in a man bun for a versatile look. It's an easy way to style the hair and almost any great fringe can be paired with an undercut to add a little drama.
22. Bold French Crop
The French crop hairstyle is bold and dynamic, and the symmetrical look gives it an air of rigidity. The slight texture gives this hairstyle a great personality. This fringe bangs style requires little to no maintenance, and you won't have to spend much time in the morning perfecting your hair. A less maintained cut with a natural outcome of style.
23. Slicked-Over
You've heard of slicked back hair, now get ready for slicked-over. Perfect for straight hair, this cool look is slick and sophisticated (did we mention slick?), and while it may require a bit of maintenance, it is well worth it. Sharp edges create an interesting look against smooth features.
24. Messy French Crop
Similar to the French crop, this textured fringe offers a lot of options. Wear-ability is a big factor when it comes to deciding on a haircut, and this crop abounds in it. Brush it back for a relaxed look or style it forward for a different, edgy take on the fringe.
25. Medium Bob Hairstyle
Women aren't the only ones who can make a fringe work, just like they aren't the only ones who can make a bob cut work. This style can easily be pulled back and away from the face for a more open look or left down with the extra-long fringe hanging in a mysterious manner.
26. The Debonair Swoop
As dramatic as it is elegant, this bold undercut with a fringe worn to the side leaves little to be desired. It's almost as if a young Patrick Swayze walked into a hair salon nowadays and asked them to take a little off the sides.
27. Short Tousled Hair
A textured side fringe worn the right way will make for a relaxed yet put-together look. This cut can work for men in almost all walks of life, and the best part is you don't have to worry much about styling. Just run your fingers through your hair when you're ready to go!
28. Pointed Haircut
It's a French crop with a little edge to it. This textured fringe comes to a hazy point in the middle, which brings the eyes further downward. This style allows your face to assume a more V-shaped appearance since it aligns so well with the chin.
29. Textured Crop
Take advantage of your natural curls (or get yourself some good styling gel) and have fun with a French crop that is loaded with texture. It still looks light and airy, although there is a great definition. You don't want to weight your curls down in this look or slick them down too much, though.
30. Shy Faux Hawk
Aren't ready to commit to a faux hawk, but still like the way it looks? We understand, which is why we suggest this tapered cut that includes a pointed fringe. It's edgy and a bit punk without going too far.
31. Flat Faux Hawk
Yet another option for the hesitant punk who isn't looking to make too many waves. This is a great textured hairstyle that doesn't require much work. You always have the option of gelling this hair up into the well-known faux hawk profile, or you can leave it loose and relaxed.
32. Tapered Crop
We love a good hairstyle with texture. This one has plenty, and the crisp edges make for an appealing look. The fade on the sides adds an edgy factor to an otherwise moderate hairstyle. Keep it simple to bring out your eyes!
33. Harry Styles UK
Messy yet still put together; that's probably how some people would describe Harry Styles. He isn't into teenybopper looks anymore though, which is why he rocked this great fringe 'do. The sides and back are longer, but not too long.
34. Sharp Edges and Angles
It's all about the gel, gel, and more gel! Some hairstyles look overworked with a lot of product, but others, like this one, require it. The sharp edges and angles are enough to make you stand out of a crowd, not to mention the dramatic difference between short and long hair.
35. Curls on Top
It's all about working with what you have and knowing exactly how to make it look good. Curly hair all-around can sometimes be overbearing, but curls just on top look handsome and sharp. Match that with faded sides and you've got one great 'do.
36. Angular Haircut
This hairstyle will take any man's hair and give it volume and texture, which are two things you absolutely must have for an interesting cut. Bangs swept to one side are definitely trending, so why not get in on this latest fashion?
37. Long Hair Don't Care
Okay, it's not exactly long hair. It's short hair with bangs, but that's close enough, right? The maintenance of this style is remarkably low, so it's a great option for any man looking to up his style game while keeping it simple at the same time. Textured bangs fade into shorter hair on the sides.
38. Waves on Waves
If you have naturally wavy hair, let that shine through! Don't weight it down with products trying to get a sleek look, embrace the texture! Controlled chaos looks so much better than smothered chaos in our opinion. A fringe that long perfectly frames the eyes too.
39. Stacked Waves
Bringing the fringe to the side allows the naturally wavy hair to stack in an appealing way. The buzzed sides bring the eyes upward while the fringe brings the eyes back down, which makes for a very intriguing style. Keep it light on the product – this is a wonderfully low maintenance cut.
40. All-Around Fringe
Keeping the fringe roughly the same length as the rest of your hair makes for a very carefree style. You don't have to worry too much about where the hair is falling with this 'do – just kind of let it do its own thing.
41. Pointed Pompadour
This pompadour hairstyle look is reminiscent of Elvis Presley, but it also contains a bit of an edge that Elvis didn't have. The fringe coming down to a point nicely compliments the short sides as both are somewhat blunt.
42. Side-Swept Curls
We're a sucker for a good side fringe. If you know how to tame your curls then this style is perfect for you! It's a nice round, soft look that pairs well with the tapered sides. Nothing about it is too extreme, but it's still a trendy look for anyone that wants to try out a fringe.
43. Flock of Seagulls
This reminds us of a modern take on the 80s hairstyle, the Flock of Seagulls. We think it's just bold enough and wild enough to fit well among the more extreme fringe styles. This cut will look good with or without hairspray.
44. Blunt Crop
Yes, we love texture, but sometimes, less is more. The very small amount of texture in this hairstyle creates a simply elegant crop that is inching its way toward high fashion. It's still a wearable style, and the faded sides keep it distinctly modern.
45. Wave-Filled Crop
Forget product, forget styling! Just roll out of bed and look flawless with this wave-filled crop cut. Effortless looks good on anyone, but it looks especially good on men with fringes. This hairstyle blends together perfectly for a look with almost no hard edges.
46. Small Bangs Haircut
Bangs for men don't have to cover the whole forehead. As a matter of fact, if you're dealing with short hair combined with bangs, it's better if the bangs are a little more angular with less coverage.
47. Beach Bum Bangs
This is a classic look for someone who spends a lot of time on the beach or in the sun. The fringe is a little sparser than some of the other styles we've seen, but the beach tends to do that to you. Let the ocean waves decide where your hair will lie with this relaxed cut.
48. Tousled Hair
This haircut definitely looks like you could run your fingers through it and have it come out looking just as good. The sides are on the longer side, but not too long, so the fringe is still the center of attention.
46. Curly Wet Look with Lowered Fade Cut
This next fringe hairstyle would look great for men who have naturally curly hair. Here he kept the sides and back short with a nice fade and left the hair on top long enough for his curls to come to life. Add in your favorite type of gel and you are all set.
47. Permed Curls with Mid Fade Haircut
Permed curls are right on trend in 2022 for men's hairstyles. In the look above he styled his freshly curled hair with a nice high fade and kept extra hair on the top for a fresh-looking fringe.
48. Side Swept Edgy Hair with Light Brown Hair
In this next hairstyle, he is showing how to style your fringe when you have light brown hair. Start this handsome look with a temple fade around the sides but leave the hair on top long and flowy. Then you are going to want to brush your fringe over to the side and you are all set.
49. Wavy Side Parted Hair
One of the most popular ways to wear a fringe haircut for men is with a side-swept look. To get the style in the photo above he kept the sides shaved short around the natural hairline and leave the hair on top long and straight. Pair it with a beard or keep it clean shaven and you are going to love your new style.
50. Messy Wet Curls with Lower Faded Cut
Wet and messy curls also look good when you leave them long in a fringe. In the look above he went with a temple fade but this look is so stylish that you could wear any type of fade and it would look great.
51. Taper Swept Hair with Brown Shade Hair
Tapers and fades are two of the best hair combos to combine. Here he went with a fashionable taper style on the top and added in the slightest side part. Brush it over to the side and you are all set.
52. Textured Haircut with Trimmed Fringe Front Style
Adding textured layers is one of the best ways to texture and thin out your hair. Add in a fresh fade around the hairline but grow the hair out on top a longer length and brush it all forward and you are going to love your new style.
53. Grimy Fringe Curly Front Hair with Fade Cut
Up next is a hairstyle for men who are looking for a short style with fringe. Here he kept the sides short with a nice buzz cut and grew the hair out on top long, with an even longer curly fringe in the front.
54. Short Taper Fringe with Almond Shade of Brown
If you are lucky enough to have a natural shade of almond brown in your hair then you are already off to a good start. In this look, he went with a short taper fade that starts right at the temple and fades along the ear in the back. Leave the hair on the top long enough to brush forward and add in a few layers.
55. Front Wavy Fringe with Natural Black Hair
Wavy hair can be styled so many different ways. To get the style shown above you will first need to start with a nice temple fade along the sideburns and leave the hair on top long and wavy. Brush the hair on the top over in a side-swept look and you are all set.
56. Wavy Front Textured Hair with Light Brown Shade
Need a new fashionable fringe haircut for men with wavy hair? Then you should give this handsome look a try. In the photo above he went with a bald fade to keep the edges looking fresh and left the layer on top thick and long. Here he brushed the hair forward but you could always spike it up for an edgier look.
57. Bowl Haircut with Trimmed Front Fringe with Fade
Up next is a bowl haircut style with a nice edge along the sides. Here he kept the front section long and straight and paired it with a beard for a fresh style.
58. Undercut with Trimmed Straight Haircut
Undercuts look perfect when you pair them with trimmed and straight hair like they have done in the photo above. This style would work best for men who have straight and thick to medium hair.
59. Layered Hairstyle with Black Hair Shade
Up next is a long layered hairstyle for men with black hair. This is a perfect style for men who have been growing their hair out for a while but do not know what style to do next. You can keep it brushed down neatly or you could try a side-swept look here as well.
60. Edgy Fringe Taper with Fade Haircut
You can never go wrong going with an edgy haircut to spice up your look. Here he has an edgy fringe in the front and a nice fade along the sides. You can keep the fade as long or as short as you wish here.
61. Full Peach Color Blonde Fringe Edgy Cut
Adding a full peach color to your hair is such a good idea to try out during the summertime when you are wearing lighter color clothing. Here he added the bright peach color to this fringe haircut and it looks perfect together.
62. Begrimed Curls Front Fringe with Fade Cut
Men with curly hair already know how hard it can be to find the right haircut, but you can stop your search now because this next one looks great on men of all ages. To get this look you are going to want to grow the hair out long, but keep the sides short and shaved.
63. Curls Messy Taper Hairstyle with Fade
Here is another excellent way to wear your curly and long hair. In this style, they have tapered the top section of hair to be longest in the front and trimmed up the sides short with a buzz. You can pick whichever type of fade you want along the sides, it is completely up to you.
64. Medium Bob Cut Curls Curtain Bangs
Next up is a medium-length fringe haircut for men. In the look above he has kept all of his hair long and curly, with the slightest middle part in the front. Invest in a good curly hair gel so your curls will stay looking fresh all day long.
65. Mullet Trimmed Front
The mullet hairstyle is back from the 90s and is better than ever. Here he has styled his long and dark mullet with a nice temple fade, and long fringe in the front, and the back leaving the hair straight and long.
66. Front Taper with Skin Faded Cut
Fringes can be as long or as short as you wish. In the look above he went with a normal-length fringe in the front and trimmed the rest of the hair on top short. Add in a high fade along the sides and in the back to get the most out of this style.
67. Undercut Hairstyle with Permed Full Gold Blonde Hair
Undercuts are one of the best ways to keep your edges and baby hair looking fresh. He went with an undercut here and left it natural while adding a light blonde color to the top section and the contrast it creates looks so cool.
68. Layer Edgy Taper Haircut with Mid Fade
This next taper hairstyle for men is layered throughout and brushed forward. He kept the sideburns just as long as the beard and it looks nice all paired together.
69. Front Bangs Edgy Haircut with Undercut Style
Bangs and fringes are essentially the same thing in case you didn't know. In this next look, he kept it super simple with a straight fringe in the front and the rest of the hair is trimmed neatly around their natural hair line and it looks amazing.
70. Side Parted with Black Shade
Side-parted hairstyles can be the starting put for the best fringe hairstyles. To get this look you will want to grow your hair out a bit and then part it on the side and swept the rest of the hair over to the side and you are going to love your new look.
71. Mid Fade with Edgy Taper Textured Cut
Mid fades are one of the most popular hairstyles for men because they keep the hair short, but not bald. Here they have styled the hair on the top thick and brushed forward and it looks amazing.
72. Peekaboo Mullet with Messy Fringe
Next up is one of the most original peekaboo fringe hairstyles. In the photo above he is wearing a semi-mullet with a thick line of green all the way around. Be sure to add color in the back as well as the front to get the most out of this style.
73. Side Swept Wavy Hair with Highlights
Grey highlights will make you look so sophisticated and men are adding them to their hair way before their time. In the fringe hairstyle above he is wearing a short swept over side with grey highlights added into his black hair.
74. Smeared Fringe Curls Front Taper
This next smuged hairstyle would be a perfect look for men with naturally curly hair. In the look above he kept the sides short and right around the same length as his beard. But left the hair on top long and curly and it looks so good.
75. Ash Gray Layered Fringe Hairstyle
Ash-gray is one of the hottest hair color trends to come out of 2022 and in the look above he is wearing his perfectly. To get this style you are going to want to grow the hair out on a top long and straight and shave the sides short and you are all set.
76. Undercut Fringe Hairstyle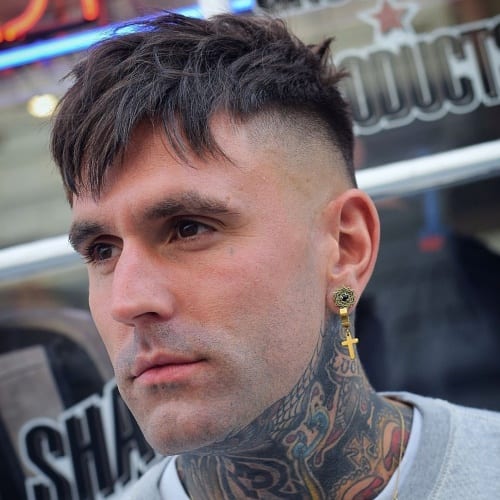 Source: Pinterest
Nowadays, many fringe haircuts go hand in hand with undercut hairstyles for men. Whether you pair your bangs with a skin fade, disconnected undercut or anything in between, you'll look amazing.
The major benefits that an undercut brings to the table are shape, definition, and overall emphasis.
77. Angular Men's Side Haircuts
Source: Pinterest
The angular fringe is arguably the most popular variation of the fringe haircut these days. In essence, the style is defined by longer bangs cut and styled to the side in an angular fashion. Typically, the opposing side will be tapered down to accentuate the main angular silhouette.
78. Quiff
Source: Pinterest
Time and time again, we're reminded that the quiff haircut is indisputably one of the trendiest hairstyles for men. Aside from looking downright awesome, the quiff is appropriate for guys of all ages, from boys to older men.
As a fringe haircut, it focuses on brushing the bangs up and away from the forehead.
79. Shaggy Haircuts
Source: Pinterest
Would you rather sport a messier haircut that you won't have to tend to very often? From our point of view, the shaggy hairstyle is just what you need. Not only is a shaggy fringe cut ridiculously low maintenance but it also gives off an unmistakable cool and careless vibe.
80. Short Haircut for Men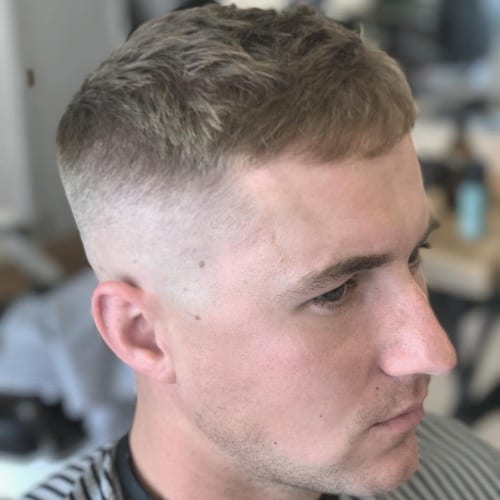 Source: Pinterest
Despite that most fringe haircuts call for longer locks, there are also versions that work for short hair. If you're just starting to grow out your bangs, you can ask your barber to trim and sweep them to the side. In your situation, we recommend a taper fade haircut to complete the look.
81. Full Fringe
Source: Pinterest
On the other hand, you may already have a full head of hair that you can barely wait to chop and style. In this case, you can try a full fringe hairstyle that covers your entire forehead. We particularly recommend the style for guys with notably thick hair.
82. Modern Bowl Cuts
Source: Pinterest
Whether or not you personally grew up in the 90s, everyone is pretty well aware that the bowl cut was a decade-defining hairstyle. Thankfully, today it's not as cringe-worthy as many bowl cuts were back then. For a modern adaptation, combine it with an undercut.
83. Long and Messy Haircut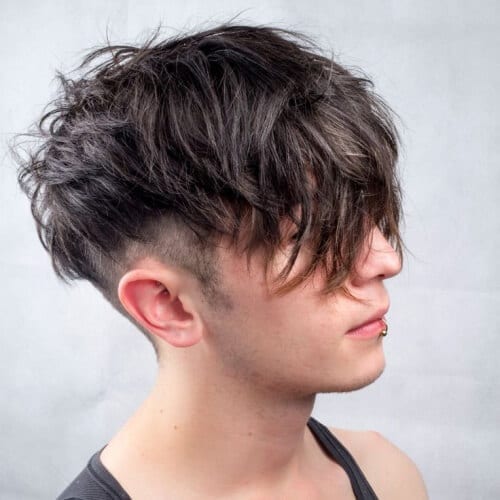 Source: Pinterest
If you're not aiming for a clean-cut hairstyle, you can let loose with a long and messy fringe. To get results similar to those shown above, we recommend chopping your hair shorter in the back.
For the front, leave the bangs as long as you'd like. You can always toss them to the side if they get uncomfortable.
84. Textured French Crops
Source: Pinterest
Together with the quiff, the French crop has been dominating the charts in terms of hairstyle trends for men lately. It's easy to understand way. The French crop has a casual yet well put together energy to it, all topped with a Euro-bohemian touch.
85. Piecey Fringe
Source: Pinterest
Layered haircuts have been around for decades on end. However, in the past few years, chunkier layers have peaked in what we now know as the piecey haircut. Indeed, it's an edgy hairstyle that looks excellent on virtually any guy with attitude.
86. Teased Up
Source: Pinterest
If a piecey haircut isn't edgy enough for you, we have a fringe cut that certainly will be. Provided the top part of your hairstyle is long, you can tease it up to get so much volume that even Johnny Bravo would be envious. Just be prepared to use a lot of product in order to lock in the hairstyle.
87. Curly Hairstyle for Men with Fringe
Source: Pinterest
Countless fringe haircuts are destined for men with curly hair. If you're not quite sure how to tame your curls, embrace them head-on through your bangs. Still, we encourage you to cut the sides and back for a flattering outcome.
88. Voluminous Fringe Haircut
Source: Pinterest
Did somebody say volume? Fringe haircuts are ideal for obtaining it. Even though it helps to have wavy or curly hair to get the sensational fringe cut above, the real secret lies in styling. Don't be afraid to roll up your sleeves and use a comb or your fingers to tease your locks to perfection.
89. Long Bangs and Sideburns
Source: Pinterest
Your bangs don't have to be the only long element of your hairstyle. In fact, if you want a more retro approach to your fringe cut, longer sideburns are actually recommended. The superbly shaggy results will make you look and feel like a modern-day member of the Beatles.
90. High and Tight Cut
Source: Pinterest
Nevertheless, we know that not all men enjoy having their hair longer all around. If you want to maintain length only for your bangs area, think about adding a high and tight haircut to the mix.
As a military hairstyle, the high and tight stands out through fully shaved sides and back. Consequently, the top section becomes the center of attention.
91. Afros with Bangs
Source: Pinterest
The average guy can only dream of rocking an afro. Unless your hair is naturally textured, the chances for being able to sport one are slim to none. Therefore, if you were born with stunningly textured hair, leave a few curls over your forehead as bangs.
92. Asymmetrical Style
Source: Pinterest
In the mood for an outgoing hairstyle? Explore the creative world of asymmetrical haircuts! Find out who the best stylist in your area is and book an appointment to get an artsy, edgy, and all in all head-turning fringe haircut with different lengths.
93. Side-swept Fringe
Source: Pinterest
Just like afro-textured hair has its perks, so does naturally straight hair. If your locks are relatively thick, you can get a fringe haircut with long layers, sweep your head to the side and enjoy a dynamic hairstyle. As with most fringe cuts, make sure the opposite side is cropped.
94. Choppy Bangs
Source: Pinterest
In a world of flawlessly trimmed bangs, dare to be the odd one out with a set of uneven, choppy bangs. From where we stand, it's definitely an alternative hairstyle that can help you express your personality and taste in music.
95. Emo Style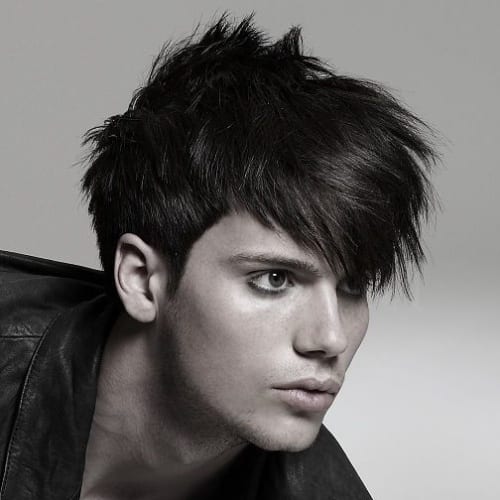 Source: Pinterest
On a similar note, you can also go for a classic 2000s emo hairstyle for guys. You know the drill – keep those bangs long and swept to the side as much as possible.
To get a genuine emo look, ensure that your side part starts from the farthest corner to carry your hair over your forehead and into your eyes.
96. Formal Hairstyle for Men
Source: Pinterest
Conversely, you might be a dapper gentleman looking for an equally handsome hairstyle. For cases like these, we recommend a classic mens fringe cut with longer bangs.
The key to aesthetic success here is the styling. Use a high quality hair product in liberal amounts to slick the sides and back down, all while defining the frontal curls.
97. 80s Fringe
Source: Pinterest
Back in the 1980s, a big fringe haircut was a sure sign of a heartthrob. The trends of the decade were all centered on being larger than life, whether through bold clothing or outrageous hairstyles.
If you want to bring back some of that retro 80s glam, go for a highly gelled and teased fringe hairstyle.
98. Caesar Cut
Source: Pinterest
Another fringe hairstyle inspired by history is the Caesar haircut. Based on the depiction of none other than Julius Caesar himself, the cropped hairstyle features super short bangs that follow the hairline. We're happy to say that it's easy to maintain and extremely good-looking at the same time.
99. Hard Part
Source: Pinterest
A fringe hairstyle becomes simply perfect when you add a taper fade and a hard part to it. If you're already accustomed to parting your hair to the side, take your look to the next level by shaving your part. When you do, your hairstyle will pop out more than ever before.
100. Skater Style
Source: Pinterest
With the risk of coming across as generic, the skater haircut – as most people think of it – usually features longer bangs. Additionally, skaters with medium-long hair tend to style their bangs over their forehead and slightly to the side. You can adopt the look regardless of your hair texture.
101. Highlights
Source: Pinterest
A well-executed fringe hairstyle is sure to be appreciated as is. However, you can make yours even more alluring by playing around with colors. For example, you can add a fresh set of platinum highlights to the top area. If the bottom section is dark, you'll enjoy a pleasant contrast.
102. Side Curls
Source: Pinterest
As you can clearly see, fringe haircuts are particularly appealing for guys with wavy or curly hair. If you fall under either category, you should chop your hair into long layers when getting a fringe cut. As a direct result, your curls will naturally fall into flattering pieces when you style them to the side.
103. Soft Hair
Source: Pinterest
We've brought up thick locks a number of times, but what about men with softer hair? If you're struggling to find the right haircut to complement your fine hair, we've got your back.
A side fringe hairstyle with about ear-length bangs will do the trick. You can enjoy all the flexibility you like while bringing out the best in your soft strands.
104. Spiked Bangs Faux Hawks
Source: Pinterest
The spiked bangs of the 2000s have created the faux hawks of today. Regardless if your hair is naturally coarse or you just don't want it to move around all day, try the following approach.
Crop your locks until they're only about an inch or two long. After, use some wax or gel to spike your bangs as you wish.
105. Greaser Hairstyle
Source: Pinterest
Going back in time even more, we reach what many would consider to be the most stylish decade for men. The 1950s were all about manly outfits and slick hairstyles. To recreate a greaser look, style your fringe into a front curl pompadour. Grab your leather jacket and go!
106. Temp Fade
Source: Pinterest
The fringe haircuts men can experiment with also include other specific haircuts. For instance, you can spice up a fringe-quiff haircut by incorporating a temp fade into the hairstyle.
No matter how young or old you are, the skillfully done barber shop haircut will impress your friends and family.
107. Dreadlocks
Source: Pinterest
In the age of trappers and SoundCloud rappers, colorful dreadlocks have become the standard for fans of the genre. If you're fond of flashy hairstyles and you're not afraid to show it, don't hesitate to rock a full head of bright dreadlocks with a few over your forehead as bangs.
108. Blunt Fringe
Source: Pinterest
As an alternative, you can try something completely different and opt for blunt bangs. Whether or not you spike or tousle the top, the main border of your hairstyle can look awesome when chopped straight. As always, an undercut can play a significant role in completing the hairstyle.
109. V-Shaped Fringe Style
Source: Pinterest
Fringe haircuts can appear in all types of shapes and sizes. If you're into the idea of sporting a set of full bangs, you can think about outlining them in diverse ways. As an example, v-shaped bangs can help you stand out from the crowd in an original way.
110. Shaped Jewfros
Source: Pinterest
As a Caucasian with big, textured, curly hair, you're probably already familiar with the concept of a jewfro. All the same, wearing a full jewfro can become uncomfortable at times, especially during the summer. Still, you can highlight your curly locks with a fringe hairstyle like the one above.
111. Comb Over
Source: Pinterest
In terms of hairstyles, fringe haircuts are highly adaptable. Another fine example is the curled combover hairstyle pictured above. If you're drawn to vintage hairstyles, you can channel your inner dandy by slicking your hair in the same fashion.
112. Modern Mullets
Source: Pinterest
Just like the bowl cut, a mullet haircut is usually associated with the trends of the 80s and 90s. Nonetheless, a modern adaptation can look exceptional. For a contemporary approach, we recommend a mohawk-like haircut with bangs chopped halfway over your forehead.
113. Spiky Hair
Source: Pinterest
By now, we all know that trends are cyclic. In other words, they'll always come back every few years or so. The same goes for spiky hairstyles for men. However, one of the best techniques for sporting spikes these days is with an angular fringe, similar to the one depicted above.
114. Pompadour
Source: Pinterest
The classic pompadour is one of the few styles that have repeatedly proven their aesthetic value throughout the years. Even now, more than half a century later, the pomp still stands strong as a fantastic hairstyle for all types of men. When combined with a fringe haircut, the results are impeccable.
115. Messy Flow Hairstyles
Source: Pinterest
During the past several years, flow hairstyles have made their mark on the fashion, beauty, and grooming industry. They're wonderful for achieving a laidback allure through your hairstyle. With the help of a flow hairstyle, you can effortlessly sport a fringe hairstyle with longer hair.
116. Flared Out Fringe
Source : Pinterest
Are you an unconventional kind of guy? You can sport an editorial-worthy hairstyle on the daily. As an example, flared out curtain bangs won't be your average hairstyle. Still, they serve as an out of the box look you'll truly be proud to appear with.
117. Bowl Cuts with Longer Bangs
Source: Pinterest
Yet another way you can show off a bowl cut blended with a fringe hairstyle is with ultra-long bangs. We recommend it as an even edgier alternative for the modern bowl haircut, perfect for rebellious guys. Likewise, you can always throw your bangs to the side if you get bored of the standard style.
118. Finger Waves
Source: Pinterest
If we go even farther back in time, we can rediscover the elegance of hairstyles from the 1920s and 1930s. Finger waves were definitive for those decades, and they still provide the same refinement as they did back then. We whole-heartedly encourage you to try the hairstyle out at one point.
119. Back Taper
Source: Pinterest
Some would label the hairstyle illustrated above as eccentric. We say it's daring. If you're open to experimentation, you can try a full back taper with a set of thick bangs. Although you can wear the hairstyle with any texture, it helps if your hair is naturally straight.
120. Careless Hairstyle
Source: Pinterest
Short hair? Don't care! Fringe haircuts are available for anyone, even if your locks aren't remarkably long yet. Even more, the shorter your hair is, the more you can tousle it without the length becoming an impediment. You won't even need to resort to products for styling your hair.
121. Devilock Style
Source: Pinterest
Are you a true rock star at heart? Make your hairstyle reflect your mindset. Take Jerry Only from the Misfits for example. The punk icon has made the devilock hairstyle world-famous. While it might not be suitable for professional contexts, the haircut is absolutely awesome for genuine rebels.
122. Half Slicked Hairstyle
Source: Pinterest
Having trouble choosing between a slicked back and messy hairstyle? Try both of them in one single hairstyle. Your fringe hairstyle can take the form of a semi-slicked style with tousled ends. Not only do you have the best of both worlds, but you'll also take pride in wearing a unique hairstyle.
123. Middle Part
Source: Pinterest
Surprisingly so, hairstyles with a middle part have regained popularity. In South Korea, for instance, ear-length haircuts with a casual part down the middle have become the norm. If your hair leans toward wavy and fine, it's certainly an option to keep in mind.
124. Man Bun
Source: Pinterest
Guys with longer hair already know that the man bun hairstyle is a go-to for day-to-day wear. Still, a man bun with a few wispy bangs that are shorter than the rest of your hair will be even more eye-catching.
No matter whether you're growing out your bangs or you prefer to keep them shorter, it's surely the look for you.
125. Jagged Hairstyle
Source: Pinterest
Last but not least, there are fringe cuts men with edgy personality can always count on. We're talking about the jagged fringe – a haircut with a massive visual impact. It's masculine, appealing, and an indisputable confidence booster. Rock it with pride.
Bangs vs Fringe
First of all, we want to explain what the difference between a fringe and bangs is.
You might be surprised, but a men's fringe haircut and a haircut with bangs are exactly the same thing. In the US, the term "bangs" is used to describe what pretty much the rest of the world refers to as a "fringe".
As far as hairstyles for men are concerned, you'll hear the notion of a "fringe haircut" more often than one with bangs in the name. All the same, when you make an appointment to get your hair cut, you can use the terms interchangeably. Your barber or stylist will know exactly what you're talking about.
Conclusion
There you have it, the coolest hairstyles for men who are interested in trying out a fringe haircut. We're not saying that you have to try one of these fringe hairstyles, but we're also not saying you shouldn't. Whether you want to go simple, high fashion, retro, or something completely wild, always 'do you!
It's always nice to try something new, so if you liked this list why not share this with a friend who may be looking for a change too? And also let us know which of these fringe hairstyles are your favorites!