The bowl haircut is eccentric, but the end result is totally worth it!
The Bowl Cut always finds its way into the latest trends. Whether it's the #bowlcut challenge for water or the KFC famous bowl one, we can't get rid of this haircut. And we don't want to!
What is a Bowl Haircut and How to Get It?
Historically, this haircut has a bad reputation. It was often attributed to people who couldn't afford a trip to the barbershop. In a way, it was the ultimate DIY haircut.
As its name suggests, getting this haircut implied placing a bowl (cooking pot) on the head and fitting it right above the ears. The hair below the bowl was shaved or cut.
The bowl haircut evolved over time, gaining popularity in the '60s thanks to The Beatles, then reappeared in the '90s due to the popularity of Dumb and Dumber. Then Mark Davis, the Oakland Raiders Owner, made this mushroom haircut popular again.
In 2019, it seems that the bowl hairstyle is making a comeback and in a non-ironical manner. It's highly popular amongst young people and male. It's also the way to go when it comes to Korean hairstyles.
The great thing about this short haircut is that it's easy to style and maintain. You can go at the barbershop every 2-3 weeks for a shave or a quick trim.
This haircut usually goes well with an undercut, a high fade, a temp fade, or a taper fade. It also goes well with any type of hair texture – thin, thick, wavy, curly.
Without further ado, check out our bowl haircut ideas to know what to ask your barber the next time you go for a cut!
1. Textured Bowl Cut
So, the first entry on our list of cool bowl cuts for men is this textured haircut. This was paired with an undercut, likely to better accentuate the layers and structure of this long top style.
2. Bowl Haircut for Young Boys
The bowl cut is traditionally associated with young boys or teenagers. However, long gone are the days when they were forced into it. Instead, now it's a cool cut that they wouldn't mind sporting.
3. Wavy Bowl Cut
Again, bowl cuts are considered a straight hair cut. But as you can see below, you can also wear it if you have slightly wavy hair, especially if your hair is cut in layers.
4. Bowl Cut with Long Side Bangs
For a modern variation of the bowl cut, you can add long bangs to your cut. Keep your hair smooth and straight and, optionally, you can also pair it with some stubble.
5. Undercut & Blonde Hair
Another bowl hairstyle combined with an undercut, but this time around, all dyed in blonde to give a more modern twist (blonde hair is also trending nowadays).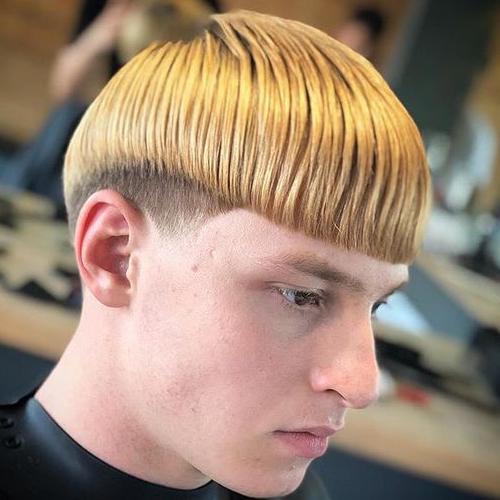 6. Disconnected Undercut Mushroom Haircut
Another popular version of the bowl style is the mushroom haircut. Below, you can see how the wearer added some extra flair to it by pairing it with a disconnected undercut. His hair color is quite unique, to begin with, as well.
7. Modern Mushroom Haircut
We've seen the disconnected mushroom, now it's time to see the modern mushroom haircut all by itself. The photo below goes to show just how cool you can look with a hairstyle that used to be frowned upon.
8. Pink Asian Bowl Cut
Asian men all are about the latest hairstyles, and the man in the picture below is no exception. He took the traditional bowl cut, textured it, paired it with shaved sides, and a choppy, asymmetrical fringe. The finishing touch? That pink, of course!
9. Messy Fringe Bowl Cuts
Another departure from the traditional. We've seen a wavy bowl, but how about a messy one? Of course, straight bowl cuts can get a bit messy if you're running or doing anything of the kind. But here, we're talking actual messy hair, mostly achieved thanks to the textured cut of this hairstyle.
10. Short Hair Bowl Cut
Most bowl cuts required quite the long tresses or at least some medium-length hair base. However, below you can see how you can sport and get this look even if you're starting from a short hair base.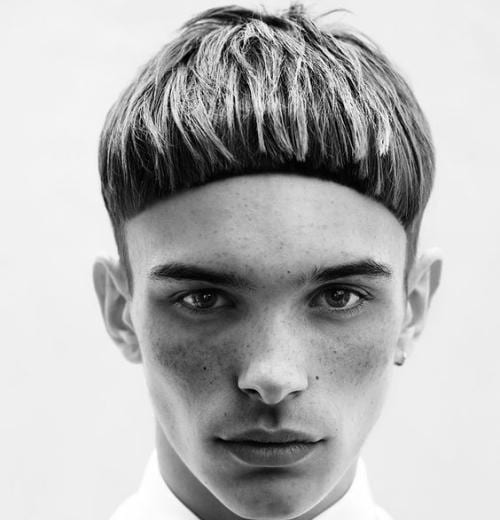 11. Korean Bowl Cut
We've talked about stylish Asian men in general, but now we're going a bit more particular. As we've also pointed out in the intro of this article, Korean men are particularly well known for their bowl cuts. Here, you can see it in a longer back version.
12. Bowl Haircut for Straight Hair
This is the modern take on the traditional bowl, but it is so cool, that is just couldn't miss from this list.
13. Curtains Bowl Haircut
Still very close to the original, but with a bangy twist (excuse the pun). Instead of keeping its bowl-shape, the picture below shows you how you can part your hair in the front, create curtain bangs, and basically completely change the look of this haircut.
14. Bowl Haircuts from the '60s
Now this is what we were talking about, the traditional 1960s bowl cut that took the world by storm after that Brit band, you might have heard of it, the incredible The Beatles, made it famous again.
15. Hipster Bowl Fade
Say what you want about the hipster appeal, but one thing is for sure: they know how to make a hairstyle their own! The cut itself is a pretty standard bowl, but the man below paired it with a pair of cool round glasses and a nose ring, for an edgier look.
16. Mark Davis Bowl Cut
Perhaps not the most appealing in this picture, but here is Mark Davis, the Oakland Raiders principal owner and general partner, and one of the men responsible for making the mushroom cut popular again.
17. Iconic Dumb and Dumber Hairstyle
Probably all our readers have seen Dumb and Dumber at least once, at least by mistake, and one of the first things you notice and can't forget is Jim Carrey's short choppy fringe and bowl cut.
18. Old School Mushroom Cut
Yet another old school mushroom cut, this time unrelated to any movie, perhaps just to some repressed childhood memories or "lost" photo albums.
19. Platinum Blonde Crew Cut
Take the bowl cut and make it even edgier. How? Simple, just dye it in one of the hottest hair colors for men trending right now, blonde!
20. Bowl Haircut for Thin Hair
Just because you have thin hair doesn't mean you can't wear a bowl haircut. The dude in the picture below goes to show you that.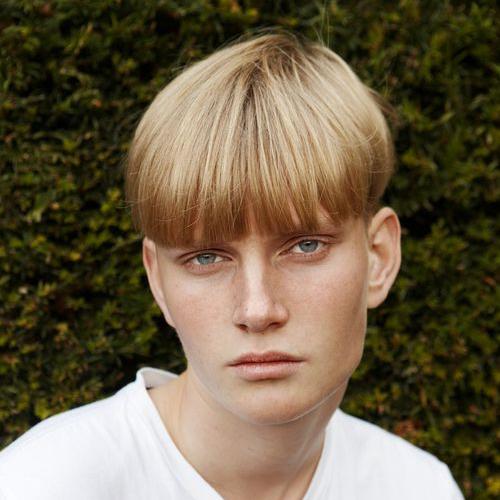 21. Line Fringe with Twisted Moustache
There's quite a lot going on here, and you don't know what to look at first. The brown bowl cut, the straight, straight line fringe, or perhaps the full and twisted mustache.
Conclusion
There you have it! We hope you've enjoyed our article and are ready to jump on this trend wagon.
The bowl haircut is the perfect hairstyle for summer and if you get creative with some colors, you'll get the best results ever.
This article was updated in August 2019.