Beards are still going strong as the number one "fashion" accessory for men in-the-know.
Who better to exemplify how to rock a beard than celeb and Hollywood heavy hitter Tom Hardy, a man who oozes masculinity, charisma, and sex appeal?
We have selected our favorite Tom Hardy beard styles and showcased them below.
1. Goatee and Short Beard
Tom Hardy wears his various goatee versions with panache and always with a thick mustache. The sides range from sparse to full and the goatee itself varies from manicured to bold.
Often, Hardy chooses to complement his goatee with a shorter beard. As a result, he further accentuates his already strong jawline.
2. Bushy Beard
The big bushy beard craze has been going strong for years. However, Tom Hardy's full lumberjack statement deserves the spotlight.
The English heartthrob balances out his unruly beard with a sophisticated slicked back hairstyle. It's effortlessly sexy without ever losing his signature rugged touch.
3. Well-Groomed Allure
Source: Alberto E. Rodriguez @ Getty Images
The quintessential Tom Hardy beard is a medley of styles that are neither too little nor too much in terms of facial hair. The key is to achieve comfort and allure for any occasion.
While his beard is indeed well-groomed, it succeeds in expressing virility but not machismo. Featuring a discrete goatee and a finely-trimmed side, the look still packs major rebel vibes.
4. Shaggy Beard
Tom Hardy oozes husky masculinity, especially when he dons a shaggy beard. His unkempt and scraggly beard style here conveys utter nonchalance, to say the least.
Some beard aficionados have deemed it the Tom Hardy "Adventure Beard," since it looks like handsome Hardy just returned from a wild trip. It's regally rugged and makes the ladies swoon.
5. Designer Stubble
Cancel that barbershop appointment! A designer stubble is super hunky. It says that you are either too busy tending to important affairs or too cool to care for using your razor in the morning.
Tom Hardy's subtle beard ranges from looks-like-he-did-nothing-at-all to what appears to be a very carefully shaven stubble with precise lines. Either way, it exudes his trademark manliness.
6. Youthful and Scruffy
About a decade ago, Hardy was an emerging beard lord with playfully scruffy facial hair. He seamlessly pulled the Hollywood bad boy look together with a tousled top and cheeky grin.
Essentially, the beard style takes fresh stubble to the next level by waiting a few more days to grow it out. If that's not irresistible indifference at its finest, we don't know what is.
7. Full Beard
The Tom Hardy we all know and adore inevitably sports a full beard. Most of the time, he keeps it medium-length and casually groomed.
It's basically his go-to look, appropriate for a magazine cover shoot, a red carpet premiere in a tux or everyday life in general. Therefore, it's sure to fulfill any day-to-day needs you may have.
Tom Hardy as a Style Icon
Tom Hardy himself is a reluctant role model when it comes to style.
He famously indulged in a well-documented eight-minute rant against pants and said in Esquire:
"What happened to man's pants—you know? Because I have a very clear line, when it comes to pants.

Will my beard look cooler in these pants? And can I make a clean run for the border in them?

You know what I mean? And you know what's a good start? Not looking like I'm a member of One Direction—that's a good start."
Source: Greg Williams @ Esquire
Clearly, Tom Hardy beard styles are very precious for not only stylish, hirsute men all over the world (and loads of adoring women) but also to the actor and producer himself.
His versatile looks will work for business execs as well as for hipsters, metrosexuals or manly, rough-around-the-edges dudes who couldn't care less about Hollywood style. Tom Hardy hairstyle evolved over time from short to long hair.
8. Baby Face
You probably weren't expecting to find Hollywood's current object of infatuation without much facial hair at all. Nevertheless, the world was indeed blessed with a baby face Hardy back in the day.
If you want to bring out your young and reckless side, copy his super subtle bristles. We also recommend the approach for staying cool throughout the summer.
9. Prominent Goatee
As opposed the first goatee we presented, the one here is notably more prominent because of the bald fade hairstyle. All the same, it still has that Tom Hardy's iconic twist on beard styles.
He chose to trim down the rest of his beard almost entirely, leaving just enough to accentuate his jawline. In addition, by doing so, he brings more attention to his lips and other frontal features.
10. The 5 o'clock Shadow
Few beard styles can live up to the smooth and careless allure of a 5 o'clock shadow. In Tom's case, it flawlessly complements his longer, tossed-around, layered top.
Similar to his designer stubble, Hardy's 5 o'clock shadow has him red-carpet-ready in minutes. If you don't want to invest time and money in excessive grooming, it may be the best look for you.
11. Circle Beard
Provided you have an angular face shape, you can pull off a circle beard without a care in the world. However, it may not be the most flattering Hardy-inspired choice for guys with rounder faces.
We also support the style for older men seeking a clean-cut and professional look. In spite of its chiseled appeal, it doesn't cut back on Tom's manly approach to facial hair.
12. Extra Thick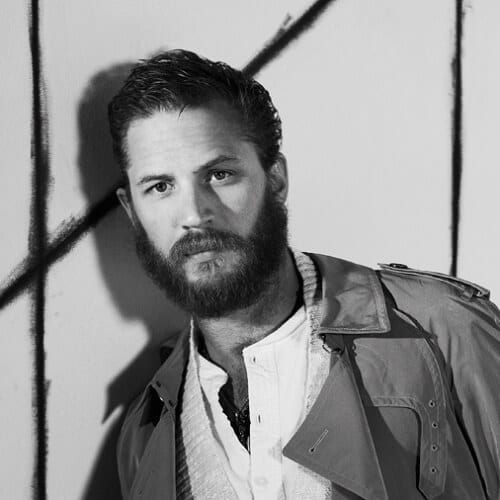 If you're going to rock a Tom Hardy beard, you may as well go full out. Channel your inner Hardy and get inspired by his I-really-couldn't-care-less mindset.
Your result could end up being an extra thick and bushy beard. To make it slightly more presentable for the average guy, a bit of light grooming should do the trick.
13. Moustache and Stubble
Some men can simply own a moustache, regardless if they're currently trending or not. If your facial features are in any way similar to those of charming Hardy, you just might own it too.
Nonetheless, one trick you can put to good use is adding stubble to the mix. Not only does it contribute with a modern touch, but it's also flattering for any face shape.
14. Rounded Ducktail
Ducktail beards are one of the coolest facial hair illusions in the book. You can level up your whole appearance simply by leaving your beard about an inch longer on your chin.
The reason for its striking visual impact is the way it elongates the face. For instance, if you have a smaller forehead or a rounder face, it harmoniously balances out your features.
Suggested: Check out our selection of best beard and hair products!
15. Asymmetrical Beard
Last but not least, we have a Tom Hardy beard fit for any artsy, hipster or edgy personality. Forget about all the grooming rules you've ever heard and style your beard in any way you like.
In the end, the essence of Hardy's sex appeal is raw confidence fueled by not caring what others think. He owns any beard style he experiments with, and you can too with your head held high.
Conclusion
Overall, whichever of the top-trending Tom Hardy beard styles you choose, you cannot go wrong. The A-lister really has come to epitomize the sexy yet masculine beard, and he's just the rebellious persona to emulate.
With a bit of effort, time, and careful grooming, you can achieve a Tom Hardy beard and maybe even look as charismatic as he does.
Recommended: For more picture-perfect celebrity inspo, check out our Justin Timberlake, The Weeknd or David Beckham hairstyle idea collections.
Darla is a hairstylist and makeup artist. She loves creating bold and edgy looks for her clients and is very passionate about what she does. She has always loved writing, but never thought that she would ever get to publish her content. She decided to give it a try when she discovered us, and has been writing for our readers ever since!