The crew cut haircut is one of the most popular of all time because it is practical and easy to maintain.
The styling of a crew cut requires keeping the hair long at the top and cut short on the back and sides.
The options of the crew cut haircut make it more common among men.
This year, French crops, in particular, are trending. What are French crops, you ask? Basically, they are crew cuts with a straight, longer fringe. Compared to Caesar cuts, French crops have much shorter sides.
1. French Crop Disheveled Spikes
To achieve disheveled spikes, all you have to do is run your fingers through your hair several times from different directions. Use a bit of hair product to hold it in place.
2. Thick Crew
A crew cut looks mesmerizing with really thick textured hair. All you are required to do with this style is to wake up and go without a worry.
3. Military High and Tight Cut
If you are not a military man, this military style cut can still look amazing on you. The hair is shaved high up the head, leaving a tight strip of longer hair in the middle for styling.
4. Simple Long Crew Cut
The charm of this hairstyle consists in its simplicity and uniqueness. It is nothing fancy, not a pretentious kind of style, which is very easy to achieve and maintain.
5. Brushed Crew Cut
A short crew cut saves a lot of time and you can comb it with ease if necessary. This helps if there is any hair out of its place, which rarely happens because of the length.
6. Mid-Length Disheveled Crew
Mid-length hair on men can work great with a slightly disheveled haircut. Run your fingers through it in one way and then the other to achieve this slightly disrupted look.
7. Subtle Side Fringe
Your hair should be left as nature created it, except for the presence of a very subtle side fringe. A gentle sweep with a comb will help to kick your fringe slightly to one side.
8. Spiked Fringe
Apply a bit of hair product on your hands and then run your fingers upwards through the beginning section of your fringe. This will create a soft and spiked fringe.
9. Thin and Tousled Top
This type of tousled crew cut demands a lot of hair product. Run your fingers through your hair from above each ear in a half moon shape along the front of your head.
10. Thick and Lightly Tousled
Thick sides and top look amazing when they are lightly tousled. All you need is just a bit of hair product for this fancy look, so try not to overdo it and keep it as natural as possible.
11. Out of Control Crew Cut
If your hair is inclined to be wild and free and you do not wish to keep it otherwise, cut your hair into various lengths and let it settle on its own without any styling.
12. Square Hairline
If you are the lucky owner of a square jawline, then you can complement your features with a straight hairline or a square one, depending on your taste.
13. Contrast Crew Cut Haircut
For a really stunning crew cut haircut, keep the sides closely shaved, while allowing the hair in the center of your head to grow into a voluminous and thick style.
14. Contemporary Ivy League
This stunning look is right for college students. Use a small amount of hair product in your blowout hair so that you can gel up your fringe in a nice shape. You've now got a polished Ivy League-style hairstyle.
15. Crew Cut with Quiff
To add your crew cut a classy look, a mini-quiff fits perfectly into your style. Use hair product on the front part of your hair to lift it up and back into a quiff.
16. Asymmetrical Crew Cut
Rather than having the same length everywhere, you can run your fingers through your hair from left to right to create an eye-catching asymmetrical side part.
17. Soft Spikes with Tapered Sides
Achieve extra height with your style by creating soft spikes. Add tapered sides to your style will give you a really trendy appearance.
18. Thick Crown
This crew cut gets thicker towards the back of the style. It is a neat and fresh haircut that requires very little maintenance and almost no styling.
19. Thick and Tug-able
This is perfect for running your fingers through your hair if it's thick, textured, and tousled. This crew cut hairstyle is just right if you want to create an outstanding and amazing look.
20. Manicured Crew Cut
Create a manicured hairstyle by putting a lot of product in your hair before you style it. Use a comb to even the hair product and to make sure that every hair is in the right place.
21. Brushed Forward
Your soft spikes can look perfect if you comb them forward from behind. This look is particularly simple and easy to maintain when you have very short sides.
22. Short Sides with Tousled Top
The sides are cut short, just add length across the entire width of your head. Cross your fingers through it from the front to give it a tousled appearance.
23. Mid-Length Soft Spikes
This hairstyle is suitable if you have thick and luscious hair. Due to the length and thickness of the hair, it becomes easier to style it even without using any styling product.
24. Straight Hairline
A precise straight-cut hairline is ideal for a preppy appearance. It is a great option for people who wish to create a look which is educated yet masculine.
25. Long and Spiky Crew Cut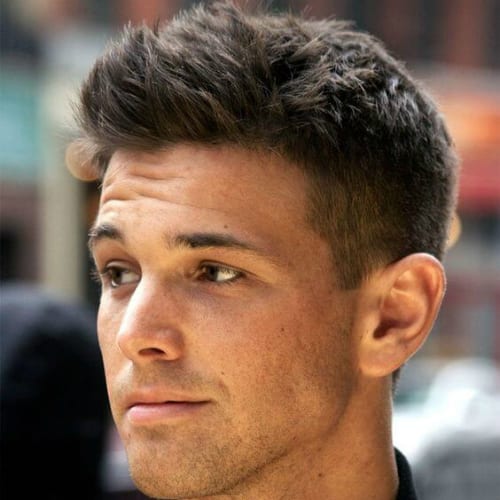 Any hair length can be transformed into spiky hair if you have the right styling product. Apply wax to your hair, run a comb, and your fingers from the roots to the tips for styling.
26. Uniform Length Crew Cut
This haircut has a uniform length across the head. It looks rather striking in either gold blond or medium light brown colors. This hairstyle is simple and yet effective.
27. Thinning Hair
You might have thinner hair which is also beginning to recede but you can look amazing with a simple crew cut. Short hair makes thinner hair less noticeable.
28. Subtle Faux Hawk
If you are not ready to wear a real Mohawk, go for a faux hawk style with a side part. Create a line of raised hair down the middle of your head resembling the classic Mohawk style.
29. Spiked Crew Cut Haircut
Achieve the defined spikes by using product in your hair and then run a comb straight upwards through your hair starting from the roots.
30. Hair Lift Crew Cut
You can acquire this style by heating a little hair gel on your hands and then running your fingers upwards several times. This style is a formation that suits your face and head shape.
31. Mid Short Cut with Beard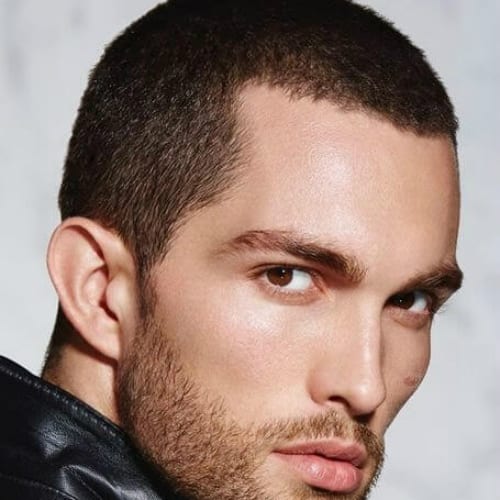 Use a clipper to cut your hair to the same length size. Afterward, set your beard trimmer to the same cut length for an all-over stunning look.
32. Thick and Luscious with a Light Beard
People enjoy running their fingers through thick and luscious longer crew cut hair. The style works well when a beard is involved because it shows both softness and masculinity.
33. Hipster Flattop
The flat top style is originated from the old military haircut, only without the same rough masculinity. Hair product and a tooth comb are all you need to fix your hair.
34. Soft and Textured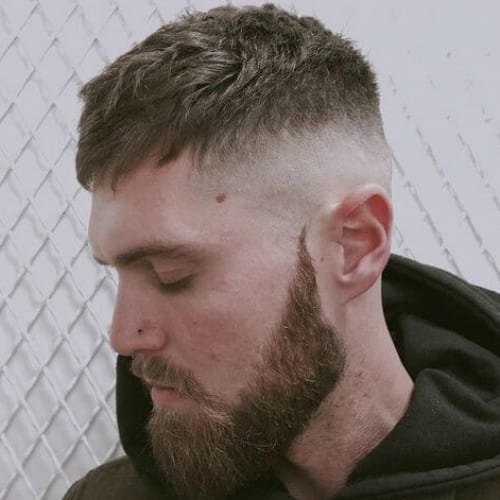 A soft and texture short crew cut is the best choice for men who do not desire longer hair but who are also concerned about looking too rough with a very close cut.
35. Mid-Length Crew Cut
A mid-length crew cut haircut is a classy look. It is quite simple, it requires no styling, and it works well with almost any face shape.
36. Short Crew Cut
This short crew cut really makes the shape of your head get noticed. A short crew cut looks awesome with a beard but it also looks good with a clean-shaven face.
37. Micro Flick
If you have a relatively short haircut, you can opt for a short hair flick at the front. This gives your hairstyle a subtle hint of a difference without drawing attention to it.
38. Crew Cut Haircut with Highlights
Adding highlights on the tips of your hair can give the impression of thickness with more texture. Pick a color that complements your natural hair color for a balanced look.
39. Mohawk Curly Crew Cut
This hairstyle is a crew cut crossed with a Mohawk. Keep your hair very short at the sides and then have a longer strip from the top towards the back.
40. Colored Tips Crew Cut
Coloring the tips of your hair is still a very popular style and it is not going out of fashion. Colored tips help to give textured hair more definition by making it look thicker.
41. Lightly Curled Crew
A crew cut haircut is a great choice for anyone with slightly curly hair. This type of haircut makes the curls easier to handle and still allows you to show off your natural style.
42. Textured Fluffy Crew Cut
Use your fingers upwards through your hair to achieve this chaotic and fluffy texture. You can improve the texture by getting highlights and lowlights all over your crown.
43. Long Top with Tapered Sides
Leave the top of your crew cut haircut long and then trim your sides gradually shorter and shorter. This style is great for any occasion and it can be easy to style.
44. Stubbly Sides Crew Cut
The top of your hair must be longer and thicker, just use a beard trimmer to shave the sides. Keep your beard at the same length so that your hair and your beard are balanced.
45. Wiry Spikes Cut
If your hair is made of thick wiry strands it may emerge into natural wiry spikes until it reaches an optimal length. Keep your hair short enough to style it with ease.
46. Side Swept Tousled Crew
For this side swept tousled crew cut style, you need to keep some length on the crown. Run hair product through your hair sweeping it from left to right.
47. Long and Tousled Dyed Crew Cut
This hairstyle is the longer version of a crew cut but still looks fabulous. Putting in blonde or white will help give your hair more texture and volume.
48. Fluffy Spikes
Fluffy spikes can look amazing if you choose a messy styling. If your hair is fluffy, you will notice that the majority of people would love to run their fingers through it.
49. Center Crew Cut Haircut
Shave your sides so that you only remain with thick hair on the very top of your head. The rest of your hair should be only stubble with a bit of natural styling.
50. Widow's Peak
If your natural hairline is not straight, then a Widow's peak could work great with it. The shorter the hair, you will notice that your hairline works with the style, rather than against it.
Conclusion
The crew cut haircut consists of a variety of short and regular hairstyles that were worn by university sports teams many years ago. 
This cut is rather easy to achieve, besides it makes your features look more expressive. 
The crew cut is one of the best options for the majority of men who appreciate neatness, style and value their time.
This article was updated in June 2019.