The number one thing that makes men haircuts handsome is their ability to enhance each individual's own looks and swagger.
The most requested in-style men's haircuts of 2022 share a couple of characteristics that will have heads turning and maybe even be a bit little life-changing too.
Here are 130 handsome, manageable haircuts and hairstyles for men to browse through and consider for that next trip to the barbershop.
1. Curtains Bangs Men Haircuts
This curtain haircut is the go-to style to look younger. Bangs are left medium-length, yet still, work to handsomely frame the face. Inspired from the 90s, this hairstyle is easy to maintain and looks it is perfect for men with thin hair.

2. Short Curly Men's Haircuts
For men with curly hair, this playful cut is a real game-changer. Stylists can give hair the volume it needs by making blunt-end cuts all over. This makes the hair appear thicker and look great with just a quick fingerstyle.

3. Side Part with Fade and Longer Hair on Top
One of the best hairstyles for men with beards is a side part with fade and longer hair on top. Trimmed tightly, this style looks killer on both light and dark-haired men. Pomade and beard cream is all it takes.

4. Ivy League Men Haircuts
Schoolboy charm styles are in for 2019. Traditional, clean, and outright good-looking, this Ivy League haircut isn't just sleek. Ready to be easily tousled or combed into place straight from the shower, this look only needs a trim every 6-8 weeks.

5. Wavy Beach Men Haircut
Nothing communicates a sexy laid-back vibe better than this strong, beach-worthy haircut. This cut works best on men with naturally wavy or thick hair. A protein-based conditioner must be used for maximum manageability, and to keep hair shiny and full.

6. Brushed Up Top Men's Haircuts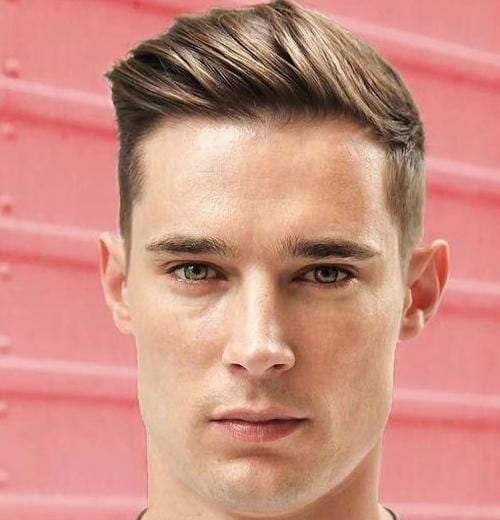 The best haircuts for men have to include "the edge". This fine example of the perfect edgy look gives men's haircuts class with a tone of full-on magical confidence. This cut speaks sophistication and soldier swagger at the same time.

7. Dapper Haircuts for Men with Chevron Mustache
For men with a strong sense of style, this dapper cut is smart. Ask the barber for length on top and tapered sides. To keep locks in place, use a medium-hold wax product, a bonus for men managing a chevron mustache!

8. Regular Men Haircuts
The smartest men's haircuts this year are giving off that low-maintenance vibe. For a cut that says, "I woke up like this", just ask your barber for a regular cut. Yep, it's easy to order and even easier to style.
9. Modern Comb Over Haircuts for Men with Full Beard
This comb over cut is super sexy and men with beards would be hard-pressed to find better. This style pairs a modern comb-over cut with a well-managed mustache and medium-length beard. This style requires a light-weight conditioner and a bit of pomade.

10. Curly Hairstyles For Men
Haircuts for men rocking curly hair this year are requesting the undercut technique this year. Locks can be a substantial length and still appear cropped and managed. A men's curling cream will keep strands just the right amount of unruly.

11. Undercut with Curls and Texture on Top
This undercut hairstyle keeps it lush on top and cool to the neck. This men's cut can be worn wavy, blown out straight and full, or styled quickly with a hit of mousse just out of the shower.

12. High Shaved Undercut Haircuts for Men
Undercuts are in for 2019. Essentially, you're getting a high-shave, leaving a just enough on top to either wear down or spiked around with gel. Excellent for athletes and men who don't need much in the way of hair product.

13. Quiff Haircut For Men
A quiff is a great cut to look younger. It's a version of the old-school flattop, but so much more attractive. This style begs for admiration. It's perfect for the office. To manage, a men's thickening-spray and brush are recommended.

14. Asian Men Haircuts
This men's cut is gorgeous on Asian men and it works great for anyone with thick hair. Another version of the undercut, this haircut can be razor-cut in the natural direction the hair falls, so that style is a breeze.

15. Urban Crop-Fade Haircuts for Men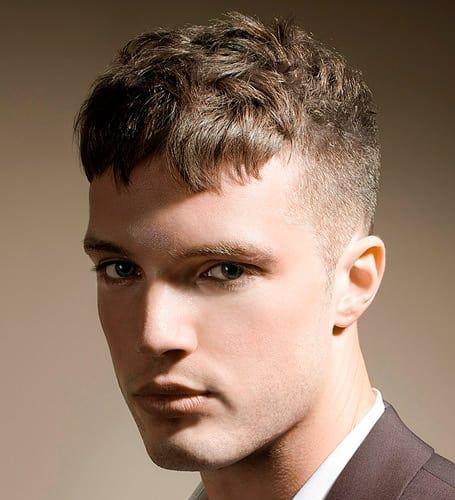 Men seeking a great style somewhere between a fade and full-on crop must try this new urban-haircut. Perfect for Spring/Summer, this look is both business-as-usual and a little flirty for after-hours fun. A 2-in-1 shampoo is all it takes.

16. French Crop Men's Haircuts
The French crop style with fade is a bit daring and totally attention-grabbing. With its sleek detail, this cut handsomely blends sideburns and facial shadow while bringing the eye up. Hair length can be trimmed into a blunt bang to look younger.

17. David Beckham Modern Side Swept Undercut Haircuts for Men
For men with beards or 5 o'clock shadow, this modern side swept undercut gives the perfect combination of rugged sophistication. A volumizing shampoo and styling mousse is used to achieve the full look.

18. Johnny Depp Messy Bangs Hairstyle
The quintessential American haircut is tailored to each individual's face shape to bring out a custom look. With this cut's ability to be styled a number of ways, men can play around with their new style for a number of sexy, in style looks.

19. Charlie Hunnam Medium Length Quiff Haircuts for Men
For men with long hair, this unkempt coif can be the ideal go-to-cut for trimming off extra winter-grown inches. Left medium-length, this style just needs a shine-enhancing cleanser and it's good to go!

20. Robert Downey Jr. Stylish Wavy Hairstyle
Popular and oh so playful, this stylish men's cut for wavy hair is alluring and shouts success. Shorn up the sides and left medium-length up top, a lightweight curl cream will keep this style on lock all day into evening.

21. Jamie Foxx Line Up Haircuts for Men
Tightly shorn men's haircuts are always in style because they're great for receding hairline camouflage. For maximum detail, your barber can even shave in lines or a sleek design pattern. This cut's advantage is that you just need to wash and go to look fresh.

22. Michael Fassbender High Fade Pompadour Hairstyle
This stunningly handsome men's cut is a little traditional and quite dashing. To get this look, order up a high fade with a loose pompadour. You'll be out the door and looking for adventure in no time flat.

23. Simon Baker's Haircut for Men with Wavy Hair
This handsome bold, Australian haircut leaves hair a similar length throughout and is one of the best haircuts for men with wavy hair. Use a light-weight conditioner and finger-scrunch waves for maximum style.

24. Leonardo DiCaprio Heartthrob Men's Haircuts
Living your best life just takes some ambition and perhaps this sexy Hollywood haircut. Ideal for men with fine or straight hair, this finger-styled cut just takes a great trim and a clarifying shampoo to keep it looking great.

25. Harry Styles Windswept Haircuts for Men
This in style windswept cut is also great for receding hairline situations. Longer layers can lay unruly and styled forward to look younger and successfully give off that carefree style.

26. Chris Pine – 1 – Swept Around Hairstyle
Sophisticated and sexy, this swept-around style is the ideal combination of classy and messy. Low-maintenance, this cut is perfect for men with an on-the-go lifestyle. In fact, just one product, a 2-in-1 shampoo, easily keeps these men's cuts looking great.

27. Chris Pine – 2 – Worldly Classic Men's Haircuts
This medium-length cut is for men with really thick, straight hair. Your barber will likely use blender scissors to remove bulk and keep long sides laying tame. Mousse is the go-to-product for this look.

28. Silver Fox Hairstyle
For men going grey, this sexy style works well. Carefree men's haircuts give flexibility for appropriate, business day-wear with all the laid-back look they want casually. Clarifying hair products will keep strands light and playfully wispy.

29. Medium Length Curly Hairstyle
Men with beards and curly hair have the ideal combination of sexy men's haircuts. Locks can be left shoulder length and treated with shine to lock in moisture and bounce. Hairstyles for men with dark hair must include a go at these sexy, well-managed waves.
30. Bedhead Men Hairstyle
Men with beards who keep their facial hair close truly need to try this mainstream cut. Two things make this haircut great. First, it allows for handsome grow-out for men wanting to go a little longer, and second, it can be combed into a sleek duck-tail or side-part as occasion requires.

31. David Beckham Rugged Hairstyle
Achieving the perfect rugged look means elevating scraggly into purposeful chaos. Ruggedly handsome men's haircuts are kept medium in order to keep the style in constant movement.

32. Messy Medium Length Haircut for Men
This shoulder-length style is just right for guys thick hair. A variety of hair products including mega-hold gel, maximum, flexible-hold hairspray, and colored hair pastes can be used to style this cut into everything from soft finger-styled waves to liberty spikes.

33. Blonde Baby Curls Men's Haircuts
Another great style for men with fine hair is a medium-length regular cut. Barbers have perfected this simple style down to the neck shave making it clean and school-boy cute. To look younger, try a lightening product that will bring out a little red, blonde.

34. Shoulder Length Men's Hairstyle
Knight-style cuts are in for 2019. Intense and gorgeous, men with beards look particularly debonair in this full, manly style. This cut needs a couple of things to keep it looking shiny and healthy. Use a full-body conditioner with a men's deep-conditioning mask at least once a week.

35. Long Hairstyles For Men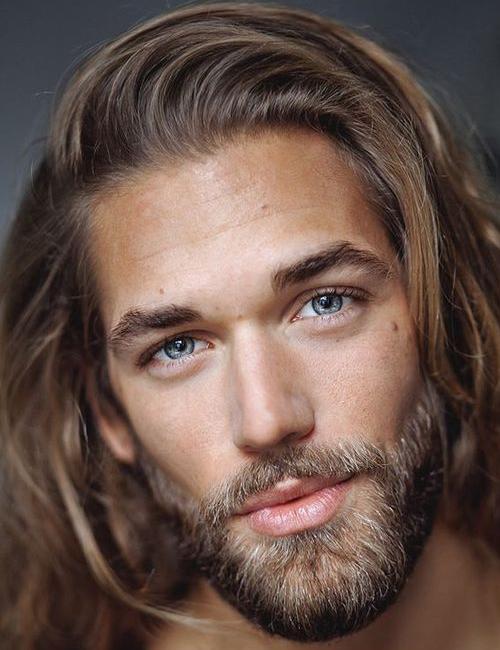 Is there anything more romantic than a man with long hair? If you're growing out, or already have long locks, this could be the winner for your next trip to the barbershop. Long hair is as low maintenance as it gets, and bonus, you can take part in the man-bun phenomena when the mood strikes.

36. Short Shag Men Hairstyle
The Shag is barber-speak for using blending sheers and performing an all-over scissor cut. Gorgeous on men and women alike, this cut is playful and gives fine hair the body it needs to look bouncy and full of life.

37. Natural Wavy Business Casual Haircuts for Men
Tall men can still rock a bit of height when it comes to their haircuts. The key to it is allowing hair to fall at the natural crooked part. Height comes from the way hair grows naturally and looks hot with a quick pass-through of hand to style. It's the perfect business casual look.

38. Classic Adrien Brody Haircuts for Men
Men's haircuts that make their debut on television are certainly worthy of a test-drive. This style, commonly seen on top, male actors is medium in length and kept vague. The flexibility of this fine cut makes it great for office and pleasure.

39. Congruent Haircuts for Men
This off-centered men's haircut is so cool. It gives dimension and interest to the traditional pompadour. For a messy look, just get up and go. Go easy on the shampoo schedule with this one. Washing once every few days is plenty to keep tresses shiny and a little thick.

40. Side Part Hairstyle For Black Men
If you're looking for the perfect cut with fade, this side-parted masterpiece is it. It's all about old-school barbershop technique. Lines are in for 2019. You'll need to stay on top of this cut every few weeks to keep it fresh.

41. Blue Shade Flattop Haircuts For Black Men
Men's haircuts are so diverse because they grow out quick. It's absolutely time to try out a cut with color. Darker hair looks technicolor in today's hot shades, and there are a number of cool brow-techniques trending now too.

42. Hipster Haircuts with Fade For Black Men
Following fashion gives you a platform for self-expression while keeping up with all modern styles. This cut is a one-sided fade, keeping front and opposite side curls framing the handsomely face.

43. Bohemian Twist Haircuts for Men
Guys with long hair have never been in better company. Keeping hair cut short on the sides is the ultimate in having the best of both worlds.
Long-hair on top has a number of options for detail and pulling it back. This cut twists hairline strands to the nape of the neck where it's easily secured with elastic.

44. Curly Long Men's Haircuts
Long, luscious hair is a fine line between beast-mode and super elegant. For men with very long hair, a trip to the barbershop every few months is recommended. Keeping up on regular trims will keep split ends at bay.

45. Shoulder Length Hairstyles For Men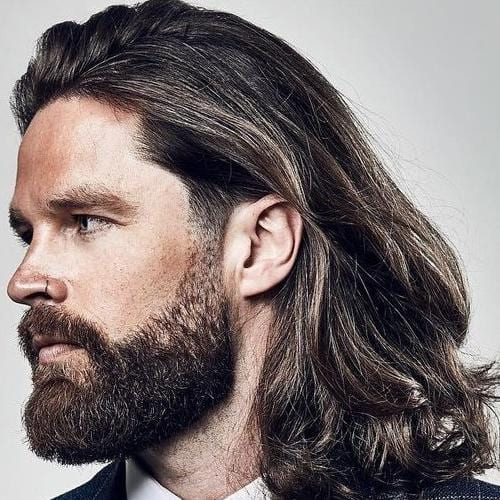 This shoulder-length men's cut just needs a blunt trim to stay clean. Long hairstyles that complement facial hair and jewelry are one of the biggest trends this season.

46. Chest-Length Men's Haircuts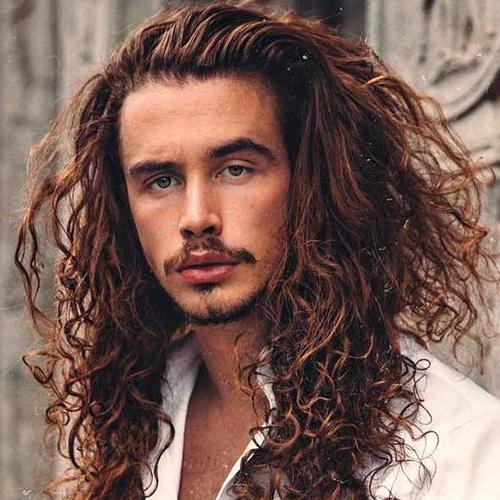 Chest-length men's haircuts only require some great conditioning products and an annual trip to the stylist. Long hair is great for protecting skin from sun damage, but it also looks hot as hell.

47. Ready to Ride – Long Hairstyles
It's the perfect time to get the bike out and hit the road. This long, wavy cut and style are carefree and easily manageable. Ideal for infrequent shampooing, the longer locks get, the shiner and healthier they'll look.

48. Voluminous Curly Hairstyle
This tightly curled hair gets an A+ in style. While it isn't the easiest men's cut to manage, this haircut is totally worthwhile. To make sure hair is soft to the touch, use a men's hair oil and gobs of shea hair moisturizer after cleansing.

49. Layered Long Haircuts for Men
This pretty, oh-so-masculine haircut is serious enough to get you stopped dead in you in your tracks for compliments. Best suited for fine or thinning hair, a layered cut with light-weight hair care products will give you style for months.

50. Textured French Crop Haircuts for Men
Crop haircuts are in for 2019. The way they show-off bold tattoos and sexy skin beneath is one reason to dive head first into this year's textured crop style. Achieving this aggressive side-shave will take a trimmer guard between 0 – 2.

51. Valiant Pompadour Haircuts for Men
For men with a widow's peak hairline, this lush cut keeps hair stylish and easy to manage. Keep bangs around 3 inches for maximum loft. This haircut can be worn full or sleek for a number of hot looks.

52. Haircuts for Men with Receding Hairlines
Men's styles can transition in shape, texture, and color with one affordable trip to the barbershop. Stylists have a number of tricks for receding hairlines including using hair dye. While you probably haven't considered the color for this exact solution, going a few shades lighter is a remarkable remedy!

53. Bleach, please – Platinum Blond Hairstyle
Today's platinum haircuts aren't the style of the mid-2000. Worn a bit short, today's bleach-blonde locks stay looking healthy and youthful. A deep blue or purple toner product, available as shampoo, must be used in order to keep brassy orange tones from appearing after spending time outdoors.

54. Teenager Haircuts for Men
These fresh, straightforward cuts use clippers and a bit of sly scissor work on the top, just to blend the edges.
Trim it every 6 weeks to stay looking clean around the nape of the neck, and always use clarifying shampoo and conditioner so that hair stays tame.

55. Traditional Medium Length Curly Hair
This beautiful cut for curls is medium and traditional. It's great for managing wavy hair either worn down or pulled back into a ponytail when longer. This cut needs professional razor-edge cutting scissors to frame individual looks accordingly.

56. Psyched for Spikes Haircuts for Men
This modern spiky men's cut is great for playing with temporary color chalks and fun clipper details. Punk, yet sophisticated, products like wax, shine-spray and pomade will work best.

57. Daddy's Ducktail Haircuts for Men
This men's haircut is a version of the classic ducktail your barber will know all too well. The update, however, is leaving hair long all over and hand-styling it into shape with gel and wax.

58. High and Tight Men's Haircut
This military-style hair cut is stunningly attractive. With emblazoned trim, this high and tight combines flat-top ease with sharp, intellectual allure. This style is shaved and goes all the way.

59. Jaden Smith Dreadlocks
Nothing says West coast style like a celebrity-worthy haircut. These funky, cool dreads are achieved by backcombing or "ratting" hair in sections, and then rubber banding the root and tip of each piece. Once sections are in place, roll each in the palm of your hand with a pea-sized amount of dread wax daily.

60. Shape Up Haircuts for Men
If you're looking for superhero class in an easy-to-care-for men's haircut, look no further than this marvelous fade. Avenger-worthy, this cool haircut has height and conviction while enhancing a strong jaw-line. Pair with a baby-smooth shave.

61. High Top Haircuts for Men with Temp Fade & Lines
This straight-up fade leaves hair lively and fun on top. A straight hairline edge above the forehead guides hair up and draws the eye to fine side details. Accomplished with a straight edge, this detailed barber work looks sharp.
62. Faux Hawk Haircuts for Men
This side-detail men's cut leaves long chunks from the back crown forward and works especially well with medium-to-thick straight hair. For receding hairline bangs can be thrown sideways and forward to help give depth and dimension to the style.

63. Voluminous Quiff Haircuts for Men
This strong, sexy men's haircut is cut tapered up the sides and cut sparingly on top in order to leave maximum lift and volume. The best product for this look is using a clarifying shampoo that keeps hair light and ready to move.

64. Quiff For Men With Tall Foreheads
For men with tall foreheads, this men's cut is an exceptional way to visually minimize the distance between brow and hairline. Brows are left thick so that the natural line of the hair brings the eye back down again in perfect proportion.

65. Swept Haircuts for Men with Long Sideburns
For men with note-worthy sideburns, keeping hair a little longer up against the sides and back transitions well into any style with a side part. This cut is for all men who love running a hand through their cut.

66. Superman Hairstyle
Superman was iconic because of his ability to transition from a handsome geek into a full-on hero with a flick of his glasses. This haircut, complete with dazzling mid-tendrils will have everyone amazed with your transformation from the barber.

67. Bowl Haircuts for Men
The term Art isn't unique to building architecture. This year anyone can look like a model with some sharp scissor work. For bold men willing to get a bowl cut that's completely outside of the box: you're welcome.

68. Pierce Brosnan Hairstyle For Older Men
Playing spy doesn't have to be reserved for game nights and bar hopping. This handsome, seasoned haircut looks great on men of any age and requires hardly anything besides a nice comb.

69. Slept In Widow's Peak Men's Haircuts
This casual style is an ideal cut for men with big dreams and a smaller budget. Keeping in style with a sharp cut and beard to match means mixing and matching cleansers and wax styling products and hitting the barbershop perhaps, every other time.
70. Frizzy Afro Men's Haircuts
Frizzy styles aren't just for women. This well-managed men's haircut allows that natural texture to do its thing and just be. A daily conditioner and light-hold hairspray will keep this look holding strong day and night.

71. Punk Perfect Mohawk
For men with bold hair color, trying out a modern mohawk is the next step in creating an on-trend look. This cut is sectioned into thick strands with hair pomade and laid-down by hand towards the neck. Longer layers also let men wear hair down for a fuller, toned-down effect.

72. Pink Hairstyles for Men
This hip and tightly shorn all-over length is both practical and playful. The temporary pink color can be washed in and out of hair to maximize style. This haircut uses a trimmer all over and can vary in thickness depending on the size guard used. This cut appears to be around a 4″.

73. Geometric Colored Men's Haircuts
To rock this cut, your stylist should first buzz hair to all the same length and then do a fade, leaving strategic triangles of longer hair in place. Next comes temporary color using anything from kool-aid to trendy hair chalk.

74. Long Curly Fringe Haircuts for Men
This androgenic statement is for men embracing their natural beauty and who require a haircut that leaves options undefined. Men can wear this style brushed forward to accentuate features of the lower face like lips and jawline.

75. 70s Men's Haircuts
Bringing back the sexiest cuts from the '70s, this updated spin on wavy hair takes little effort. A bright scented mousse will keep locks shiny and smell as fabulous as it looks.

76. Bangs Haircuts for Men
This youthful, feathery look is achieved by diagonally razor-cutting bangs and keeping sides tight. Shaped sideburns accentuate the cheek line so this cut works best on men with an oval or long face.

77. Messy Hair Bangs Haircuts for Men
Another cut for young men, this playful, messy hair fringes the entire face and maintains a clean, clear line to the neck.

78. Hairstyle For Men With Thick Hair
This simplistic cut for thick hair can be styled with hairspray and brush. Since sides are collar-regulation, this uniform-ready style is a winner for every occasion.

79. Punk Hairstyles for Men
Daring and masculine, this edgy-mod haircut for men crosses greaser with punk. A totally killer look for any bad boy needing a new do.

80. Short Haircuts for Men with Goatees
This no-nonsense men's haircut is short and full-bodied all around. A quick comb-through with pomade keeps this style laid-back amidst any situation.

81. Buzz Cut Haircuts for Men
This modern men's cut is shaved all over with a 3″ blade. Another great cut for athletes, is a zero-maintenance buzz cut that gets right down to it.

82. Medium Length Swept Hair Haircuts for Men
Canadian men know what's up when it comes to trending men's haircuts. This mid-neck length style is all pleasure and also easy to maintain.

83. Boy Pompadour Hairstyles for Men
A bold pompadour cut, this men's style is right out of a fashion magazine. To achieve this look the haircut must be back-combed from the crown to the hairline and smoothly brushed back using a maximum hold hairspray.

84. Armie Hammer's Modern Pompadour
If you're looking for a simple men's haircut, this is it. The look gently teases allure but is serious enough for daytime too.

85. Tapered Fade Haircuts for Men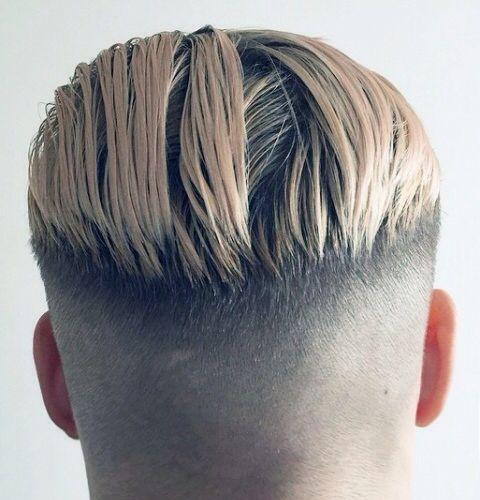 For men with fine hair, this sleek tapered fade is a top choice. To keep the look ultra-modern, stylists cut top hair while wet ensuring the most invisible blend possible.

86. Viking Haircuts for Men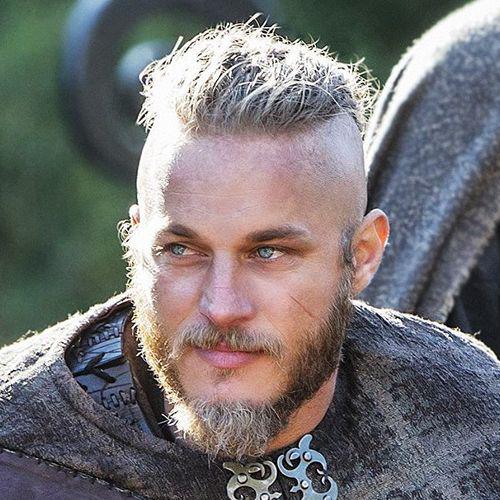 The Viking style is a unique look. To pull off this men's haircut, ask your barber for a Viking beard with a choppy cut on top.

87. Braided Hairstyles for Men
Braids represent strength, and they're not just for women. This long men's cut with back-combed faux hawk volume will take a bit of time to get just right but framed with various size braids and hoops takes this modern style to next-level-heartthrob.

88. Short Crop Haircuts for Men with Medium Length Beard
Maintaining a full beard keeps the eye centered on the face, and that's awesome for receding hairline trouble. Men can rock a short or full-bald crop up top, and still enjoy their lush, gorgeous hair.

89. Curly Highlighted Top Haircuts for Men
Men's haircuts have a special way of enhancing curls. Too short and you've got an unmanageable mess. Fortunately, barbers have a knack for using thinning shears to get this style to lay just right.

90. Paul Pogba Creative Haircut
Paul Pogba's bold attitude is reflecting also in his hairstyle choices. He pulled off a great faux hawk with creative fade lines.

91. 1950's Classic Men's Haircut
One thing that makes men's haircuts from the 1950's good enough to bring back is their classic, all-over charm.

92. Benedict Cumberbatch British Haircut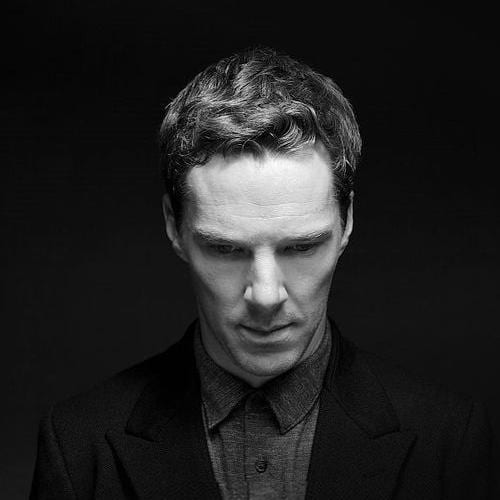 Mr. Cumberbatch is the definition of British style. Known for sporting various hairstyles throughout his career, this one is iconic – tapered and leaving a thorough front wave up top.

93. Tom Hardy Rugged English Haircut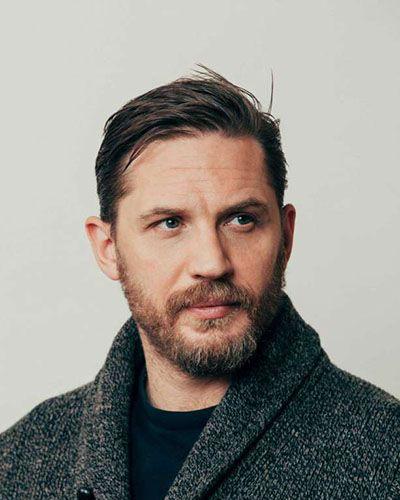 English-style haircuts are trending in 2019 because they look great on everyone. Low-maintenance, this cut just takes a quick comb. But then again, Tom Hardy has many other great hairstyles.
94. Ryan Gosling Golden Boy Haircut
This golden-boy haircut embraces a boyish charm while looking totally confident. When paired with a 5 o'clock shadow, the better.

95. Short Sides Long Top Hairstyle
Another men's cut to keep up on this season is any version of the quiff. This cut is a hybrid between the flattop, pompadour, and mohawk.

96. Male Model Hairstyle
For men with an angular jawline or a diamond-shaped face, try a haircut that is longer all over with sideburns to match.

97. Cool Quiff with Stubble and Full Moustache
The Quiff is a men's cut that works on every hair type because it can be custom to leave more or less on top. This haircut takes on a full ability to style in many different directions.
98. Disconnected Undercut with Voluminous Quiff
Disconnected undercuts are also coming back in 2019 because of their clean style that looks expensive and thoughtful. These playful haircuts can be pulled pack taught or pumped up with loads of volume.

99. Sergio Ramos Creative Crew Cut
Sergio Ramos' crew cut is one of the best we've seen. The claw effect fade makes it a top-notch crew cut!

100. Dark Wavy Haircuts for Men
Men with heart-shaped faces look great in dark wavy hair. Stylists can recommend a temporary color that will wash out of any cut after several days and let you try on a whole new look.

101. Man Bun Hairstyles
A man bun is more of a style. If you're letting your current cut grow out, pulling it back into elastic is a hassle-free way to manage locks until they're shoulder-length and out of your face. To get this look, simply gather hair and twist. Secure with a bobby pin or two and you're good to go.

102. Hector Bellerin Samurai Man Bun
This style is holding on tight for the rest of 2019. Ideal for hot weather, men can keep their long locks and still have the convenience of a short style.

103. Godly Long Blonde Locks
While this all-over-shoulder length cut doesn't really qualify as a mullet, it can be pulled back into one leaving tight sides with length in the back.
104. Bro Flow Forever
One of the best full-length haircuts for silver hair is this flowing cut. To get this look, ask your barber for feathered sides and blunt ends.

105. Jawline Men's Haircuts
Cutting hair at the jawline enhances the depth of the beard and gives off an incognito look that's popular now.

106. Maximum Waves with Full Beard
Waves are making a big comeback in 2019. To achieve a successful cut that keeps curls fresh ask the stylist for layers that will take the weight off of the ends.

107. Dapper Straight Haircut
This fine gentleman's cut accentuates the natural curvature of mustache and beard.

108. Hard Side Part For Men With Thick Hair
This side-part fade haircut is kept long on the left for an unbalanced, modern look. It's perfect for men with thick hair.

109. Slicked Back Haircut
The slicked back haircut is one of the most popular, having its roots in the greaser movement. Getting this cut will draw attention to a custom mustache and beard.
110. Messy Side Part Bangs
Bangs left long to the tip of the nose is a trending men's haircut for 2019. If you can rock a full beard, you're all set!

111. Natural Hairstyles For Men
Natural-looking, this mono-top cut leaves hair full and easy to keep down snug around ears.
112. Casual Crew Cut
Men crew cuts are stylish and pretty low-maintenance. Use a pomade or mousse to create a definition and that's it.
113. Colored Fade Cut
Men with dark hair have such cool options for adding a pop of color to their haircuts. With a little bleach, virtually any bright color is doable.
114. Crew Cut with Low Fade
Another crew-cut, this straight-cut right across the forehead is a bit edgy, a bit no-nonsense.
115. Tamed Mane Haircut
Men with tight curls look great in a fade. This cut uses a graduated cut and size 2″ trim guard.
116. 360 Fade with Stubble
Another David Beckham hairstyle! He had so many over the years and became a true fashion icon. Choosing a great men's haircut comes down to knowing how you're comfortable in your own skin.
117. Business Casual Thor Hairstyle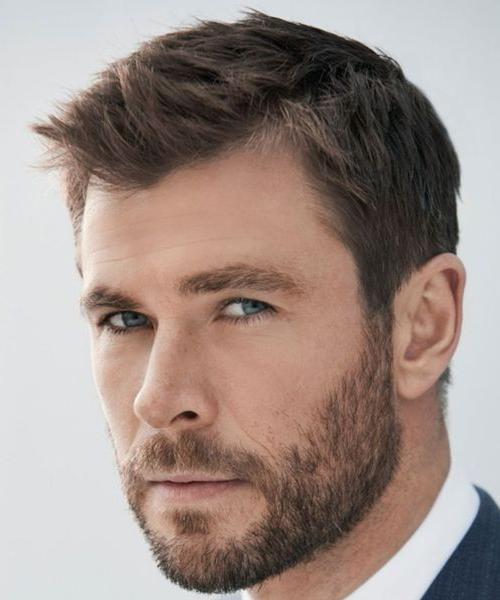 Avenging your last bad haircut probably means going a tad shorter. The best short haircut for 2019 to make up for past mistakes is this simple, handsome trim.

118. Greaser Brad Pitt Hairstyle
This hot and trendy slicked-back haircut is for men with a few sexy humor lines around their eyes. Styled with longer sideburns, this look frames a goatee well and highlights rugged shadows nicely.
119. Odell Beckham Jr. Curly Haircut
Odell Beckham Jr sports a playful spin on a fade with tight curls is elevated by bleaching the top half blonde. Remember to use a deep, leave-in moisturizer to prevent breakage.
120. Rugged Hairstyle For Older Men
Men who want to look rugged and worldly need a haircut that keeps clear of the face while shading just the right amount of good looks behind an intriguing short beard.
121. Zayn Malik Texturized Haircut
A simple way to update a regular haircut is to try out different hair styling products on your style. There are a number of texturizing sprays on the market and most wax material smells great and isn't at all sticky.
Your hair can look glossy or matte, depending on the finish. Zayn Malik's hairstyle can look both ways.

122. College Hairstyles
Not just another regular cut, this awesome style comes from well-placed layers and some serious barber technique. Having the perfect length of hair starts with face-framing pieces custom measured to hit right below the brow line.
123. Rock and Roll Royalty – Coiled Hairstyle
This Rock star haircut is managed with heavy moisturizers and a wide-tooth comb or pick. So very cool, this is one men's style that few can pull off, but must give it a go. The volume alone is worth the effort.

124. Dreads Men's Haircuts
These simple dreadlocks hold hair in place and on trend. Hair is pulled away from the forehead to achieve this high-standing look.

125. Epic Beard Style & Coiled Hair
Men with full beards look great with lush, long, unruly hair. There's something about this unkempt vibe that not only looks daring but really inspiring too. Beard cream and some bleached-in highlights complete this modern look.

126. The Milkman Hairstyle
Milkman rumors didn't get started over simple dairy delivery. This hot "milkman" hairstyle is gaining in popularity for it's boy-next-door charm. Ask your barber for a regular cut, and keep it full on the sides.


127. 1950's Taper Fade Hard Part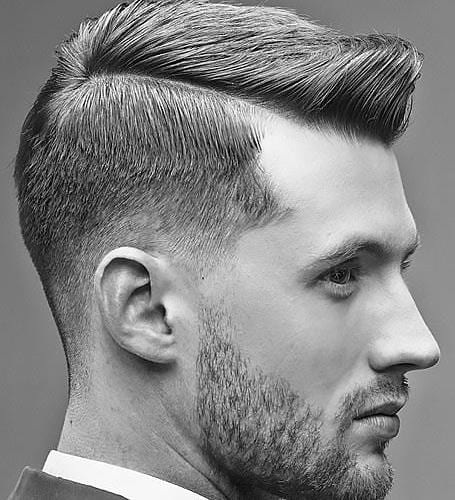 This men taper fade haircut almost requires the model to smoke a naughty cigarette. 50's in nature, this clean fade leaves bangs just long enough to send back or up to make the perfect profile.

128. Hi, My Name Is – Bleached Blonde Haircut
Keeping blonde haircuts fresh requires frequent upkeep. Another tip for going blonde if you've already got dark hair is getting a fade or staying really short on the sides. Bare skin appears lighter and will blend beautifully with bleached hair no matter skin tone.

129. Undercut with Curls
Men with thick eyebrows and thick hair look awesome from the front and sides with this faux hawk cut. Long tresses from the forehead back are manageable and can be finger-styled into position.

130. Long Curly Side Fringe
A version of the traditional crew cut, this updated look takes clippers up the neck leaving length on top for a short pompadour style towards the hairline. The back crown is blended short for maximum simplicity.

Conclusion
We invite you to share your favorite haircut styles with your friends and family!
Here's to enjoying one, or some, of the 130 men's haircuts, trending in 2022.
Try a longer men's cut first and transition shorter as the weather gets hotter.
You'll look amazing and keep everyone guessing on your next new look. Which one's your favorite men haircuts?
This article was updated in June 2022.
Darla is a hairstylist and makeup artist. She loves creating bold and edgy looks for her clients and is very passionate about what she does. She has always loved writing, but never thought that she would ever get to publish her content. She decided to give it a try when she discovered us, and has been writing for our readers ever since!