Sergio Ramos: superstar football player, captain of Real Madrid and of Spain's national football team.
An authentic icon of the current global sports stage.
Ramos has been closely followed by soccer lovers in all the years of his career, analyzing not only his skills but also his looks.
If you want to look and feel like a star athlete, choose a Sergio Ramos haircut from the ideas we have collected below!
1. Quiff Haircut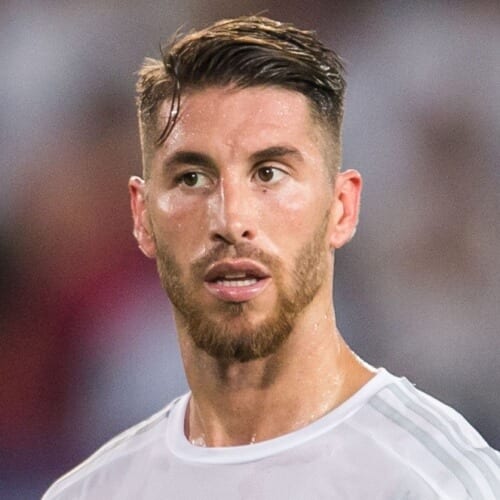 Throughout the years, Ramos has been spotted with various haircuts, but none as iconic as his tapered quiff. We recommend it as an easygoing hairstyle suitable for athletes, businessmen and any men with any other occupations in between.
2. Boyish Hairstyle
In his younger years, Sergio would sport a boyish hairstyle with choppy, ruffled locks. His hair was lighter in color and he would usually style it messily, in somewhat of a disheveled quiff. You can copy this look if you have a young, wild and free personality.
3. Undercut Hairstyle
To bring out his inner bad boy, the Real Madrid captain often adds an undercut to his hairstyle. He typically gets it slightly faded and leaves his hair longer on top. It's one of the best Sergio Ramos haircut ideas for annoyingly hot summers.
4. Shoulder-length Hairstyle
Long gone are the days in which Cuqui would show up at games with shoulder-length hair. However, we still encourage guys who are drawn to longer hair to consider the hairstyle. You have numerous styling opportunities available, from man buns to ponytails and more.
5. Taper Haircut
What can be more comfortable and classy than a proper taper haircut? Ramos proves that a well-shaped haircut can work miracles for your overall appearance. We encourage men with all hair types to consider the approach.
6. Spiky Haircut
Spiky hair was never one of the famed soccer player's signature looks, but that doesn't mean that he didn't look awesome when showing up like this. If you're looking for an edgy yet playful hairstyle, we recommend that you use his soft spikes for inspiration.
7. Caesar Cut
What we admire about Sergio's hairstyle in this shot is that it's somewhere between a Caesar cut and a temp fade haircut. In essence, his hairline features a rectangular shape that is highly flattering for any type of guy.
8. Highlights Hairstyle
If you ever get bored with your current look, highlights are always a great solution for spicing up your appearance. Men who have black or brown hair should opt for some copper or honey highlights, like Ramos in this photo.
9. Side-slicked Haircut
The Spain national team captain is a beast on the field, but he also knows how to be a gentleman whenever necessary. For semiformal and formal occasions, Sergio tends to display an undercut with a longer top slicked to the side.
10. Two-level Undercut
Speaking of undercuts, the haircut is now almost synonymous with Ramos' style. He often enjoys toying around with his undercuts, getting them with various designs. For example, here is a picture with his two-level arched undercut.
11. Faux Hawk Haircut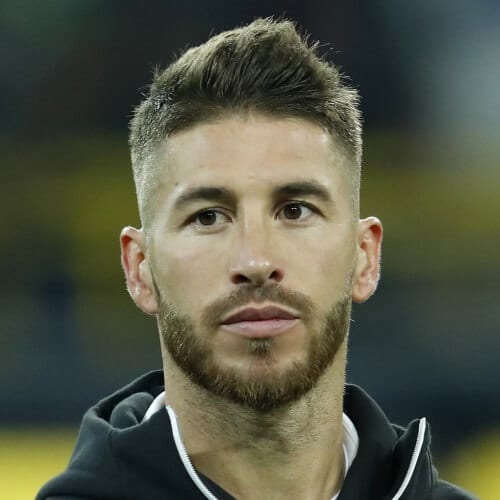 The faux hawk will remain the ultimate solution for any guy that's not up for getting a classic mohawk. Even though it comes pretty close to a quiff, a faux hawk like Sergio's tapered version has the top leaning towards the center.
12. Business Casual Hairstyle
What better way to mix business with pleasure than with a classy cool haircut? In this image, you can observe how Ramos sports a sleek business casual hairstyle suitable for men of all ages. It works just as well on the field as it does in office meetings.
13. Voluminous Pompadour
On the other hand, you may want to squeeze some more volume out of your hair. For this, we recommend following Sergio's brushed up and back technique. To get the look, your hair should be about two inches long and cut in layers.
14. Swept Back Haircut
As an alternative, you can go for a classic swept back hairstyle. It won't have as much volume as the idea we spoke about earlier, but it will result in a highly handsome appearance. It's definitely a favorite for the ladies, too.
15. Quiff Haircut with Thick Hair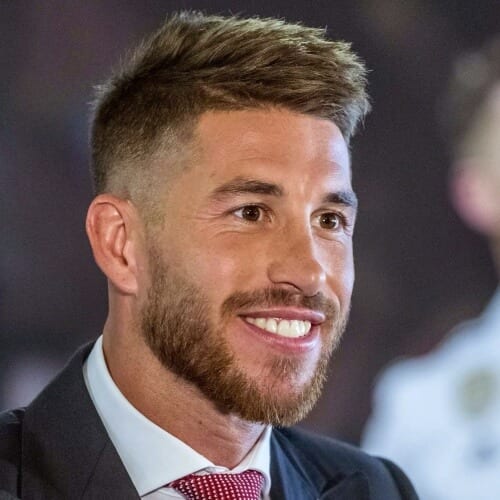 If you have thick hair like Ramos, you may want to opt for a shorter haircut for easy maintenance. One of the most practical and flattering options you can try out is this short, heavily layered haircut. Styling will be a breeze.
16. Side Part Hairstyle with Scruffy Beard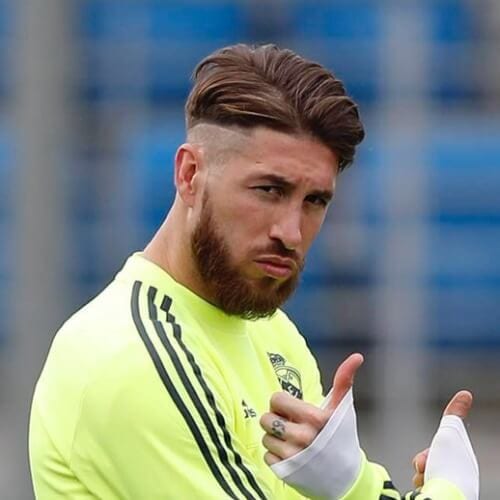 Are you the kind of guy that's all about contrasts? In this case, you can incorporate your preferences into your hairstyle. For example, you can sport a classy hairstyle on top and pair it with a scruffy beard. You can also keep Sergio's surgical line design for extra edge.
17. Wavy Haircut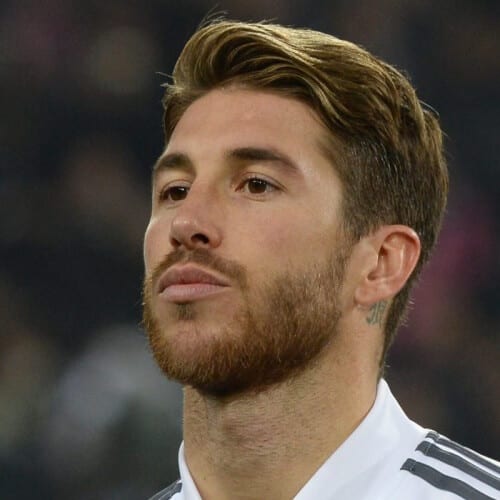 Men with naturally wavy hair really have an easy time when it comes to their hairstyle. If you're one of them, you already know that you can have any hair length and you'll be fine with it. A quiff or combover hairstyle will look awesome on you.
18. Wet Look Long Hair with Headband
If you already have long hair and you're not willing to cut it, you can experiment with different hairstyles and accessories. Just one example is Ramos' headband hairstyle, which he would wear during his soccer games.
19. Combover Haircut
Remember what we said about wavy hair and combovers? Here's a picture to prove just how well they complete each other. Regardless of context, a combover hairstyle will always be appropriate. Feel free to style your hair this way for sports, banquets or even your daily office look.
20. Angular Fringe Haircut
If you have an angled side part like Sergio, you can pull off the angular fringe without much effort. Be that as it may, you should pay attention to the way your hair is cut on top to make your daily maintenance easier.
21. Buzz Cut
For decades now, military hairstyles have been a staple for all men, whether or not they serve in the army. Even athletes like Ramos have buzz cuts, owing to the lack of time required for styling. Choose this haircut if you want stress-free grooming.
22. Messy Haircut
In this day and age, a messy hairstyle is a must for any type of guy. All kinds of messy hairstyles provide a manly touch and a sense of effortless style. The styling method works for short, medium and long hair alike.
23. Mid Fade Haircut
For the past several years, it has been almost impossible to find Ramos without some sort of a fade haircut. We believe it's a wonderful idea, no matter if it's a high, mid or low fade. In the photo above you can see how a mid fade would look like.
24. Balanced Hairstyle
Are you a picky guy when it comes to your hairstyle? Do you wa§nt something that's not too fancy, but not too bland either? A balanced hairstyle like Sergio's is exactly what you need. Use the photo above as a reference for your barber.
25. Ivy League Haircut
Sergio proves that even a sporty guy can nail a clean-cut hairstyle. The soccer star is no stranger to the Ivy League haircut and the aesthetic benefits it comes with. Get the look if you're all about maintaining a well-groomed appearance.
26. Haircut with Diagonal Part
Sure, we frequently see Ramos with his hair parted to the side, in a combover or quiff fashion. Nevertheless, one of his truly iconic hairstyles comes with a diagonal side part. For your desired results, part your hair starting from one side to the back and work your way towards the center.
27. Taper Fade Haircut
We've captured Sergio with taper haircuts and fade haircuts, but what about the times when he combines the two techniques? He proves that the taper fade should be any guy's go-to haircut, no matter what situation he is in.
28. Tousled Hairstyle
Despite the fact that it kind of comes close to a messy hairstyle, a tousled hairstyle like Ramos' has a certain charm to it. We would say it's rather on the dapper side, provided you use just a touch of hair product and gently distribute it through your hair.
29. Half Cornrows
Braids are a cool, fun and useful way to style medium or long locks. If your hair isn't quite that long yet, you can get braids on the top part, like Sergio in this pic. Cornrows have been one of the most popular options for decades.
30. High and Tight Haircut
We're back to military haircuts with this idea, namely the high and tight. As you can see with Ramos' hair, a high and tight haircut involves a buzz cut-like technique on the back and sides and a slightly longer top.
31. Gelled Spikes
Even though we're pretty sure that Sergio isn't part of the punk subculture in any way, one of his hairstyles is quite inspirational in this regard. Medium-length, spiky and messy all around, his haircut here is great for guys who want a punk influence in their look.
32. Textured Haircut
A general piece of advice for men with thick hair is to incorporate texture into their hairstyles. Seeing that most of them will sport shorter locks, texture resulted from abundant layers will add dynamism to their all-around presence.
33. Business Sergio Ramos Hairstyle
When you take the "casual" out of "business casual", you get a hairstyle that will support you in sealing any great deal in your career. To put it otherwise, a proper business hairstyle can be just what you need if you work in this area.
34. Flattop Haircut
If you have a beard like Sergio tends to have, a flattop haircut could work incredibly well for you. Together with your facial hair, you will be creating a flattering frame for your face, all while accentuating features like your eyes.
35. Wet Look Messy Sergio Ramos Hairstyle
Although Ramos' hair was probably drenched in sweat after a game in this photo, you can get a similar look with the help of hair gel. If your locks are at least an inch long, you can use a larger amount of product to get a wet aspect.
36. Crew Cut
Another well-balanced Sergio Ramos haircut you can try out is the crew cut from this press conference. It has a very clean and polished aspect, especially thanks to the product used for the short layered top.
37. Athletic Mohawk Sergio Ramos Haircut
You most likely won't be seeing a soccer player with a full fanned mohawk anytime soon. All the same, you will see athletes with the kind of mohawk that Sergio has in the shot above. All you have to do is shave your hair on both sides.
38. Ombre Sergio Ramos Haircut
You can play with color in a variety of ways for an intriguing hairstyle. Aside from the highlights we discussed earlier, you can also use a color only for the top part of your hair. The copper used on top of this Sergio Ramos haircut looks amazing.
39. Blow out Hairstyle
If you're down to business, have no fear about any kind of slicked back hairstyle. Basically, it takes the swept back approach one step further by making the hair look even sharper. You should certainly consider it if you have mid-length hair.
40. Choppy Haircut
Choppy layers are a dream come true for guys with thick hair like Ramos. For this hair texture your hair should not only contain short layers, but also a large amount of them. We think the jagged results look outstanding.
41. Short Pompadour Hairstyle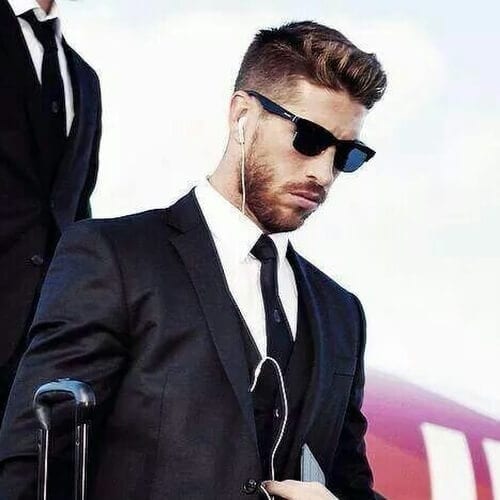 We often associate pompadours with the extravagant and voluminous hairstyles popular in the 50s. However, a modern approach to the pomp shows how presentable it can look even with short hair, as you can see in this photo with Ramos.
42. Bleached Sergio Ramos Haircut
Bleaching is a fun way to show your personality through your hair. It also serves a bold way to change your look after a period of time with the same hairstyle. Still, we don't recommend doing it often so you don't cause long-term damage to your hair.
43. Coarse Brushed Up Hairstyle
We're back with another perfect pick for our thick-haired readers. If your locks are naturally coarse, you shouldn't have to struggle with covering them up. In fact, you should emphasize your texture with a brushed up hairstyle.
44. Shaggy Sergio Ramos Haircut
Guys with rebellious personalities may want to consider getting a shaggy Sergio Ramos haircut. Most of the time, it involves letting your hair grow mid-length and then introducing layers in various lengths all around.
45. Hairstyle with Different Beard Color
You already know that Ramos is a man of contrasts. Nevertheless, you can genuinely admire the quality in this photo. While his hairstyle features a dirty blonde shade, his beard has a contrasting ginger tone to it.
46. Bristled Bowl Cut
We have yet to see Sergio with a traditional bowl cut, but we can get inspired by his funky alternative. Instead of having a classic bowl shape to his haircut, Ramos creates his at an angle, leaving the top short and coarse.
47. Regular Haircut
If all else fails, a regular haircut will cater to any man's daily needs. It doesn't have to be anything fancy or expertly cut, just as long as you take care of it with proper grooming practices. Pick this idea if you're not interested in taper fades or undercuts.
48. Asymmetrical Sergio Ramos Haircut
Yet another example of a Sergio Ramos haircut full of contrast is this asymmetrical undercut. The hair is significantly longer on top and parted to the side, while the undercut is in the form of a sharp skin fade (also known as a bald fade).
49. Side Bangs Sergio Ramos Hairstyle
Whether you have a larger forehead, receding hairline or you just like the way they look, side bangs can add value to your appearance. They have a youthful touch, all while maintaining a good sense of style for the bearer.
50. Long Braids Hairstyle
Our last Sergio Ramos haircut shows the soccer player with long hair and a generous set of cornrows. We strongly recommend it for athletes or men drawn to urban culture, provided their locks are long enough.
Conclusion
To sum up, you can find an inspirational Sergio Ramos haircut in every year since he has been active. We have taken the liberty of doing the heavy-duty research for you, so all you have to do is just choose your favorite style. If you could recreate any of Sergio's hairstyles, which one would you pick? Tell us all about your selection in the comments!
This article was updated in June 2019.