Have you heard that the Permed Mullet Hairstyles are back in fashion? If you did, you heard right; we have some modern mullets with permed hairstyles right here to see. This look started in the South of America but has recently taken the country by storm. These haircuts for men are fun, in style, and will leave you looking your best.
Most of these looks are done with curly hair, but no need to worry if your hair is straight; just ask your hairdresser for you a perm. You won't regret it after you will look so dope, and get ready for all the compliments to come rolling in at your bar on Friday nights. So let's go ahead and take a look at 50 modern mullet-permed hairstyles ideas for 2022.
1. Blond Highlights in Shaved Mullet
This style has so many handsome combinations in it. He has blonde highlights, an undercut with a design, and a curly back showing off that he has some serious style.
2. Wavy Curls Permed Mullet Hairstyles
For men with wavy hair, this is the perfect look for you in 2022. Keep it simple with a short buzz around the ears and your natural hairline, and let the rest grow out long so you can show off your waves.
3. Neck-Length Shag Permed Mullet
Try this neck-length shaggy style once you grow your hair out long enough. Trim the edges around the ears and cut the bangs straight across and you are all set for any event in your life.
4. Curly Permed Mullet with Fringe
Fringes are the perfect combo with your new mullet haircut. He got his undercut shaved short here in the photo above and added in a fringe bang, and the results are fire.
5. Mohawk Permed Mullet with Line-up
Who doesn't love a good mohawk hairstyle? In the photo above he is rocking along with a traditional bag with a fresh line-up fade.
6. Taper Permed Mullet Hairstyles with Tails
Taper fade haircuts are so dapper when you add in permed tails. This is a party in the back and business in the front hairstyle for 2022 that will make you stand out in any crowd.
7. Baby Mullet in Curls
Men with baby curls have such an advantage when picking out a hairstyle. Here they kept the top layer of hair longer and added a light blonde color in the tail, he looks dope.
8. Swept Back Wave Mullet
Try out a classic wave mullet for your next look. This style would be great for men that have thick hair. Shave the sides short and grow the rest out long to get this hairstyle.
9. Blond Curly Mohawk Mullet with Red Tint
If you need to add a little color to your life, try this blond curly mohawk with a red tint at the ends. These two colors look great together and would be a handsome style for the summer.
10. Low Fade Curly Mullet
If you have a curly hairstyle, try a low fade to keep your ends looking sharp. This style will keep you looking fresh and gives your curls some room on top to take shape.
11. Long Curl Permed Mullet Hairstyles with Business Cut Top
One of the most popular requests at the barbershop is a simple business haircut. If that is too simple for you then try out this long curl mullet with a business cut added to the front, you will be ready for the board meeting and the bonfire all on the same day.
12. ATX Curly Hair Mullet
A curly hair mullet is so fresh, that you will never want to change it up. In this look, they have a thick undercut shaved into the sides of his head and kept the rest long and curly.
13. Full Swing Mullet
Look how happy this guy is here. If you need to bring a smile to your life try out this full swing style. Keep the back big and bushy to capture this iconic look.
14. Curly mullet Mayhem
If you are out running the streets in your hometown causing mayhem, we have a look for you. This curly mullet mayhem is right on trend, curl the ends of your hair in the back as they did in the photo above for a dope finish.
15. Cut Permed Mullet Curl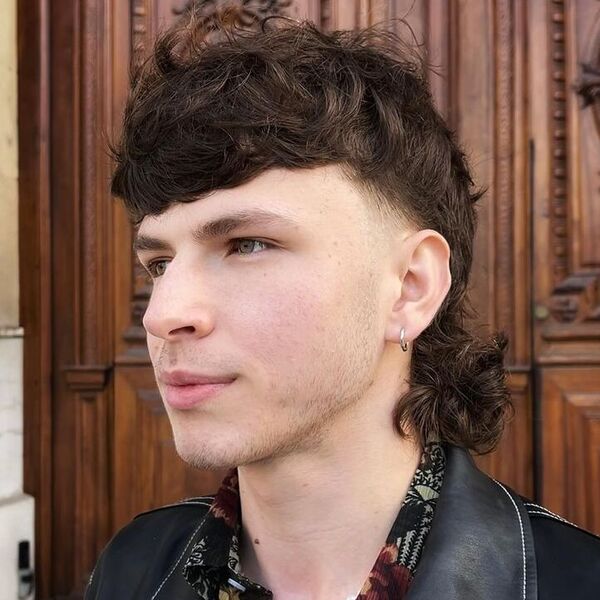 If you remember the bowl cut from the 90s this style will bring you serious nostalgia. This cut with a curl to bring back one of the best styles from the 90s.
16. Textured Spring Curls in Permed Mullet Hairstyles
Men can rock textured spring curls too, just look at this photo above. He has all the parties in the back while leaving the business nice and short in the front.
17. Faux Curl Mullet
Faux curls count as curls in our book. To get this look try adding mousse to your wet hair and scrunch it up until the curl looks perfect.
18. Curl Mullet Razor Cut
Are you looking for your next mullet razor cut hairstyle for men? Then you are in the right place check out this fresh new style, if you have curly hair this look is perfect for you.
19. Modern Mullet Hockey Flow
All little boys want to grow up and be tough hockey players, try out this haircut to look just like them. A modern hockey flow hairstyle will keep your hair looking sharp, but it also looks tough.
20. Men's Mullet Perm
A new style that is catching on in 2022 is this men's mullet perm. Try telling the hairdresser you only want the back section of your curled so that you can wear it in the perfect style.
21. 80's Inspired Permed Mullet Hairstyles
This next look is an 80s-inspired shape, with a little bit more of a modern mullet twist. Keep the sides short and buzzed, and let the hair in the back party.
22. Low Fade Mullet with Modern Perm
Check out this modern perm for men in the photo above. They have a low fade style going on with lots of hair left in the back.
23. Soft Curles on Mullet
Soft curls are such a handsome look on men of all ages. Here they have kept the bangs and back long, but touched up the sides with a buzz.
24. Faux Hawk with Curl Mullet
Here they added a faux hawk haircut with a curl mullet in the back. He is also rocking a pretty cool beard try growing yours out to get the complete look.
25. Fine Curls Mullet
Fine curls can be hard to find the right hairstyle for. Look no further this soft curl haircut is so handsome, be ready for all the compliments to start coming in.
26. Madness Curls on Permed Mullet Hairstyles
March Madness might be over, but this hairstyle is still causing serious madness. Grow your hair a few inches on top but shape up the sides with an undercut to get this style.
27. Shaved Modern Mullet
A modern shaved mullet is right on trend for 2022. If you want to try this hairstyle out for yourself grow the back of your hair out, and make sure to keep bangs in the front.
28. Long Mullet Curls
Wow, this hairstyle is so dope. For all the men out there with long curly hair, this haircut would look great on you.
29. Permed Tapered Top Mullet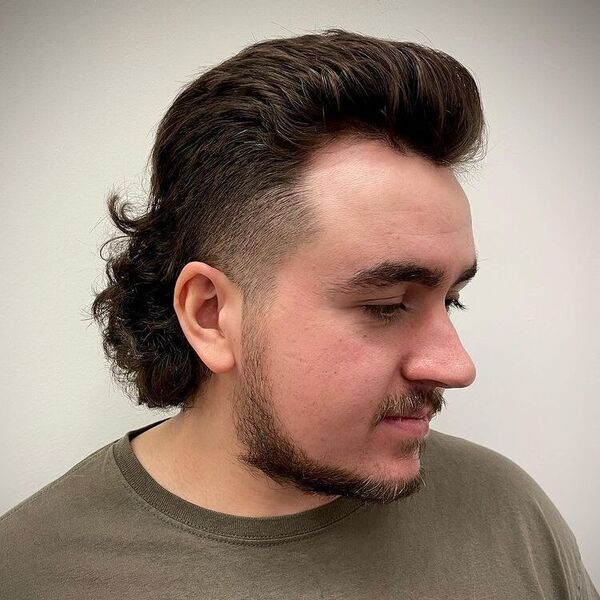 A Permed tapered look is easy to get and would look so handsome on men of any age. This haircut would help bring so much volume to your hair.
30. Textured Messed Up Permed Mullet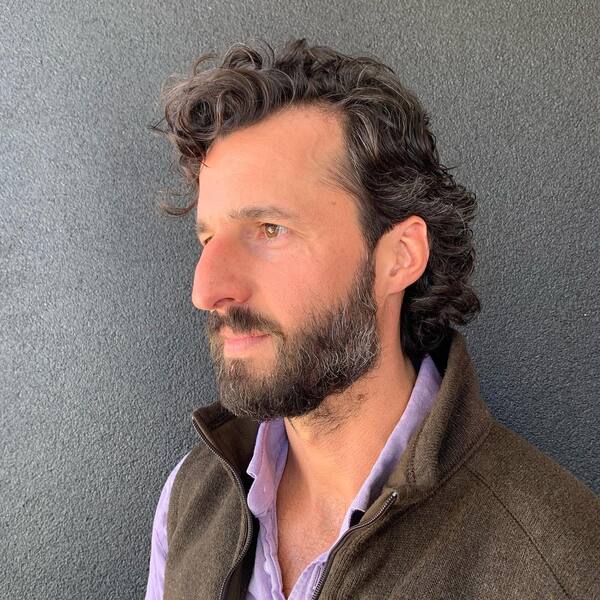 A messed-up hairstyle is always sexy when it's done on purpose. Try this textured messed up permed mullet for your next hair appointment all the ladies will love it.
31. Full Curl Permed Mullet Hairstyles
Full curls are the best when they are natural, this mullet hairstyle keeps all the hair at one length, while many of the others require you to grow out the back longer.
32. Side Faded Permed Mullet
This style is a completely shaven side fade, he looks so dope with the tight curls on top. If you can try growing a full beard it looks great with the shaved sides.
33. Beautiful Perm with Blonde Mustache Mullet
This is the perfect example of a classic mullet hairstyle for men. He has a beautiful perm and added in a fun blonde mustache to enhance his style.
34. Volumed Curly Mellet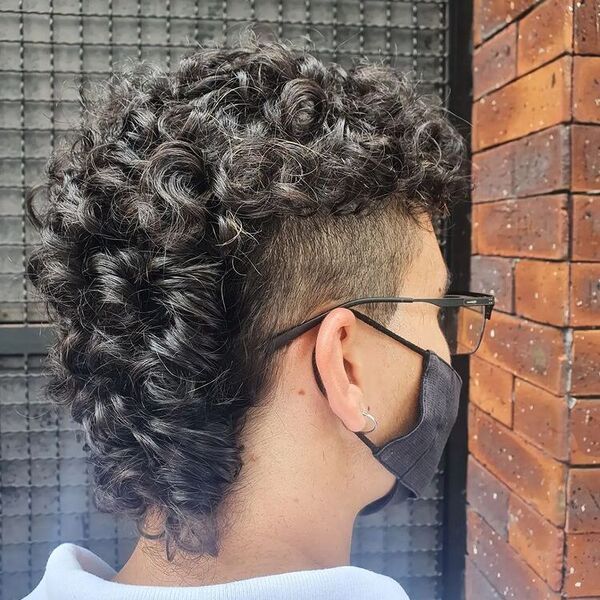 To add some volume to your hair you can always get a curly perm. This style here has so much volume and texture that you are going to love the way you look.
35. Shaggy Top Permed Mullet
For a shaggy style try this top permed look. Keep your hair at different lengths, but on purpose and you will have the best shaggy style in your whole town.
36. Light Cool Brown Curly Permed Mullet Hairstyles
For men looking for a new style for their light brown hair, we have it right here for you. Shave the sides short, and leave the rest long for the perfect curly mullet look.
37. Tiny Permed Mullet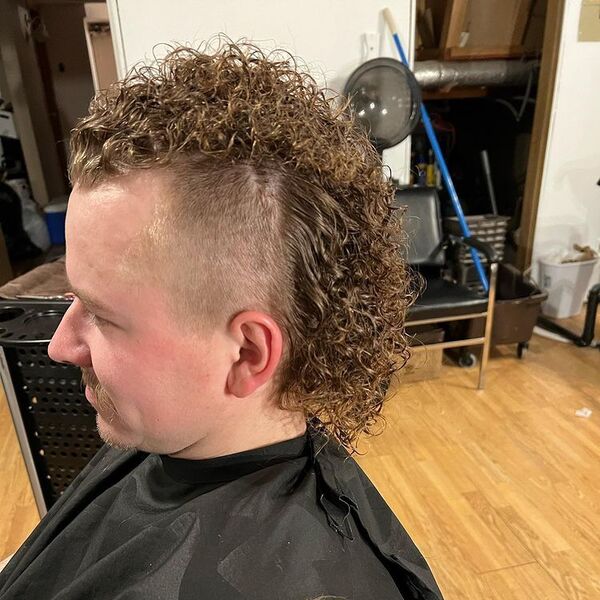 For a serious change to your hair ask for a tiny curl perm. If you go to the right place nobody will even know that it is not natural.
38. Sunflower Blonde Curl Mullet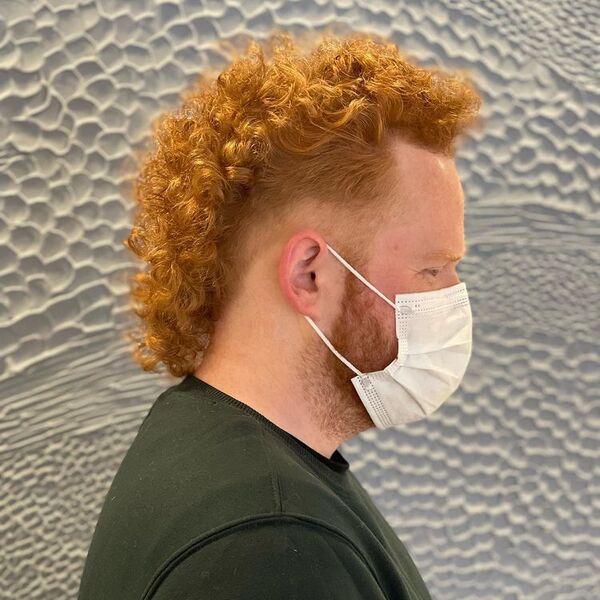 If you are looking for a good new hair color for summer, try this sunflower blonde hair color for men.
39. Ash Gray Tinted Curly Mullet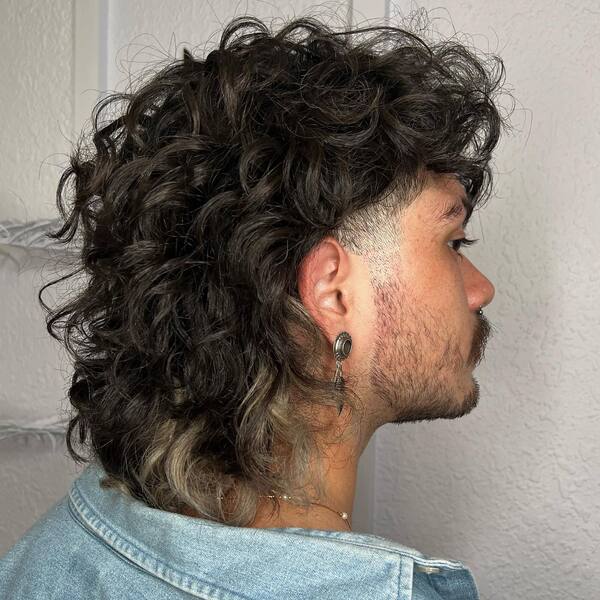 To add some color to your hairdo try adding this ash gray underneath your mullet. It will make you stand out even more and show everyone how stylish you are.
40. Slicked Back Top Curly Mullet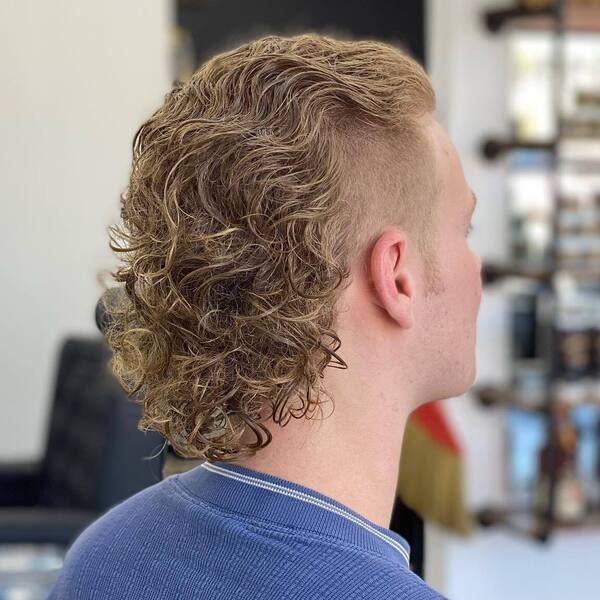 This look is all business in the front with a slicked-back hair top and a big party in the back with the curly mullet look. You will need to find a hair product that works with your hair to make sure that it stays pushed back all day long.
41. Full Black Permed Mullet Hairstyles
A new hairstyle that is gaining popularity in 2022 for men is this full black hair color and a permed mullet. This look was popular back in the day and like all the best vintage things it has come full circle and is cool again.
42. Wavy Permed Mullet
Sometimes all you need for your new perm is a little wave to your hair. In the photo above he is wearing a wavy permed mullet and he looks so handsome.
43. Mullet with Medium Side Curly
Men with medium size curls are always so blessed with how many different styles they can use in their hair. This look is a mullet with medium curls, and he looks so good.
44. Violet Tinted Full Permed Mullet
To add a little bit more spice to your new hairstyle try adding in the dope color of violet. This hairstyle is giving serious rocker vibes and he is so dope.
45. Copper Shimmer Curl Permed Mullet Hairstyles
Copper tones are so fresh for the summer months. This curly hairstyle would enhance your new color to the next level.
46. Ash Highlight Permed Mullet
Gray isn't just for grannies anymore. More and more men are adding gray to their hair on purpose, it is the new cool thing. Just look how handsome and sophisticated he looks in the photo above.
47. Midnight Ruby Faded Curly Mullet
This look has the new color of midnight ruby added to his dark natural black hair and it is the perfect combo. Try adding a fade to the sides of your curls and leave the rest long to get this handsome look.
48. Permed Mullet Shaved Line Side
Permed mullets are so on trend in 2022. When you look at the photo above you will know why, he looks so dope with the long curly back, his fade with a design, and the long beard.
49. Dark Blue Mullet Curl
If a new haircut just isn't cutting it for you and you need to take it one step further, try out a midnight blue look in your hair. This hair color is right on trend for 2022, and you will love the way you look.
50. Full Shaved Side Permed Mullet Hairstyles
This mullet has a full shaved side and would almost be considered a mohawk if they didn't leave the long hair in the back. They added in the beautiful color of light blonde and it looks so handsome.
51. Long Permed Mullet with Mid Faded Haircut
Mullet hair is back and better than ever. In the photo above he has styled his new style with a temple fade along the sides and kept the hair in the back long and stylish. Be sure to keep the fringe thick and full and you are all set.
52. Glossy Permed Light Brown Shade Hairstyle
Glossy hair is always a good idea it will leave you feeling fresh and looking good. Keep the hair in the front long and trim the back shortly to get the most out of this style. He went with a shaved edge here and it looks great.
53. Undercut Permed Curls with Almond Shade Hair
Undercuts are one of the best ways to keep your mullet-permed hair looking fresh. In the photo above he has added a few pops of highlights throughout and kept the sides shaved short and it looks amazing.
54. Medium Lengthy Front Swept Hair Permed Mullet
For an extra-long permed mullet hairstyle, you should give this next style a shot. In the photo above he has kept the front section layered and it fades along the sides short but the back is long and ready to party.
55. Fade Side Haircut with Slicked Light Brown Shade Mullet
Another way to modernize your mullet hairstyle is to add a fresh fade on the side and keep the back long and curly. Try to keep the top straight and brushed back and you are going to love your new style.
56. Slit Fade Side Cut with Curly Fringe Mullet
This next mullet permed hairstyle for men would work best if you have naturally thick hair. In the photo above he has kept the sides shaved short and added two slits in the fade. For the thick and top section of hair added a perm and a wet gel and you are all set.
57. Wavy Front Style with Permed Glossy Mullet
Up next is another handsome hairstyle for men with light brown hair. He kept the sides short with a nice fade and grew out his beard trimmed nicely.
58. Greaser Hairstyle with Front Fringe Curl
This next hairstyle is a combo of a mullet and a vintage greaser hairstyle. He has kept the front thick and brushed back and the back thick and full. He has also left a few strands out in the front to frame the face and it looks amazing.
59. Slicked Edgy Length Mullet Permed Hairstyle
This next look would be perfect if you have been growing your hair out for a while and need to find a new hairstyle. He went with a bald fade around the ears and kept the rest of the hair long and permed. Be sure to keep the fringe short and business-like and you are all set.
60. Smudged Curly Mullet with Fringe Permed Hair
Smudged curly hair is such a vibe. Here he has kept the sides shaved short with a thicker section down the middle in a mohawk fashion. This is one of the best mullet-permed hairstyles to try out.
61. Shoulder Length Full Permed Light Blonde Shade
If you are looking for a handsome shoulder-length hairstyle you cannot go wrong with this long permed mullet. He has kept the sides shaved short and added a fun lighting bolt design to complete his style.
62. Classic Curly Hair with Mullet Fade Hairstyle
Mullet fades are a new fad that men love wearing. In the photo above he has edged up the sides short and left the top section voluminous and full of curls. Pair it with a thick beard and you are going to love your new style.
63. Bob Haircut with Permed Natural Black Fringe Mullet
Bob haircuts are perfect for men who want to try out a perm for the first time. In the look above he has styled his mullet very fashionable with the sideburns cut short and a few wispy pieces hanging down. Keep the fringe short and the back long and you are all set.
64. Brownish Red Permed Mullet Hair with Fade Cut
Brownish red hair color for men looks great all year long, but it shines during the fall months. In the look above he is wearing his long curly hair in a perfect mullet with shaved sides and it looks so cool. Pair it with a clean shaved face, or keep a beard it is completely up to you.
65. Clean Fade Mullet with Light Brown Curls
You can not go wrong with a clean fade mullet. Here he has a super clean fade above the ears and the rest of the hair is long and curly. He kept all of the hair perfectly permed and it looks perfect.
66. Messy Full White Blonde Mullet Thick Hairstyle
Messy mullets are always a fun hair style to wear, and when you add in this light platinum blonde hair color in you are going to really stand out in the crowd. He kept the fade short and in his natural color and the contrast between the two colors really looks good.
67. Smeared Natural Black Hair with Clean Fade Cut
Smeared hairstyles are just another way of saying that you are wearing your hair shaggy but stylish. In the look above he has shaved the sections above the ears super short and added in a funky fresh fringe. Be sure to leave the back section thick and full and you are going to love the way you look.
68. Permed Front Blonde Shade with Mullet Style
Another super fun way to wear your mullet is to add in a pop of blonde in the front, business like, section. He has done just that here and left the back dark and natural. You will want to trim the hair around the natural hairline and shave the side burns short and you are all set.
69. Short Natural Black Hair with Mullet Clean Fade Cut
Next up is a fresh short and natural hairstyle for men with dark curly hair. Here he has kept the sides shaved short with a temple fade and the rest of the hair gradually fades up to meet in a curly mullet.
70. Messy Hair with Medium Lengthy Permed Mullet
Messy hair is such a trend in 2022. In the photo above he wearing his hair perfectly messy with a nice fade around the sides to keep him looking fresh. You will want to put a bit of hair product in to make sure your curls stay looking fresh all day long.
71. Mid Faded Cut with Edgy Mullet Hairstyle Permed Curls
Mid fades work with just about any mullet permed hairstyle. Here he has paired them together with an extra long back full of spiral curls and left the top section spiky and full of life.
72. Layered Front Taper Mullet witha Full Blonde Shade of Green
This next look is full of colors and personality. In the photo above he is wearing what is best described as a mullet mohawk look. To get this style shave the sides of your head high and buzz the front section short, then you will need to grow the back section out and add in a fresh perm. Add your favorite colors and you are all set.
73. Wet Look Classic Permed Mullet with Fade
It does not get much more classic then a wet permed mullet look. Keep the sides shaved super short, almost bald, and keep the rest long and curly. Add in your favorite wet gel so your curls can hold their shape and you are all set.
74. Side Swept Front Hair with Mullet Permed Curls
Looking for the perfect business in the front look with a party in the back? You have to give this side swept style a shot. Here he has let the back section grow out long to about the shoulders and left the front just long enough to brush over to the side.
75. Greaser Pomp Front with Light Blonde Shade Mullet Style
Greaser and mullet hairstyles go hand in hand. In the look above he is wearing a pomp look in the front with long curls in the back. Keep the sides shaved and the front brushed back and you are going to love your new look.
Conclusion
After checking out this dope list of the 50 best modern mullets with a perm you can see why this style is so popular. There were so many good choices to pick from on this list that you may have to try out a few different ones before you find your favorite. Let us know down below which one you are going to start with.