Justin Bieber has reached such a level of fame that his hair alone now has entire Instagram and Twitter accounts, Pinterest boards, and constantly makes it into the news.
Whenever the Biebs gets a new haircut, all the media outlets find it their holy duty to broadcast it to the world. And the world listens.
Because what could possibly be cooler than a Justin Bieber haircut?
Here is a look back at 50 of his most interesting hairstyles.
1. The Short Justin Bieber Haircut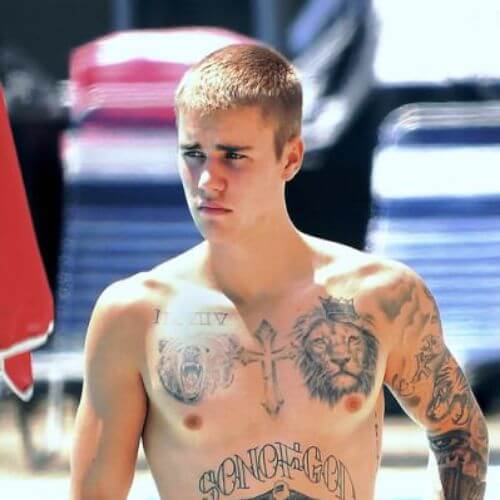 Let's start off with the Biebs wearing a simple and traditional haircut. It's a very short and boyish crop in his natural light brown hair color. He is rarely seen wearing this color nowadays, so enjoy this blast from the past.
2. The Justin Bieber Pompadour
Justin was a huge fan of this short pompadour for a huge part of his teenage and young adult life. And for good reason. It made him look fresh, cool, and very handsome. The pompadour elongated his features.
3. Justin Bieber Haircut with Long Fringe
As he was growing up, however, Justin moved on to more mature haircuts that added some depth and dimension to his persona. First things first, he bleached his hair down to a platinum blonde and never looked back.
4. Justin Bieber's Bed Head
How is it that the most handsome celebrities out there look this good even when they're in bed or recently woken up? Luckily for all of us, Justin showers us with Insta pics and stories about his most intimate moments.
5. The Spiky Justin Bieber Haircut
It wouldn't be a fulfilled teenage stage if you didn't experiment with some bad haircuts as well. Justin has had his share of unfortunate hair choices, even though he has one of the most beautiful sets of locks in the business.
6. The Elegant Justin Bieber Haircut
When he wants to, the Biebs can turn into a fashionable and elegant young man. All he needs is a power suit as well as a slick hairstyle that will expose his beautifully carved features. The blonde locks help highlight his eyes.
7. The Medium Comb Over
Here's how Justin chose to dress and style himself for his Roast on the Comedy Central back in 2015. It was a birthday present and, probably, one that he won't forget too soon. Comedians at large pooled in to make a point of his faults, but that comb over isn't one of them.
8. The Preteen Justin Bieber Haircut
If you were wondering how Justin looked like before he became internationally famous, we have the answer. Here is a school photo, and we can say he was a really sweet and cute boy.
9. The Rebel Justin Bieber Haircut
Here's Justin rocking a bit of the James Dean in Rebel Without a Cause vibe. He has a messy and casual pompadour, aviator sunglasses, and a black T-shirt to match. All in all, not a bad look at all for the maturing Biebs.
10. The Justin Bieber Top Knot
A fashionable young man like Justin could not have missed out on the biggest hair trend of all time. Of course, he sported a tiny man bun a few years ago, just like everyone else did at that time because it was the sensible thing to do.
11. Justin Bieber Haircut with a Flower Crown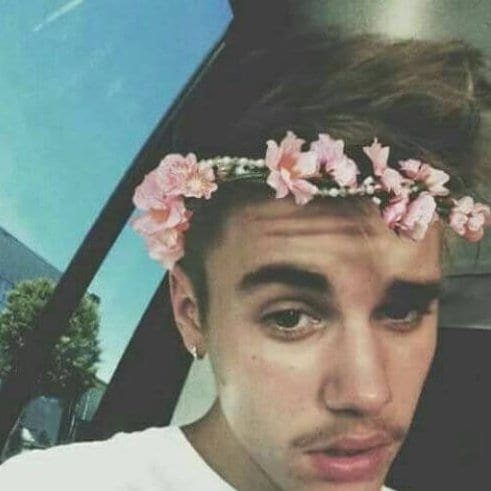 Is there anything that this handsome guy can't pull off? Here he is with a pink flower crown, and he looks stunning. In fact, he looks like he's ready to rock the scene at Coachella and have the time of his life.
12. The Disconnected Justin Bieber Haircut
Any disconnected haircut is one in which the lower half is shorter than the upper half. The bottom part has to be the same size all around without any fading. Otherwise, it's not a disconnect anymore.
13. The Platinum Justin Bieber Haircut
Matching his T-shirt with his hair, Justin goes completely white to showcase his love for blonde hair. The fantastic thing is that he can completely pull it off in a way that most men out there wouldn't even dream of.
14. The Gelled Justin Bieber Haircut
If you're growing out your hair and want to get your bangs out of your eyes, you can always use some hair gel to comb it all back. It's a very slick and beautiful look that will attract the ladies, no doubt about it.
15. The Met Gala Look
Just like most celebrities on trend out there, Justin was invited at the Met Gala. For one of his appearances, he wore a superb black suit with imaginative and luxurious golden embroidery that made him look like a true iconic pop star.
16. The Messy Justin Bieber Haircut
Even with messy hair, Justin still looks better than most men out there. That's due to his natural good looks and chiseled face as well as his velvety soft brown eyes. Not to mention the way he dresses and accessorizes himself.
17. Childhood Justin Bieber Haircut
Cuteness overload as we take a trip down memory lane for this picture of baby Justin hugging a teddy bear. You can just make out the bourgeoning oval face and gorgeous brown eyes as well as his golden brown hair.
18. The Wet Justin Bieber Look
Justin even looks good with wet hair when he's just gone for a swim. Once again, let's all give thanks for Insta stories. Otherwise, how would we know all these intimate details of a celebrity's daily life?
19. The Medium Justin Bieber Haircut
We love this look because it's so reminiscent of the 90s. Just like everyone else around the world, Justin took to the 90s resurrection and made it his own in a very personal and cool way. We can't wait to copy this look!
20. The Side Part
It's worth noting that even when he sports a classic side part, Justin still wears his hair very messy because he's a young man who also happens to be very cool and fresh. Guys, this is how you do a side part at the end of the 2010s.
21. The Curly Justin Bieber Haircut
Even though his hair is naturally very straight, fans have noticed that it does tend to curl a bit when it grows, especially around the temples and in the back. This only serves to make Justin even cuter and more adorable.
22. Shoulder Length Justin Bieber Haircut
Speaking of growing out his hair, Justin has been going through a whole phase of that. And, we have to say he looks absolutely amazing with shoulder-length hair. It fits him perfectly and makes him look like a total frat boy.
23. The Shaggy Justin Bieber Haircut
Did you know that Justin was discovered on YouTube back in 2008 where he used to post videos of himself singing covers of famous songs? He was immediately signed to RBMG, and his life and ours were never the same again.
24. The Justin Bieber Haircut with Dreads
Justin even sported dreads at some point. They were platinum because he didn't want to give up his now signature hair color. His dreads were also medium length and shorter in the back to accommodate his previous haircut.
25. The Soft Justin Bieber Haircut
It's nice to see Justin take a little break from time to time from his bad boy persona and display a casual and soft-looking haircut. It makes him more relatable, like the boy next door who could really be your boyfriend.
26. The Frizzy Justin Bieber Haircut
Sometimes, it's extremely refreshing when you find out that even the biggest celebrities in the world have bad hair days, just like the rest of us. They may have stylists at their disposal 24-7, but that doesn't stop their hair from having a life of its own.
27. The Boyish Justin Bieber Haircut
Did you know that Justin beat Mariah Carey's record and now has the most number two debuts on the Billboard Hot 100 Chart? That's quite an accomplishment, and he hasn't been dethroned yet.
28. The Justin Bieber Haircut with Bangs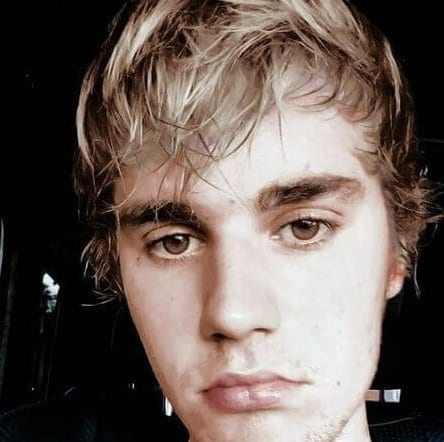 There isn't a single haircut that a guy this good-looking cannot pull off. Here's Justin with a set of gelled up bangs that replicate the wet look we all love so much right now. We also love seeing him flaunt his natural hair color from time to time.
29. The 90s Heartthrob Justin Bieber Haircut
Biebs has been called a heartthrob many times before but none of those time has he really embodied the true spirit of a heartthrob as he did than when he wore this magnificent 90s romantic hairstyle.
30. Pretty Justin Bieber Haircut
Here's another fun fact for you. His video for Baby is simultaneously one of the most viewed as well as one of the most disliked music uploads on YouTube of all time. Few artists have managed such a feat.
31. The Justin Bieber Haircut with a Quiff
Justin has his very own museum exhibit at the Stratford Perth Museum called Steps to Stardom which explores his fantastic journey from a little boy in a small town to one of the biggest celebrities in the world.
32. The Autumn Justin Bieber Look
The Biebs is a very accomplished musician, who has taught himself how to play the piano, the drums, the trumpet and, of course, the guitar. Plus, he can solve a Rubik's cube in under two minutes. How about that?
33. The Feathery Justin Bieber Haircut
This look is another trip down memory lane for all of us as it recalls a time when the Biebz was an innocent adolescent boy with an army of fans all over the world. Times were simpler, and his music was all that mattered.
34. Blunt Bangs Haircut
Speaking of his teenage years, when he was younger, Justin never shied away from wearing bangs. In fact, they were a staple of his look. He stopped wearing them after a while, but we still remember how cute he looked.
35. The Layered Justin Bieber Haircut
As of 2018, to the dismay of many of his fans, Justin is married to TV personality and model Hailey Baldwin. They obtained a secret marriage license and got married in confidence in a very small and intimate ceremony.
36. Gorgeous Justin Bieber Haircut
Justin has no less than three wax figures of himself, all spread throughout the world. In this way, fans can touch the waxy Bieber and take selfies with him in London, New York, and Amsterdam, at the Madame Tussaud's museums.
37. The Messy Top Knot
Did you know that Justin put out a Christmas album in 2011? It's called Under the Mistletoe and has him singing holiday classics such as Silent Night, Drummer Boy, Santa Claus Is Coming to Town, and All I Want for Christmas Is You.
38. The Classic Justin Bieber Haircut
Even though he doesn't look like this anymore, this is his most iconic hairstyle of all time. It's a very teenagerly haircut, layered and feathery with long bangs, and in his natural golden brown hair color.
39. The High School Justin Bieber Haircut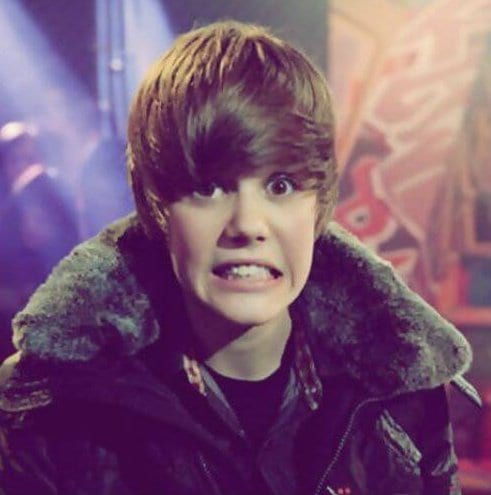 And here we have the hairstyle that made him famous. It's a version of the teenage swoop which Justin made his own and which millions of boys around the world then copied in an attempt to be as cool as the Biebs.
40. Gelled Spikes
This spiky look is one of the easiest to copy in case you want to look like the Biebs himself. All you need is a handful of hair gel or some hair wax, and you're done. This disconnected haircut is also very easy to maintain.
41. The Blonde Buzz Cut
Justin was also infatuated with the buzz cut for a while. He loved to cut all his hair very short, but he never gave up his signature platinum shade of blonde which is what makes him look so special to us.
42. The Platinum Ponytail
The singer continued to sport the same extreme blonde shade as he was growing his hair out. Therefore, you can see him here proudly displaying a platinum ponytail which makes him look as handsome as ever.
43. The Off Duty Justin Bieber Haircut
This wet and highly gelled style pairs perfectly with his bad boy persona that is mirrored in his many tattoos. Justin has now covered his torso and hands front and back almost entirely in meaningful and deeply religious tattoos.
44. The Light Justin Bieber Haircut
This beautiful medium length hairstyle has a soft side part that allows the longer strands in the front to become a longer set of bangs. They will curtain your face and highlight your eyes, especially if you get some blonde babylights.
45. The Bleached Justin Bieber Haircut
Even though it might be tempting, we always advise against bleaching your hair at home. It's best to leave this dangerous procedure in the hands of a professional. There's no use in risking damaging your hair.
46. The Spiky Quiff
Now let's look at some actual stats about Justin's hair. His haircuts are cool, and most boys want to get them to look like him. However, they can also be pricey.
47. Justin Bieber Haircut with a Bandana
Fans bid for locks of his hair online, that's how much they love him. A few years ago, it was reported that a fan paid as much as $12,000 in a bidding war on eBay just for a lock of Justin's prized hair.
48. The Natural Justin Bieber Haircut
Do you remember this iconic haircut Justin got a few years ago? It is reported that his fans loved it so much that it single-handedly gained him 120,000 followers on Twitter alone after he got it.
49. The Brown Pompadour
Boys typically say they are not fans of Justin or his music and that he is undoubtedly an artist that creates songs and albums for girls. However, reports of the styling industry show that more boys than ever walk into salons and barber shops asking for the Bieber haircut.
50. The Deep Side Part
Here's a final fun fact. A few years ago, it was revealed that Justin ranked number seven on the list of Most Searched Women on Google. This is probably due to his androgynous looks and style.
Conclusion
Whether you are a fan or not, one cannot deny that Justin Bieber is a very handsome man who definitely knows how to style himself to attract as much attention as possible.
He can pull off almost any hairstyle from a buzz cut to dreads, which earns him a lot of credit points from most stylists.
Let us know in the comment section below how much you love Justin Bieber!
Suggested: Most of Justin Bieber's hairstyles require high maintenance. We've compiled a guide of the best hair products available in 2019 that you should check out in order to keep your hair healthy and beautiful.
This article was last updated in July 2019.
Martin is a hairstylist and makeup artist, with a passion for art, interior design, and traveling. He has been in the industry for over 10 years and loves meeting new people. Martin enjoys assisting his clients with their various needs and is looking forward to running his own business. When he is not busy building on his career, Martin finds pleasure in spending time with family, going out for a run, and inviting friends over for dinner, boardgames, and a movie.